Relentless Romanchuk Roars For War-Torn Ukraine With 14:36.10 Title Defence In 1500m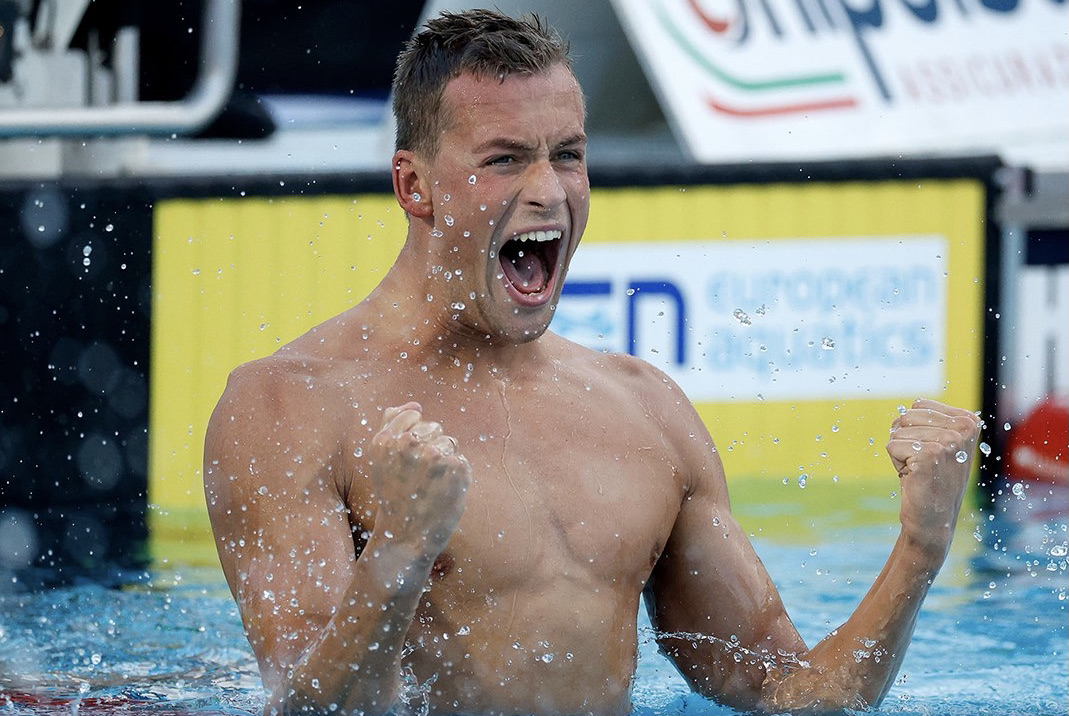 Mykhaylo Romanchuk thumped his heart and chest with a clenched-fist message home to Ukraine: this, the only weapon I have in response to Putin's ruinous, treacherous, illegal war, is for you, each and everyone – a 1500m freestyle title retained in the best time of my career, 14:36.10.
When Ukraine's national anthem sounded up, the Roman crowd, teams and media stood in applause, bringing tears to Romanchuk's eyes. The champion, fighting back emotion, nodded back in appreciation.
Russians and Belarusians are banned from Rome, just as they were banned from Budapest and the World Championships in June. Many believe they should not return to the sports arena until Russia has made peace and paid reparations in full to the murdered, the country it has destroyed, not to mention the world economy that hangs in the balance and the climate-change measures set aside as the world burns.
The passion of all of that could be seen in every stroke taken by Romanchuk towards gold. The champion emerged from the fray to say much about why his words words as powerful as his victory: "It's for my country; it's my land, it's my home and I give everything for my country."
He explained the depth of emotion behind the teams on the podium: his father had jut been allowed to return home to west Ukraine after a long tour of duty on the defence front in the war-torn east of his ravaged country.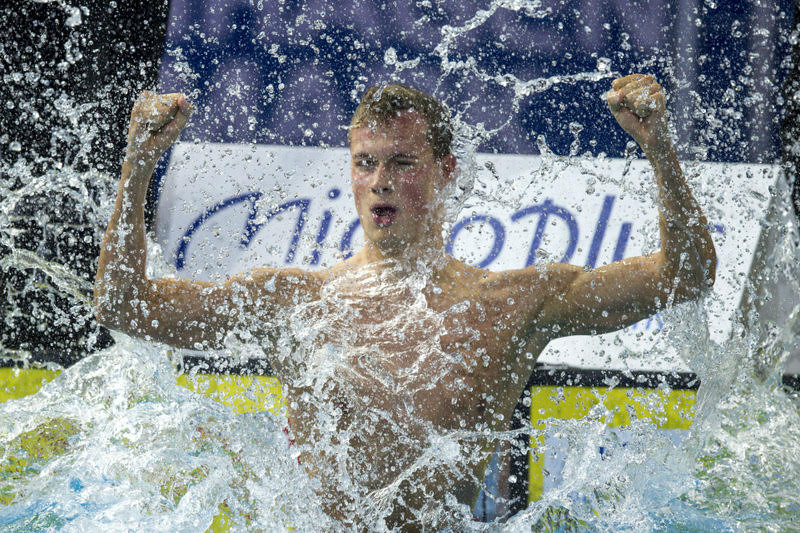 "I was thinking about my father that he's back home now and this win is for him , for all the Ukrainians, for the army who is defending our country. Now the rotation has started and he is back three days ago so it is a really emotional time.

My mind now is much more relaxed so I know that my father is safe, that he is at home and for me it's a little bit easier. But the war is not finished so of course I am still reading the news about Ukraine, the army, about everything so it is a mixture of emotions but I am happy that my family now is together which for me is the main thing.

Mykhaylo Romanchuk – by Patrick B. Kraemer
The relief was tangible when Romanchuk spoke of how it had felt to think that his father might not make it through the day: "I was talking with him once a day: sometimes when he didn't contact me in the morning it was really so stressful because I didn't know what happened that night and sometimes it was really so hard."
Asked if he feared that the war in Ukraine and the plight of its people was slipping down the news agenda, Romanchuk said: "Sometimes they forget the war is still going on. But the war is still there in our home and our land and we will fight; we are fighting, we will fight to the end and we will win for sure. It will be a long war but we will win for sure."
On The Season From Hell Made Good In Pool … Life Is Yet To Catch Up
In June at World titles, Romanchuk, who was welcomed to Germany and safe haven by rival and friend Florian Wellbrock weeks into the war on Ukraine and has been training with Bernd Berkhahn since being given clearance from Ukraine president Volodymyr Zelenskyy to leave home and travel rio a new training base, urged sports organisations around the world to stick to their ban on Russians.
His reasoning was clear: he had been "ready to go and kill" his former friend Evgeny Rylov, the double Olympic backstroke champion, after seeing photographs of the double Olympic backstroke champion with the pro-war Z symbol stitched on his sports kit.
Romanchuk, who when still in Ukraine, said: "Anyone who says sport has nothing to do with politics can take a look at the cruise missile in our swimming pool. We don't train anymore", added: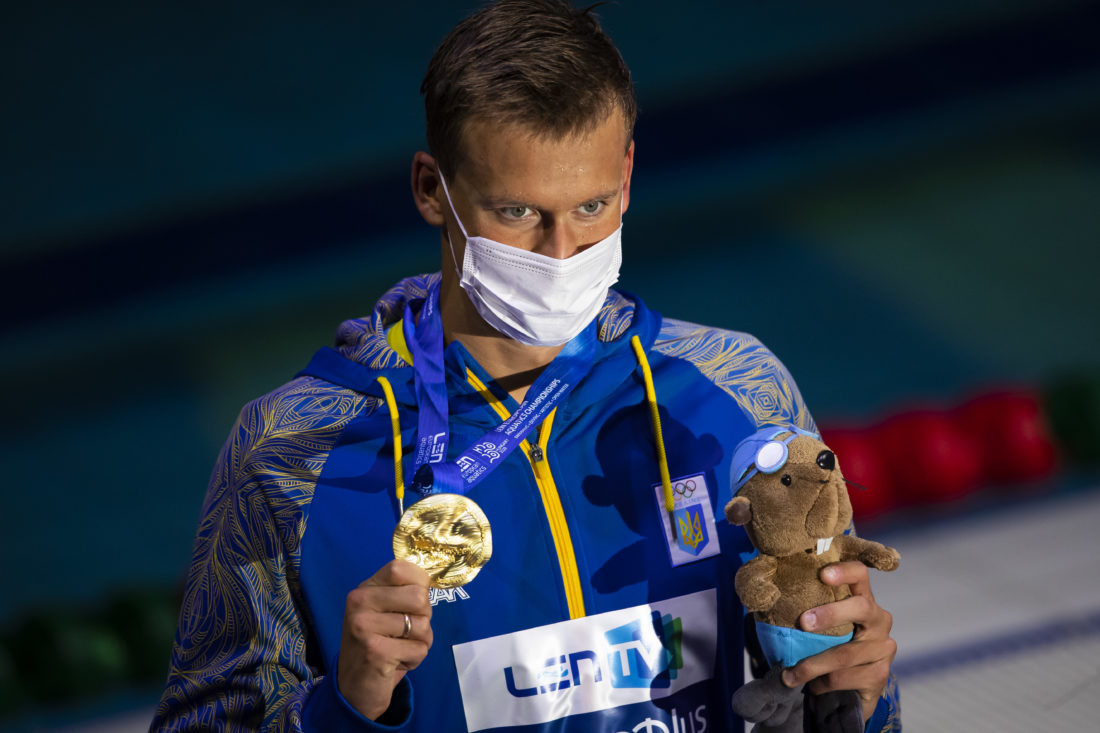 "The war is not over and it's getting harder and harder. They have destroyed a lot of our cities, a lot of infrastructure and [in sport] hey destroyed more than seven [swimming] pools in Ukraine, they destroyed 50 stadiums of track and field, a lot other sports facilities. More than 10 top sportsmen died during the war and I don't know how many coaches will die."

Mykhaylo Romanchuk – Photo: Mykhaylo Romanchuk – gold in 2021 in a mask, gold in 2022 without one – courtesy of LEN
Romanchuk Saves Best For Title Defence
Champion in 2021 when the European showcase was shunted forward a year by the Covid pandemic at a time when there was no crowd nor media allowed and the world had yet to see what Vladimir Putin and his mafia gang in the Kremlin had in mind for the people and the infrastructure of sovereign Ukraine, Romanchuk took control of the race at the 550m mark.
The race started with the Roman crown chanting the name of its champion, Gregorio Paltrinieri, who attempted to replicate the courageous fast start that delivered the World title in Budapest seven weeks ago in a stunning 14:32. This day as not the same: Romanchuk refused to break from his own race plan but never lost touch with the Italian pace-setter, around. 1.5sec back for much of the first third of the race.
Romanchuk got his feet to the wall 0.04sec ahead of Paltrinieri at the 550m mark and was never behind again. Italy's hero, the Olympic champion of 2016, did not give up without a fight: by 800m, the two were split by 0.78sec, Romanchuk on 7:45.02.
From there, it was clear that Ukraine's defender was in no mood for anything but gold. Paltrinieri claimed silver, France's Damien Joly the bronze.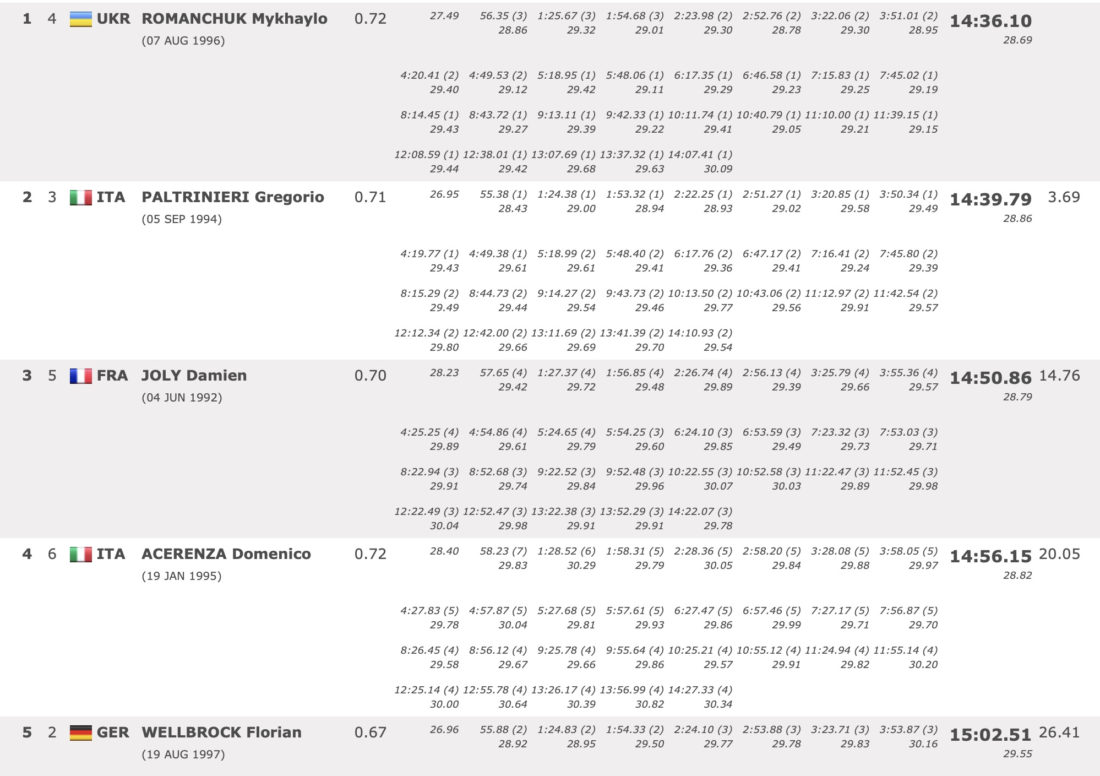 After the fight was done, Romanchuk, said: "I was very tired but all the stands is (giving me) amazing support and gives me some power. Now I am feeling so happy and so tired; now it's time to have a good rest and start a new season in one month. Nothing is finished."
He added: "These are hard times for me, especially mentally. After the World Championships I was in a really bad mood and I needed to find a new motivation for me. These European Championships are so emotional, after the 800m free I was mad at myself because I screwed up the entire race, but somehow I managed to get back from there and get into great shape for this final.
"I enjoyed the atmosphere here, it gave me a lot of power and really felt I could swim better and better as I felt I was faster than Greg and I could beat him in front the home crowd. Today I was faster than him, next time he can be faster than me, it's like a pingpong match between us. Massive thanks go for the German team as they gave me the opportunity for the preparations and for the Ukrainians who supported me."
Paltrinieri said: "I wasn't feeling very well in the water, but honestly, I gave my best, my maximum today. The time is not bad either, 14:39, though I felt the weight of this very long season, I felt I'm really tired. Still, getting the silver is always nice so I'm satisfied. I'm sorry if I've disappointed anyone, it is a special feeling to race in front of this beautiful crowd, though they went a bit quiet as if I had been in a bit of a crisis."
Joly saw his chance in the circumstances of Florian Wellbrock's feeling under the weather: "I had this in my mind, in a certain sense and since Wellbrock was sick I thought I could stand a chance. Around 600m I recognised that he was starting to have a hard time and I pushed as I could at that phase. I competed several times over this distance, I knew I couldn't do better than Gregorio, also because he is at home. It was tough but I'm really happy."