Germany Rules 400m In Rome – Gold For Maertens (3:42) & Gose (4:04) As Popovici Parks It At 3:47.9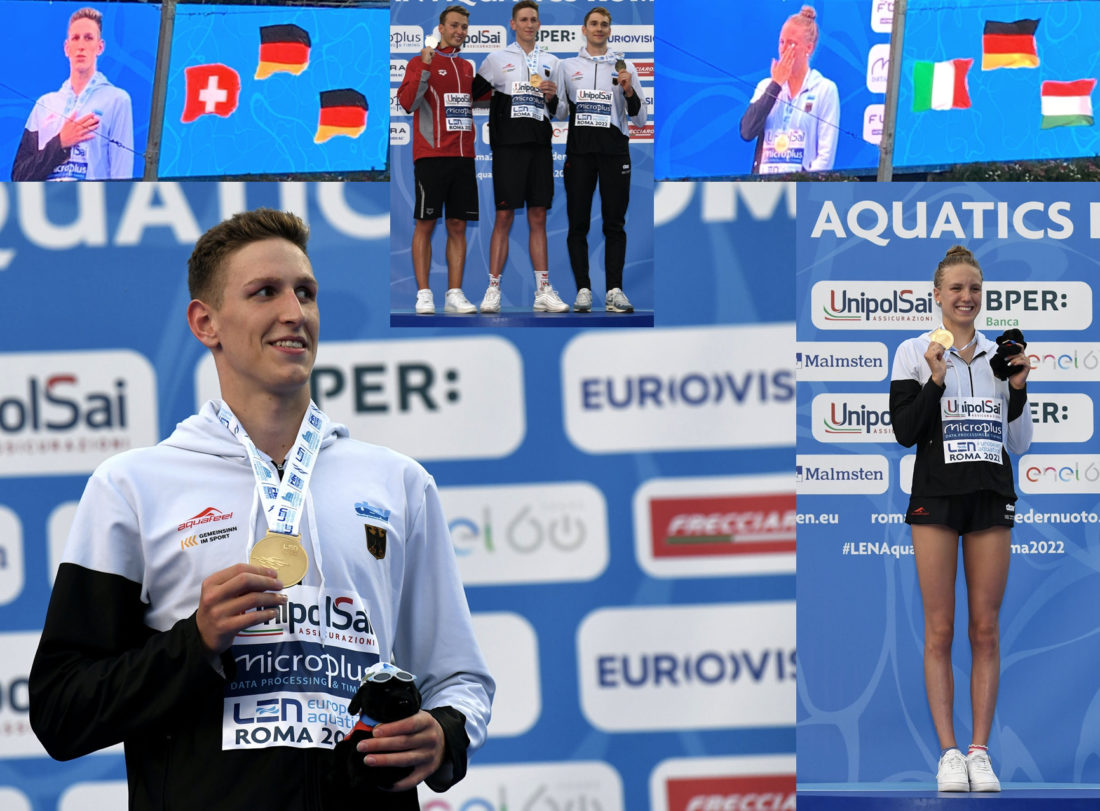 400m Freestyle Day at Rome 2022 started with a 3:47.99 in heats for David Popovici (a target still ahead of him: Dragos Coman, 3:46.70, Romanian record, heats, World Championships, Montreal 2005) but the test set was parked there, which was probably just as well if a gold rush was not to be tainted by medals of other hue our none at all: this 400m freestyle day belonged to Germany, Lukas Maertens and Isabel Gose, a gold each for Magdeburg-based coach Bernd Berkhahn's charges, Henning Muehlleitner, a bronze.
You have to go back almost three decades to find German women at the helm of 400m pace in European showcase waters: Dagmar Hase and Kerstin Kielgass, the last generations of GDR swimmers that went on to race for reunified Germany, punched a 1-2 in 1993; before Franziska van Almsick took the 400m and the 100m, missed the cut for the 200m, her best event, and clocked the worlds best time that year in the B final (not quite the triple David Popovici might have tried today but, yes, she was certainly capable); and then in 1997, Hase was back to take the 400m once more.
And that was it. Until today.
Back to history and Franzi's boyfriend in the 1990s, Steffen Zesner, pipped Paul Palmer (GBR) and Anders Holmertz (SWE) for 400m gold in Vienna 1995. The next German challenger to claim gold was a man whose career highlighted why 2008 was a season of unfair advantage in the pool for some before 2009 turned into a farce for all concerned, athletes the wounded party then and still to this day: Paul Biedermann, in 2012.
Ten years on and we find Lukas Maertens, a sizzling warm-up season in the vault, taking a decisive victory in 3:42.50 to add gold to the World-championship silver he claimed in June over the same distance and the 800m silver he added to his collection here in Rome. His winning 400m time wiped 1.51secs off Italian Gabriele Detti's championship record of 3:44.01 from 2016.
Antonio Djakovic, of Switzerland, gets stronger with each passing meet and today he set a Swiss record of 3:43.93 to claim his country's first medal in the men's 400m, Henning Muehlleitner making it a German gold-bronze podium in 3:44.53.

Maertens said: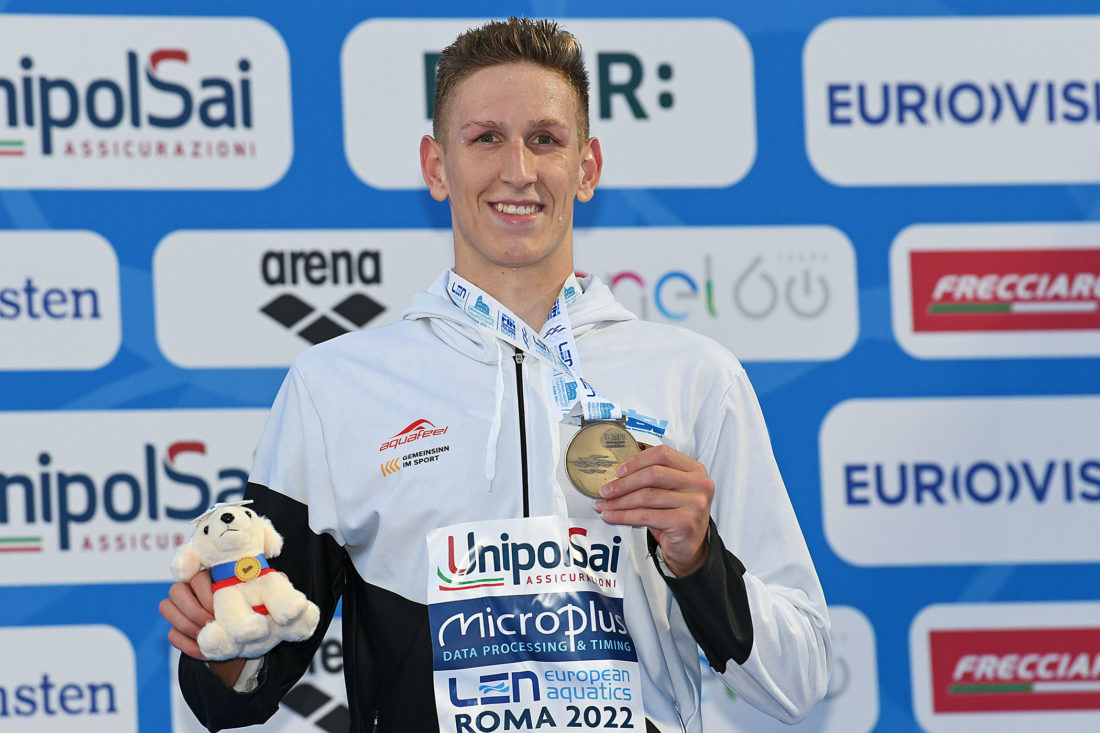 "I was hoping for a medal, I had already reached the second place in the 800m and I knew I was in a good condition to make the podium here. "This event is my specialty so it's more than satisfying to get the gold at the end."

Lukas Maertens – courtesy of LEN
Djakovic was moved to tears by his success: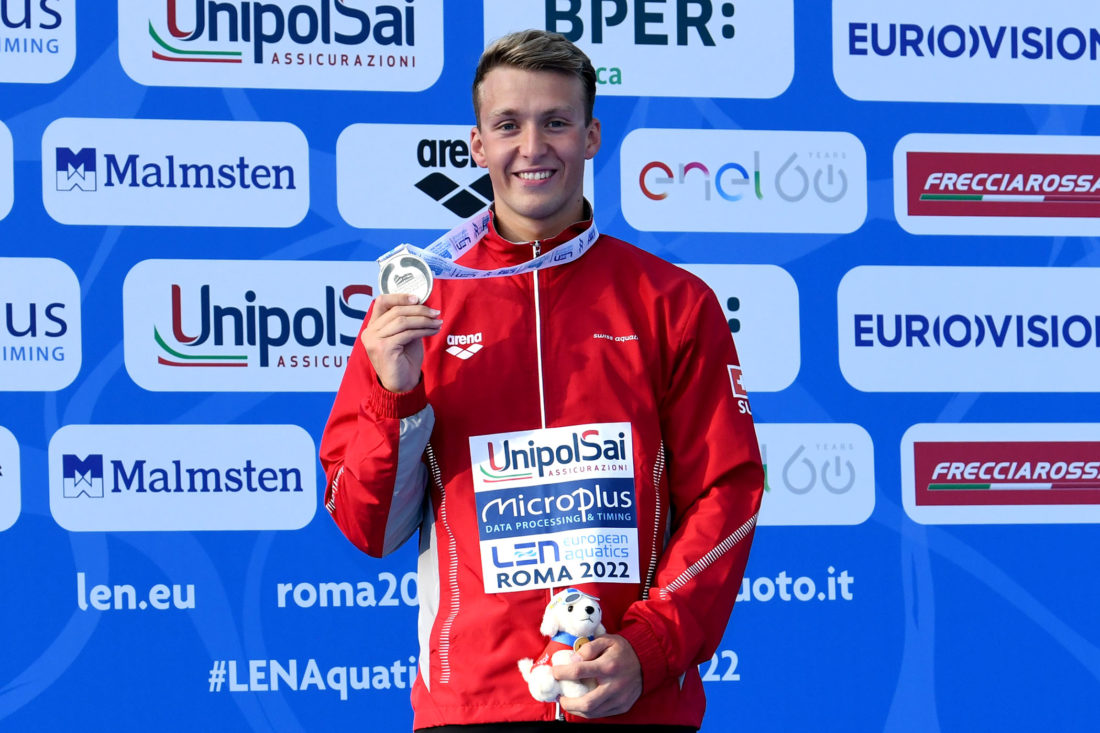 "At the beginning of the year I couldn't have even imagined that I was fighting for the medals. Back then I got Covid, afterwards I had trouble with my lungs and it took me three months to really get back into shape.

"At the end, now I have two silvers, I wasn't expecting this, I'm really emotional now. My parents were also here and watch me winning my first senior medals. In the meantime, I also passed my last exams – so quite unexpectedly, this season is just ending in the perfect way."

Antonio Djakovic – photo courtesy of LEN
Muehlleitner's take: "This was just so much fun. In the callroom you could tell we were all really excited to race each other. This final was quite young with a set of newcomers and some more experienced swimmers so it was a great mix. Everyone was really just excited to get out there. Fun is my takeaway from this race tonight."
Gose Gets Gold In The 400m Middle Of 200 Bronze & 800 Silver
Isabel Gose entered the fray with the fastest seed (4:03.47 from World Championships in June) and then the swiftest time in qualification this morning, a 4:06. Her mission was to win – and by doing so in 4:04.13, she denied Simona Quadarella the triple-triple she'd been chasing: the Italian claimed the 400-800-1500 crowns in 2018 and 2021, while in Rome she retained the 800 and 1500m titles for a second time. Gose, the bronze medallist the 200m free and silver medallist over 800m in Rome, refused to yield in the 400m, leading from go to gold.
Quadarella charged back down the last lap but as the splits show, Gos had done the work and there was no getting back at her. Gold gone, the silver took a 4:04.77, the rhythm of crowd noise reflecting broken hearts. Ajna Kesely, of Hungary, topped the tussle for bronze in 4:08.00.

Gose said: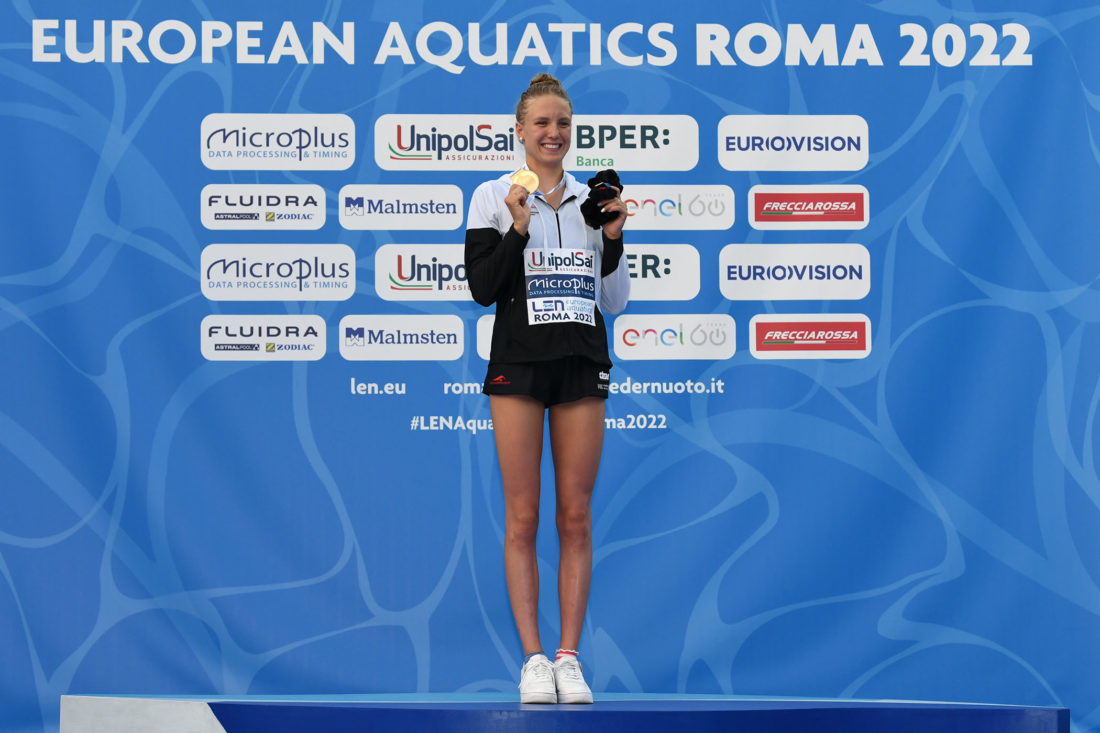 "I'm super happy. I trained very hard and it was an extremely long season and being able to bring back home a gold is an amazing feeling. I couldn't call it the perfect race. I know right now what I should improve so we will have a lot to work on when I return to the pool."

Isabel Gose – photo courtesy of LEN