Kaylee McKeown Puts On Show Of Versatility With 2:08.1 All-Comers 200IM Record For All-Time No6 In Textile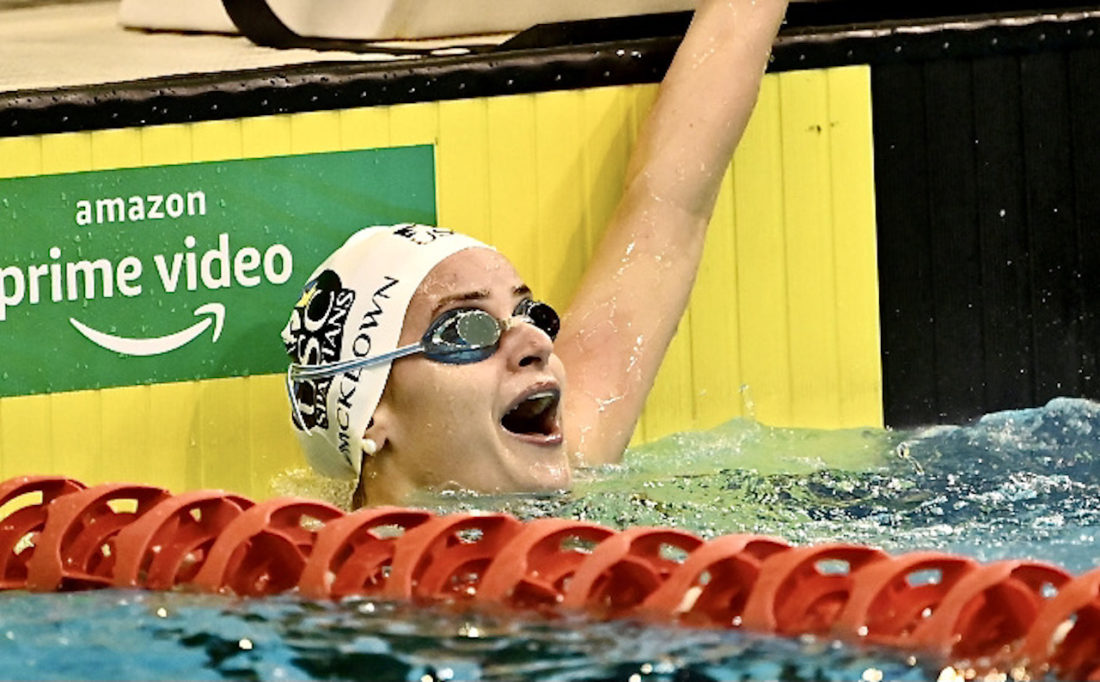 Kaylee McKeown added another podium shot to her Tokyo 2020ne Games schedule with a 2:08.19 all-comers record in the 200m medley on day 3 at Australian Olympic trials in Adelaide, the times lifting her into the all-time top 10, at No6 in textile and No8 including shiny suits.
In the context of the hour and her country, Kaylee McKeown had no rival in the race today as she sped to the helm of the 2021 World Rankings. All-time in Australia, only 2008 Olympic champion Stephanie Rice, on 2:07.03 in a LZR suit with polyurethane panels since banned, and Alicia Coutts, on 2:08.15 for London 2012 silver, have swum faster times than McKeon's new high bar.
Coached by Chris Mooney at Spartans, Kaylee McKeown set the pace from go to a second golden ticket to Tokyo after her 57.45 World-record blast in the 100m backstroke yesterday.
The sum of parts in Kaylee McKeown's 200IM:
27.71; 1:00.37 (32.66) 1:37.71 (37.34) 2:08.19 (30.48)
There were no other qualifiers for the Games, the cut at 2:10.4, the closest to McKeown Tessa Wallace, on 2:11.79 but with one part of her race fit to turn McKeown green with envy: Wallace has long raced alongside the elder sister of Kaylee, Taylor McKeown, in breaststroke battles and her 35.83 third-length split, compared to a 37.34 from Kaylee, would be the kind of speed that would convert McKeown from podium shot to golden shot in the 200m medley in Tokyo.
Third place in Adelaide went to Meg Bailey in 2:12.88 but that wasn't the third swiftest effort on the day: in the B final, Tara Kinder clocked 2:12.78 after missing the cut for the final on 2:17 in heats.
Two tickets in the bag for Tokyo, McKeown is a potential medallist in five events, the 100, 200 back, 200IM and both medley relays, women's and mixed, depending on which quartet and what balance Australian coaches opt for come the day.
In the 200m medley, McKeown now tops a World top 10 for 2021 that does not include defending Olympic champion Katinka Hosszu, on 2:10 for bronze at the European Championships in Budapest last month. The 200m medley at U.S. trials in Omaha, unfolds tomorrow, while Canadians, with Sydney Pickrem to the fore, get their trials underway in Toronto at the weekend. Rankings are a good steer but in this year more than most others, given all that has come to pass (and not) because of the Covid-19 pandemic, the form guide may well be ripped to shreds come the hour in Tokyo.
Meanwhile, here's the company Kaylee McKeown has muscled in amongst: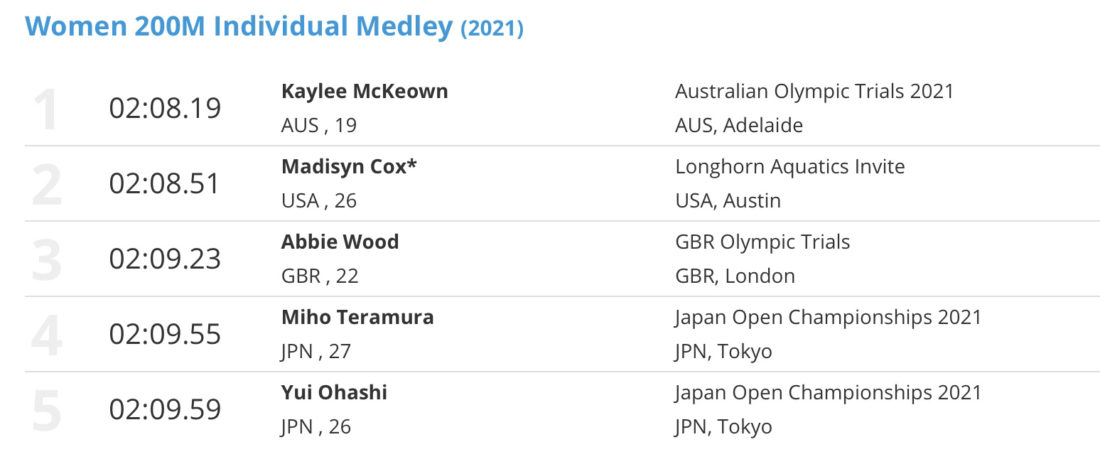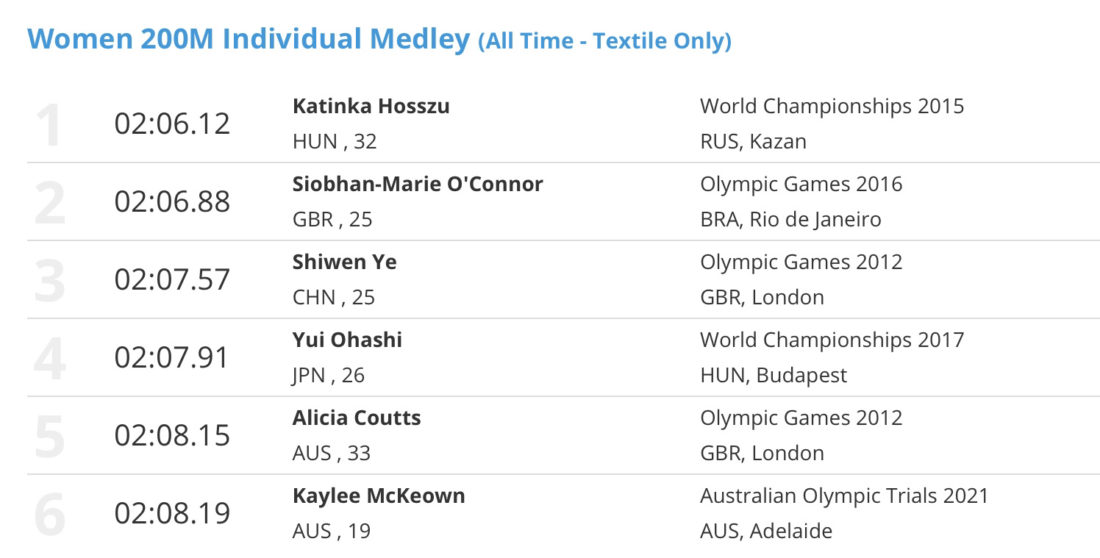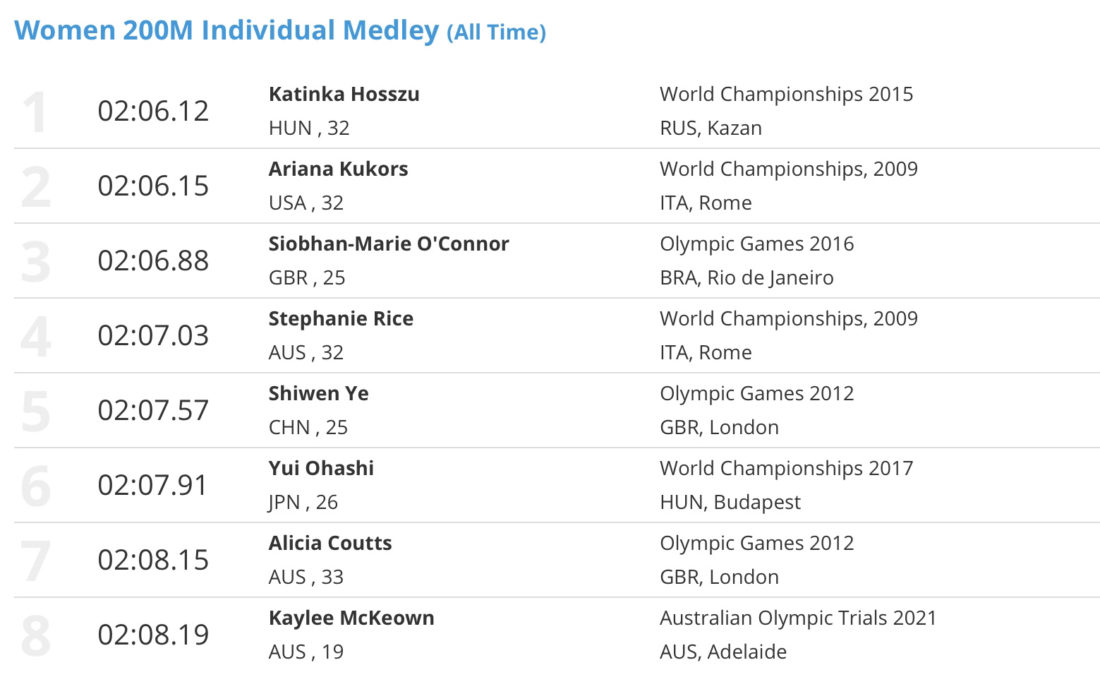 Men's 200m butterfly
The cut at 1:56.25, all podium placers sped inside the chronological right for passage to Tokyo but the 0.63sec difference between gold and bronze in a terrific three-way tussle added up to Olympic tickets for Matthew Temple and David Morgan but not for Temple's Nunawading mate Bowen Gough under the two-per-nation rule.
Temple and Gough held set the pace, Gough at the helm at the 100 and 150m marks before the pace started too tell. Down the last length, Morgan clawed back a 1.33sec deficit and gained an edge on Gough with a decisive 29.80 home-comer.
The battle:
24.91; 54.17 (29.26) 1:24.75 (30.58) 1:55.25 (30.50) Temple, Nunawading
25.59; 55.53 (29.94) 1:25.60 (30.07) 1:55.40 (29.80) Morgan, The Southport School
25.40; 54.10 (28.70) 1:24.27 (30.17) 1:55.88 (31.61) Gough, Nunawading
Fine efforts they are and a fine race it was but none make the 2021 world top 10 and the hunt for medals in the 200m butterfly is likely to take a swim in the first three seconds beyond the stunning 1:50 pioneering pace Hungarian Kristof Milak has his eye on as the follow-up to the 1:50.73 World record he established for the 2019 World title.