Kalisz, Weyant & Smith Take First USA Tickets To Tokyo At Omaha Trials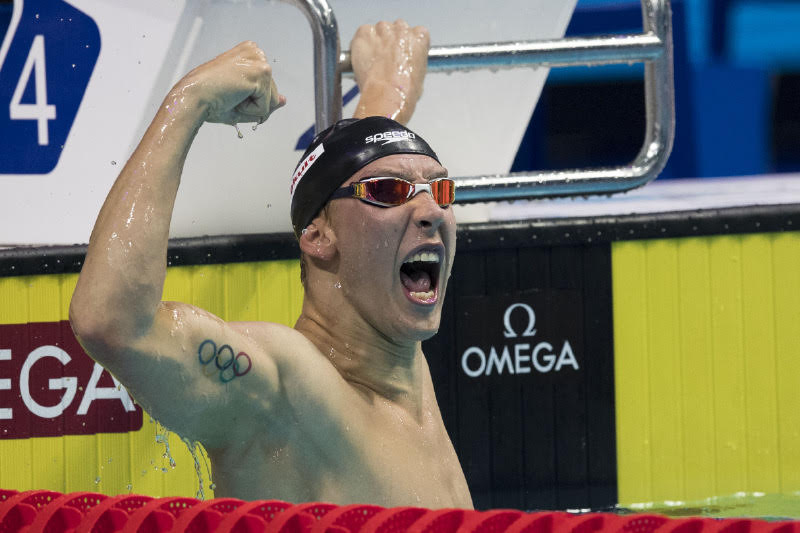 Honour and heartache flowed according to the tradition of U.S. Olympic trials on the opening day of the Tokyo 2020 qualifier in Omaha, with solid wins and tickets for Chase Kalisz and Emma Weyant in the 400m medley finals and Kieren Smith in the 400m freestyle on a day when the semis saw U.S. records fall.
Michael Andrew took down the American (and Americas) 100m breaststroke record twice, a 58.19 in heat converted to a 58.14 in semis, while Torri Huske sliced 0.2sec off Dana Vollmer's pioneering 55.98 to lead the way to the 100m butterfly final in 55.78. The time also took down the Americas standard that had stood to 2019 and reigning World champion Maggie MacNeil, of Canada, at 55.83.
As day 1 finals confirmed, no swift heat or semi is worth its salt until the deed is done in the final and Andrew must repeat the feat for his berth on the American team when he faces Nick Fink, on a lifetime best of 58.50 in semis, tomorrow. Snap for Huske, with Claire Curzan and Kelsi Dahlia closest.
Men's 400m Medley
The men's 400m medley epitomised the need to get the entire approach right at U.S. Olympic trials. It took a 4:17.60 to make the final and at the helm was Carson Foster on a lifetime best of 4:10.50, Chase Kalisz a touch away and Jay Litherland 3sec back.
In the final, Foster would have needed to go faster to make the top two. His 4:10.86 was a touch slower and good for third as Kalisz, on 4:09.09, and Litherland, on 4:10.33, took the Tokyo tickets, Bobby Finke just off the podium at 4:11.44 and Carson's brother Jake Carson fifth in 4:13.74.
Carson Foster held a commanding lead on butterfly and backstroke and led from go to most of breaststroke done, Kalisz inching ahead before the turn to freestyle, Litherland still third at the last turn but on his way too a rapid clawback from a 2.94sec deficit to Carson going into freestyle. The gap was still 1.54 with the last 50 to go. Litherland blasted a 28.54 to get past Foster, who felt the weight of early speed and the rivalry in the hunt for home, his last length a 30.61, Finke's the swiftest in the final, at 28.22.
The ebb and flow:
56.92; 2:01.57; 3:09.82; 4:09.09 (29.12) – Kalisz
56.45; 2:00.87; 3:12.97; 4:10.33 (28.54) – Litherland
55.69; 1:58.63; 3:10.03; 4:10.86 (30.61) – Foster
57.29; 2:01.27; 3:14.23; 4:11.44 (28.22) – Finke
Coached by Jack Bauerle at the University of Georgia, Kalisz took silver at Rio 2016 behind Kosuke Hagino, of Japan, and a year later claimed the World title in Budapest when he stepped up from bronze at the global gathering in 2015. His Budapest 4:05.90 remains his career high on the clock and he approached Tokyo as a contender for the podium, which means the title, too. Litherland, on the 2019 Worlds podium behind Japan's Daiya Seto in a career high of 4:09.22, is also a medal contender, Seto a triple World champion aiming high at a Home Games.
The top 5 so far in 2021: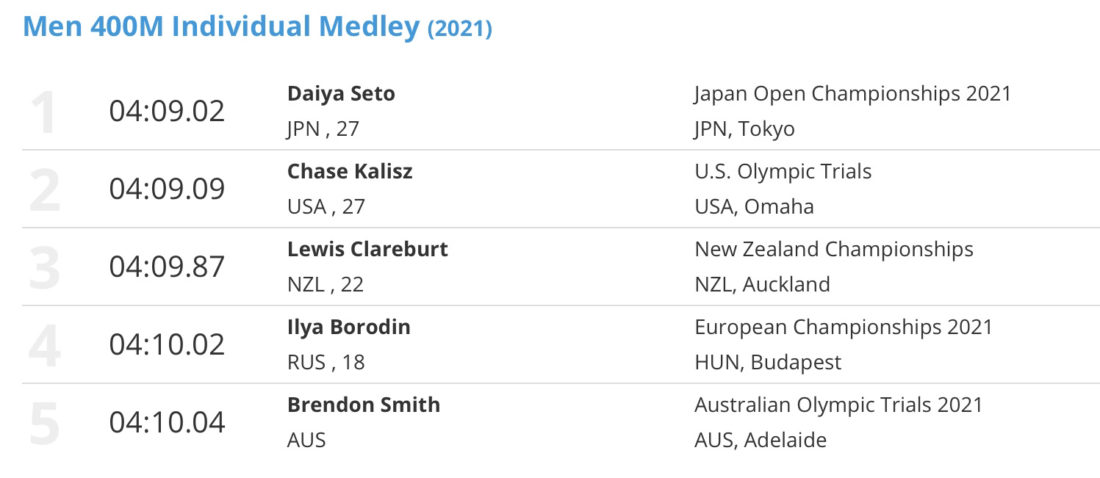 Women's 400m Medley
Emma Weyant's decision to redshirt (take a gap year) the latest NCAA season as a member of the Virginia team and stay home at the Sarasota Sharks in Sarasota and train on under the guidance of coach Brent Arckey paid off when she wiped 1.5sec off her best 400IM to claim the top ticket to Tokyo for the United States.
On 4:33.81 (inside her previous best of 4:35.47), the 19-year-old now tops the World rankings for 2021 and will arrive at her debut Games a title hope, though gold at the past three Games went to swimmers racing significantly faster.
Third at the turn into freestyle behind Hali Flickinger and Melanie Margalis, Olympians racing neck-and-neck and just 0.16sec apart going into the last 100, Weyant clawed back just over a second for the win of her career so far. Leah Smith, the 400m free ace, matched that pattern, too, but fell just shy of the top 3 as Flickinger, confirming her own decision to move to Bob Bowman and Arizona to have been a fruitful one, hung on for the second ticket to Tokyo in 4:33.96, Margalis locked out by 0.12sec ion 4:34.08, Smith on 4:34.55.
The ebb and flow:
1:02.96; 2:12.82; 3:32.02; 4:33.81 – Emma Weyant
1:01.42; 2:10.70; 3:31.02; 4:33.96 – Hali Flickinger
1:03.16; 2:15.76; 3:31.18; 4:34.08 – Melanie Margalis
1:02.60; 2:13.88; 3:32.69; 4:34.55 – Leah Smith
The 2021 Top 5, so far…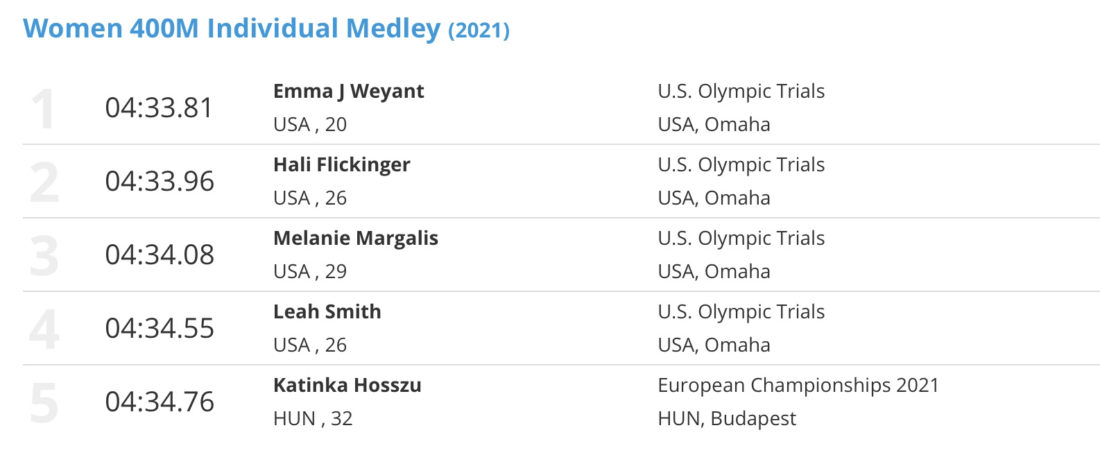 Men's 400m freestyle
Kieren Smith dominated the 400m in 3:44.86, 11th fastest in the world so far this year. The podium was completed by Jake Mitchell, on 3:48.17, and Ross Dant, on 3:48.30. Qualifiers second to 10th place at trials have until June 27 to secure an 'A' cut to be nominated to the U.S. Olympic Team.
Michael Andrew & Torri Huske Take Down American Records
Michael Andrew woke the trials up with a 58.19 blast in the heats of the 100m breaststroke and then backed up with a second standard on the day when he clocked 58.14 in the semis. The U.S. and Americas standards had stood at 58.64 to Kevin Cordes since 2017 World titles. Cordes also made the Omaha final.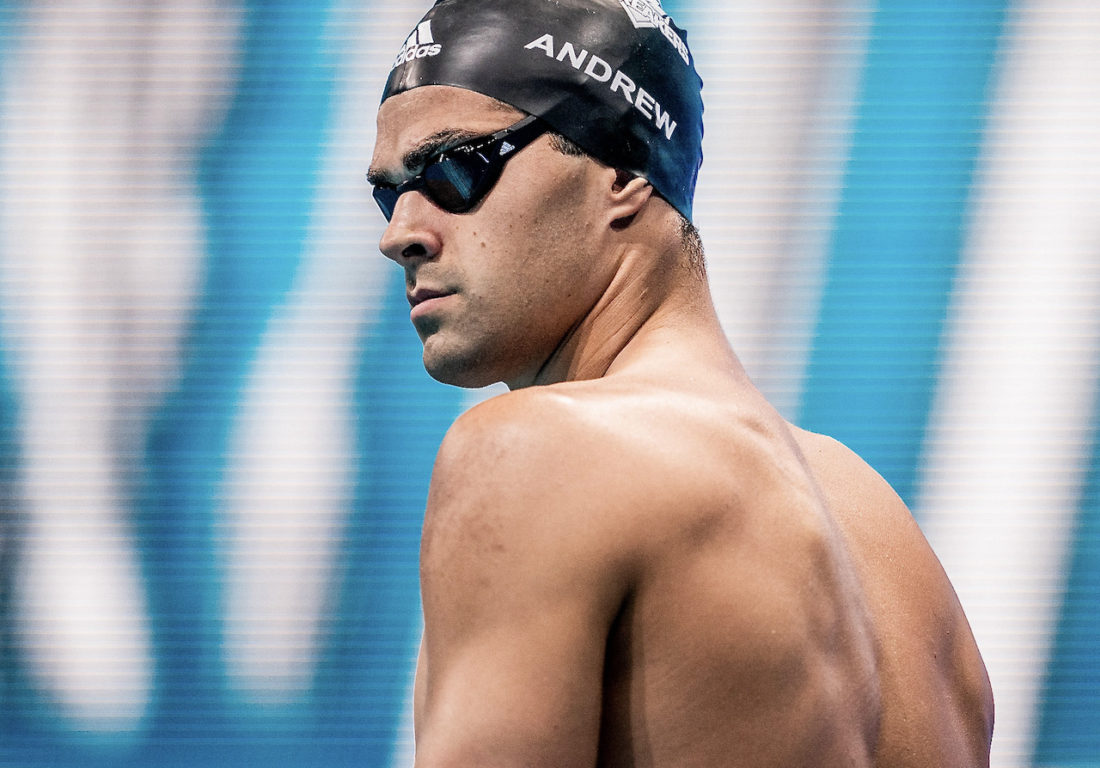 Terrific progress from Andrew, then. He has travelled the following curve since 2017:
2017 – 1:00.33
2018 – 59.38
2019 – 59.52
2020 – 59.83
2021 – 58.67, 58.19, 58.14
In the final, Andrew meets Nick Fink, on a career high, too, at 58.50 in the semis. Andrew's two swims flowed like this:
26.83; 31.31 – 58.14
27.05; 31.14 – 58.19
The target for all heading to the Tokyo 100m breaststroke is their own best and, if winning is what they aspire to, this kind of ebb and flow:
26.63; 30.25 – 56.88 Adam Peaty, 2019

The prospects are looking good for both Andrew and Fink heading into the final in Omaha (Andrew Wilson closest, on 59.08 in semis) and raise hope for the USA medley relay, which succumbed to Great Britain at 2019 World titles. The game was never off but the closer the breaststroke leg can be to Peaty, the bigger the confidence Americans will have of maintaining an Olympic gold bull run.
The other semi-final win day 1 in Omaha had two next-wavers showing their determination to be this-wavers: Torri Huske took down the American and continental 100m butterfly standard in 55.78 (25.96, 29.82). The standard had stood to Dana Vollmer at 55.98 since she claimed the Olympic title at London 2012. Huske is the sixth woman ever to race inside 56sec, her swim unfolding the day after Emma McKeon became the fifth member of the 55sec club at Australian trials in Adelaide.
Another teen, Claire Curzan, was next through to the Omaha final, Kelsi Dahlia (nee Worrell) keeping her powder dry for a showdown that will deliver thrill and spill in equal measure.