Kaylee McKeown Sends 57.45 Thunder From Down Under World Record Rolling Across Pacific As Titmus Joins Ledecky in Sub 3:57 Club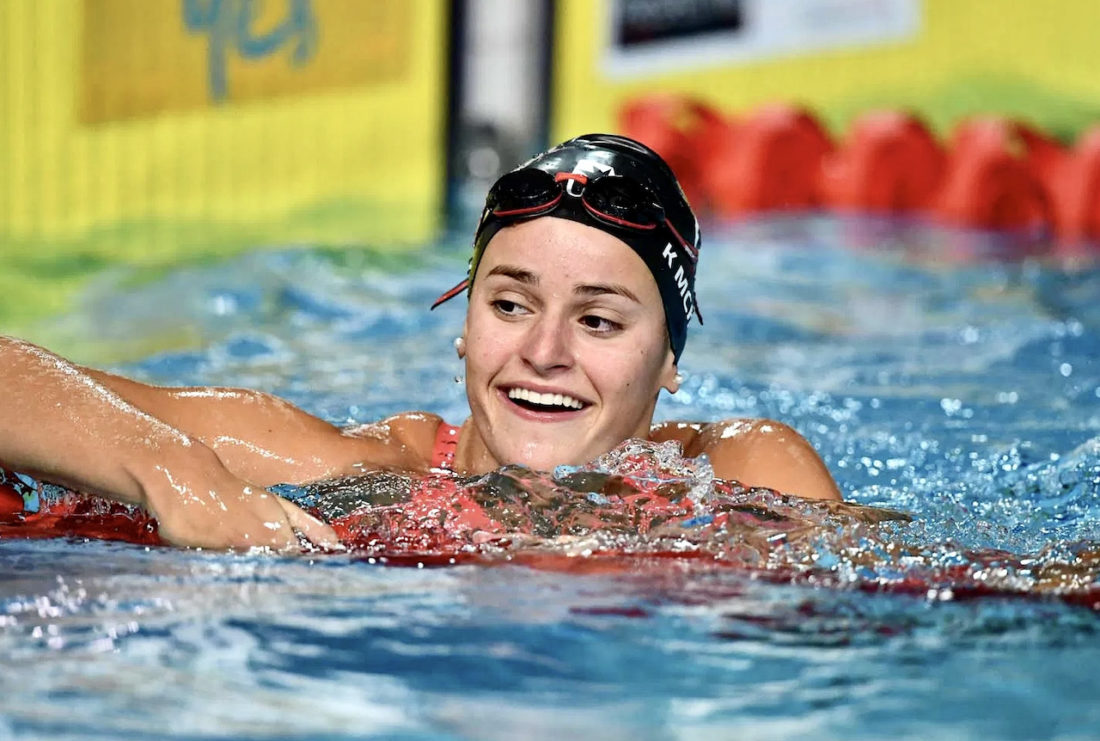 Kaylee McKeown sent a Thunder-from-Down-Under 57.45 World-record roller from the 100m backstroke final at Australian Olympic trials in Adelaide this evening out across the Pacific to World champ and record holder Regan Smith and the rest of a strong American line-up preparing to fight for a ticket to a showdown at the Tokyo Games next month.
There was also a Commonwealth record in the women's 400m freestyle, in which World champion Ariarne Titmus, St Peter Western, became the first to join American Katie Ledecky in the sub 3:58 and 3:57 club, on 3:56.90. Tasmin Cook, on 4:04.10, also qualified for Tokyo. More on that story here, with news of Australian strength in the 4x200m freestyle final heading to Tokyo as World champions.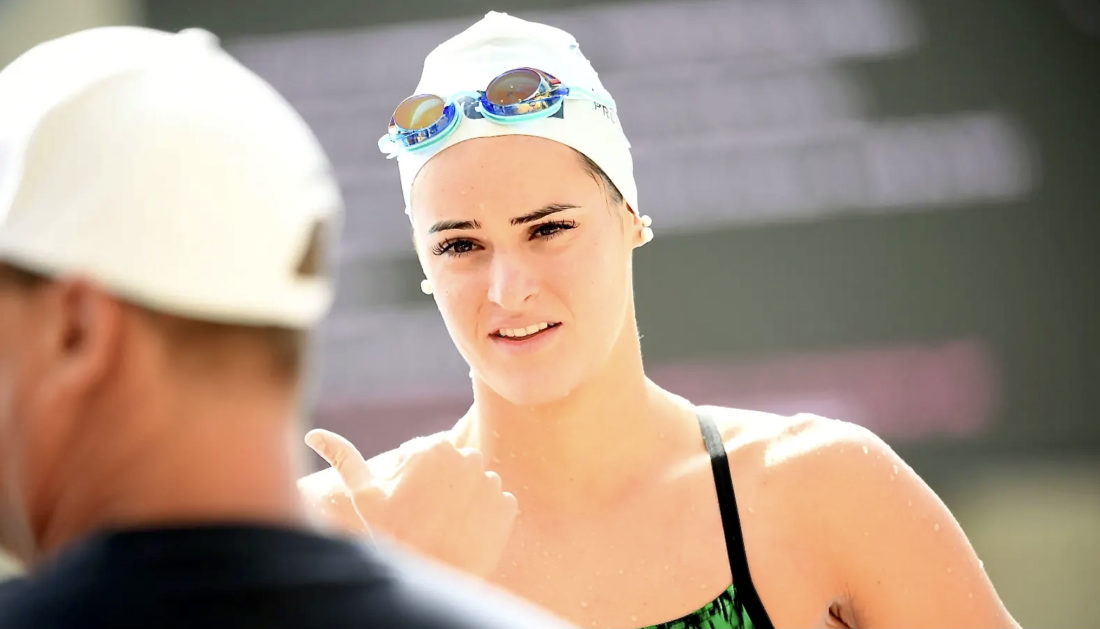 Coached by Chris Mooney, McKeown had sent a 57.63 warning earlier in the season. A day after the Australian trials opened with plenty of drama, McKeown became the first Australian since Bonnie Mealing in 1930 to set the global 100m backstroke standard – and the first ever to do so in a long-course pool (in 1956, FINA ruled that World records could only be set in 50m, of 55y, pools; before that the single world standard could be set in pools of various lengths, while since 1993, two sets of World records exist, for 50m, long-course, and 25m, short-course, pools. Yards pools and measures were ruled out of the world-record books from 1968).
Mealing took silver at the 1932 Olympic Games behind American Eleanor Holm. At her death in 2002, the year after McKeown was born and the years Smith was born, Mealing was the last surviving Australian medallist from the 1932 Olympics and the last surviving member of the Australian team to the 1928 Olympics.
Before 2019, when Smith clocked a stunning 57.57 leading the USA medley relay to the World title in Gwangju, the 58.59 in which Griffith's Emily Seebohm claimed silver and the second Australian ticket to the Tokyo 202One Olympic battle would have looked like a podium shot. No longer: it may take a 57sec swim just to get a medal, off any colour.
After Mealing, the best Australian Olympic result was Seebohm's silver of London 2012. There has been no Aussie gold since the inaugural women's 100m back in 1924. McKeown aims to be a pioneer.
For Australia, which like the USA is stacked with 100m back talent, Mollie O'Callaghan, 17 this year and racing for St Peters Western, offered another ray of sunshine for the future, with bronze in 58.86.
McKeown was out in 28.10 and home in 29.35. This is how that compares with Smith's 2019 World mark, which came off a faster first length:
28.10; 29.35 – 57.45 – McKeown 2021
27.74; 29.83 – 57.57 Smith, 2019
An emotional McKeown thanks coach Mooney and described her swim and new status as a dream come true: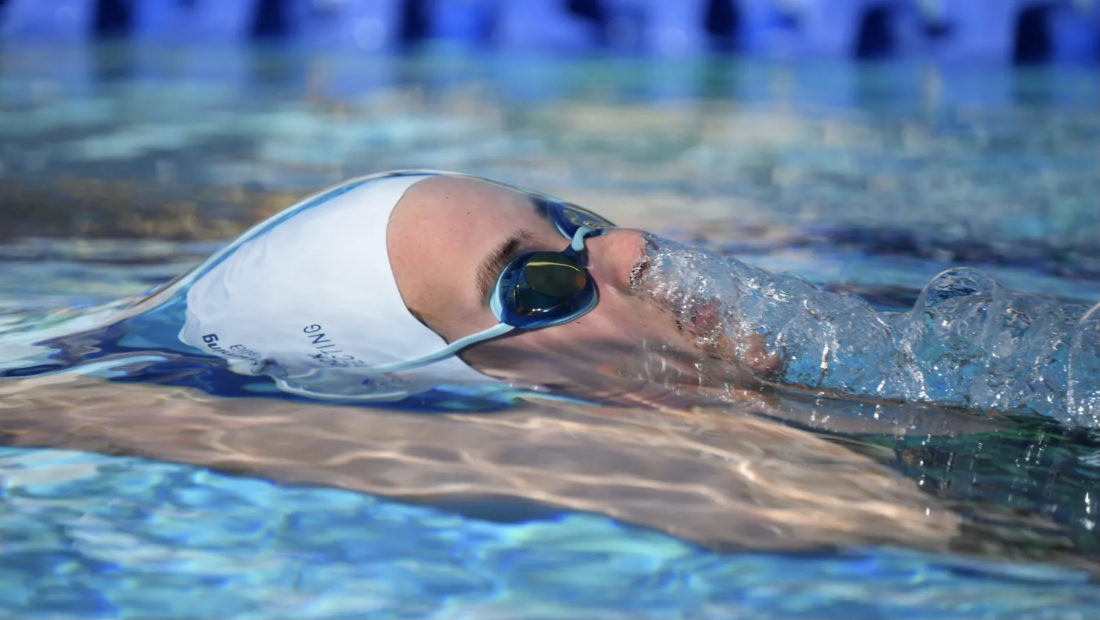 "We've been revving up the whole year so to finally get myself onto that Olympic team is a dream come true, it really is. He did say something to me before warm up, he said he believed in me. We knew it was go time. He knew something special was about to happen."

Kaylee McKeown – Swimming Australia profile
Seebohm was the only rival who kept McKeown company, and then, on 28.38, only down the opening length. At 29.35, the new World record holder was a class apart in the Adelaide race and will be a threat to any she is within half a second of at the turn in Tokyo.
After Callaghan came other Australians who have excelled internationally on backstroke, Madison Wilson on 59.02 in fourth, World short-course record holder Minna Atherton in fifth, well down on best at 59.74.
When Smith clocked 57.57 in Gwangju a year out from what would have been the Tokyo 2020 Olympic Games, it felt like she had blasted herself into the kind of outer-orbit gap over rivals that Adam Peaty enjoys on the clock (and in his case, race after race) has in the 100m breaststroke.
The door knocked down, it was a matter of time before others would follow into waters first charted by Smith, who was travelling faster than the speed of the first three men's world records set over 100m backstroke by German legend Roland Matthes in the late 1960s. He would go on to leave the standard at 56.30 at the 1972 Olympic Games when he became the first (and remains the last) to claim the 100 and 200m titles at consecutive Olympics.
It is doubtful Tokyo 202One will witness that kind of speed among women but the 57s are now an open book, Britain's Kathleen Dawson the nearest to the gate at 58.08 and approaching the Games with a "why-not-me" attitude.
Smith and several other sub-59ers – but none yet in the 57s with her and McKeown – will race the 100m backstroke at USA Trials on Monday evening in Omaha knowing that the seascape has shifted. The same goes for Kylie Masse, the Canadian who claimed the World 100m title without Smith in the race in Gwangju: she gets her own Olympic trials campaign underway next weekend in Toronto.
McKeown On The Crest Of A Shifting Seascape In The 100m backstroke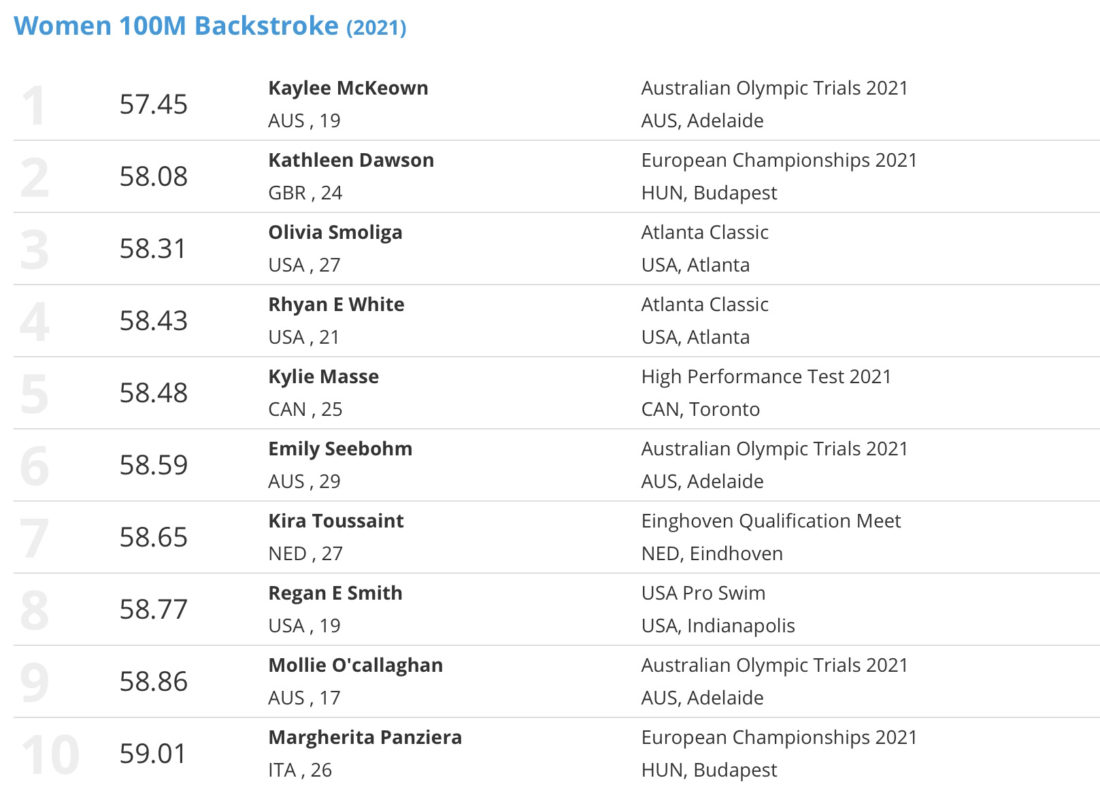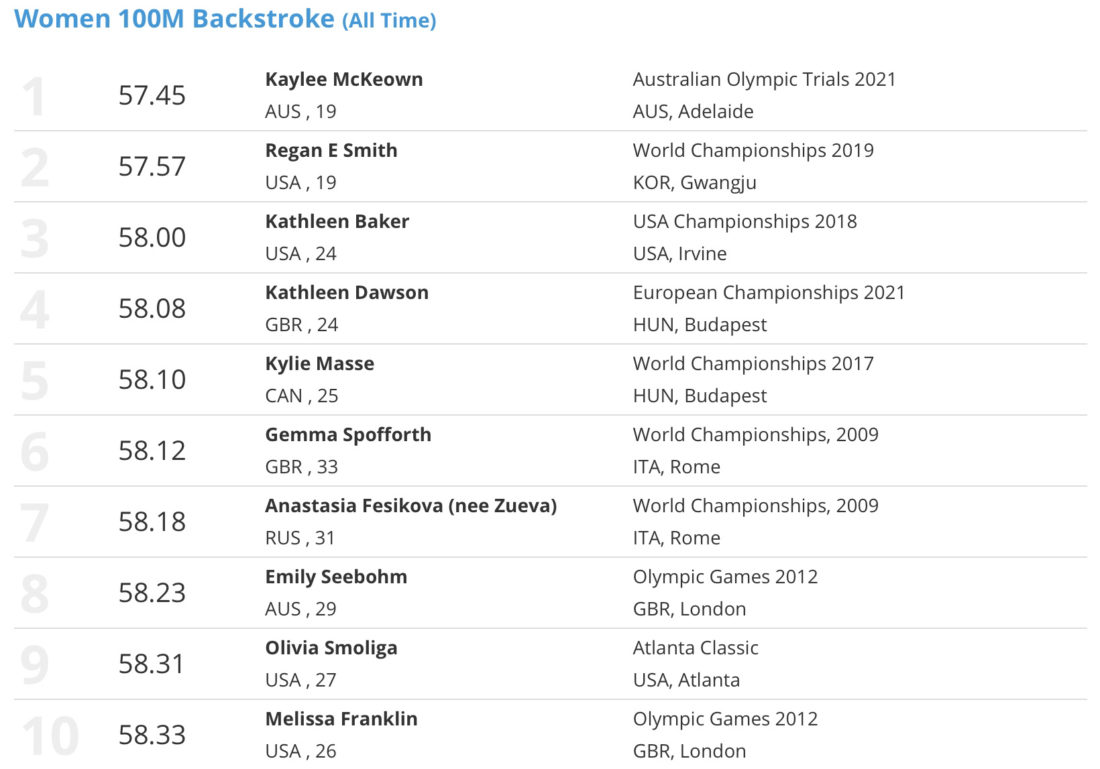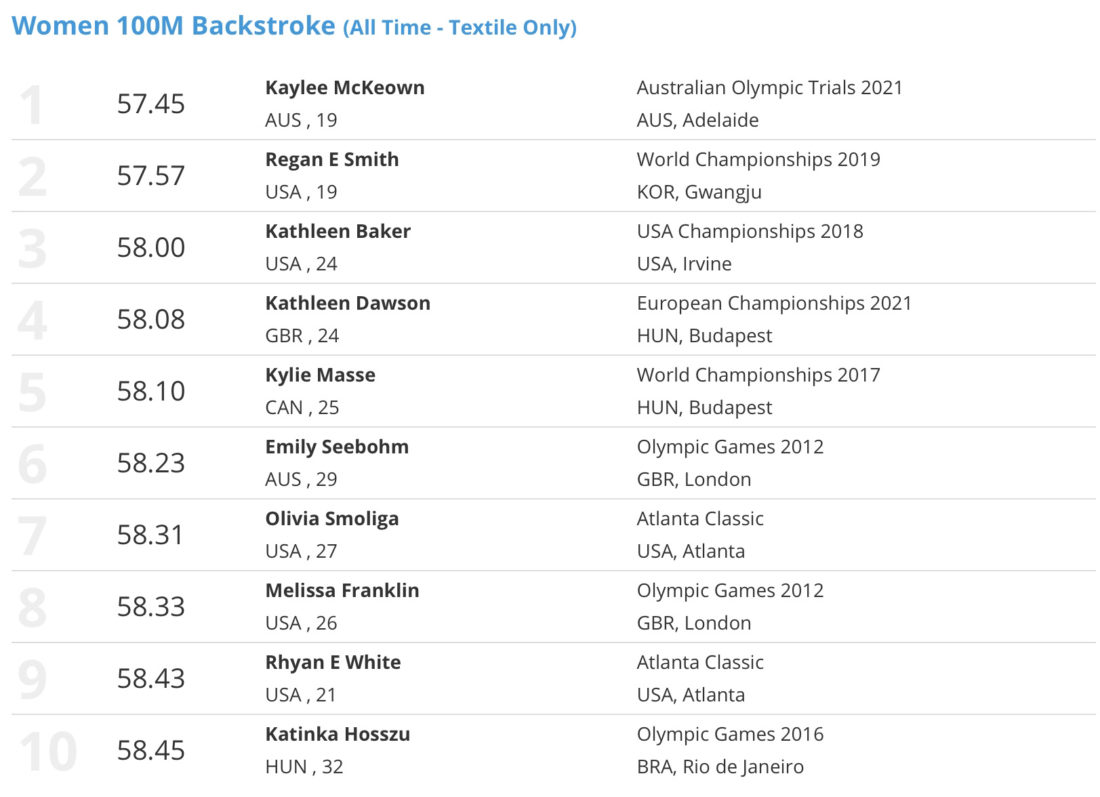 Women's 100m breaststroke
There was no getting to the former World record and surviving Commonwealth and Australian record of 1:05.09 set in 2006 by lethal legend Leisel Jones, but there was a sub-1:06 at the helm two tickets to Tokyo and three inside the Tokyo cut of 1:06.97.
Chelsea Hodges, of St Peters, was out in 30.99 and home in 35.00 for a 1:05.99 victory ahead of Jessica Hansen, who claimed the second Olympic berth in 1:06.69 ahead of a 1:06.96 from Jenna Strauch.
At sixth on the 2021 World rankings, Hodges, 19, is within reach of the fight for the solo medals in Tokyo but beyond that she delivers greater hope for Australia's medley relay, with Kaylee McKeown on back, Emma McKeown on 'fly and, depending on results this week, Cate Campbell on freestyle. A tough quartet to beat, the USA likely to be the team to beat.
Men's 100m backstroke
Mitch Larkin, the double World backstroke champion of 2015, did not match his 53.04 from heats but for a second time on the day he ticked the Tokyo-cut box when he stopped the clock precisely on target at 53.40. Just 0.09sec away was 17-year-old Isaac Cooper. Less than 0.1sec away from an Olympic qualifier at 17. Will Australia stick to the number on the sheet or use discretion? The pandemic and its challenges has led to other nations adding discretionary clauses to policies but Australia has a record of not doing so. Bronze went to Tristan Holland in 54.00.