Katinka Hosszú Approaches Defence Of Olympic Crowns On A Different Trajectory To Her Rattling Ride To Rio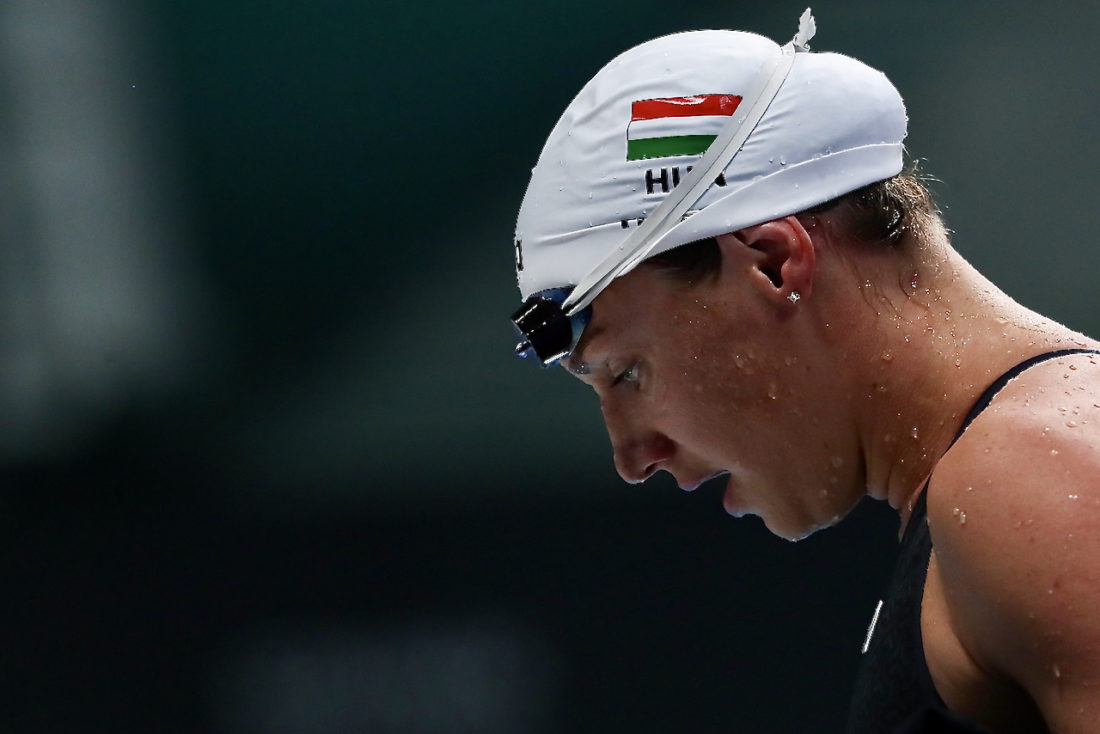 Olympic champion Katinka Hosszú is used to finishing first over 200m medley races, when the going gets tough and tight or when the day is about preparation and honing on the way to the defence of one of her three crowns at the Covid-delayed Tokyo 2020 Olympic Games.
Today on the penultimate day of action at the Stockholm Open at the Eriksdalsbadet was about the latter and in 2:11.54 – (28.90; 1:03.08 (34.18) 1:40.57 (37.49) 2:11.54 (30.97) – it was not about the win, though win the Hungarian did.
At national championships the week before last, Katinka Hosszú claimed another slew of titles in what for her were modest workaday times but all part of the process. This season has not been at all like that in the build up to Rio 2016, when Hosszú out-raced and out-paced every other swimmer in the world with series of world-class times, meet over meet, freestyle, backstroke, butterfly and medley (some breaststroke PBs in the mix, too).
With no need to show her hand in this most unusual of approaches to a Games for all concerned, Katinka Hosszú is biding her time – and what comes of it is anyone's guess beyond her's and those who work most closely with her.
Israel's Anastasia Gorbenko, 18 this year, was closest today, on 2:13.49, Finland's Jenna Laukkanen third in 2:15.42.
The session came to a close with three under 25 in the women's 50m freestyle final. At the helm was Denmark's Julie Kepp Jensen, on 24.71, ahead of Sweden's Michelle Coleman, 24.96, and Finland's Fanny Teijonsalo, 24.97.
Andreas Vazaios Practising A Part Of Medley Sum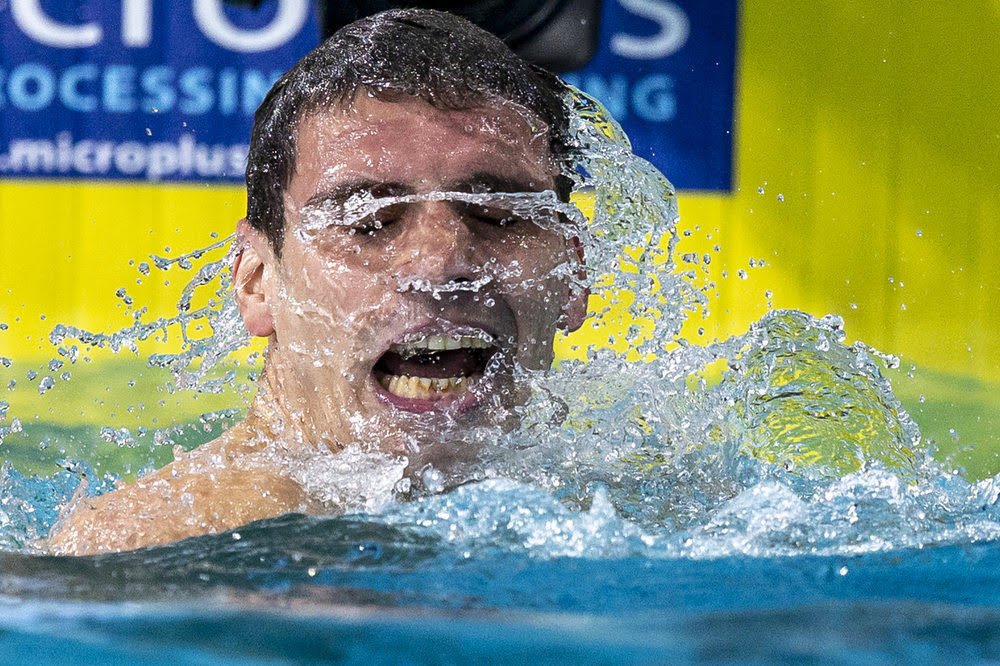 Greek visitor and medley ace Andreas Vazaios, based at Loughborough University in Britain, out in a speedy part-of-sum practice when he took the 100m freestyle in 48.93, off a 23.86 split. Vazaios became the European Short-Course 200m medley title and continental record holder in 2019 shortly before the pandemic changed the shape of the season – and life.
In the 100m freestyle today, his stamina proved decisive: he sprinted past four men after the turn, leaving Josha Salchow, SV Nikar Heidelberg, second on 49.08, and Lithuania's Simonas Bilis third in 49.47.
There as an Israeli national record in the women's 200m backstroke, Anastasia Gorbenko, 17, on 2:10.86 (30.61; 1:03.87; 1:37.13 – 33.26) for the new standard, the previous record holder, Aviv Barzelay, 18, third on 2:11.98, just 0.07sec shy of the mark she established at World Junior Championships in 2019. In between the two Isrealis was Austria's Lena Grabowski, on 2:11.76.
Czech Mates Take A Win Apiece
Barbora Seemanova, of the Czech Republic, took the women's 400m freestyle in 4:09.87 ahead of Julia Hassler, of Liechtenstein, on 4:10.77, and Germany's Reva Foos, for SG Frankfurt, on 4:11.43.
Sebastian Lunak, the 19-year-old from the Czech Republic who has put in a string of 1:57 and 1:58 efforts over 200m butterfly these past couple of seasons, took the four-length race in 1:57.77, a career high by 0.22sec. His target is ahead of him yet: the national record has stood at 1:57.63 to Jan Sefl since the heats of the 2015 World Championships.
The men's 100m backstroke produced another win for the Czech team, Tomas Franta on 54.47 ahead of Armin Evert Lelle, Viimsi Veeklubi, on 55.08, and Greek visitor Giorgos Spanoudakis, on 55.58.
Estonian Record For 15-Year-Old Jefimova
Eneli Jefimova, who turns 15 this year, entered the 200m breaststroke with a 2:27.84best set in at home in Riga, Estonia, in February. That was a national record but it now stands at 2:26.88 (34.07; 1:11.97; 1:50.34 – 36.54) after she shot past the four ahead of her at the last turn. Denmark's Thea Blomsterberg took second in 2:27.68, the Czech Republic's Kristyna Horska third in 2:27.81.
Felix Auböck & Louise Hansson Impress
The highlight of the first day of action was a roaring 3:44.51 win for Lough-University based Australian Felix Auböck in 3:44.51, just shy of his national record of 3:44.19 from 2017 World Championships but well inside his 2020 best of 3:45.60 at Austrian nationals in the midst of the first year of the Covid-19 pandemic.
The women's 200m freestyle featured a 1:57.76 from Barbora Seemanova, of the Czech Republic, that effort not far from the 1:56.96 she clocked at the 2020 Uzbekistan Open Swimming Championships last year. The final also witnessed an Israeli record, Anastasia Gorbenko on 1:58.99, a fingernail ahead of Andi Murez, who was also inside the previous Israeli high bar, on 1:59.01.
There was also a national record in the 1500m freestyle, Marlene Kahler providing Austria with a new standard, on 16:21.52 a fingertip ahead of Germany's Lea Boy, on 16:21.56.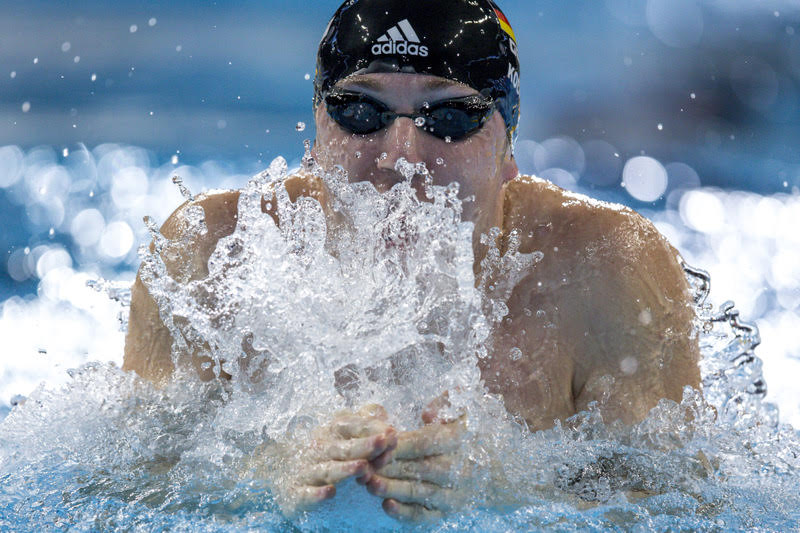 Germany's Marco Koch put in a 2:10.95 at the helm of the 200m breaststroke ahead of Austria's Christopher Rothbauer, on 2:11.53, and Estonia's Martin Allikvee, on 2:11.56.
The women's 'fly dash produced efforts of 25.62 and 25.84 from Denmark's Emilie Beckmann and Sweden's Louise Hansson, whose national teammate Michelle Coleman came home in 26.05.
On the second day of action, Hansson was back at the helm the next day with a sprightly 56.73 personal best in the 100m butterfly for a likely ticket to the Covid-delayed Tokyo 2020 Olympic Games. Fellow Swedish ace Olympic champion and World record holder Sarah Sjostrom is on the road to recovery through rehabilitation right now, having sustained a cracked elbow when falling on ice several weeks back in winter.
Sjostrom, on 55.48 for the Olympic crown in what remains the World record, has the best 31 times ever swum by a European, while Hansson's new career high makes her the fifth fastest all-time in Europe.
Auböck took the 200m freestyle final in a career-best 1:45.70 and in a league of his own. The heats featured an Estonian record of 1:47.06 for Kregor Zirk, who was closest to Auböck in the final, on 1:47.19, third place to Germany's Jacob Heidtmann, on 1:48.31.
The 1500m freestyle witnessed a solid 14:54.11 from Denmark's Alexander Norgaard ahead of Germany's Ruwen Straub, 15:05.58, and a second Dane in the top 3, Anton Ipsen, on 15:16.22.
Katinka Hosszú Builds Towards Olympic Defence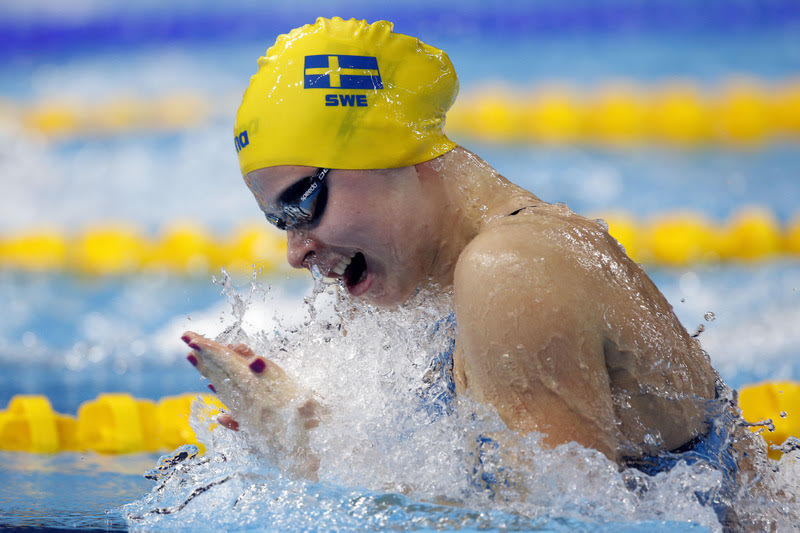 There were also solid wins for Olympic champion Katinka Hosszu, who raced well inside her cruise-control efforts at Hungarian nationals with a 4:38.85 season best in the 400m medley on her way to defending the Olympic crown in Tokyo; Sophie Hansson, of Sweden, on a career-high 30.46 in the 50m breaststroke; in a raced that also featured an Estonian record of 30.93 courtesy of Eneli Jefimova; and from Philip Heintz, of Germany, on 52.42 in the 100m butterfly, the heats of which featured an Estonian record of 52.68 from Alex Ahtianen.
The 2021 World rankings are taking shape in pockets, their meaningfulness yet in the long season ahead beyond USA Olympic trials in June.