Kristóf Milák Maelstrom Strikes Again: Overthrows Nándor Németh With Gauntlet-Chucking 48.00 Hungarian 100m Freestyle Record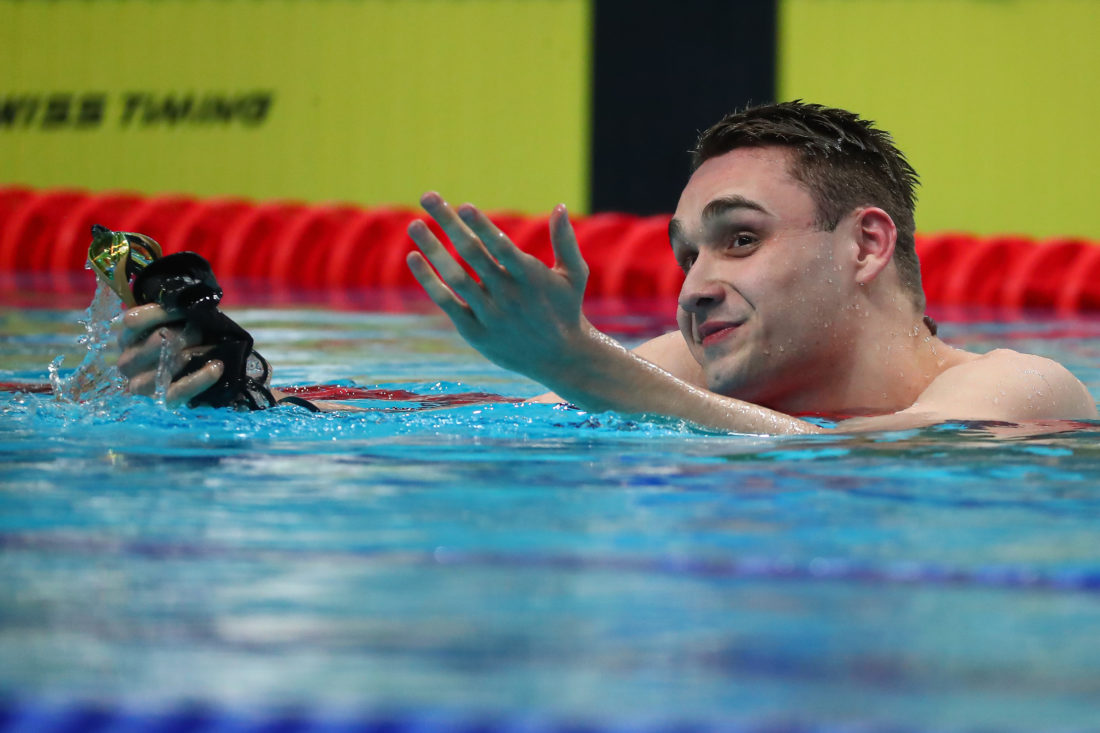 There is no stopping Kristóf Milák on his bull run of fine form at the 123rd Hungarian Swimming Championships, a 48.00 Hungarian 100m freestyle record ahead of a vanquished, bowed-but-not-out Nándor Németh, on 48.17, this morning another gauntlet-chucking moment that reminds the wider world of the maelstrom coming its way at the Covid-delayed Tokyo 2020 Olympic Games.
As thoughts turn to what Milák might muster in the 100m butterfly to come, not to mention the solo 200m free, the longer-term is all the more intriguing: put the puzzle together and Hungary has a prospective double Olympic 200m gold medallist on its hands, 'fly and free.
Stunning efforts of 1:51.40, via 1:52.50 in heats, over 200m butterfly and a 1:44.8 200m free relay split were backed up by a big leap forward in the 100m free this morning. Kristóf Milák arrived at the championships with a 49 flat as his 100m best, reduced that to 48.8 in heats yesterday evening and then came back this morning to clobber the champion and record holder.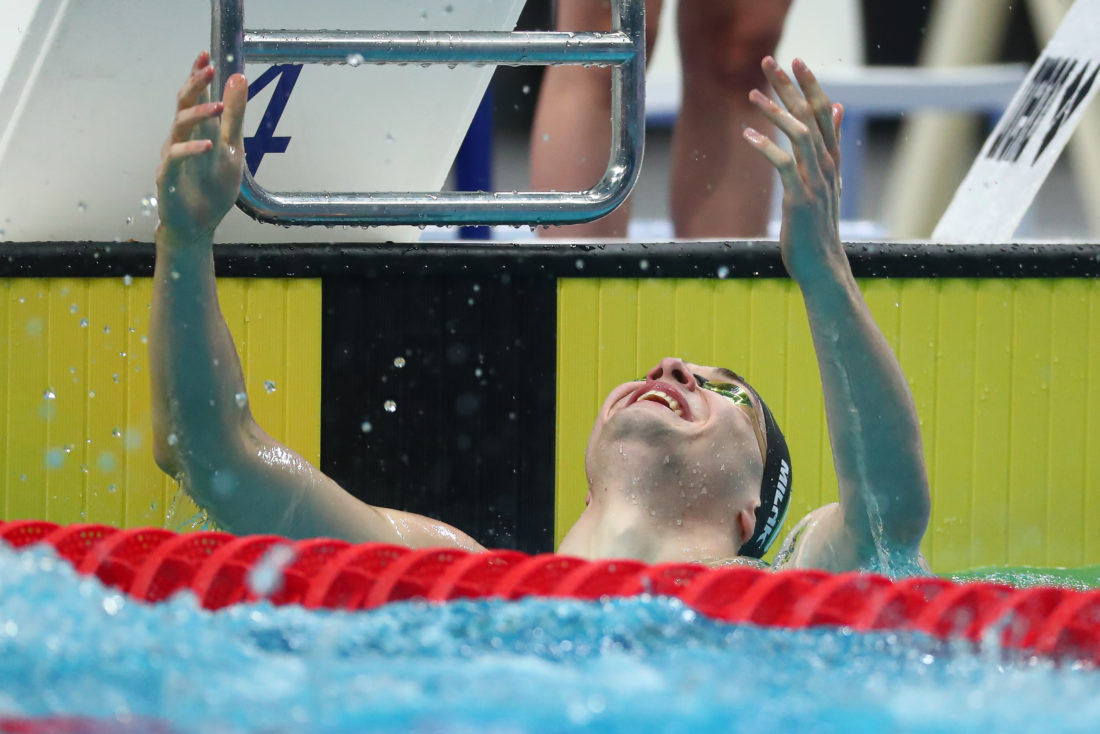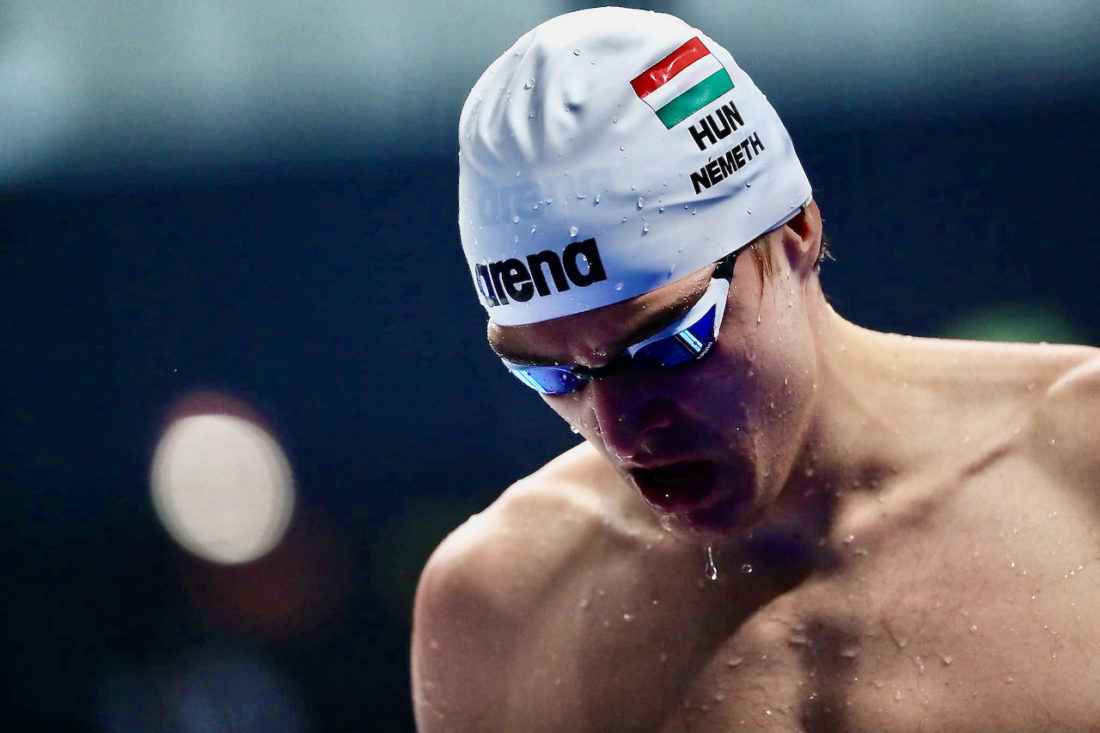 Németh laid down a sizzling 48.11 in day 3 heats yesterday but Milák's heats speed had been just 0.2sec away at the 50m turn before he eased off on his way to a career high. Given his 200-400m stamina and prowess, surely there was more to come.
So it proved. Kristóf Milák left absolutely nothing to chance. Faced with a pure sprinter, he struck from the blocks: out in 23.06, Milák, 21, beat Németh to the turn. From a 23.22 and in the face of a 1:50.73 200 'fly swimmer, the defending champion and record holder had a huge mountain to climb.
Németh proved a fine opponent: 48.17. Milák had the edge there and back and has enterer the realms of multiple Olympic-medal prospect.
The record had stood to Neméth at 48.10 since the World-title final at Gwangju 2019. Milák's best of 49.08 from 2017 World juniors was a red herring: in Gwangju, where he set a world record of 1:50.73 (Read the archive) in the 200m butterfly, he helped the Hungarian 4x100m free quartet finished seventh in the relay final, with a 48.05 split.
It was only a matter of time.
Up from 6th to the top of the Hungarian 100m free rankings this morning, Kristóf Milák also rose from outside the swiftest 200 men ever, with his heats time yesterday, just into the ranks of the best 50 – all suits. In textile only, he's just outside the top 30. Good as a 48 flat is, the Tokyo podium is likely to be a test of the 47sec mark and will almost certainly take a sub-47.5 or faster.
Milák, coached by Attila Selmeci at BHSE, has the 100m butterfly to come in Budapest. A 48 flat freestyle and his 1:51.4 in the 200 'fly may make for more fabulous speed yet this week.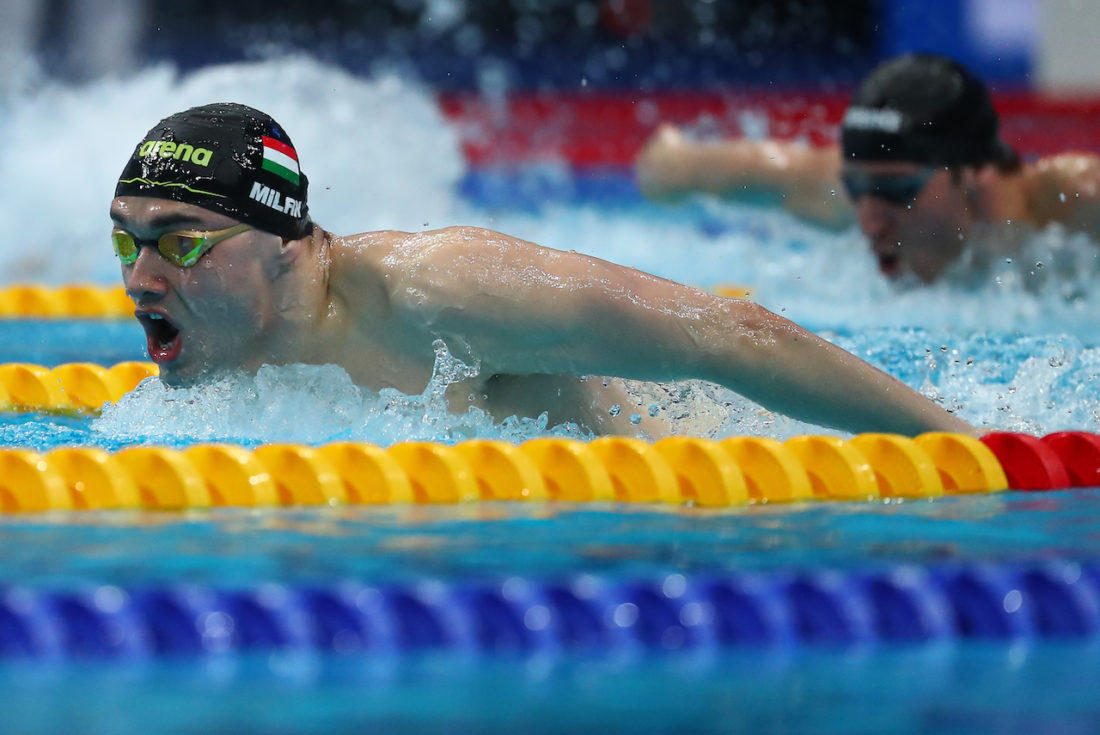 The biggest question is how the alchemy of a 48 flat and a 1:44.8 relay split fits with this view from Kristóf Milák on where he sees himself right now, the quote after his 1:51.40 in the 200 'fly earlier in the week:
"The last 50 wasn't so good – a clear sign of under-training. Serious preparation starts after this."

Kristóf Milák

– image of Milák racing in Budapest at nationals , courtesy – Hungarian Swimming Federation
If we are looking at a man capable of going a low 1:44 in a solo 200m freestyle – and that's not hard to see – then we're looking at a prospective double Olympic champion at Tokyo 2020.
The podium at the Duna Arena in Budapest today was completed by Szebasztián Szabó on 49.08, with Péter Holoda on 49.19 and Richárd Bohus on 49.31. Hungary has a decent 4x100m relay.
In Other Finals
Elsewhere, the fourth day of morning finals was a relatively calm affair.
Dávid Verrasztó, coached by Ákos Molnár and László Formaggini at FTC, clocked 4:13.57 to reclaim the 400m medley crown ahead of Péter Bernek, on 4:14.70 – after a 4:12.60 career high yesterday that raised the prospect of him finally getting below the 4:12.36 at which the legendary Tamás Darnyi set the World record back in 1991 the years before Bernek, 30 this year, was born. The podium was completed by Dániel Sós in 4:16.91.
Katalin Burián, coached by Zsolt Plagányi at BVSC-Zugló, took the 200m backstroke title in 2:08.81 ahead of teenagers Eszter Szabó-Feltóthy, 2:10.03, and Réka Nyirádi, 2:11.16. In fourth place was Olympic silver medallist Katinka Hosszú on 2:16.36, after she had reclaimed the 400m medley crown earlier in the session in a workaday 4:42.25.
There were also titles for Dávid Horváth, on 2:13.05 in the 200m breaststroke; Fanni Gyurinovics, on 55.56 in the 100m freestyle; Ádám Telegdy, on 1:57,90 in the 200m backstroke; and Eszter Békési, on 2:28.19 in the 200m breaststroke.