Dutch Ace Sharon Van Rouwendaal Takes Her First 10km World Title To Add Budapest Gold To Rio Olympic Crown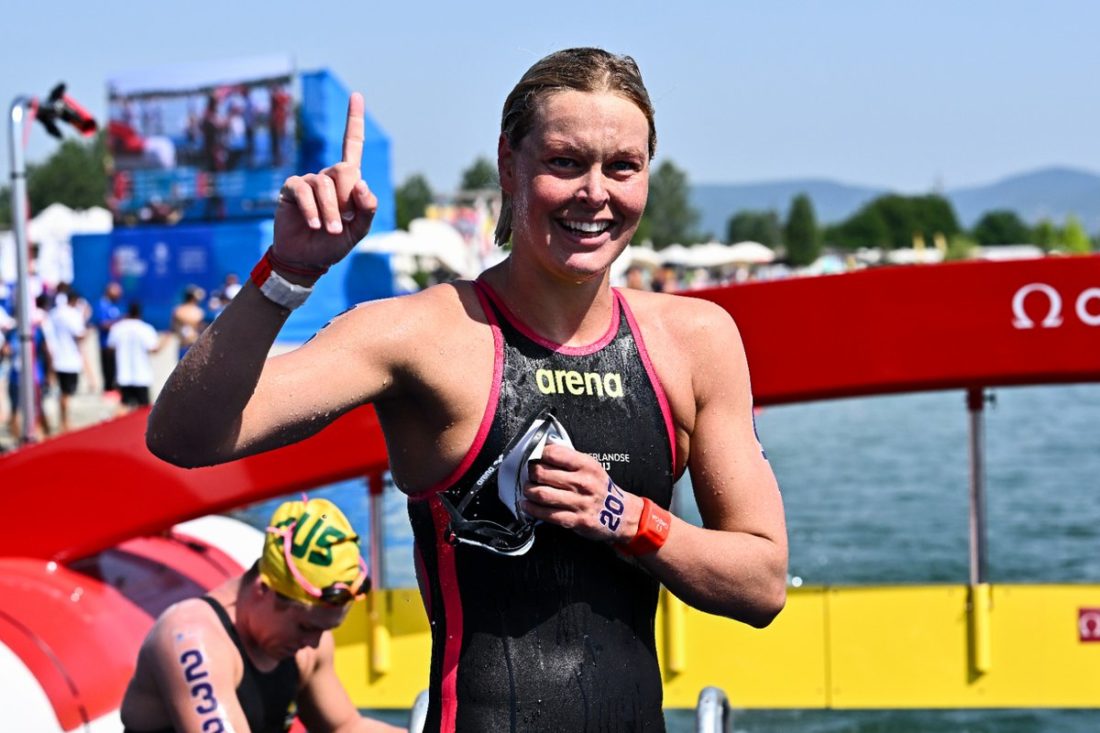 Dutch marathon ace and 2016 Olympic champion Sharon van Rouwendaal claimed gold, for her first World 10km title, on Lupa Lake in Budapest today.
Van Rouwendaal, 28, was disappointed in a 10th-place finish over 5km last Monday, but today the 2016 Olympic champion who took marathon silver at Tokyo 2020ne, resound her rhythm.
For much of the race she swam well back from the leading pack in a race dominated in the early stages by Katie Grimes, the 16-year-old American silver medallist over 1500m freestyle behind U.S. teammate Katie Ledecky and 400m medley behind Canadian 15-year-old Summer McIntosh in the pool last week.
French challenger Aurélie Muller and the Brazilian Ana Marcela Cunha, who won the 5km on Monday, also challenged up front for more than half the battle but just after 5km of the race was history, the school broke into two distinct pods, Van Rouwendaal catching the tail of the lead group and gathering momentum.
As Grimes slipped back to sixth place by a kilometre to go, Germany's Leonie Beck and Cunha took the lead, Van Rouwendaal edged up to them and the race for the podium was well and truly on. In a spectacular final sprint the Dutchwoman who also has podium honours from the pool to her name – on backstroke and also freestyle from 400m upwards, got the better of her rivals to take the title in 2.02.29, 0.5sec ahead of Beck, with Cunha, the Tokyo 2020ne Olympic champion, third a further second adrift.
A fine day for coach Bernd Berkhahn, who guides the top 2 in the race, Van Rouwendaal and Beck, and the German ace third home in the men's 10km, Florian Wellbrock (report to follow).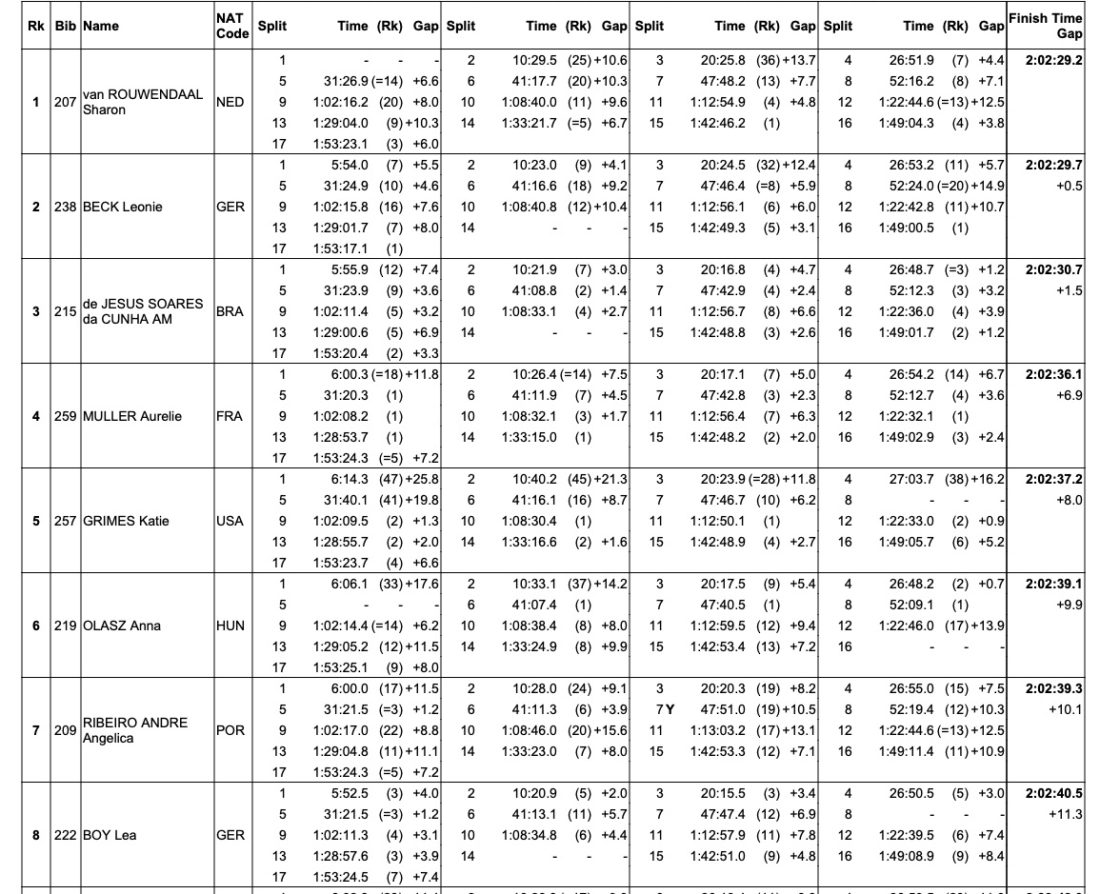 Van Rouwendaal, with plenty of silver to her name at global level and seven European titles, had never been world champion before.
After the race, Van Rouwendaal said: "I knew I had to do it differently than in the five kilometres. "There's a lot of emotion in the mix. You always have to keep turning the dial up. I was able to flick the switch very well. I wanted to swim smartly: wait, wait and then give everything in the sprint." She added: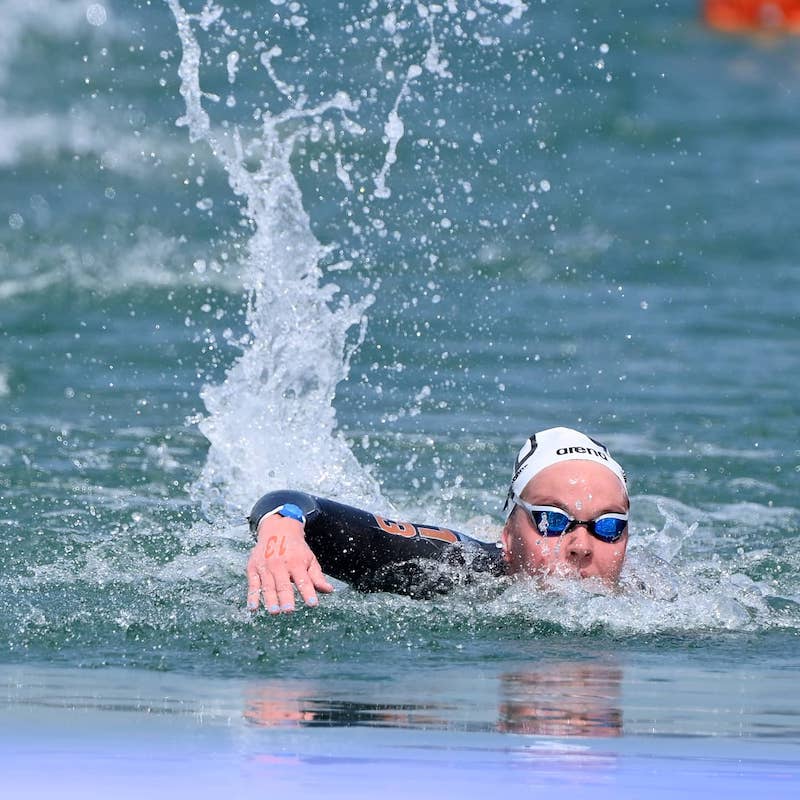 "I knew that my form was fine and that I only had to change something in my stroke. I did a kind of 'Ferry' [Weertman, fellow Olympic marathon champion for The Netherlands at Rio 2016] with that sprint at the end.

"I couldn't believe it at the finish and not yet. I went faster and faster and saw that I was in the lead in the last few meters. Then I thought: tap now and then you have it. And that happened. I am really happy."

"I didn't feel like I did anything the whole race. If there was a gear, I let someone else do the work. I didn't want to lead on the last lap, because then you will be pulled back anyway

"This was exactly what I had in mind: that those two (Cunha and Beck, ed.) would fight each other and I would choose the longer way to sprint to the right to the street. It was a fair sprint at the end and I could see a clear outcome: I've got this!"

Sharon Van Rouwendaal
Tomorrow, Van Rouwendaal and her opponents will bring their Budapest 2022 Open Water campaigns to a close in the 25km battle. She said: "I'm going to recover this afternoon and then we'll see what I can still do tomorrow. But first I'm going to enjoy it."
Beck, who claimed Team 6km gold with Lea Boy, Oliver Klemet and double World champion (1500m and marathon of 2019) Florian Wellbrock said she was "happy that it finally worked out at a world championship … A medal at a world championship is really great. In the end you also need a little bit of luck. But second in this field is really, really good."
Beck joked with reporters at the start of the race as she looked out on a lake where the waters had reached 27.6 C early in the morning that she didn't want to swim another stroke after Team gold. The way she raced in the two hours that followed suggested otherwise.
At the 2016 Olympics, Beck raced for Germany in the pool, over 800m free, when Van Rouwendaal was a pool competitor who then took to the ocean to claim Olympic marathon gold. Beck resolved to make the switch to open water. A wise move, as it turned out: at the 2019 World titles in Gwangju, she claimed bronze in the 5km and then in Tokyo last year took 5th place in the Olympic marathon (10km).
After silver by a slither today, she said: "I was really looking forward to the race. I'm really enjoying it now. I think I've established myself in the open water and I've already got up among the best in the sport." In the 25km tomorrow, she would "give everything my body can still manage".