Paltrinieri & Acerenza Punch Italian 1-2 Ahead Of Wellbrock As Europe Celebrates Distance-Free Dominance On Lupa Lake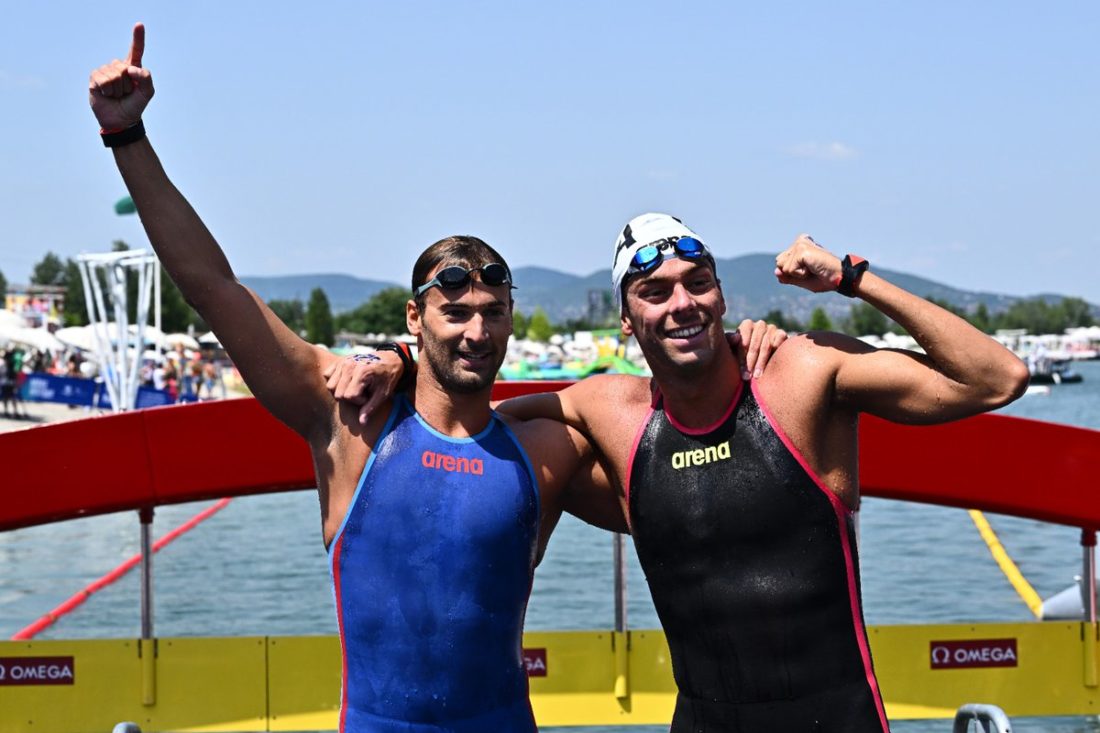 What a fortnight for Gregorio Paltrinieri, what a World Championships for Europe's top distance swimmers, the Italian joined bay Florian Wellbrock, Mykhailo Romanchuk, Domenico Acerenza and others making open water a roaring success story for the old continent in Budapest.
It was the marathon on Lake Lupa today and Paltrinieri, the courage of a soaring mind-the-gap 1500m victory last Saturday still coursing through his sinews, added 10km gold today as Acerenza punched an Italian 1-2 with silver ahead of defending champion Wellbrock, of Germany.
What Wellbrock, winner of the 5km on Monday after he brought Germany home to Team gold on Sunday), achieved in Gwangju back in 2019 before the world had ever heard of Covid-19, Paltrinieri, the 2016 1500m Olympic champion, matched today: World titles over 1500m and the 10km at a single championships.
There's one day of battling remaining for open water out on Lake Lupa, over 25km for men and women tomorrow but take the four blokes mentioned up top and here is what they've amassed so far in Hungary since pool racing started on June 18:
Gregorio Paltrinieri (ITA): Gold, 1500m freestyle; Gold, 10km; Silver, 5km; Bronze, Team 6km
Florian Wellbrock (GER): Gold, 5km; Gold, Team 6k; Silver, 800m freestyle; Bronze, 1500m freestyle; Bronze, 10km
Mykhailo Romanchuk (UKR) – his early 2022 preparation trashed by Putin's war on Ukraine: Bronze, 800m freestyle; Bronze 5km
Domenico Acerenza (ITA): Silver, 10km; Bronze, Team 6km
Then there's the European dominance of the Team event, a 4x1500m relay, in effect: Germany, Hungary and Italy made it all medals for Europe, while France made it 16/16 medals for the old world:

Today, Paltrinieri drew Acerenza to an Azzurre 1-2 in the marathon, perhaps as reward for his teammate's support in that epic 1500m last weekend, after which the champion emerged to say: "I was in lane 1 and everybody was so close to me… everybody went crazy throughout the race and more after 800-1000. I saw everybody, all my team, shouting, jumping and screaming, so I felt the pressure but it was more fuel to myself because I knew I was swimming fast. I saw everybody, clear. I could recognise their faces because I was really close to them. So while I was breathing, I was like 'yo, that's Mimmo [Acerenza] … everybody was pushing me. It was perfect."
Grazie Mille Mimmo! Paltrinieri's favour returned unfolded in the opposite of what we saw unfold in the 1500m in the pool: no sprint up front and hold on, rather a hold on, stay-in-touch approach and then sprint like hell during the last 8-9 minutes of battle.
It was there, in the heat of heading home that the Italians ripped more than 12secs off their closest German opponent.
Who in turn tore a strip off all those who followed.
The break happened with around 12 minutes to go before Paltrinieri put gold beyond doubt. Alongside the Italians and Wellbrock all on 1hr 38.50-plus seconds, were France's Marc-Antoine Olivier, Hungary's David Bethlehem, Ukrainian Mykhailo Romanchuk, Germany's second man Niklas Frach and the first non-European in the race, Australian Nick Sloman – all within 5secs of each other.
By the time Paltrinieri stopped the clock in 1hr 50mins 56.8sec, he was 1.4sec ahead of Acerenza and 14.4sec ahead of Wellbrock, who led for 11 of the 18 officials splits (555m buoys apart) in the race. Wellbrock was in gold-medal contention until a kilometre to go and from there held on to fend off Olivier for bronze by a photo-finish 0.3sec, the field finishing in the order above at respective distances from gold of: 33.0, 44.8, 49.0, with the Australian not even within a minute of the champion and 1min 01.3sec back. Talk about stretching the field out.
Paltrinieri, Olympic bronze medallist when Wellbrock struck gold in Tokyo last year, celebrated his fourth medals of the Budapest 2022 championships.
With a nod to his training partner pushing him all the way, Paltrinieri told RAI, Italian radio, that the race was just like a training set for the two: "First and second? It's the best thing that could have happened to us In the end I felt that Mimmo was there, I understood that it was him, and not Wellbrock, from the way he touched me. My feet. I felt at home."
Asked about his strategy, he replied: He added: "I let Wellbrock carry me for a long time, I drank a lot and refuelled a lot, to be able to give everything in the last 1,500 metres. Being here together on the podium is the best thing. We are best friends, we trained for ten years together, and now, here we are!"
As he had after the 1500m in the pool, Paltrinieri pointed to his fourth place over 800m as the catalyst for success: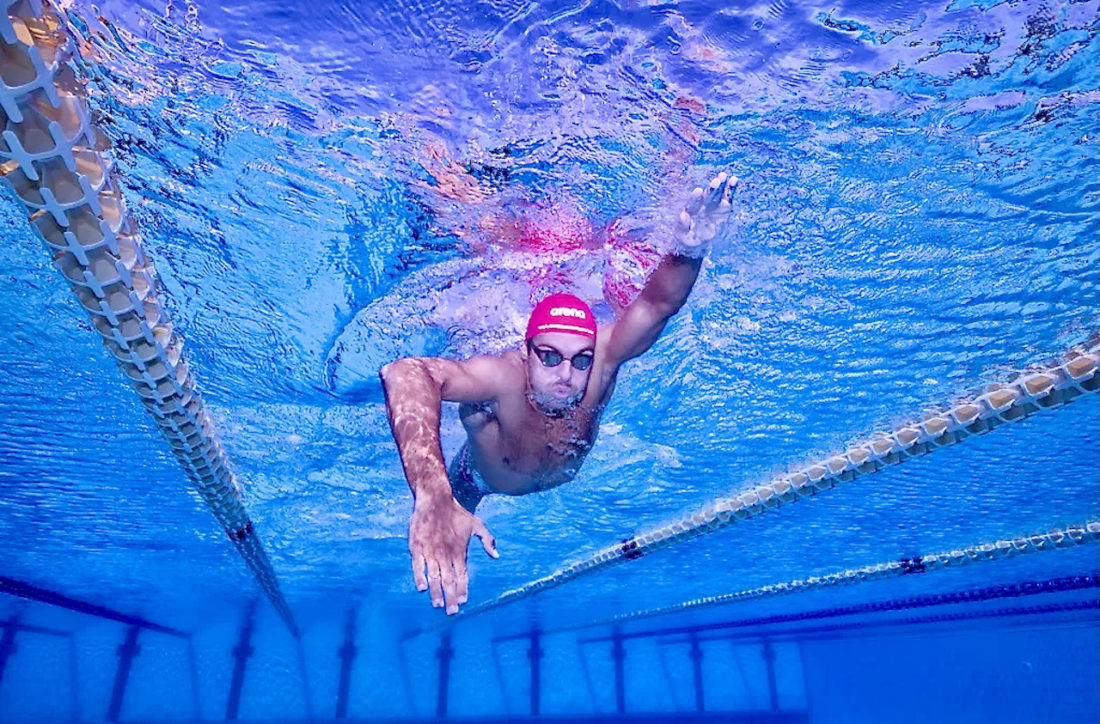 "In these World Championships I won four medals, two golds, making a full stash, just about. I was convinced I would do well. I counted a lot on these races to prove to myself that I was still able to do something. Doubts come, it's normal, but then you are here, you see the results, and everything changes. After the fourth place in the 800 I thought I would go home with zero medals, I swam badly, I was very tense. There I understood my limits, what I could do, and from there I did only good things."

Gregorio Paltrinieri – photo courtesy of arena
For his part, Acerenza paid plaudits to Paltrinieri and his role as magnet to progress: "I'm in seventh heaven. I worked for this, I dreamt it. And if I'm dreaming, wake me up. In the race I was super calm, I swam well, the first laps were very relaxed. Then we increased the pace, but I still felt I had energy. And I needed this energy in the final sprint. I did my best there, but Greg was pushing really hard. For me every workout with Greg is a race, every day in that environment leads to improvement. We are super friends, we trust each other. At the time it was a shared choice and it still is."
The Result: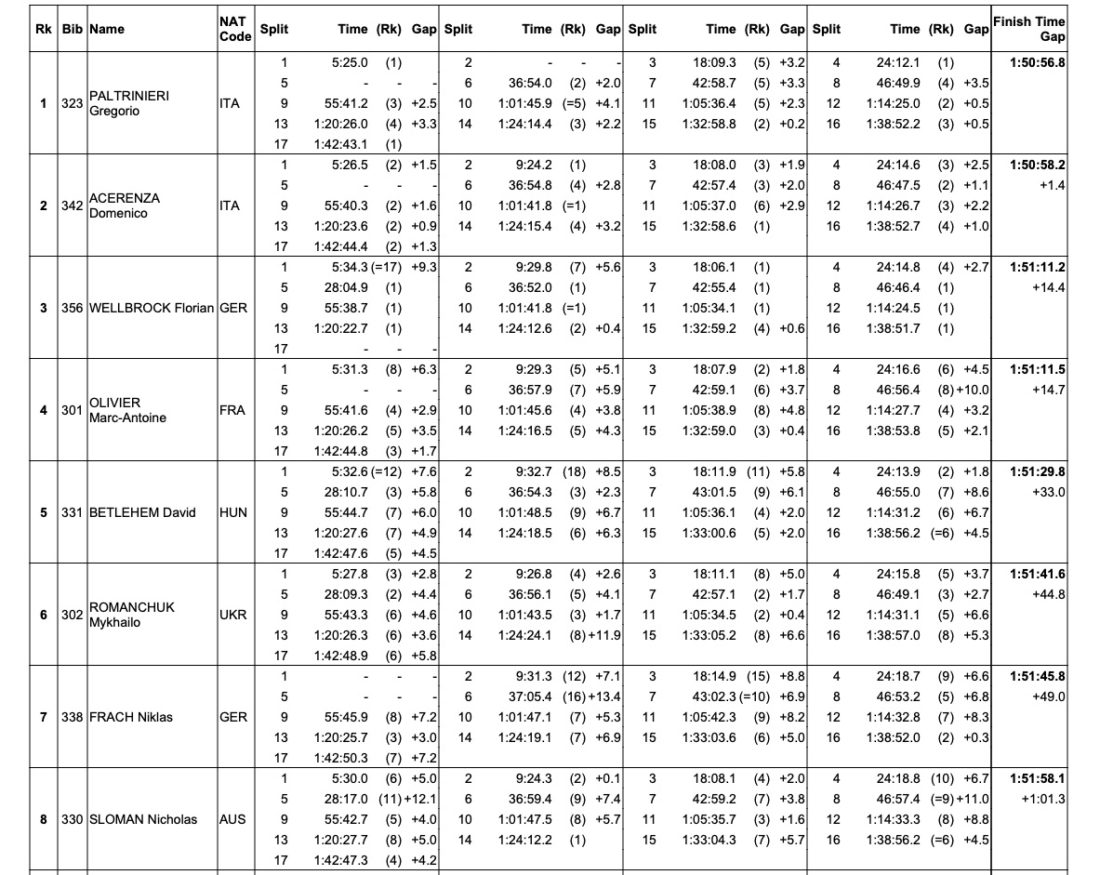 Wellbrock's Wins Transcend The Water As He Counts His Title Losses To Paltrinieri
Wellbrock, with his wife Sarah Kohler, has been at the centre of one of the most heart-warming stories of the year in swimming and in Budapest: they invited Romanchuk to shelter in their home in Magdeburg and train with them under the guidance of coach Bernd Berkhahn after Putin and Russia invaded Ukraine and waged wore on the sovereign country while the Olympic flags were still flying for the Winter Olympics in Beijing.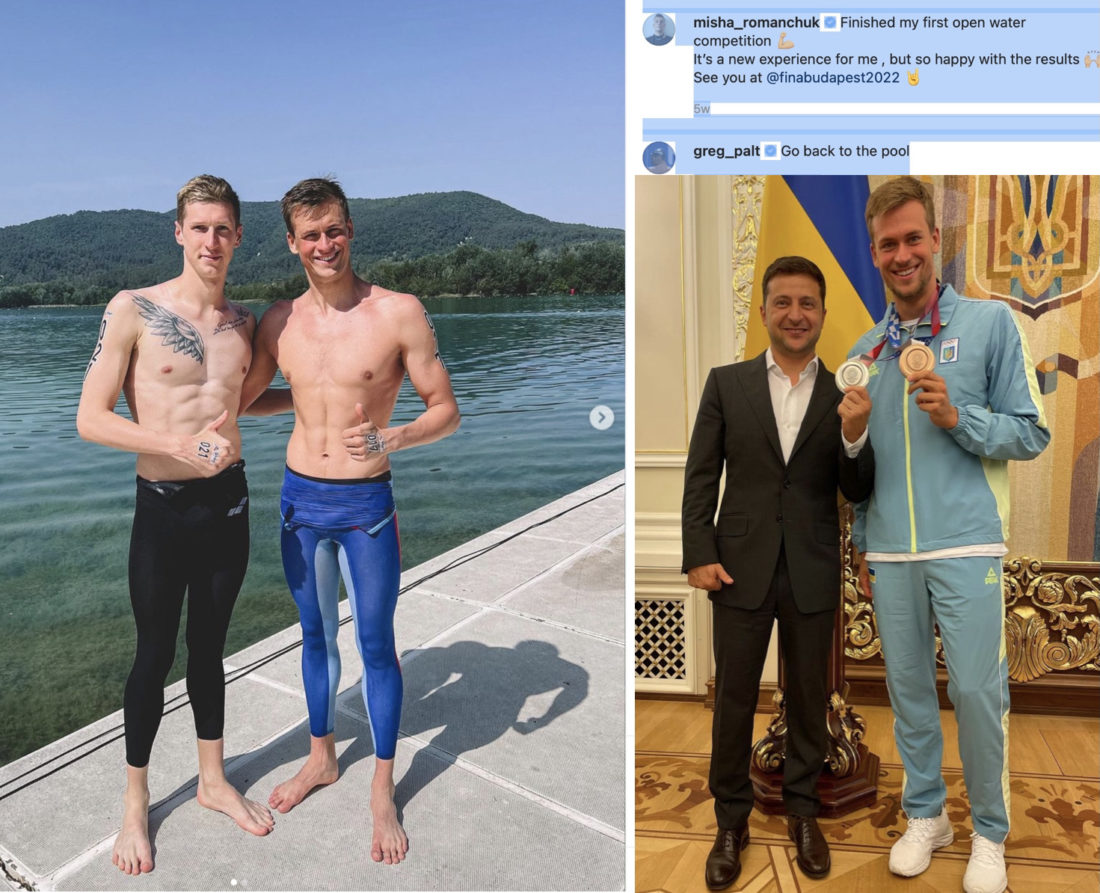 Romanchuk was stuck at home early in the conflict and was torn between joining the home defence effort or putting his swimming excellence to work as a way of providing hope and inspiration and representation for Ukraine and her people. When Ukraine President Volodymyr Zelenskyy gave the go ahead for the country's best sportsmen and women to leave the country and be fighters in another field of engagement from which Russians and Belarusians had been banned as part of sanctions on the aggressor nations, Romanchuk took off fo Germany and has since been able top prepare for Budapest. That included an altitude camp at Font Romeu with the German team.
Wellbrock paid plaudits to Romanchuk and his resilience in Budapest during the championships, while Paltrinieri, who also offered the Ukrainian ace a haven from the troubles back home, noted the strong sense ofd solidarity in the swimming ranks in Europe, especially with those he had grown up in the sport with as friends and opponents.
Today, Wellbrock, one of several swimmers who coach Berkhahn can take great pride ind for a job extremely well done (Romanchuk, Lukas Martens, Isabel Gose, Kohler and Co), collected his fifth career World Championships medal. The 24-year-old said: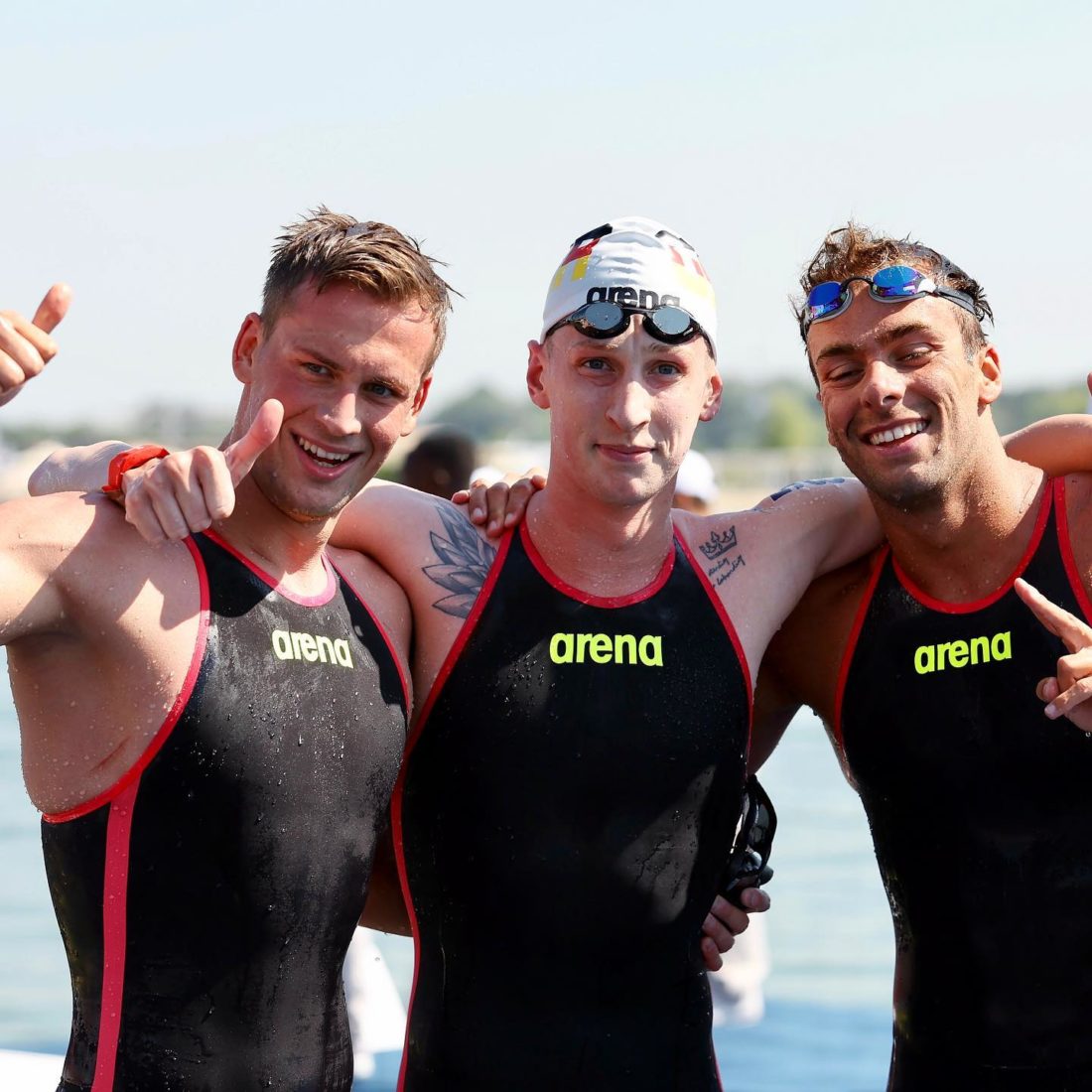 "I feel quite ambivalent about the result today. It's the second title that I wasn't able to defend, but I'm still very happy with the bronze medal. I noticed yesterday that it wasn't easy to recuperate/regenerate quickly after the constant stress of other races and to keep my good mood up ahead of the start today. That's why I'm more than satisfied with bronze."

Florian Wellbrock – Photo: l-r, Mykhailo Romanchuk (silver), Florian Wellbrock (gold) and Gregorio Paltrinieri (bronze), marathon mates on the podium together after the 5km battle on Lupa Lake
Wellbrock drew plaits from Franziska Van Almsick, holder of the 200m freestyle World record for 13 years. Now 44, she told the SID agency that the marathon ace was a "tough chunk with a very soft core", adding: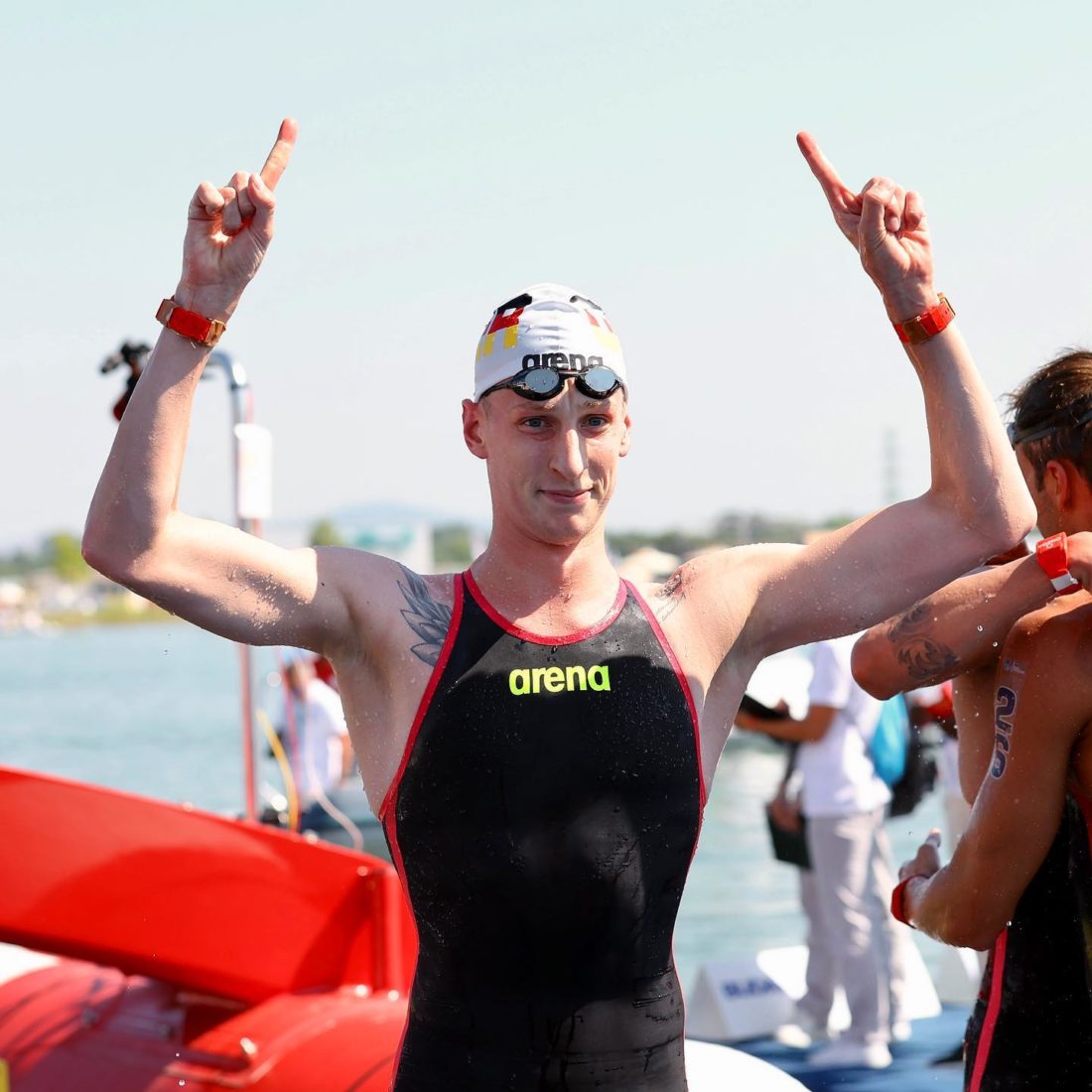 "The older you get, the more difficult it becomes to deliver like that. I'm very happy for him that it's working out like this and I send best wishes for him to keep going. He's incredibly disciplined. As a long-distance swimmer, I know what you have to train for. He has a very strong will, is very focused and clear."

Franzi Van Almsick – Photo – Florian Wellbrock, after 5km Gold for Germany, courtesy of the DSV
Asked about Germany's overall performance and its four medals in the pool in Hungary after a relative fallow period for Deutschland, she said: "It will, but it's also time for the swimmers to step on the gas again. I think we're on the right track, step by step, slowly coming back."