Mind The Gap – Paltrinieri 14:32.80 For 3rd 1500 World Title Delivers Knockout Blow To Finke's Last-Lap Fury Just Shy Of Sunset For WR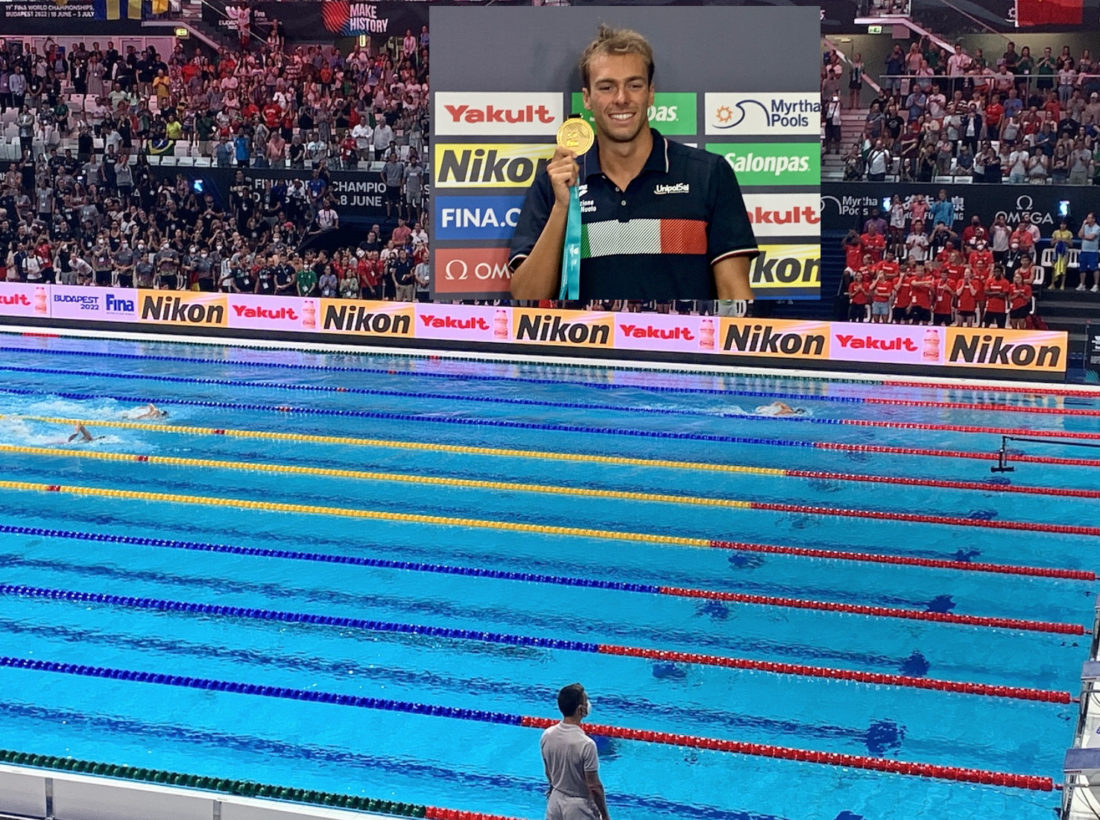 Italy's 2016 Olympic 1500m freestyle champion Gregorio Paltrinieri wore the scars and experience of many a bruising 30-length battle with pride on the way to the third World title of his career in 14:32.80, a Championship and European record.
One more crown in Fukuoka next year and the Italian will have matched the record four World titles of Australian legend Grant Hackett.
Medallist in the inaugural Olympic 800m in the pool and, out of it, the 10km marathon in Tokyo last year, Paltrinieri looks back a decade to find the first of his 23 major senior titles for Italy: gold in the 1500m at the 2012 European Championships here in Hungary, in Debrecen.
In 2022, a third World title after wins in 2015 and in the same Duna Arena pool in 2017, Paltrinieri set the eighth championship record in the 1500 since it all began in 1973.
Victory, which made the 28-year-old the oldest champion in the longest race in the pool, was built on the back of a perfect start to the championships last Tuesday, when he finished fourth in the 800m freestyle.
Say what? Frustrating fourth? The 'worst possible place'? Perfect? Absolutely. Third at the last turn in the 800m final, Paltrinieri, Florian Wellbrock and Mykhailo Romanchuk got thumped by Bobby Finke down the last lap – again. The American 800 and 1500m Olympic champion of Tokyo2020ne claimed his first World title, Wellbrock, of Germany, the silver and Romanchuk, of Ukraine, the bronze.
It was the best possible outcome for Paltrinieri. It was the moment he decided he'd had enough and he was no longer going "to let the others control the way I race". After battle, the Italian noted: "I'm 28 but I am still learning, you can never stop learning."
It being well known that doing the same thing over and over and expecting a different outcome is the road to insanity, Paltrinieri tore a leaf out of Sinatra's songbook and did it his way. Courage and confidence flowed: my lane, my race.
This Budapest 1500, he told himself, would be a very different affair to the fights won by Finke in a manner that Paltrinieri said this evening he "could never compete with because I can't [sprint] at that speed and will never be able to".
A different affair. And so it was. Paltrinieri had all but scraped into the final. Lane 1. Again: perfect. His Italian teammates and coaches were practically in the water with him providing a mental and motivational pitstop every time he passed them inside World-record pace on lengths 1 to 29.
Racing on that particular wing, Paltrinieri, admitted, was a gift.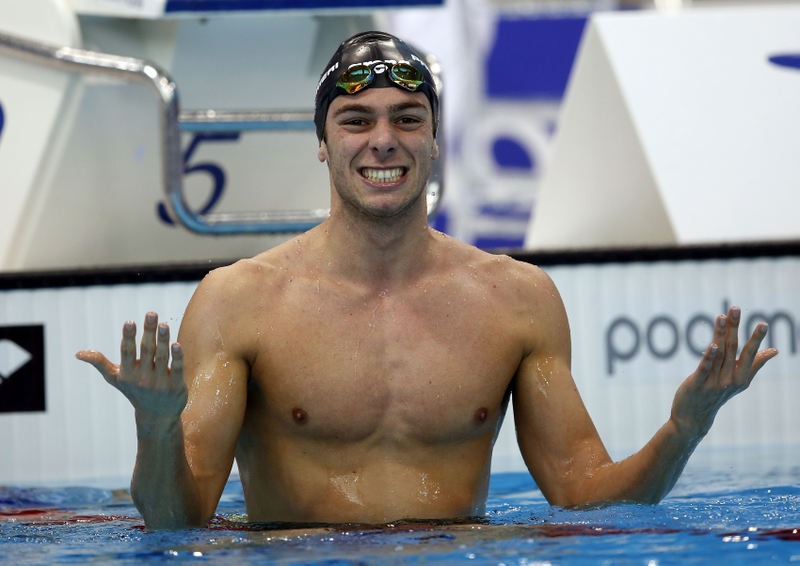 "I was in lane 1 and everybody was so close to me… everybody went crazy throughout the race and more after 800-1000. I saw everybody, all my team, shouting, jumping and screaming, so I felt the pressure but it was more fuel to myself because I knew I was swimming fast. I saw everybody, clear. I could recognise their faces because I was really close to them. So while I was breathing, I was like 'yo, that's Mimmo [Acerenza]; there's [so and so, etc], all the guys. And everybody was pushing me. It was perfect."

Gregorio Paltrinieri of Italy celebrates the Olympic 1500m title in 2016 – by Patrick B. Kraemer
By the time Paltrinieri's feet hit the last wall, Finke's last-lap fury in the battle with Wellbrock and Romanchuk in the middle of the pool, Germany's second contender Lukas Martens, always close, was too far back to threaten for gold but did help the American grab a silver lining.
Wellbrock took bronze, Martens just getting the edge on Romanchuk for 4th and 5th on 14:40 adrift three sub-14:40s.
Finke, through consistent speed throughout and then specific and, Sun Yang* apart, unique last-lap fury, have brought a challenge that his opponents are responding to: all to the good if the World record is going to go down.
Which brings us to that other line of last-lap fury for all to defeat: Paltrinieri's feet met timing pad on the last wall 1.23sec inside Sun Yang's 2012 World record pace. Surely the book was about to be rewritten? Or perhaps not: fatigue was now racing faster than Paltrinieri could, just at the moment he faced Sun at his fiery fastest.
On his way to becoming China's first male Olympic swimming champion in London – ahead of him two brushes with anti-doping authorities that would end in an eight-year ban reduced to the four years and three months suspension he is still serving – Sun, out on his own, sped down the last lap in 25.68, for a last 100m of 53.49. Those splits remain extraordinary – and may do until the world witnesses its last fast 1500.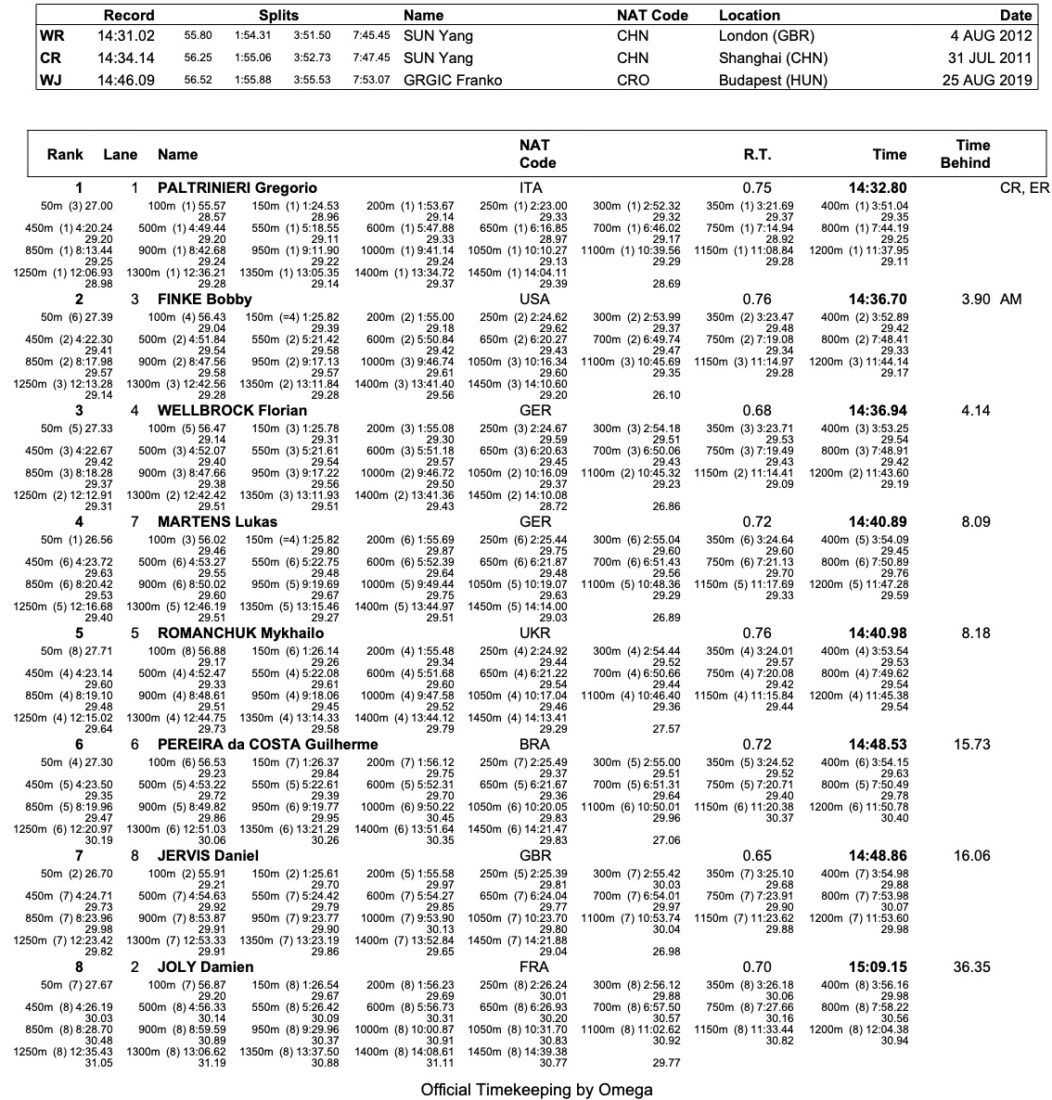 I asked Paltrinieri how he's approached the task of taking on fast finishes. He replied: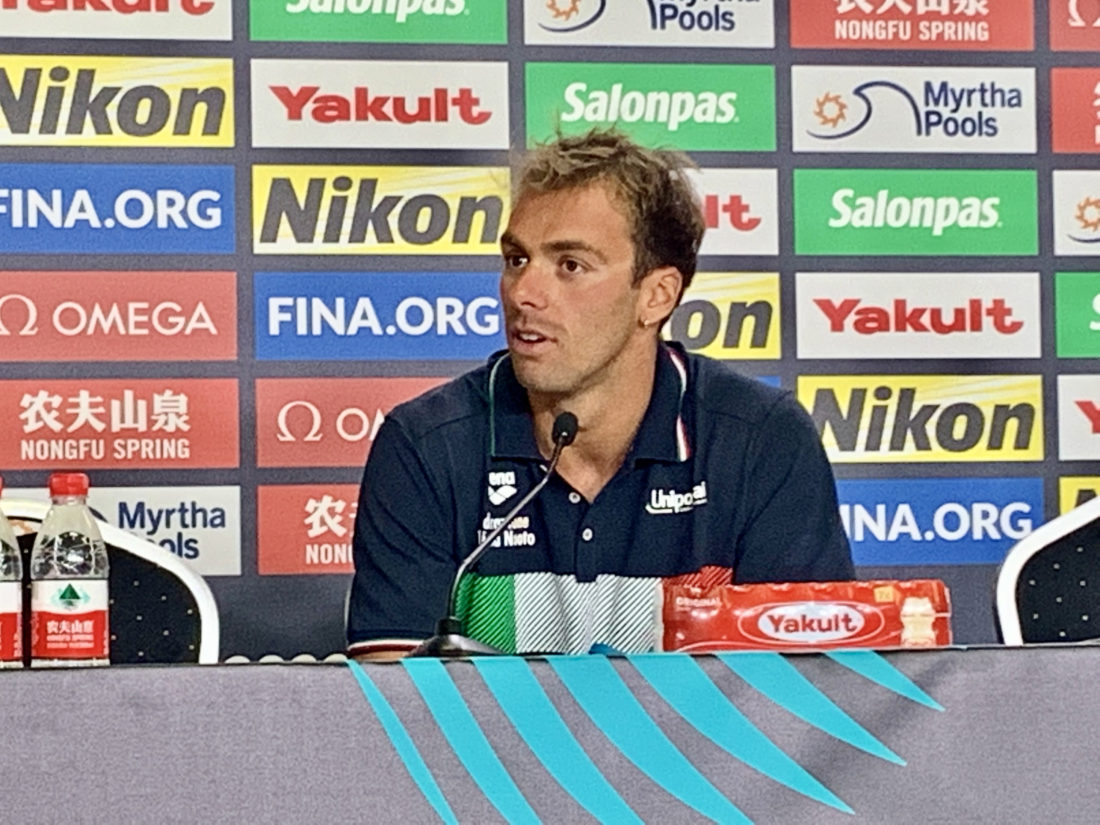 "I came into the race with a mindset of wanting to destroy the pool or something like that because I just wanted to swim fast. In preliminaries I just wanted to get through but not be in the mix with the other guys. I wanted to be far away from them. So, I got into Lane 1, it was ok.

"In the final I went my own way, I wasn't watching the other guys I was just thinking about swimming a good, a fast race. I knew I could go low 14:30. I've been doing 14:34 for a long time. I mean, it was 2014-2015 when I first went inside 14:40."

Gregorio Paltrinieri – photo by Craig Lord
He noted that his opponents were all fast on the last 100 and the last 50 but Finke was "super fast"…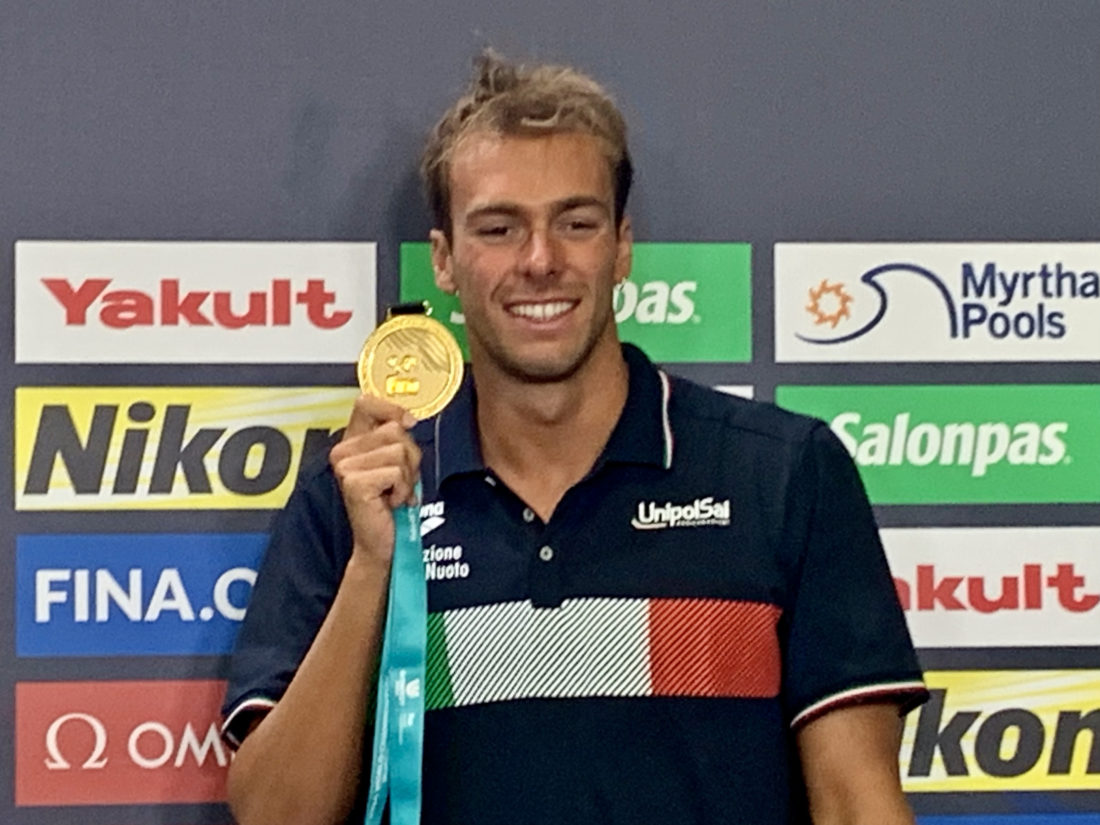 "… and that's a little scary in my mind. I trained knowing that they close their races really fast. So my only chance to beat them, like I proved today, is to go out fast and try to, you know, open a gap between me and the others. That was my strategy. That was my tactic and they closed at 25-26sec. It's impossible for me. I've never done that and I will never do that, probably. I have to think of other qualities [such as] swimming technique … I think everyone is trying to be the best of, you know, best version of himself. So, I didn't really focus on them today and probably that was the problem in the 800. I was trying to escape, you know, but with so much anger in myself, that it wasn't worth it because I'm not swimming for the others. I'm just swimming for myself."

"In the 800 I was probably pushing too hard … but you've got to, you know, let it come to you. I don't know how to describe the feeling of, you know, swimming fast and letting the speed come to you, letting it [take over] you, instead of searching too hard for it. For me, that was the key today."

Gregorio Paltrinieri – by Craig Lord
Paltrinieri described his roar inside Sun's World record pace as "pure pain for the entire 1500", adding: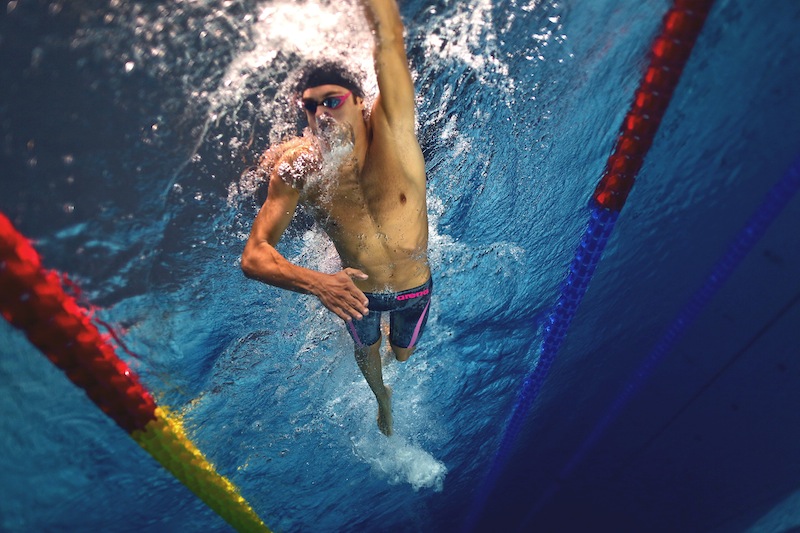 "I knew I was swimming very fast, but during the swim, I didn't think I was as close to the world record. The plan was to try to win this race, not more, so I'm extremely happy with this time. I was watching my teammates in the stands during the race, and they were pushing me so hard. That meant a lot to me. I could see their faces every time I passed, very clearly…

Gregorio Paltrinieri – courtesy of arena
He cites a series of nicknames for his mates in the stands and laughs as he speaks. This was fun. For their part, the other medallists found the pace stressful and surprising, Wellbrock paying plaudits to Paltrinieri and his new lease of low 14:30s life.
Finke said: "It was stressful. I've never been in that kind of scenario before with everybody aiming at you to take the title again. Stressful, but after that 800, I gained some confidence, and I tried to move throughout the meet and do the best I could."
He would have to think about adapting to races in which finishing speed was not going to get him the big prize, he suggested.
Wellbrock said: "I'm surprised by the performance of Gregorio. Obviously, we were expecting that this would be a really fast race, but that turned out to be something else. Hats off to him for doing this after the 800. I can be happy with my bronze."
Here's what we're talking about when it comes to those splits that Paltrinieri had to get ahead of to ensure he had a fighting chance come the last 2 of 30 length:
Paltrinieri, Significant Splits & Last-Lap Furies
Bobby Finke claimed Olympic gold last year in 14:39.65, his last lap a 25.78. Today in Budapest he set an American record of 14:36.70, off a last-lap of 26.10 that elevated him from 3rd to silver ahead of Wellbrock, 14:36.94 (26.86), Martens on 14:40.89 (26.89), and Romanchuk, on 14:40.98 (27.57).
Here's how Finke and the rest stack up in the history of fast finishes, 1500 and other events:
200 Freestyle: Paul Biedermann (1:42.00 WR, shiny suit 2009) – 25.70
400 Freestyle: Paul Biedermann (3:40.07 WR, shiny suit 2009) – 25.77
800 Freestyle: Zhang Lin (7:32.12 WR, shiny suit 2009) 25.99
1500 Freestyle: Sun Yang (14:31.02 WR, 2012, Olympic gold) 25.68
200 IM: Ryan Lochte (1:54.00 WR, 2011, World title) 27.49
400 IM: Michael Phelps (4:03.84 WR, 2008, semi shiny suit, Olympic gold) 27.85
1500 and their fast finishes:
14:31.02 – Sun Yang (CHN) WR – Olympic Gold London 04/08/12
55.80; 1:54.31; 2:52.63; 3:51.50; 4:49.62; 5:48.15; 6:46.74; 7:45.45; 8:44.32; 9:43.10; 10.41.73; 11:40.64; 12:39.00; 13:37.53; 14:05.34; 14:31.02 (53.49, 25.68)
14:32.80 – Gregorio Paltrinieri (ITA) ER, CR – World Title, Budapest 25/06/22
55.57; 1:53.67; 2:52.32; 3:51.04; 4:49.44; 5:47.88; 6:46.02; 7:44.19; 8:42.68; 9:41.14; 10.39.56; 11:37.95; 12:36.21; 13:34.72; 14:04.11; 14:32.80 (58.08, 28.69)
14:34.04 – Gregorio Paltrinieri (ITA) European record – European Gold, London 2016
56.72; 1:55.05; 2:53.55; 3:52.02; 4:50.48; 5:48.96; 6:47.54; 7:46.24; 8:45.00; 9:43.62; 10:42.09; 11:40.57; 12:38.97; 13:37.35; 14:34.04 (56.69)
14:34.56 – Grant Hackett (AUS) WR – World Title Fukuoka 29/07/01
54.19: 1:52.45; 2:51.29; 3:50.18; 4:48.82; 5:47.47; 6:45.96; 7:44.47; 8:43.05; 9:41.78; 10:40.56; 11:39.51; 12:38.51; 13:37.89; 14:34.56 (56.77)
Solidarity In The Distance Ranks
Mykhailo Romanchuk was mentioned at length by Paltrinieri, Wellbrock and others but not by Finke, the Europeans feeling the wind of the Russian war on Ukraine far more intimately than the American visitor to the old continent, it seemed.
Romanchuk has been hosted in Germany by Olympic marathon champion Wellbrock and his wife, Sarah Kohler, the Olympic 1500m free bronze medallist in Tokyo last year, but before he headed to Magdeburg, the Ukrainian ace had spoken to Paltrinieri about returning to Ostia, out on the coast north of Rome, where he had trained with the Italian champion back in 2016 for a couple of months in preparation for the Rio Olympics, where Paltrinieri became Italy's first 1500m free champion.
Asked if the 1500 crew feel a sense of solidarity in the situation, Paltrinieri said: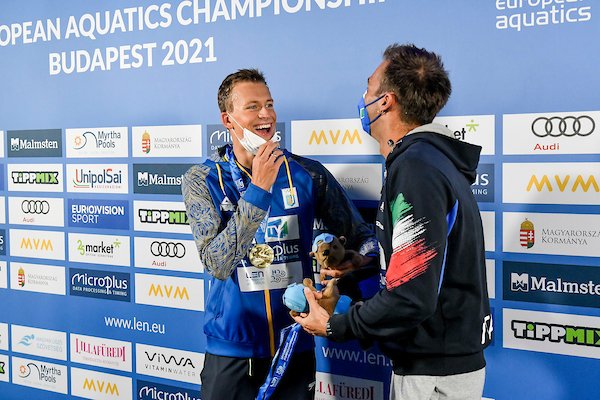 " Yes. Also, I think me, Misha and Florian have been doing this together for, say 5-6 years or something, so we know each other very well. We have been competing a lot against each other: competition is competition but then after completion, we are really close friends. So, yeah, I would have done everything possible for Misha to come to Italy if he needed or wanted to be there."

Gregorio Paltrinieri – Photo: Mykhaylo Romanchuk and Gregorio Paltrinieri – a year ago in Budapest for the European Championships – Photo by DeepBlueMedia, courtesy of LEN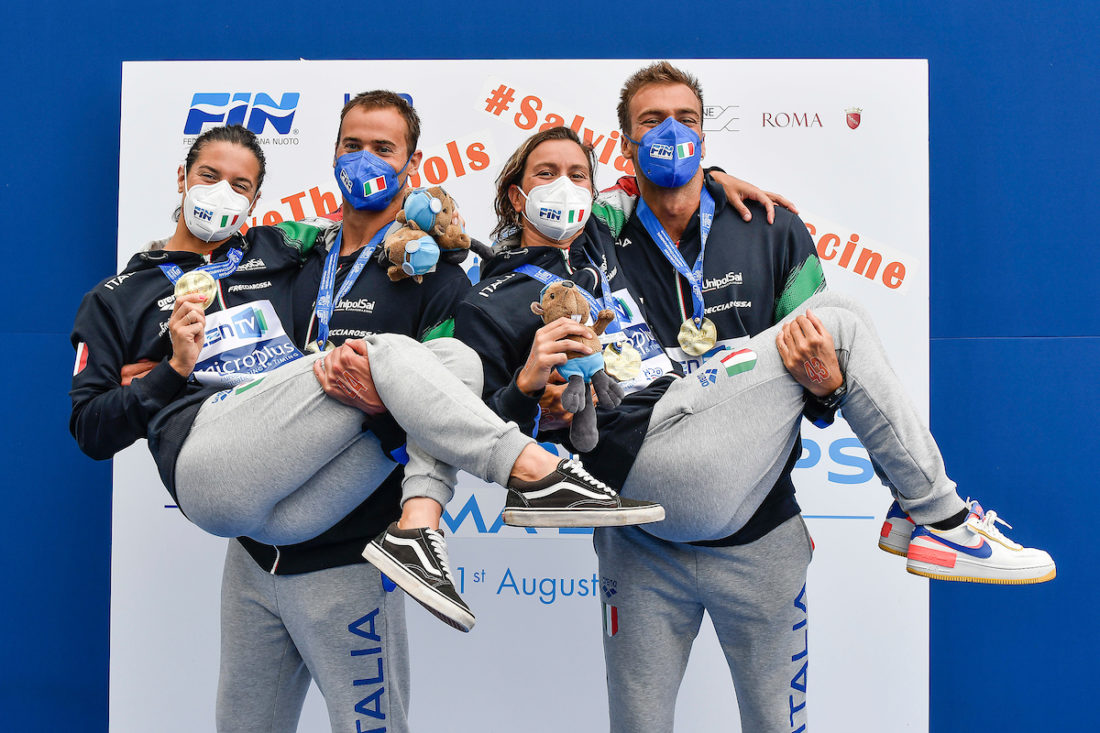 All three will be back in action in Open Water events this coming week, Paltrinieri and Wellbrock scheduled for the team events Sunday and then later in the week the 5km and 10km battles.
All have experience of Open Water in Hungary, hosts to several top events in Europe, including the 2021 continental championships.
And then, there's another big target, Paltrinieri noted: a home-in-Rome European Championships in August, a big target for the year.
Budapest was about seeing what was possible. Rome is the big show, Paltrinieri suggested.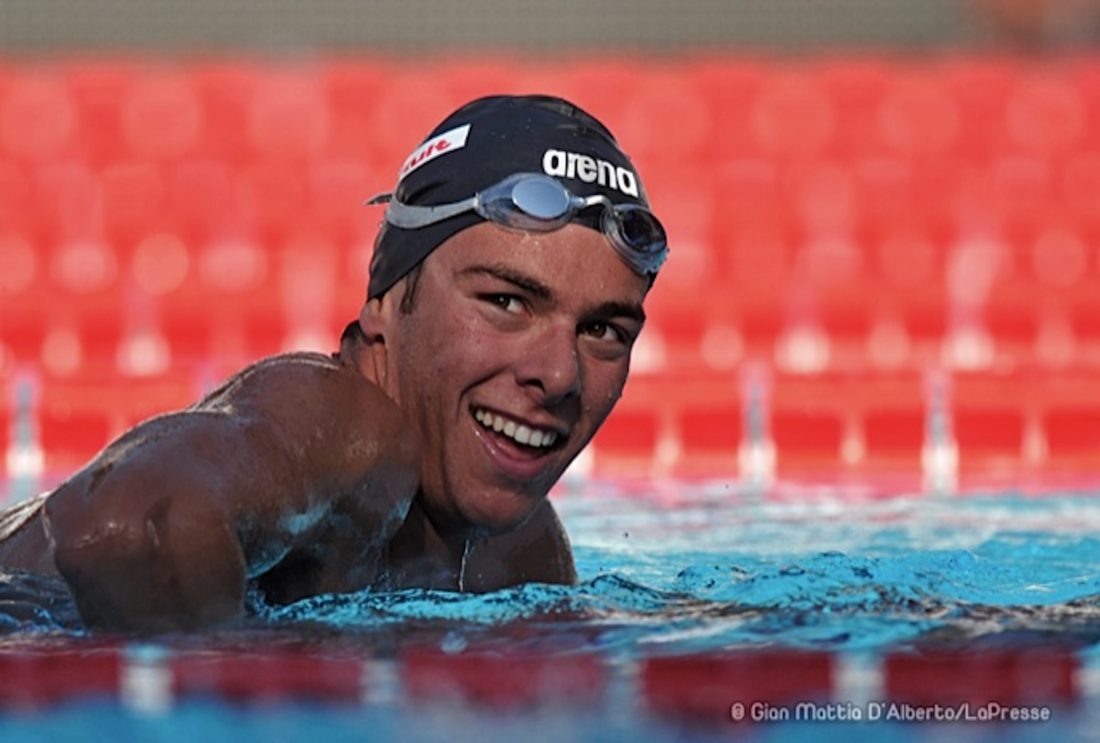 "We usually do altitude training before this [world championships] but we've kept altitude for the next period of preparation. We will start at the end of July, I will go up [to altitude] and stay up and then go directly to the competition in Rome. In our mind, Rome is the final goal of the season – and we are at home. We'll be home … and have all our friends, parents, family and that's nice."

Gregorio Paltrinieri – photo by Patrick B. Kraemer
A good moment to include in the 'goal' that Sun-setting moment for the World record, I ask.
"Yeah," he laughs before adding: "No, actually no, seriously, I don't really care about world records. Actually I enjoy the competition itself, the competition with other guys. So, I will want to compete at my best to be my best that day … I just want to win."
It showed in Budapest today. And how.
---