Queen Of The 1500 Katie Ledecky Makes It Global Gold No4 With Grimes Getting Silver Ahead of Pallister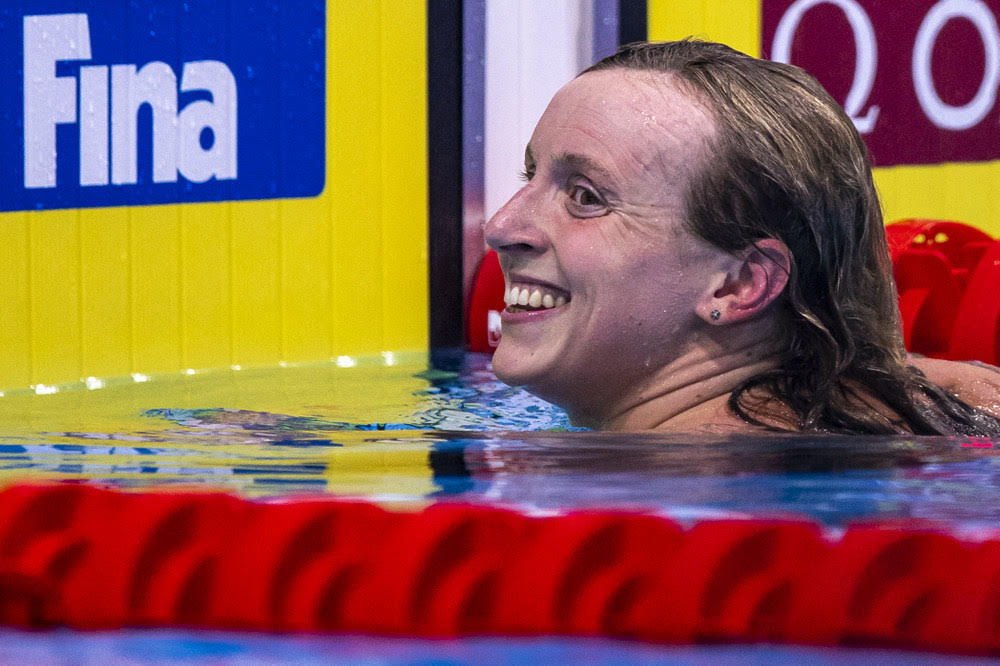 Katie Ledecky produced the second-fastest of her four World titles over 1500 metres freestyle for a 15:30.15 victory racing at a pace about 1sec to just over per 100m swifter than those who followed her on to the podium.
First among those was 16-year-old teammate Katie Grimes, on 15:44.89, eight fastest ever, and then Australian Lani Pallister, on 15:48.96, the frustration of fourth in the 400m sunk.
You have to go back to Ledecky's first 1500 win in 2013, when she was 16 (she, then, and Grimes today are the youngest ever podium placers in the event) to find the highest, toughest, fastest podium, when Denmark's Lotte Friis and Lauren Boyle of New Zealand followed the American's 15:36.53 World record with respective efforts of 15:38.88 (what a race it was) and 15:44.71 (a terrific three-way fight for much of the race).
Two years later and Ledecky claimed the 1500 title in her second 1500 freestyle record of the meet, a 15:25.48 in the final following a 15:27.71 in heats.
In 2017, the American won by an indecent margin of 29sec – just inside 2sec per 100m advantage – in 15:31.82 before illness at Gwangju 2019 deprived her of a shot at a fourth title. That chance came today in a final in which the 2019 champion Simona Quadarella finished fifth in 16:03.84 adrift Aussie Moesha Johnson, in fourth on 15:55.75.
The race marked the first time two Americans have stood on the podium and the first time the top 2 finishers hail from the same nation.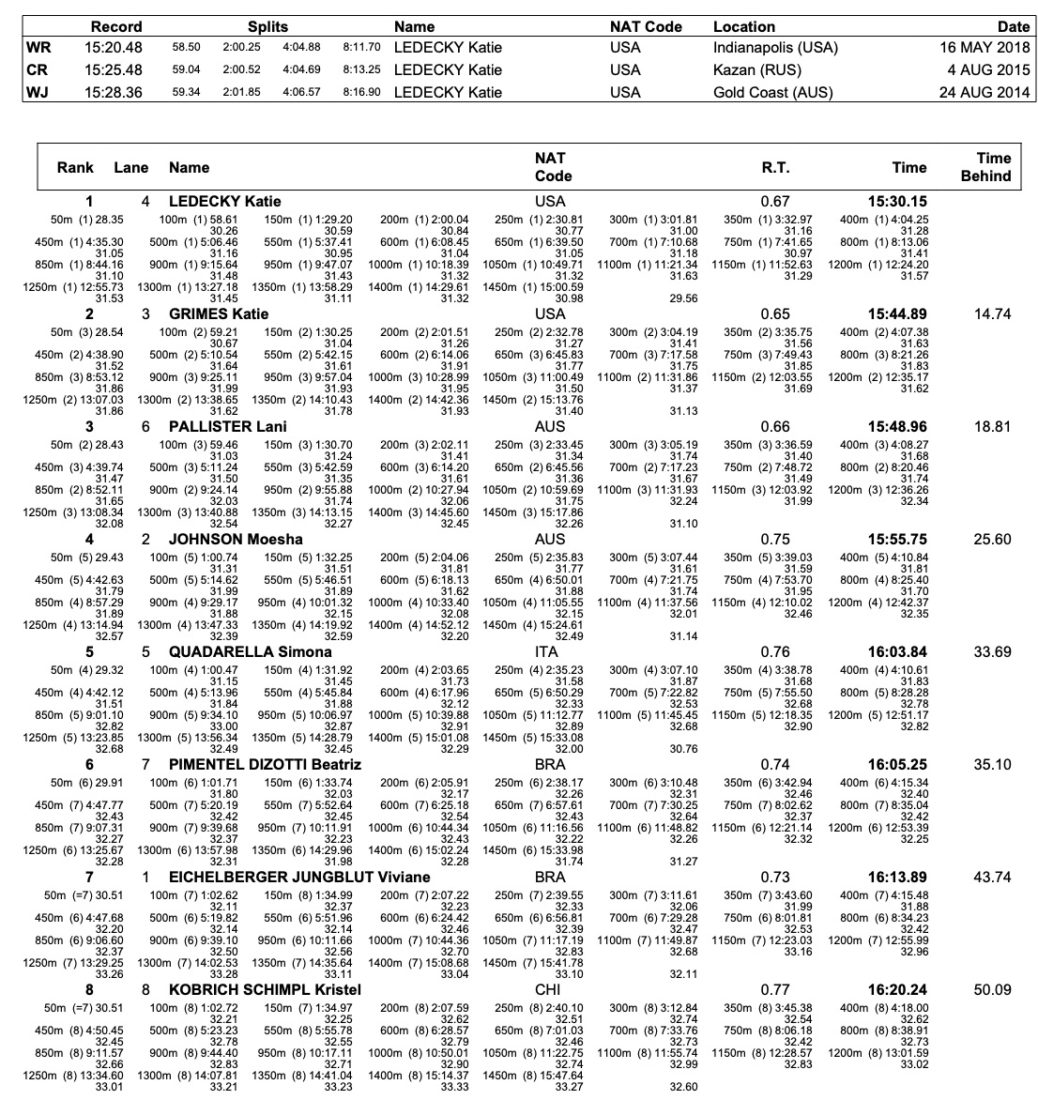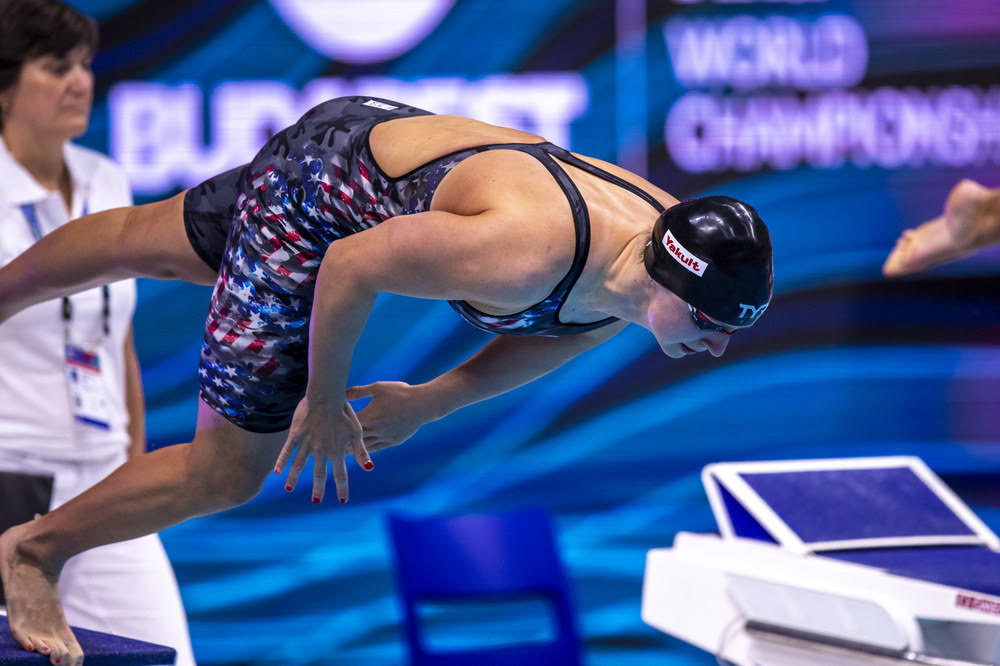 The View From The 1500 Podium
Ledecky paid plaudits to Grimes and her impact on team dynamics, saying that the U.S. 1500 1-2 was "awesome" and adding: "I fully knew she [Grimes] was capable of getting that and just to see how far she has come in a year and the maturity that she has and how much energy she brings to the team. I don't think I was like that when I was her age. It is just awesome to be on the blocks next to her, be in the lane next to her and to share this moment with her is really special."
Pallister was delighted with a 1500 bronze that helped her to shake off the feeling of fourth: "It's really special to win a medal. I was touched out by .08 in the 400m and I remember getting back to the hotel and I was just devastated. It's really exciting coming to my first senior international meet and coming back to a pool that I loved three years ago and following the process as Bohly (coach Michael Bohl) would say.
"Moving forward it's a really nice stepping stone to see what I can do in the future. I think if I work the back end more rather than just attacking the front end then it's an event that I could do something really special in in the future."
For her part, Grimes said: "It felt pretty good to be done with it. I was really nervous leading up to it because it's my first world championships and Team USA has been doing a great job so I wanted to keep that going. I was really just focusing on what my coach and I had talked about on strategy. I'm not super happy with the time but I think it's good for right now. There's always room for improvement but anytime I get to race I'm having a good time."
Women's 100m Backstroke – Gold For Smith
Not a contender in 2019 but a World record setter in Gwangju, courtesy of leading the U.S. medley relay in a global mark that sent the solo event into the orbit of 57sec, Regan Smith lifted the World title in 58.22sec today.
Twice a former champion, Kylie Masse, of Canada,. Claimed silver in 58.40, with American multi-talented teen Claire Curzan third in 58.67.
Smith said: "It was a great race. I knew it was going to be a really tight field and it was going to really hurt towards the end, and all those things happened and were true, but you know, I am really happy that I was able to get a gold for USA and that Claire was able to get a bronze."
Smith lost the World record to Kaylee McKeown, the double Olympic backstroke champion who oped out of the 100m backstroke in Budapest to focus on a 200IM test. Now, the American says she'd like the standard back: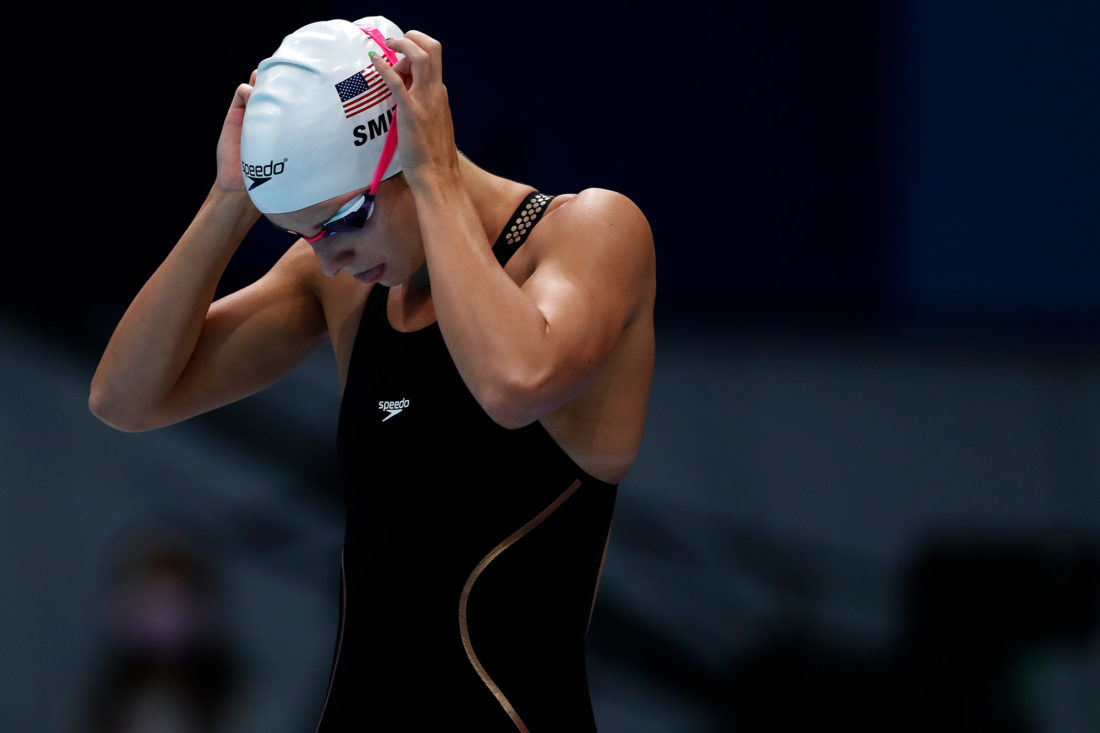 "Definitely a big focus for me. I always kind of have it in the back of my mind and I was really pleased with my swim last night being super close to it and really close to my best time. That is really important to me because you know I haven't gotten a best time in three years now so I am really kind of itching to do that and so of course I am a little bit bummed with my swim tonight, but again, tonight's about place, it's not about time, so I am really pleased overall."

Regan Smith – photo by Patrick B. Kraemer
Masse's silver meant that she has now won a medal in the event at an incredible 10 consecutive major international competitions dating back to 2015, the longest streak of success ever by a Canadian woman. She is tied with Penny Oleksiak for most medals all time at the long-course FINA World Championships with six. Said Masse:
"I'm really happy to stand on the podium. It's always an incredible feeling to compete at World Championships and fight for the podium with these girls – this is something I'm really proud of. It's not necessarily the time I feel like I'm capable of, and I was a bit frustrated I had a poor touch, but I think after the crazy last couple of years I'm proud to be able to continue to fight to get on the podium. There are so many amazing backstrokers here and in the last couple of years. It's been a great challenge and I'm continually motivated by them to push myself."
Curzan, the third-youngest medalist in the event since 2001, following double Olympic backstroke champion of 2000 Romanian Diana Mocanu (2001 silver medalist at 17 years and seven days) and Australian Emily Seebohm (2009 bronze medalist at 17 years and 55 days).
Celebrating her first long course international medal, Curzan said: "It feels great. I mean I knew it was going to be a tough race, but I am happy to just pull through for Team USA and I am really proud of Regan and all the girls in that heat for showing up tonight."