Dashing 21.42 Puts Powerhouse Ben Proud On GB Team For Tokyo Olympics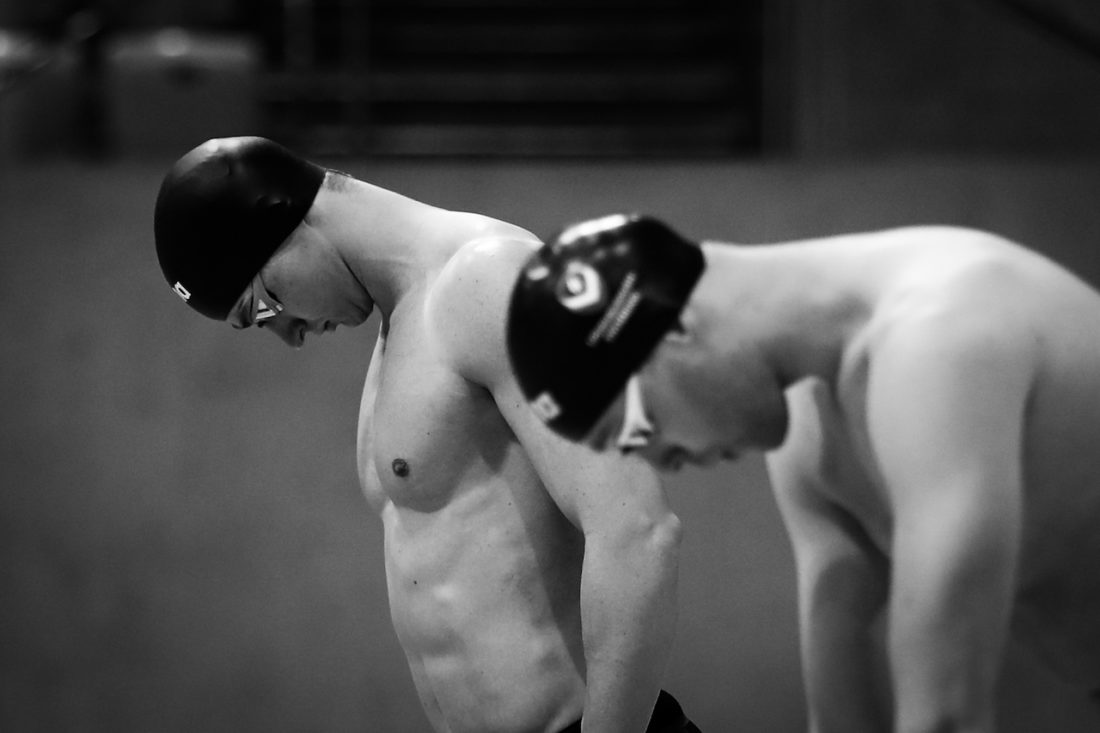 That Ben Proud, one of the world's great powerhouses of pure sprinting, would get his hand to the wall first in the 50m freestyle at the British Swimming Olympic Trials in London this evening was never in doubt, the fury, froth and fight all about the clock and a ticket to the Tokyo Olympic Games.
Job done: 21.42, second on the early 2021 World rankings 0.01sec adrift Russian Vladimir Morozov, and a different summer ahead, Proud having made a clear choice: the clutter of "other events" has been swept away this time.
There will be no 100m free, the event he has often included to help a Britain 4x100m relay with, no slight to any battlers intended, scant prospects of success (until the latest wave), nor the 50m butterfly, in which he claimed the World title in 2017, because dash events beyond freestyle are not on the Olympic program.
Ben Proud pulverised the Tokyo cut twice today, first on 21.68 in morning heats, then this evening in 21.42, the 8th fastest effort of a career topped by the stunning 21.11 in which he claimed the 2018 European title as the fastest man ever in a textile suit. A year later, American Caeleb Dressel topped that in 21.04 for the World crown, Proud still No2 in textile and No6 if all the shiny suits still flooding the all-time top 100 rankings are taken into account as swimming as we knew it before them and as we've known it since they were sunk by a January 1, 2010 ban.
That kind of power from Proud is not one that your average world-class sprinter can handle and the top three today in London was rounded out by Yusuke Legard and extraordinary youngster Jacob Whittle, who set a British 16 years age group record of 22.40 in heats. That took out the 22.48 of Tom Fannon from 2015 and followed a great night for young Whittle at the London Aquatics Centre: in finishing fourth in the 100m free final on 48.7, he put himself in line for a potential Olympic selection to the 4x100m free relay.
The fury in the fight:
| | | | | | | | | | |
| --- | --- | --- | --- | --- | --- | --- | --- | --- | --- |
| Place | Name | YoB | Club | | Time | | | FINA Pt | |
| 1. | Benjamin Proud | (94) | Plymouth Lea | | 21.42 | | | 930 | |
| 2. | Yusuke Legard | (96) | Wycombe Dist | | 22.10 | | | 847 | |
| 3. | Jacob Whittle | (04) | Derventio | | 22.55 | | | 797 | |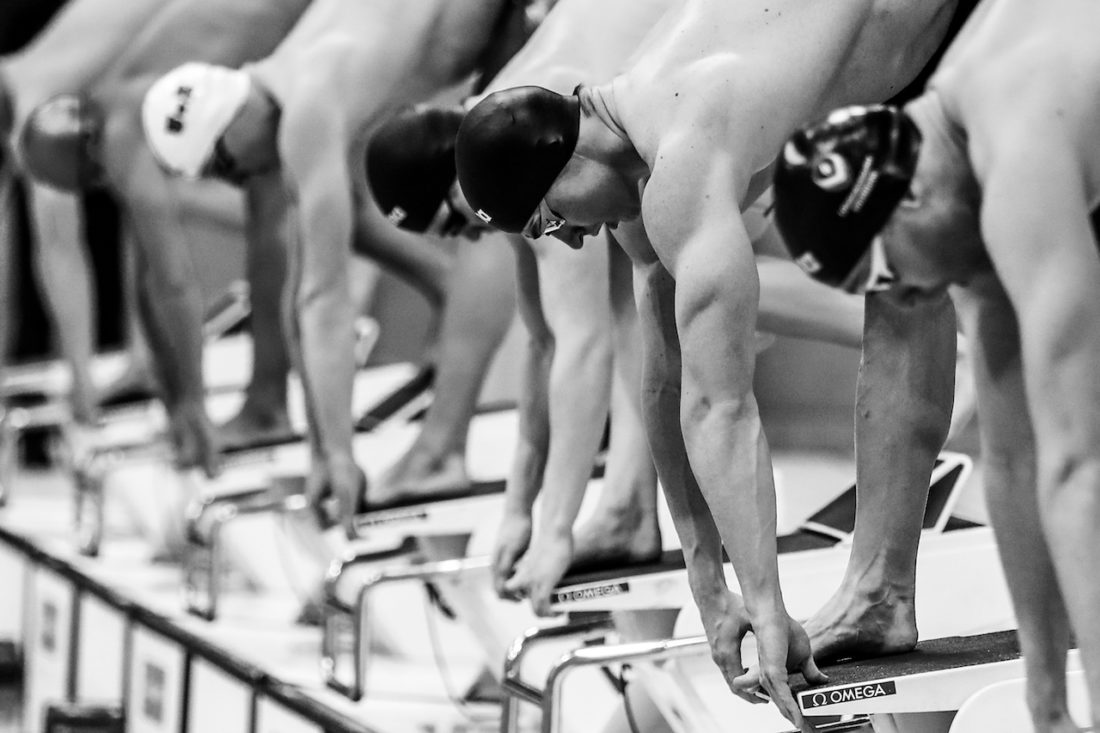 Emerging from his big win today, Proud, coached by James Gibson at the Energy Standard International Squad, noted how the difference in this oddest of Olympic seasons made the difference he has made by choosing a pure dash focus seem fairly straightforward: "It's a different one this year; I've taken away the 100m Freestyle, that's normally something to get into the competition with – but with Olympics this year, I really want to hone in on that 50m. If I'm going to do that there, then I really have to be able to get up and go when needed, so, we'll see what happens."
Asked what mindset it took to approach races in which you know the slightest, fractional mistake can make the difference between gold and nothing, Ben Proud said:
"Going to the last Olympics was my first one, it was all quite new. I've had a host of experience since then, so I'm looking to do the best I can, do the best work going into it and then we'll see what happens. The 50m is a short race, but there's lots to think about. We work on details every single day – I've always had a passion for it, overthinking into every detail – and it pays off."
Commonwealth champion over 50m freestyle in 2018 in 21.35, Ben Proud's story of sprinting started a long time ago. Here's a memory of all of that:
From the Craig Lord Archive – 2014
The Source of Speed In Ben Proud
In 2011, a tall, lean 16-year-old called Ben Proud left his home in Malaysia for a sporting life back in Britain, a raw sprinter with his eyes set on becoming the best he could be.
Fast forward to July 2014 and the same teenager stood aloft of the podium at the Commonwealth Games in Glasgow – not once, but twice.
Victory in the 50m butterfly in 22.93 not only propelled the Plymouth Leander swimmer to the top of the Tollcross rostrum but also to the head of the world rankings – the only man to dip under 23seconds to date.
Roland Schoeman, former double world champion, and his fellow South African Chad le Clos were among those left trailing in his wake.
Proud backed up with triumph in the 50m freestyle, Australian pair Cameron McEvoy and James Magnussen beaten to the gold by the unassuming English teen.
His time of 21.76 in the semis placed him in the world's top eight and gave him a second British record of the meet following his butterfly exploits. There was a third medal – a bronze – in the 4x100m freestyle relay.
His is a story of what happens when raw talent is recognised by one man and is fine-tuned by another with a student who is willing to learn and to take on board hard lessons. Add in a passion for sprinting and Ben Proud is the result.
The story begins in September 1994 when Ben was born in London, a second son for Nick and Sally Proud, three years after the arrival of older brother Oliver. Five months later, the family moved to Kuala Lumpur after his father landed a job in the Malaysian capital.
They loved the life out there and stayed for another year and another year until it became home. A water-loving family, the youngest Proud was swimming by the age of two and at seven he was the youngest on the team at Alice Smith School. There he was introduced to small competitions but didn't think it was the sport for him.
In 2008 the fates conspired to bring Proud together with coach Francis Kiu and set in motion a journey with an unknown destination. Kiu had been a swimmer before in Proud's words he got a "proper job" and it was he who immediately saw the raw talent of the teenager. Recalls Proud:
"I had a one-to-one session with him because no-one else from the swim club turned up. It was just me, him and one of my friends. After that he turned to me and said 'you have got some good talent. By the end of next year I want to make you national age group champion'."
Training in board shorts and doing less than a kilometre a session, he began to take the sport more seriously, going from five hours to 12 hours a week. All the time the focus was on the sprints.
Proud is grateful for a great start:
"Kiu taught me the basics: if I hadn't have had him as a coach I wouldn't be where I am today because he taught me fundamental things about training. A lot of dives, a lot of technique work. He brought down my times by about three seconds in the 50s in one year."
The partnership soon bore fruit with success at the Selangor age groups before Proud stepped up to the national age groups and then the Malaysian Open, where he won the 50m butterfly and was second in the 50m freestyle. Here's what bro Oliver captured:
At this point Proud informed his mum he wanted to pursue a swimming career – he wanted to be a world-class athlete. He notes:
"It was my own independent choice: I decided that if I wanted to swim competitively as a career I was going to have to come back to the UK at some point just to get my name out there. To get on to the teams and do Commonwealths and everything like that."
After speaking to a family friend whose daughter had been at Plymouth Leander, Proud spoke to head coach Jon Ruddand at the age of 16 years 11 months he found himself in south-west England.
While he had visited family in Britain, he had never spent more than a month there and it was never a place he had envisaged himself living. Malaysia had even offered dual nationality. "But I couldn't change it. I'm English. Ever since I've been back I've become more patriotic."
A New Regime For Ben Proud
The workload at Leander was a shock to Proud's system. Rudd recalled:
"He had zero endurance: he couldn't finish a 50 never mind finish a 100. But boy did he have twitch and speed and what I had to do was finesse what he already had but bring something else to the table so he could finish races, so he wasn't dying at 35m."
For his part, Ben Proud recognised: "I wasn't an athlete when I was out there: I knew I had to swim fast but I couldn't run, I couldn't squat, I couldn't do anything.
"Moving to Plymouth, it made me smarter about my swimming and my lifestyle which I think go hand in hand. If I hadn't moved to Plymouth I wouldn't be swimming as well as I am so I owe my thanks to both Francis Kiu in Malaysia and Jon."
One thing he noted on arrival was less of a focus in Britain on the one-length sprints. "In Malaysia the 50s were what everyone liked to do. Come here and not many people actually do it," says Proud. "I hope in Britain the 50s become more of an event."
Making A Splash In Senior Waters
There was a silver medal for Proud [photo: SWPix.com] in the 50 'fly at the 2012 European Junior Championships as well as fifth in the 50 free before he did not so much as announce himself on the senior stage as crash bang wallop on to it at the British World Championship trials in 2013.
He took a sledgehammer to Mark Foster's 50 fly record which had stood since 2003, reducing it by 0.22 to 23.29 before further lowering his mark to 23.10 in the final, thereby hurtling to third in the world rankings and a place on the GB team for the worlds in Barcelona.
He was speechless when interviewed on camera on poolside, his shock obvious to all present at Ponds Forge. He recalls:
"It was just such a massive improvement. And I'm camera shy. I'd thought if I win this I have to speak to the cameras."
Barcelona world titles last year marked his senior international debut and his nerves came to the fore. "My first race was the 50 fly: I was in lane four and had Rafael Munoz to my left and Cesar Cielo to my right who are two people I have been watching on YouTube for years – world record holder and world champion."
He finished 11th in the butterfly and 18th in the freestyle but describes Spain as a building block, a learning experience and one that has played a part in his 2014 success.
"I watched the final with (British coach) James Gibson and learned that people who tightened up and got stressed out missed out on a medal. So this year I knew what I had to do: keep it calm."
A lesson learned, the 19-year-old certainly kept it calm in Glasgow and he beams when asked about what immediately comes to mind when he thinks of his exploits in Scotland.
"The 50 fly. I think that is the one I did almost perfectly. Me and James (Gibson) have been talking about it the past year: keeping cool, don't let the nerves get to me, being faster every round and that is when the medal will come."
Rudd was England's head coach in Glasgow and said: "There was always the chance he was going to win. He wasn't ranked to win, he hadn't had a particularly good trials so there must have been an element of doubt in his mind creeping around in there. I think when it finally happened there was just this wave of relief, excitement, emotion for his family. It was a big, big deal."
There was no let-up for Proud who found himself at the ASA National Youth Championships in Sheffield last week. Victories in the fly and free were accompanied by a 48.88 personal best in the 100m free, the first time he cracked 49seconds. He had missed out on the 100m free final in Glasgow and admits he has a way to go with the event:
"I never trained for it in Malaysia. I had to get greater fitness and improve my back end. I do fine in training but when it comes to racing I have to find a way to merge the two."
The week ahead brings the European Championships in Berlin. Britain has 21 swimmers at the meet after the withdrawal of Siobhan-Marie O'Connor, through illness, and Robbie Renwick for personal reasons.
Proud arrives at his blocks in Germany top of the world rankings on 50 'fly and third European in the free behind 2013 world silver medallist Vladimir Morozov and Olympic champion Florent Manaudou. Proud's expectations are in check:
"They are going to be tapered and ready for it whereas I'll still be a bit dazed from Commonwealths. Going into Commonwealths it was all about the time: if I could do a good time the medal would come."
He adds: "If I can move further on from that 21.7 or that 22.9, I don't see why medals aren't possible but competition in Europe is a lot harder than sprinting in Commonwealths. You've got Florent Manaudou, Rafael Munoz – so many people that are sprint focused. But it's going to be exciting, it's going to be another challenge."
Rudd will be in Berlin with Proud's Plymouth team-mate Ruta Meilutyte, the Olympic 100m breaststroke champion – but only from later on in the meet: coach and world-record holding breaststroke ace will spend the first half of the week focussing on a 100m challenge in Nanjing at the Youth Olympics before flying back to Germany for the 50m at Europeans [Photo: Meilutyte and Rudd, by Patrick B. Kraemer]
Rudd is confident that Ben Proud will be able to adapt to and succeed in different environments:
"It's to do the swims fastest his body is capable of on that particular day. The thing I am most comfortable with now that I have ever been with Ben is that he is not daunted by the intensive environment like he was at worlds in 2013."
He adds: "He was a bit of a rabbit in the headlights: he had never been to anything except a European juniors, never seen anything but then suddenly goes into the World Championships ranked third in the 50 fly and it was all a bit too much a bit too soon.
"I don't think there is any of that now and it's great that the way he can cut his teeth is at Commonwealth and European level. Get ready for a worlds and then get ready for an Olympics, it fits really nicely into his development."
Challenges Ahead
Says Rudd: "He won't have any fears of what he is capable of when he gets there and it will be great to take on the fast Europeans. He has beaten the Australians, he has taken Roland (Schoeman) on who is one of the most experienced in the world and he took on George Bovell parading around him in the 50 freestyle final and none of that bothered him.
"That's part of what we have done in the last 12 months – expose him to international competition: World Cups, Mare Nostrums – so he feels at home, he feels like he has a right to be there and now he knows they are just flesh and bone and beatable. And that is great – we are ready for that next step I am sure."
Proud's eye light up when naming those sprinters he looks up to – Alain Bernard, Cielo, Schoeman and the recently-retired Eamon Sullivan, who had one last crack of the whip before injury called time on his career.
Says Proud: "Now I've kind of raced these people and beaten Schoeman. It's surreal. Last year I raced against them at the World Championships. It made me see they are only human, I can beat them one day. At Commonwealth Games when I beat them I did not let who they were affect my race. I treated them as anybody else and that kind of helped."
The passion for the 50 is palpable in Ben Proud:
"It comes very naturally to me. I dive in the water and the water takes over. I don't know what it is about the 50s, it's something I have always been very passionate about. It's a balance between personal strength and a calmness and not making mistakes. There's no room for error. It's a test of speed rather than tactics or anything else really."
He adds: "If you look at the 200 free – I really wish I could learn to race them because they look like such a fun event but the tactics…there is so much more to think about. For me the 50s are just get in and race and go as fast as you can. It's something I've always been good at, keeping focus and doing what I do in training in the pool."
Rudd describes Proud as "a scholar of the event" and believes his sprinting background in Kuala Lumpur was a blessing. "I kind of think his speed was rescued by being in Malaysia because we had a long culture in the 2000s to 2008/09 period that was very volume driven in what we were doing," says the coach.
"I think that culture could have finished him. He was allowed to do a whole bunch of 25m sprints in school galas all his life in Malaysia because that is all they did and all they knew."
Proud is now studying sports development and coaching at the University of St Mark and St John , which, like Plymouth College, has a partnership with the Leander swim club to make sport and study possible. The trust between the sprinter and Rudd is evident.
"We are cut off from everything in Plymouth. It works for us because Jon knows what he is doing," says Proud. "The faster I get the more he knows what does work and what doesn't. Deep down Jon knows everything you need to know about sprinting."
Rudd returns the compliment:
"Ben is a true gentleman, extremely humble, very modest. He's extremely single minded and focused. He doesn't just talk the talk he walks the walk."
He adds: "When you talk about international athletes living the lifestyle he is absolutely beacon standard with all the things that are outside my control and sphere of influence. The 18 hours a day I don't see him.
"He is a great role model who wants to know what it takes to be at the top of the game. Too many people think it's just about doing the swimming, just about doing your gym well and the rest of the time it doesn't really matter. It truly is a 24 hour, seven days a week, living the lifestyle thing and Ben does that brilliantly."
Just The Beginning
Rudd believes there is much more to comes from his young charge: "He made a courageous decision at the age of 16 and come out of his comfort zone and leave Malaysia and come and swim with us in Plymouth.
"It's a fantastic story and one that is just beginning I think."
All images by Gian Mattia D'Alberto / lapresse unless otherwise stated