Make Way For The Awesome AW's: Abbie Wood & Alicia Wilson on 2:09s For Medley Tickets To Tokyo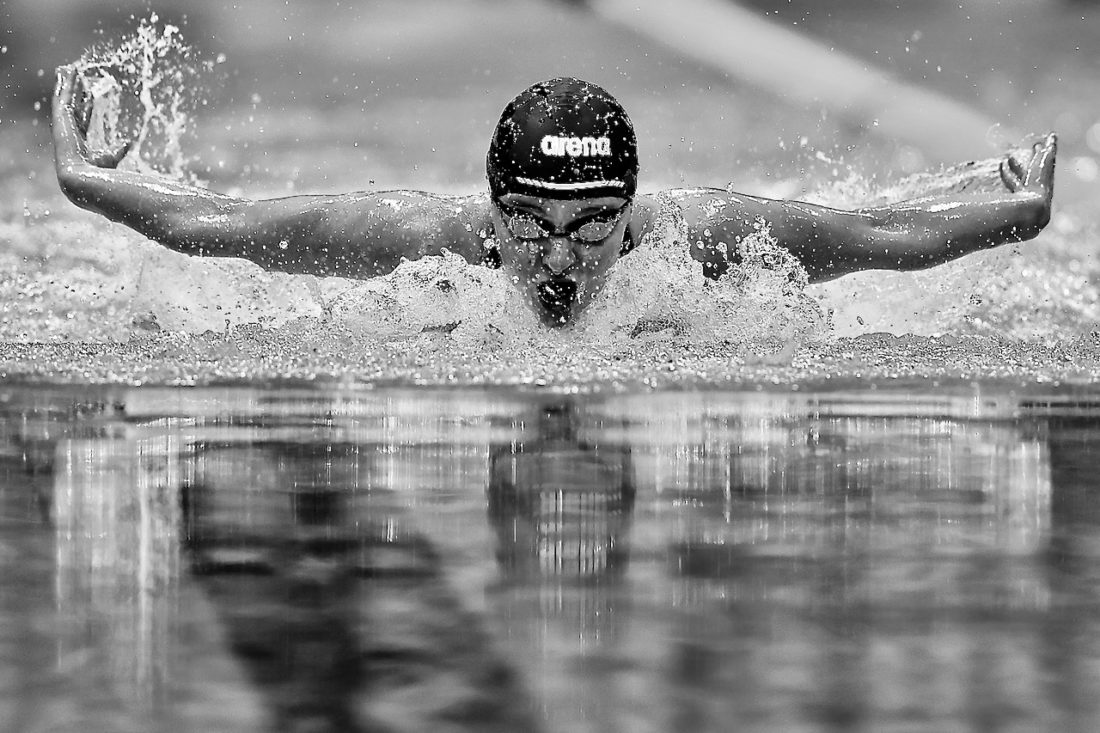 We might call them the awesome AWs one day but for now let's stick to Abbie Wood and Alicia Wilson, both under 2mins 10 in the 200m medley at British Swimming Olympic Trials, both with a ticket to the Tokyo Games and both made of the fighting stuff of folk keen to muscle their way into the biggest fray and give it their all.
Abbie Wood clocked a lifetime best of 2:09.23 to confirm the sub-2:10 capability she debuted in February this year when she clocked 2:09.38; Alicia Wilson stopped the clock in 2:09.61, which took a sledgehammer to her previous best – of 2:11.35 at the Universiade in 2019 – and made her the fourth Brit in history to race into a global sub-2:10 club now 40 deep but with only 16 under 2:09 – and only two under 2:07, one of those Britain's Siobhan-Marie O'Connor. Sadly, O'Connor announced last week that she would not be racing at trials, having endured a winter after battling with the chronic illness Ulcerative-Colitis.
Two others made hay while she was away this day. For Wood, the win gave her the certainty of a ticket to Tokyo after she had earlier in the five-day event finished top 2 in other events inside (200m breaststroke) and outside (200m free) target time and done enough to be in the frame for relay action, too.
On day 4 she will go to bed with any doubt or uncertainty banished. So will Wilson. The two had very similar speed to start and finish on, the balance of the battle tipped by Wood's advantage on breaststroke being greater that Wilson's advantage on backstroke.
| | | | | | | | | | | | | |
| --- | --- | --- | --- | --- | --- | --- | --- | --- | --- | --- | --- | --- |
| Place | Name | YoB | Club | | Time | | | Pt | | 50 | 100 | 150 |
| 1. | Abbie Wood | (99) | Loughboro NC | | 2:09.23 | | | 929 | | 27.72 | 1:01.15 | 1:37.91 |
| 2. | Alicia Wilson | (00) | Guildford Ct | | 2:09.61 | | | 921 | | 27.75 | 1:00.56 | 1:38.45 |
| 3. | Candice Hall | (97) | Loughboro Un | | 2:13.67 | | | 839 | | 28.30 | 1:01.67 | 1:41.31 |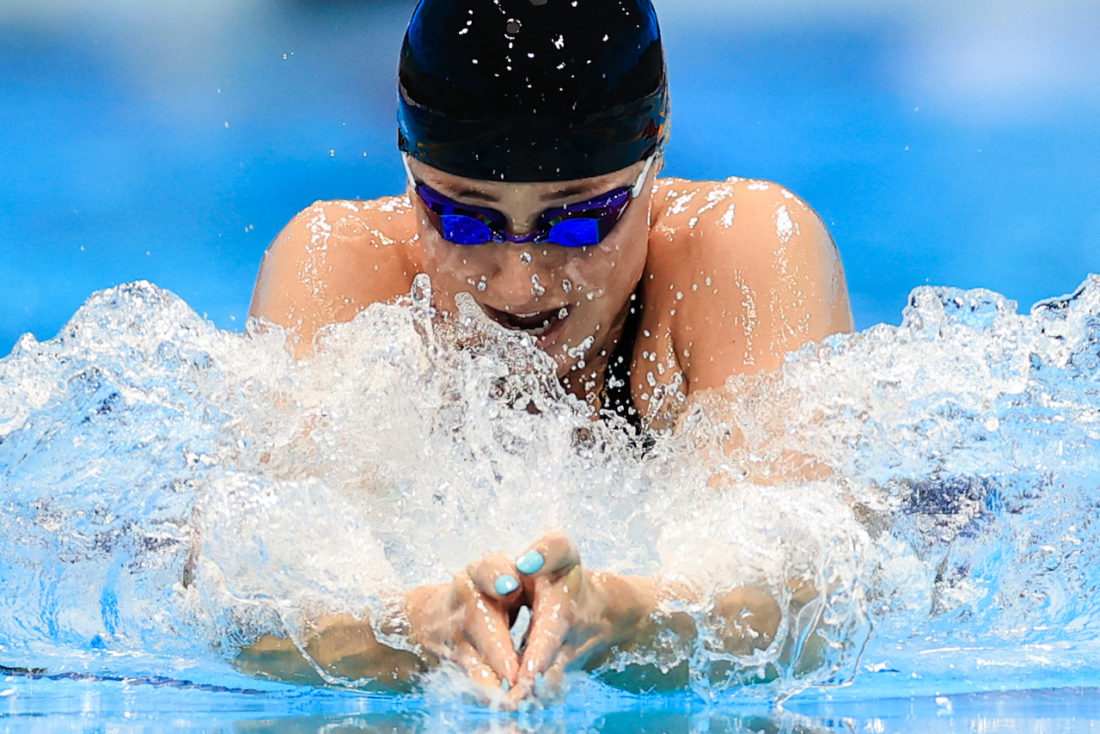 Poollside with double silver medallist of Rio 2016 Jazz Carlin, Abbie Wood said:
"I was just wanting to have a fun race tonight. I felt the pressure was off after the 200m Breaststroke and I knew I was in better form than I thought I was, so I just wanted to see what I could get out of me. It was a good race with Alicia."

Abbie Wood – photo by Georgie Kerr, courtesy of British Swimming
Wilson was astonished by the leap below 2:10, saying: "Honestly, when I was sitting and having a nap earlier, I was just wanting to get below 2:11 – so to do that was a shock!
"It's definitely hard because I don't have my teammates here. I'm just thankful to have the coaching team I do, because that has definitely compensated for it. Honestly, I'm not sure about my expectations for the summer, just to do my best and see if I can get on a team."

Alicia Wilson
Alicia Wilson A Cal Bear In yards Sneaking Under The Radar Of Metres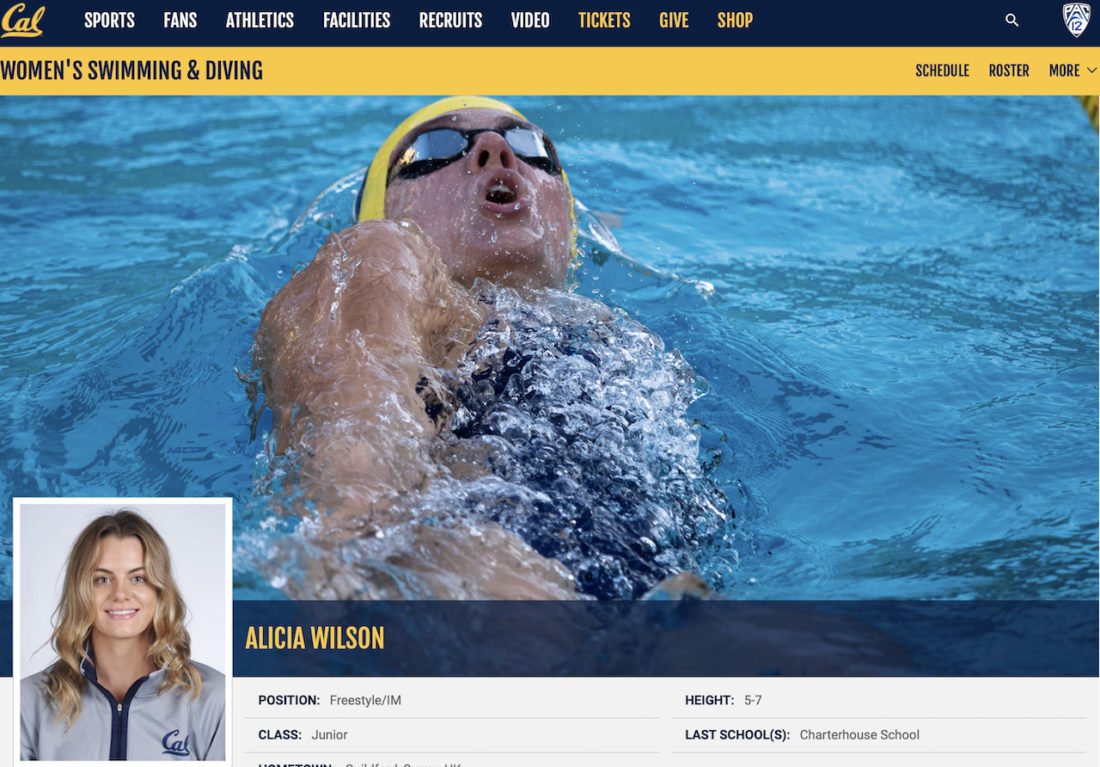 Alicia Wilson trains at the Cal Bears at the University of California, Berkeley. It is one of the top women's programs in the world, headed by Teri McKeever, who in 2012 became the first woman to be appointed head coach to the United States Olympic women's swim team. That squad included Caitlin Leverenz, who clocked 2:08.95 to get on the podium.
It's likely to take a little bit inside that this time round after gold and silver in 2016 went in 2:06s, to Hungarian Katinka Hosszu and, a fingertip behind, O'Connor intends to be back.
This July, the Games will go on without her but Britain now has two women not far beyond their teens capable of racing into the Olympic final, after which, anything is possible.
Wilson, who clobbered her best time by three seconds this evening, has flown largely under the radar in Britain, in part because only Americans have short-course yards pools these days and the times on the clock simply don't translate, legion the ranks of those who had fine college swim careers but never made it to or when at the biggest of international events because their long-course efforts left them shy of the speed required to make an impact.
Wilson set three lifetime bests during the 2021 season to put her among Cal's all-time top 10 in three events: 200 back (9th, 1:52.67), 200 IM (5th, 1:53.58) and 400 IM (3rd, 4:04.10) – all s/c yards swims that mean almost nothing at all in Olympic waters. Some can convert to the long-course pool – and Wilson's efforts today suggests that she is among those who can. She just did.
In college in the U.S, she won the 2021 Pac-12 crown in the 200IM, took second in the 400IM and 200 back and swam the anchor leg on Cal's winning 800 free relay. The clock is one thing. The main point another: she's been busy honing race skills in a very competitive environment. That is what shone through today.
Abbie Wood A Junior Champion Coming Of

Age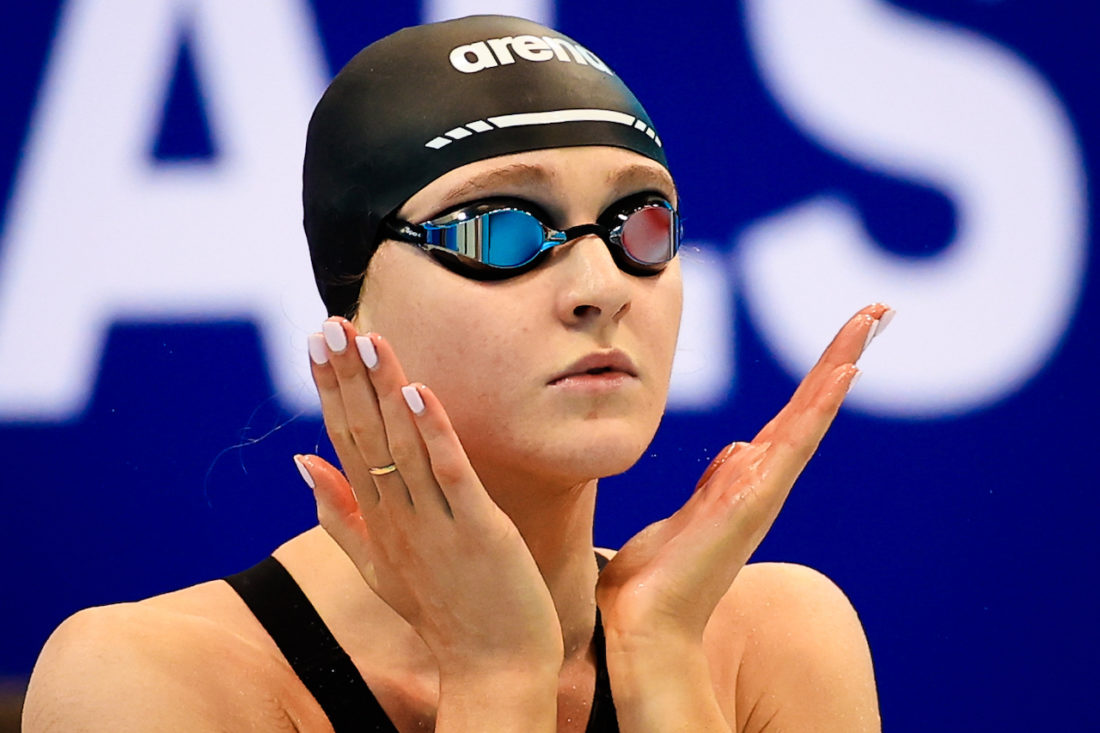 In February this year, Abbie Wood joined the sub-2:10 200IM club with a thumping 2:09.38 swim in Manchester. Her best before that had been 2:11.6, 6th best Brit ever and 75th performance all-time by a Brit, Siobhan-Marie O'Connor accounting for the bulk of 'em, Hanna Miley most of the rest.
The splits: 27.96; 1:01.31; 1:38.39; 2:09.38.
She emerged from the Manchester International as No2 all-time Brit, with the No10 performance and a ticket to the sub-2:10 club. It was 1997 when China's Wu Yanyan, on the way to a steroid positive as another teenage victim of rogues coaches and doctors, became the first woman inside 2:10 over 200m medley. Since then, 35 other women have raced into the same club … Abbie Wood at 36th that day in Manchester.
Career best times – and by hefty margins – unfolded in the 200m breaststroke, the 200m freestyle and, a 200m medley final that left only Olympic silver medallist Siobhan-Marie O'Connor ahead of her on the British clock.
Before Wood broke the 2:10 barrier, the best 25 times by Brits were all in the hands of Siobhan-Marie O'Connor (21 entries) and Hannah Miley (4), the Scottish two-times Commonwealth and former World s/c Champion over 400m medley. At 2:09.46, Miley, from 12 years ago and with two other 2:10s to her name along the way, was all-time No 10 on the performances list after the best 9 swims of O'Connor, who dominates her nation's all-time 200m medley ranks with half of the top 100 entries.
Coached by Dave Hemmings at Loughborough, Wood gave a strong hint that she was heading for a higher level with strong efforts for the New York Breakers on International Swimming League tour last year.
She claimed a debut ISL victory in match four of the 2020 League season 2 last autumn in the Bubble of Budapest when her pro-team New York Breakers side were narrowly pipped to second place by Team Iron.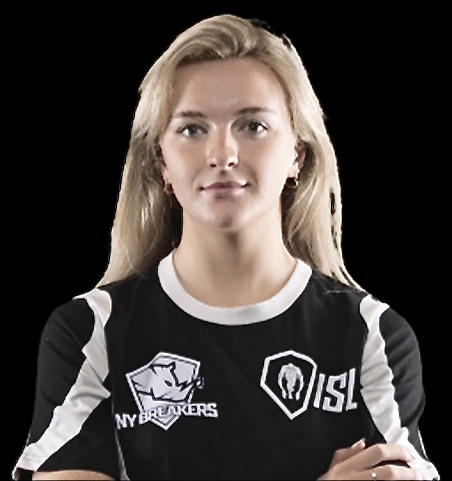 After finishing second in the 100 and 200m medley battles, Wood claimed her first tour win over 400m medley and emerged to say:
"I'm really loving the ISL so far! Even being here with everything going on makes me feel so lucky – and how I'm swimming is a bonus of the whole experience. Being on the Breakers has made this experience way better than I thought it would be. Everyone gets on so well and it's such a laugh, which is definitely a big contributor to how I'm swimming in the pool. Finally getting a win for the team was good after coming second so many times and, without sounding too greedy, it would be nice for it to not be my last!"

Abbie Wood – New York Breakers – photo courtesy of the ISL
On the day she cracked 2:10 in the long-course medley back in February, Abbie Wood said: "I'm over the moon, really. It's come as quite a big surprise. Off the back of the ISL (International Swimming League), I was hoping to back it up over long course, but there's always the thing in the back of your head, wondering whether it will happen! But long course has really come together for me now, which is really positive. I felt, because it was the end of the meet, I just had to be on a bit of a mission and go into the 200m IM with tunnel vision, I had a few swims in me that I'd done and though I was hurting a bit, I'm really glad I dragged that out of myself."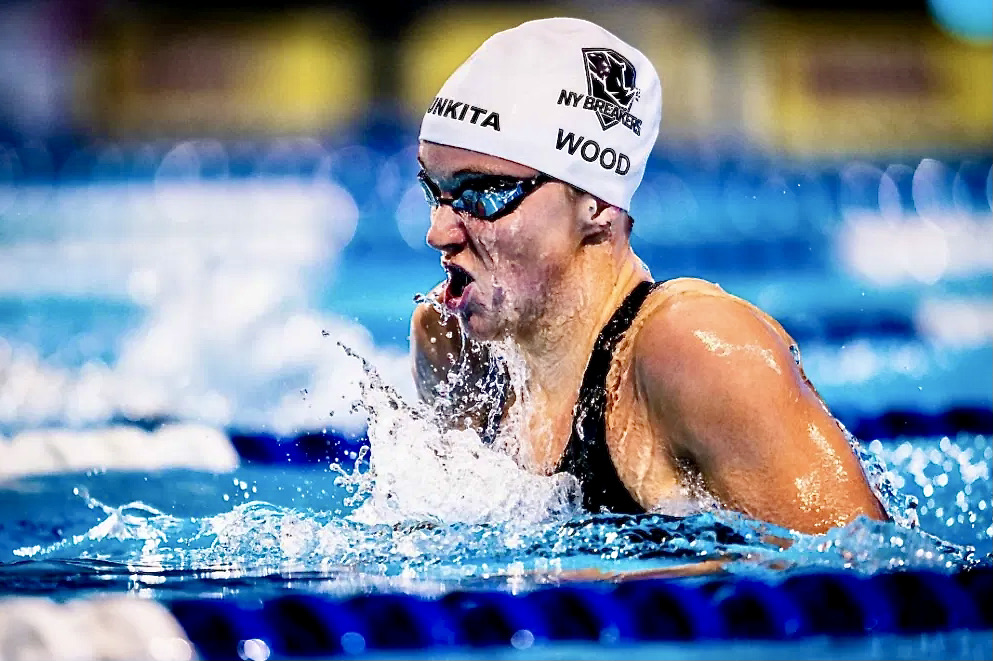 The ISL bubble and then the mini bubble in Manchester had been something of a god-send for swimmers, Wood suggested:
"With the Olympics coming up, everyone was itching to do long-course racing – and I felt so fortunate to be chosen to do the meet. Everyone swimming here was so grateful to be here and that it could go ahead, with all the staff working so hard. It was really good, everyone stuck to the rules and respected everything because we were so grateful to be here."

Abbie Wood