Duncan Scott 'Disappointed' With 47.87 British-Record Snap Of 2019 As Matt Richards, 17, Scorches 48.23 Welsh Standard – Both Inside Tokyo Cut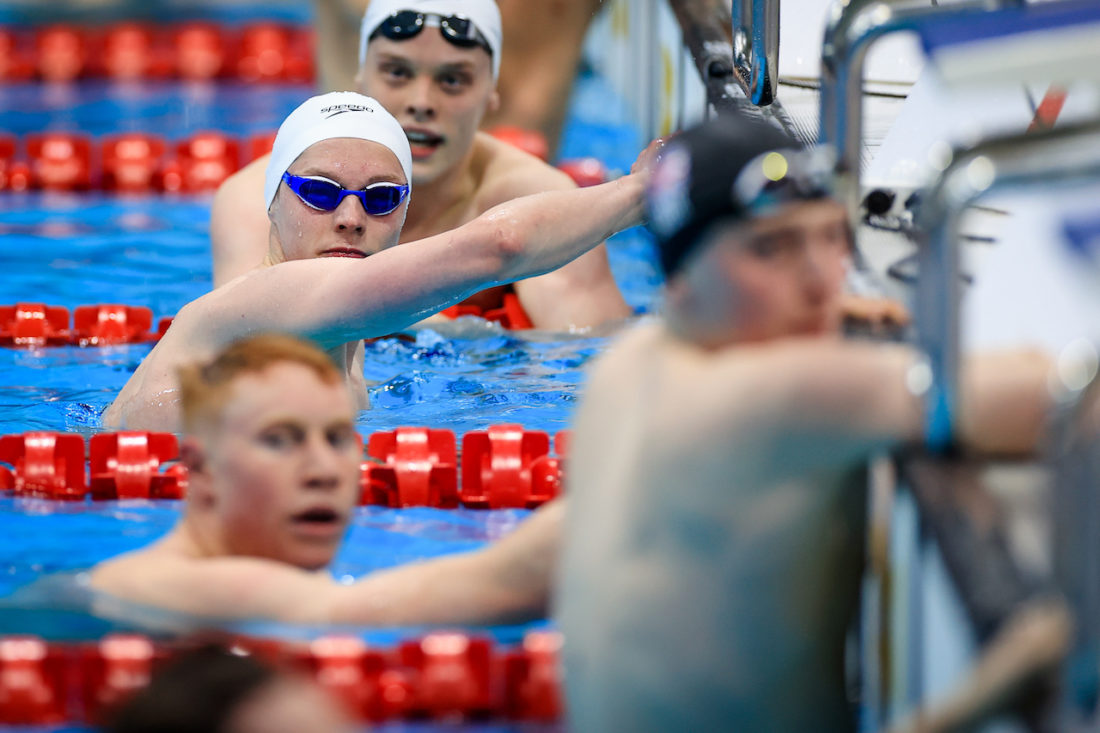 Duncan Scott was disappointed in his matched 47.87 British record, which was a great sign, while the 17-year-old beside him with a likely ticket to a debut Olympic Games, Matt Richards, was, just as understandably, over the moon with the 48.23 Welsh record inside the time in which Scott held the national age mark.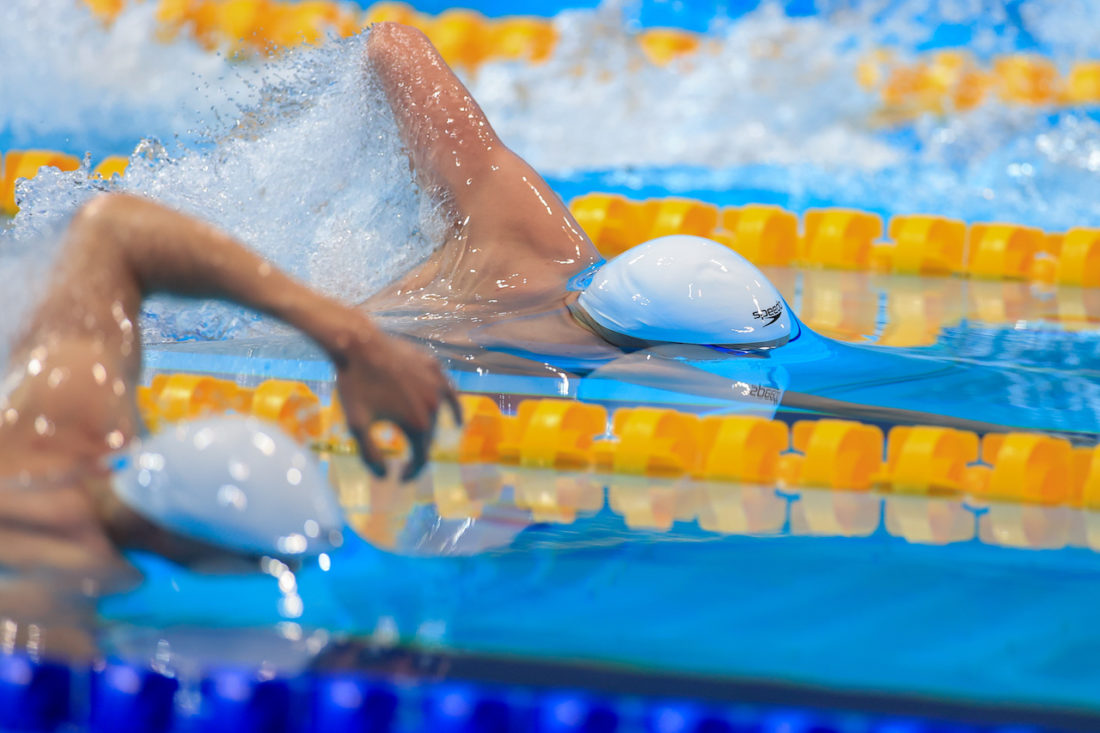 It was precisely where Richards wanted to be; it was not at all where Scott wanted to be, barring, of course, his place in Tokyo, which was, in any case, assured, his bronze in the 200m freestyle at World Championships having earned him pre-selection, a rare status that reflected the turbulent approach to a Covid-delayed Tokyo Games.
After Richards came Tom Dean, on 48.51, then Jacob Whittle, 16 and on 48.76, off 23.98 at the turn, and the versatile Joe Litchfield, the medley man inside target time behind Scott on day 1 and first to the wall in the 100m backstroke, too, on 48.85. It was the fastest 100m trials finals ever in Britain, far outstripping even the shiny suited past of 2008-09 seasons – and by some, just one man inside 49 back in 2009, for instance.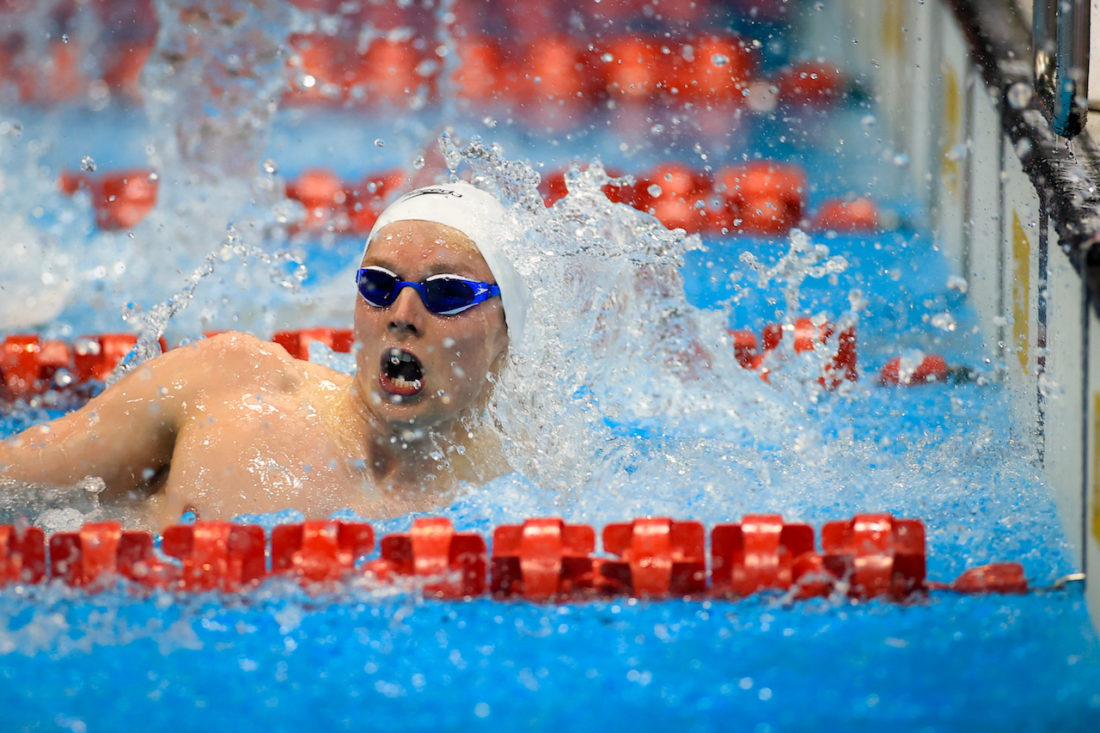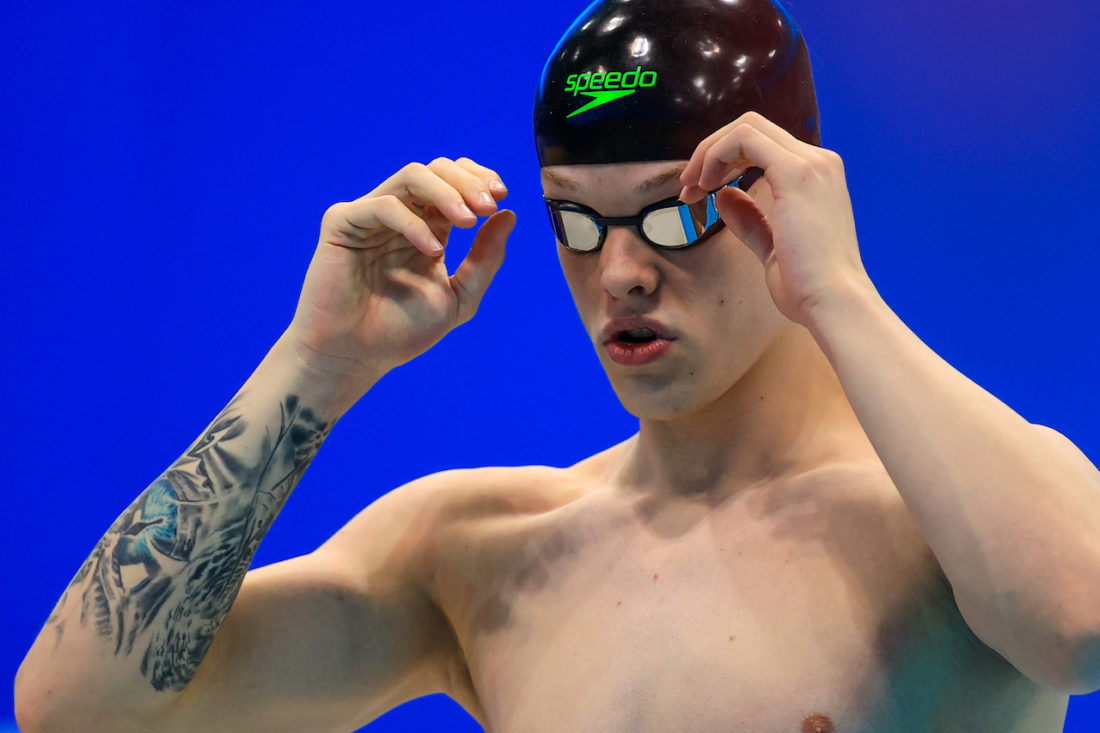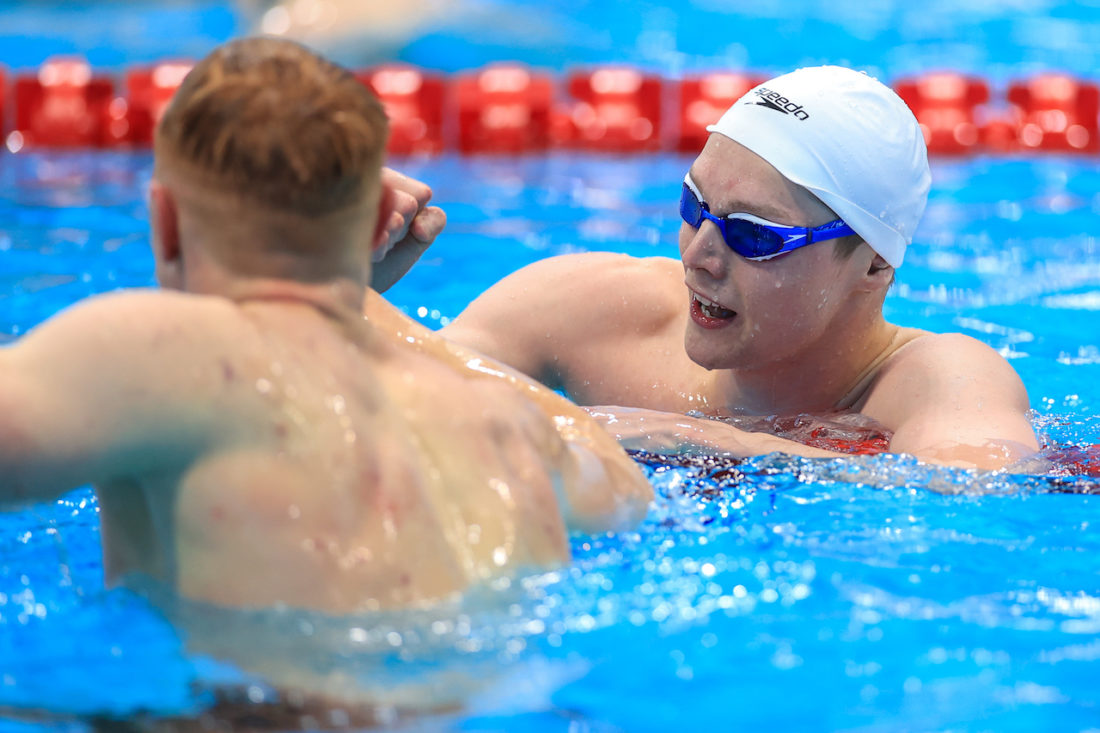 Out in 23.16, Richards on 23.62 in third beyond Tom Dean's 23.35, Scott was not on the sub-23 he'd wanted to be on. He thundered him in 24.71, his victory never in doubt. The battle to get closest to him went to Richards off a 24.61 return, Dean on 48.51 to match the big best time he'd swum in heats.
A note worth scribbling: Dean has finished top 2 or 3 in all his events so far and is almost assured a relay place, which is not bad going given that he contracted Covid-19 twice and faced a struggle to recover and setback into the swim on both occasions.
Scott emerged to say: "That's quite a bit slower than where I expected to be. Day 1 went really well but … that's just how it was today. I'm a bit disappointed."
On the first day of action, Duncan Scott scorched a 1:55.90 British record in the 200m medley and was delighted to have moved on beyond his 2018-2019 highs the other side of lockdowns and much else that stood in the way of certainty and stability on an Olympic mission.
The race today was his first in peak form since he lifted the Commonwealth crown for Scotland ahead of Olympic champion Kyle Chalmers, an Australian on 48-flat at his own nationals in Gold Coast today. In 2019, Scott focussed on the 200 medley "to see what I could do" at the World Championships and took bronze in the 200m freestyle but he bypassed the 100m and had been eager to see where a bit of a rest for racing this week might leave him.
Answer: back to where he was at British nationals on 47.87 in spring 2019. Fair to note that, while there is sharp opposition either side of him in London, there is no crowd, no cheer, no atmosphere bigger than a race-pace test set back in his University of Stirling program, no life beyond two bubbles and a corridor twixt venue and hotel. The future of British sprinting and a building 4x100m free is looking ever brighter.
No excuses either, you can almost hear Scott say. Coached by Steven Tigg for all his speedy life in the pool and Brad Hay at Stirling's performance centre, Duncan Scott says what he means and means what he says. Imagine being disappointed with a 47.87 is what some commentators muttered. Yes, we can imagine it because Scott wants much better: he's in it for a battle with the likes of Chalmers and American Caeleb Dressel, the sub-47sec zone the place to be if you want to keep company with such company.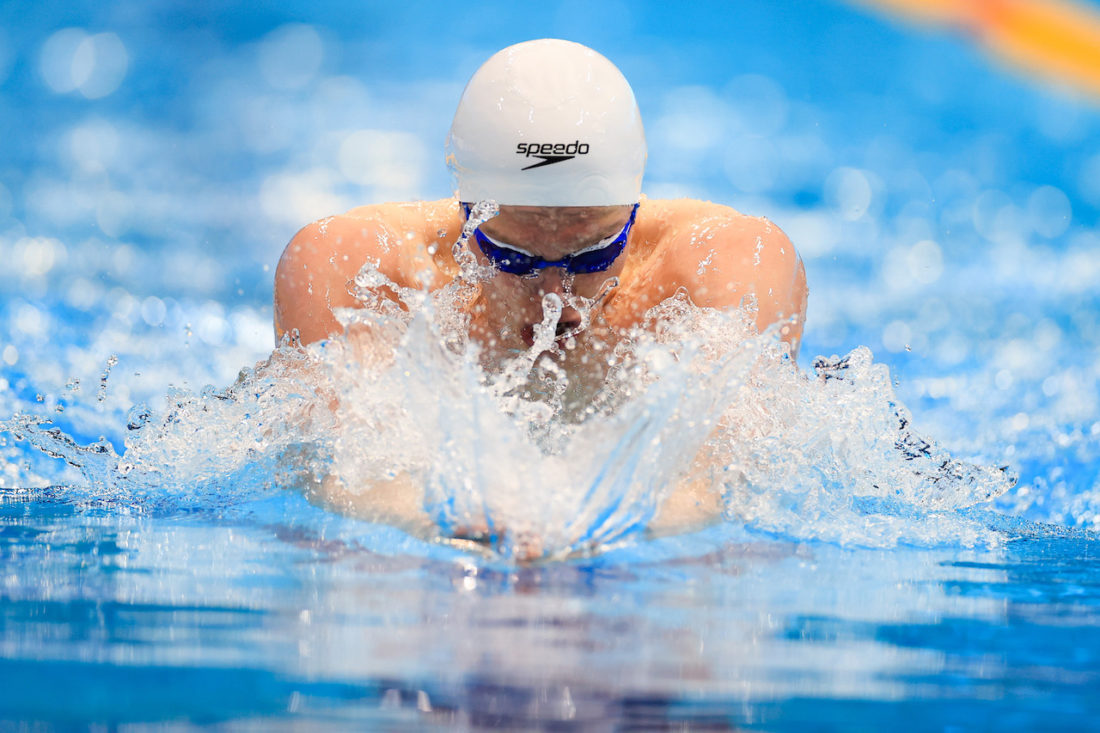 Beyond swim down, Scott, who sent smoke off the water with the all-time fastest split in textile suit, 46.14sec, bringing Britain's 4x100m freestyle relay home to gold at the Gwangju 2019 World Championships, said:
"Being disappointed with the time is just the high standards I set myself, but I've got to be pleased with that time. That times from the 2019 Trials, I didn't race it at the Worlds so it's been quite a while since I did a 100m PB tapered. I've got to take away the positives, I'm in really good shape so I'm looking forward to the other events I've got this week."

Duncan Scott – image by Georgie Kerr, courtesy of British Swimming
Speaking about the goals he sets himself for each of his events, he added:
"There's different things I want to try and do in each of the events and that's why I enjoy it so much. The internal pressure and high expectations I put on myself way outweigh what anyone can put on me. Sometimes it's all really good, other times I fall short and that was one of them but I have to come away thinking I'm in really good shape and that's the joint fastest I've ever been in that event so I've got to be happy.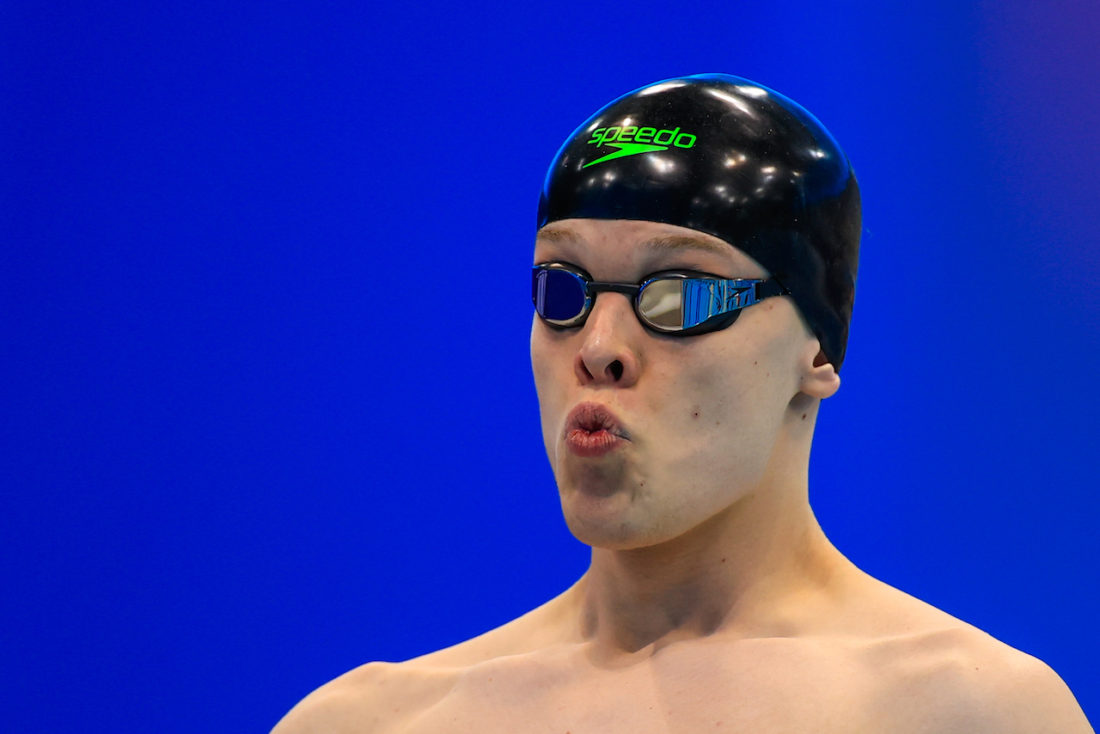 Richards mentioned with a beam and a laugh in the divided mixed zone that his aim had been "to keep up with this guy here". He wasn't far off – and "this guy here" kept his gaze forward, his lips pursed, his mind on the territory in which he wants to be able to say that he "kept up with these guys here" when looking left or right or left and right at Dressel and Chalmers or whoever may join the club of 47sec rattlers.
Meanwhile, the shape of British freestyle sprinting looks ever fitter, a young 4x100m free relay building. Richards turns 18 in December, Dean turns 21 this year, Litchfield 23 and Scott, 23 as he races this week the eldest of a very promising outlook.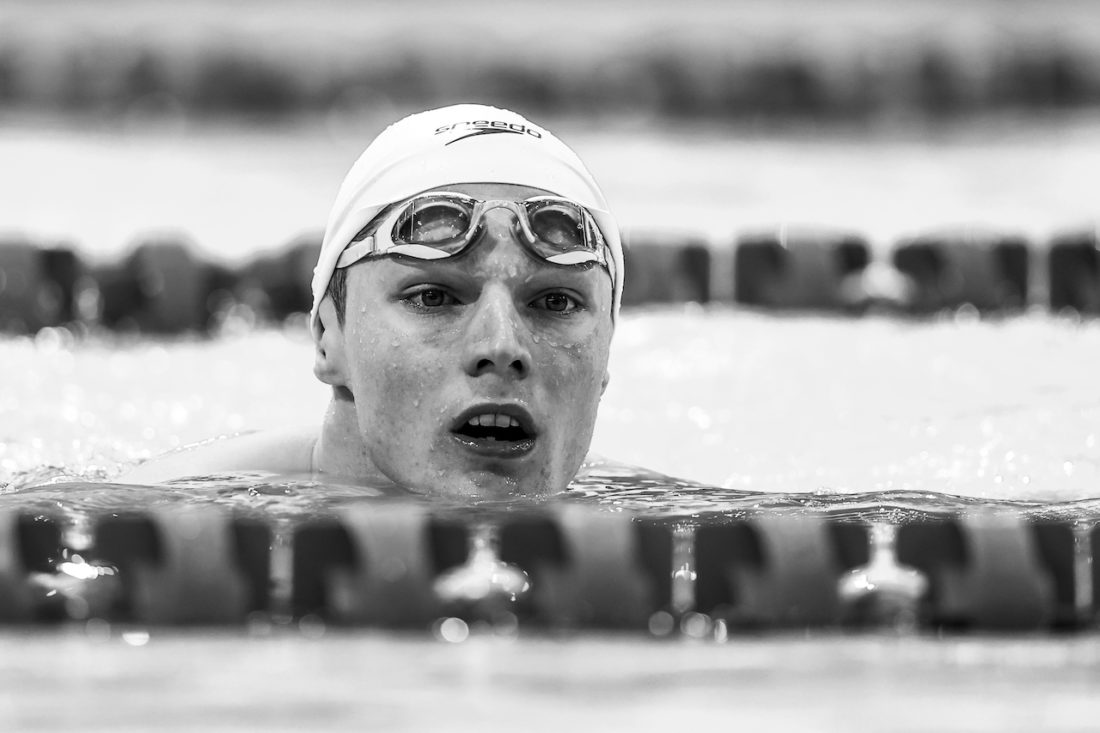 Duncan Scott offered instant encouragement to the improvers chasing him, noting:
"The quality of the field is credit to British swimming and the rest of the guys in that field. I think the relay that was put out last year showed that it can be competitive internationally and that field there showed why it can be. Matt Richards was great, Deano (Tom Dean) was excellent again and then there was the really young boy (Jacob Whittle) going rapid as well, it was a really great field."

Duncan Scott – image by Georgie Kerr, courtesy of British Swimming
The prospect of at least two men inside 48 and one inside 47 (well inside – like that 46.14 in Gwangju, an effort significantly beyond even the 46.06 of Jason Lezak chasing Alain Bernard in shiny suits) in a 4×100 relay is not beyond the bounds of belief this summer approaching…
Take a cross section of some of the biggest names in 100m free down the years and consider the 0.7 to 1sec range between solo and relay times and Duncan Scott should one day be rattling the 47 mark in the individual event. He knows it, hence the 'disappointed'.
The flow of the fight:
| | | | | | | | | | | |
| --- | --- | --- | --- | --- | --- | --- | --- | --- | --- | --- |
| Place | Name | YoB | Club | | Time | | | Pts | | 50 |
| 1. | Duncan Scott | (97) | UniOfStirl | | 47.87 | | | 941 | | 23.16 |
| 2. | Matthew Richards | (02) | Bath NC | | 48.23 | | | 920 | | 23.62 |
| 3. | Thomas Dean | (00) | Bath NC | | 48.51 | | | 904 | | 23.35 |
| 4. | Jacob Whittle | (04) | Derventio | | 48.76 | | | 890 | | 23.98 |
| 5. | Joe Litchfield | (98) | Loughboro NC | | 48.85 | | | 885 | | 23.76 |