Zhang Yufei Poised For 200 Show Of Cards After 2:06.1 In Day 4 'Fly Heats At China Olympic Trials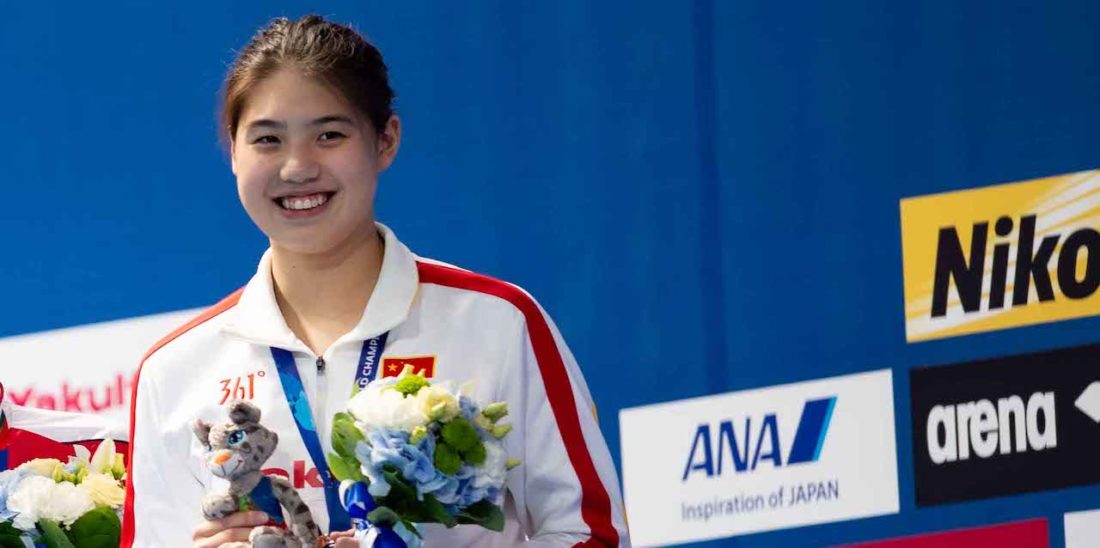 Zhang Yufei is aiming to go to Tokyo a golden shot in both the 100 and 200m butterfly, a 2:06.11 in the four-length heats this evening at Chinese Olympic Trials in Qingdao taking her a stroke closer to securing a double ticket to a Games that could deliver three podiums for her.
Next through were Yu Liyan, on 2:08.62, and Zhu Jiaming, on 2:09.36.
The A cut time is hardly an issues, at 2:08.43, while Zhang, the 100m winner at trials on 55.73 and the only sub-56sec two-lengthen so far this year, will be tough to beat, her latest progress having taken her into a different class than those chasing in current domestic waters.
Before the pandemic struck, Zhang had a best of 2:06.17, dating back to 2017. Having bypassed the 200m in 2020 as she worked on her speed and sliced the Asian 100m record back to 55.62 last October, Zhang entered 2021 as a new forced in Chinese 200 'fly swimming: in heats at the first round of the China Swim series in January she clocked 2:05.70 in heats, then 2:05.49 in the final.
That new career high bar lifted her from 27th best performance to 18th best on all all-time China rankings, within a whisker of joining the outliers Liu Zige (2:01.81 World record from shiny suited 2009) and Jiao Liuyang (2:04.06 for the Olympic title at London 2012 four years after silver behind Liu at Beijing 2008) in the top three all-time swiftest of China. Jie Gong, with a 2:05.38 from 2012 is a reach ahead of Zhang yet.
In other day 4 heats, He Junyi led the 100m freestylers into semis on 48.99, 16-year-old Pan Zhanle on 49.03 and Huang Junyi on 49.19.
Up the distance scale, Cheng Long led the way into the final of the 800m freestyle on 7:54.02, 0.29sec inside the A cut for the Tokyo Olympic Games, no others inside 8mins. Cheng must at least match his heats effort in the final for a guaranteed ticket of a place in the first Olympic men's 800m freestyle in history, the event introduced alongside the women's 1500m to deliver gender parity in events for the first time since the 'modern' Games got underway in 1896.
The men's 200m breaststroke heats had Qin Haiyang at the helm on 2:11.58, ahead of Yu Zongda, 2:12.29, and 100m winner and Tokyo ticket holder Yan Zibei, 2:15.92.