Xu Jiayu Tops The Bill At China Trials To Confirm Tokyo Bid For Olympic Crown To Back Up 2019 World Title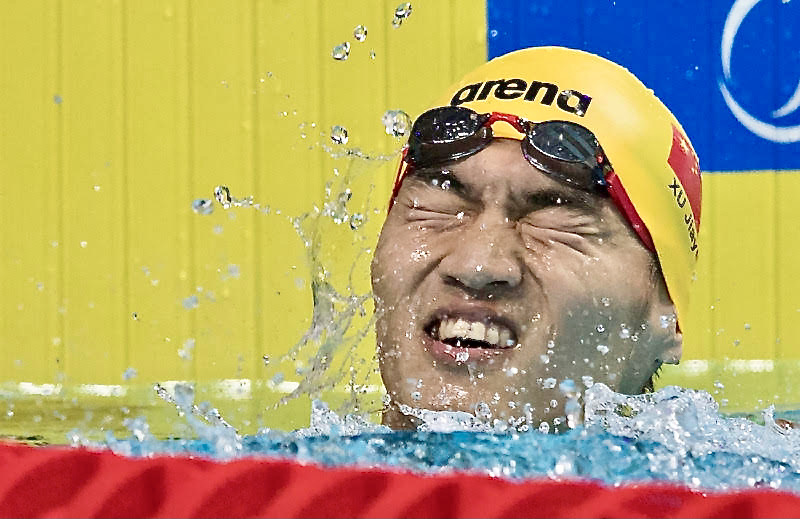 Xu Jiayu, the World 100m backstroke champion, produced the only day 3-finals effort close to the kind of times that will be required to make the Olympic podium at the Covid-delayed Games in July as a further 12 swims entered the realm of potential selection, half of those with a guarantee, among challengers at China's Olympic trials in Qingdao.
On 52.88, Xu Jiayu was an arm swing away from the 52.43 in which he claimed the World title in Gwangju in 2019, the last occasion on which the best swimmers on the pant gathered for peak performance championship racing before the pandemic changed everyone's lives and plans.
Xu Jiayu needed only to confirm his form today, the Chinese Swimming Association having added a line to its selection policy of late, according to Chinese media, that grants automatic selection to Tokyo to any 2019 World champions for China in Gwangju. That meant two swimmers: Xu and Sun Yang*.
Li Guangyuan, on 54.63, and Jin Yan, on 55.17, rounded out the podium the wrong side of the A cut in Qingdao today.
After a 1:57 in heats, Zhang Yufei withdrew from further rounds of the 200m freestyle but in Tokyo China's 100 'fly title hope will be there to bolster those who make the grade for the China 4×200 crew. The squad looks competitive but Australia and the United States remain the teams to beat on the strength of 200m semis today. China has long had solid 4x200m teams capable of making big podiums and grabbing titles but the story has often been accompanied by a thread of history in which the positive is a negative.
On 4:02 at the helm of the 400m yesterday and heading into the 1500m final tomorrow, Li Bingjie topped the four-length semis in 1:57.54 ahead of Yang Junxuan, keeping her powder dry on 1:57.87 (in March she set an Asian record of 1:54.70 at the second round of the China Swim Series) and Dong Jie 1:58.53, two others inside 1:59 in semis slower than heats, a pattern repeated in several events, including finals.
Among those is the women's 100m breaststroke, in which Tang Qianting, on a lifetime best of 1:06 flat in heats, a big leap from her 2020 career high of 1:08.6, the 1:07s bypassed when she first swam into the 1:06 zone during the China Swim Series earlier this year, took the title and ticket to Tokyo in 1:06.82. The podium was completed by Yu Jingyao, 1:07.73, and Yang Chang 1:08.26.
Two got inside the cut in the women's 100m backstroke, Chen Jie at the helm on 59.75, Peng Xuwei a reach shy in 59.89 for her Tokyo ticket, the podium completed by 2020 national champion Wang Xueer, on 1:00.64, in a final that went without Fu Yuanhui, who was disqualified in heats for a false start. Fu remains the fastest 100m backstroke swimmer from China this qualification cycle, 59.48 in 2020 (after toping China's ranks in 59.57 in 2019), her national record of 58.72 dating back to 2017. Peng clocked 59.53 at the second round of the China Swim Series in March this year.
The men's 4x200m freestyle quartet will be without Sun Yang* this summer unless he can persuade a second Court of Arbitration hearing at the end of this month that the reasons why the World Anti-Doping Agency (WADA) successfully argued for an eight-year suspension of the three-time Olympic champion were somehow without merit.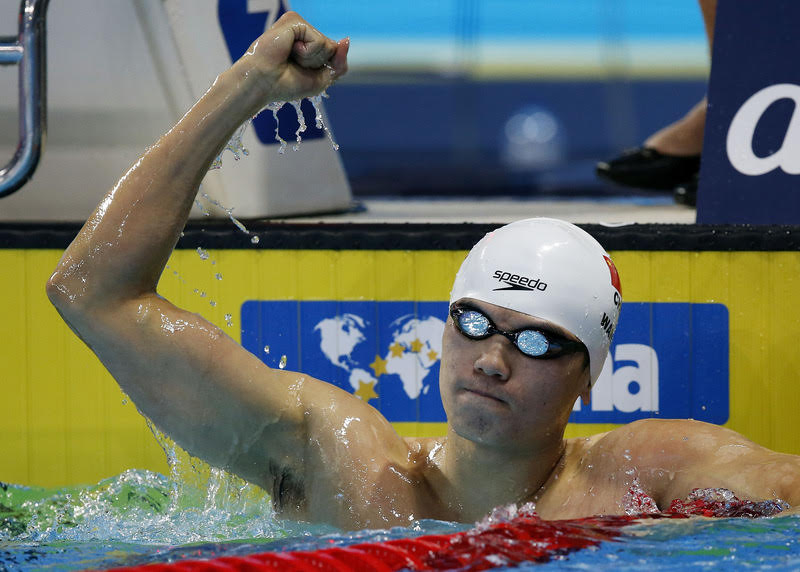 In Qingdao, 400IM winner and Tokyo ticket holder Wang Shun added to his schedule at the Games with a 1:46.55 win in the 200m freestyle ahead of Ji Xinjie, also inside the cut on 1:46.75. Hong Jinquan took third place in 1:47.30, while the fourth fastest time in all the rounds was the 1:47.28 of 400m winner Zhang Ziyang, from heats, followed by Fei Liwei's 1:48.14 semi before we get to fourth in the final on 1:48.35. China will name its relays only after a last-chance-saloon meet to be held at the end of the month and into the first week of June.
In day 3 semis, Yu Yiting, after a 2:09.8 World junior record (but not the fastest ever among World juniors) in the heats of the 200m medley, booked lane 4 for the showdown in 2:11.18 ahead of Chen Xinyi*, the Rio 2016 100m 'fly finalist who was sent home from the last Olympics after testing positive for a banned substance, on 2:13.24, Ye Shiwen, 2012 Olympic champion (2:07 at 16) at London 2012, on 2:14.04.
The men's 200m butterfly semis had Chen Juner at the helm on 1:58.47, after a 1:56 in heats. Unless the translation of his name is incorrect, Chen Juner is one of several names that appear to have made a breakthrough in the 200m butterfly since 2020, having not been on any sub-2minute China lists before that, including all national championships before this year. Next through to the final were Yu Yingbiao, on 1:59.18, and Wang Zhou, on 1:59.41.
In heats, Chen Juner, who clocked best times of 1:58, then saw 1:57s three times on the China Swim Series earlier this year, took his high bar up to 1:56.63 in heats, with Wang Yifei on 1:57.59 and Xu Fang on 1:58.65. In 2020, at a Chinese Championships boasting plenty of speed, Yan Yuxiang topped the 200 'fly in 2:00.18, the only Chen being Chen Chaoqui, on 2:00.62, Wang Yifei and Xu Fang also absent. Lost in translation or a few big breakthroughs on the move? There's an answer out there and we'll note it as and when we're able.
* – swimmer tested positive and was handed a suspension under the WADA Code during career.