Thomas Ceccon Celebrates The Time Of His Life With 51.60 World Record Stunner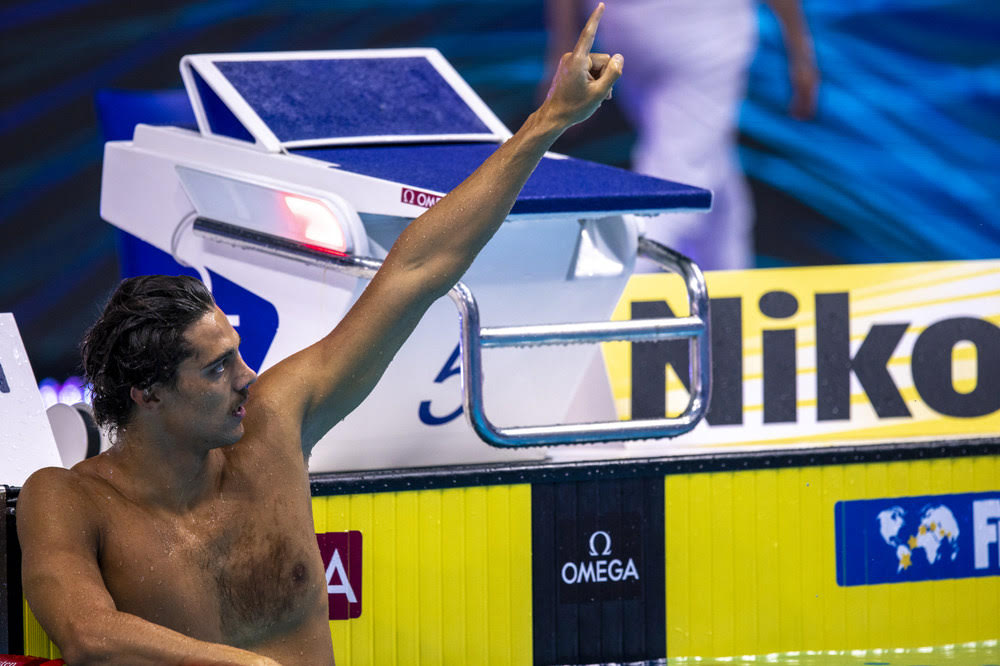 Thomas Ceccon looked stunned as he soaked up the numbers on the scoreboard: there was a 1 and beyond his name and the time of his life – 51.60.
No Italian had ever held the World record there and back on backstroke. No Italian had ever won a medal of any colour over 100m backstroke at World titles. At 51.6, Ceccon forced a silver lining on 2016 Olympic champion Ryan Murphy and a 51.97 that kept his teammate Hunter Armstrong at bay by 0.01, the Americans producing another podium with two sets of Stars and Stripes.
Italy celebrated two pioneering golds inn none session today, as Benedetta Pilato topped the women's 100m breaststroke just 0.05sec ahead of Germany's Anna Elendt, 1:05.98, and the 2012 Olympic champion and former World champion and record holder Ruta Meilutyte, of Lithuania, on 1:06.02, 2016 Olympic champion and current World record holder Lilly King fourth 0.05sec shy of the podium.
Ceccon took down Murphy's 51.85 World mark, set when he led the USA 4×100 medley relay to gold at Rio 2016. It was a lot to take in for thew 21-year-old Italian who laid down a fine set of best times at the Tokyo Olympic Games last year, on 52.49 in heats and 52.30 in the final, 0.11sec behind Murphy, who took bronze behind Russians Evgeny Rylov and Kliment Kolesnikov, both barred from Budapest as a result of Putin's war on Ukraine.
Said Ceccon: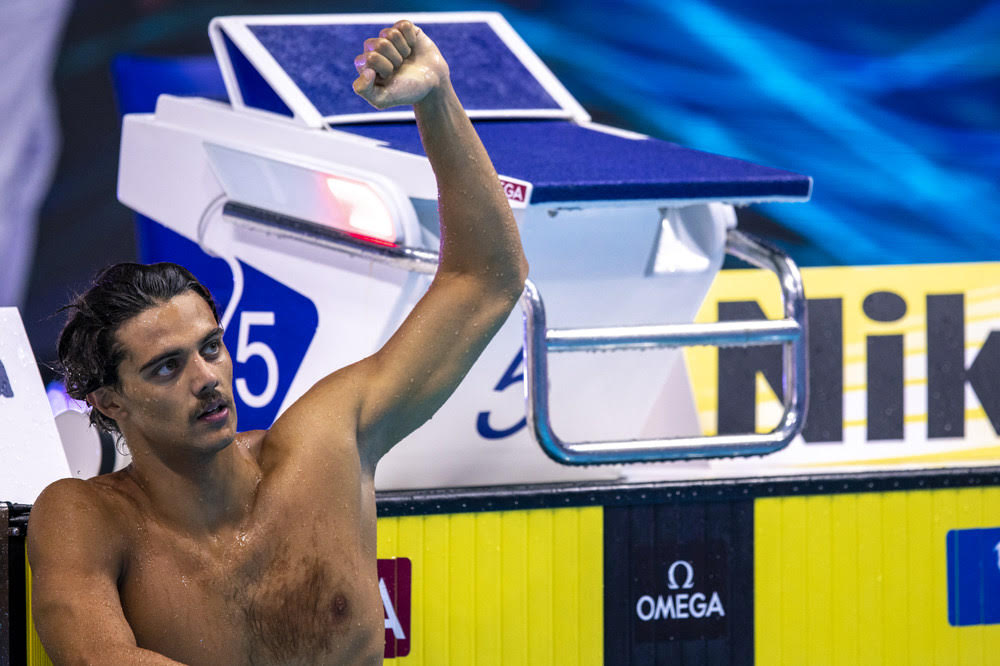 "I haven't realized that I broke the world record. I didn't think of any record or time before the start. I just swam my own race. The water and the pool are excellent and it's a fantastic thing when you break the world record in every sport. For me, it's simply unbelievable."

Thomas Ceccon – by Patrick B. Kraemer
Time or gold? Which topped the list of thrills? "Maybe the world record. It's not a normal thing, so it's special for me now. The win is the win, but the world record is one time." He said he's like to hold on to it for "as long as possible" but pledged to take it down: "I will try to break 51.6 in the medley relay Saturday."

Ceccon The History Man
You have to go back as far as Perth 1991 to find the last and only other Italian on any World-Championships backstroke podium among men. Stefano Battistelli took silver in the 200m behind Spain's Martin Lopez-Zubero. Over 100m, Ceccon is a pioneer for his country.
In his youth, Ceccon won the 50 freestyle Youth Olympic title and 4 other medals at 2018 Youth Olympic Games in Buenos Aires and in 2019 claimed two golds at the World Junior Championships.
He first cracked the 53sec mark in the 100m backstroke at 17 back in 2020 in the pandemic, his high of 52.84 at the end of that year a national record.
In Budapest, Ceccon warmed up this week with bronze as a ember of Italy's 4×100 metre freestyle quartet.
On his effort, Murphy said: "I'm really happy. I was probably a little too amped up. I saw the switch just after so I guess I was really excited going out that first 50 but that's what happens when you're in a heat like that. I knew there were a bunch of talented guys in there and I'm really happy with how I executed. Hats off to Thomas – that's a really, really fast time and it's going to be an exciting couple of years."
Asked about teammate Armstrong's progress, Murphy said: "It's incredible. Hunter has had such a steep improvement curve in the sport. It's always fun to race guys like that. And what I really appreciate about Hunter is he's incredibly genuine. When you talk to him, you know exactly what he's thinking and he's telling the truth and there's no games there. I really appreciate him and sharing the pool with him."
A medal ink his vault from a debut World-titles finals, Armstrong said: "You know the first thing I looked at was the time. I'm still shocked that Thomas not only broke the world record but crushed it! The next thing I looked for was Murph – he got me by a hundredth which hurts a bit – but if anyone is going to get me, I'm glad it was those two."
The American medals marked the third time in the last five world championships (2013, 2017, 2022) where two USA teamsters have stood on the podium in this event.
Now the third-fastest American ever and the third after Aaron Piersol and Murphy to race inside 52, Armstrong and his new best time leapt over David Plummer and Matt Grevers.