Sarah Sjostrom Claims Record Fourth Straight 50 Fly Crown With Dominant 24.95 Victory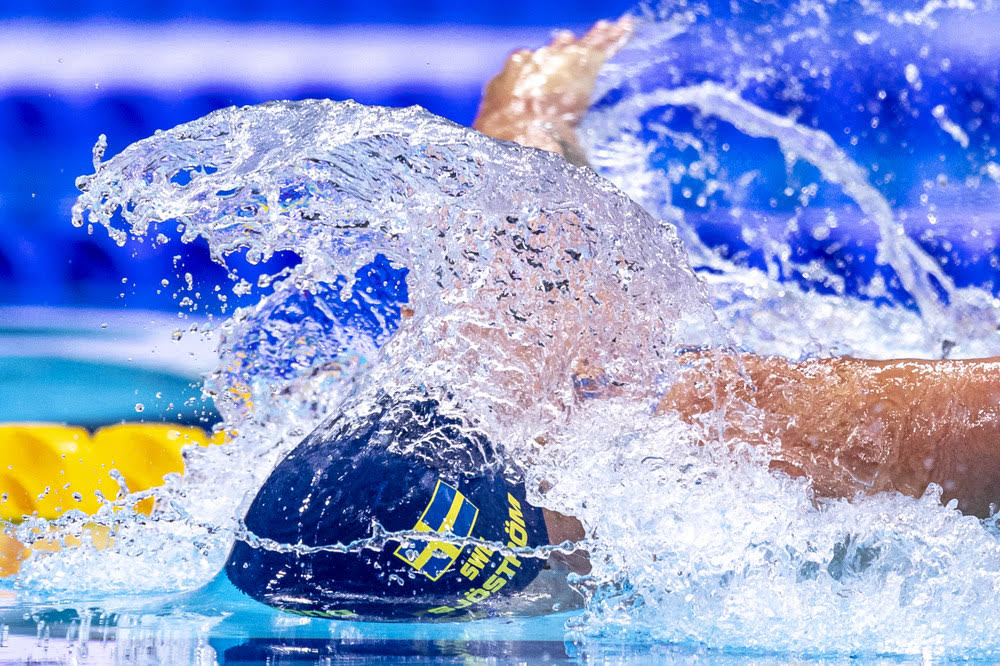 Sarah Sjostrom claimed her fourth straight World title in the 'fly dash at the Duna Arena in Budapest today with a dominant 24.95 victory.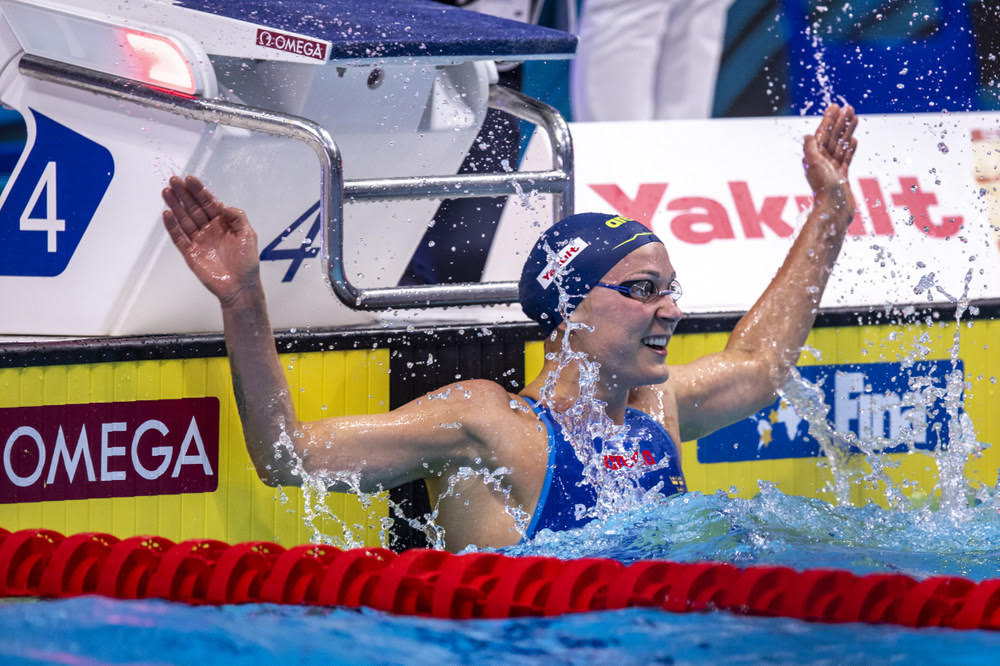 Sjostrom, who also has four 100m World long-course crowns to her credit, had a solid start and nailed her finish, her supremacy, founded in a rapid stroke turnover matched by none, never in doubt. Of late, she has experimented with a new start in which she stands tall and is the last to go down: it helps her get a more explosive start, she believes, while helping her to to keep her back and shoulder muscles relaxed before the start.
Closest to Sjostrom was Melanie Henique, of France, open 25.31, with the bronze going to China's Zhang Yufei just 0.01sec back, on 25.32.

Sjostrom is rarely shy of amazing but the circumstances promote this moment to astonishing: not much over a year ago, her Olympic goals were on thin ice after she'd spent a few months in rehab following surgery on an elbow forced by a fall on the snow in the depth of a Swedish winter. Dashed were any hopes of retaining the 100m butterfly crown claimed in Rio as the first Swedish woman to claim Olympic gold in the pool but in Tokyo, Sjostrom soared to silver in the 50m freestyle despite all that had come to pass.
Today marked her 19th World long-course medal, 18 of them solo, 9 of them gold, 7 of them silver (including the one relay podium), 3 of them bronze. That tally of 18 solo medals leaves Sjostrom just 1 shy of the solo tally notched up by Michael Phelps. As said: astonishing.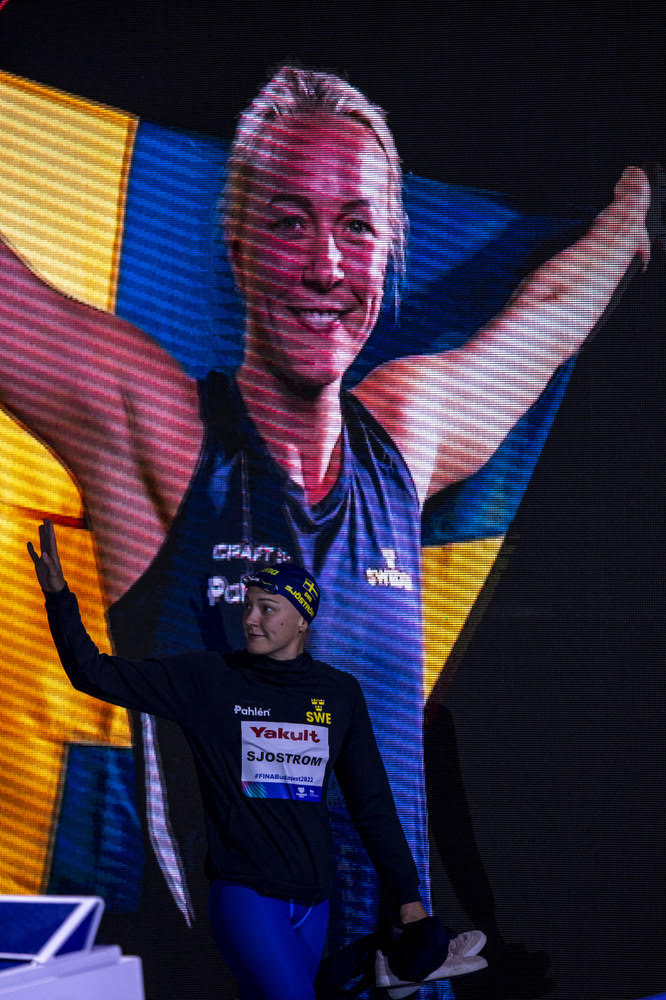 The 28-year-old Swedish ace who claimed her first European title over 100m at 14 back in 2008, has now helped her nation, along with Therese Alshammar (1g, 2007, 2s, 1b) and Anna-Karin Kammerling (1s, 2b) , dominate the all-time medals table in the 50m butterfly: 11 medals, 5 of them gold since the 50m strokes were added too the World Championships program in 2001.
Sjostrom, who claimed a fourth silver in the 100m freestyle yesterday, first claimed the title in 2015 and then retained it in 2017, 2019 and now in 2022. A year after bypassing the dash at the 2013 Championships, Sjostrom set a Beamonesque World Record of 24.43 at Swedish Nationals in Boras (see archive below). That standard survived yet an other major championships but Sjostrom remains the champion, too.
At 24.95, Sjostrom's 2022 win is the second-swiftest of her four victories, which are topped by the standing 24.60 Championship record that was set in the same Duna Arena pool in 2017.
Sjostrom has no time to stop for breath: she went straight from the 50 'fly final to the 50 free semi, her 24.15 blast taking her through to the showdown as second fastest adrift a 24.11 from Poland's Katarzyna Wasick.
Later, the Swedish ace reined to give us her thoughts on the greatness in a long career. Having won her first World title over 100m butterfly at Rome 2009, Sjostrom has now amassed 9 golds, 7, silvers and 3 bronzes at the global long-course showcase down the years. Only one of those medals is a relay orb, which means that her solo medals count is second best ever, both sexes, behind the GOAT of an outer orbiter, Michael Phelps.
He has 20 solo medals and 33 overall with relays. Sjostrom was astonished: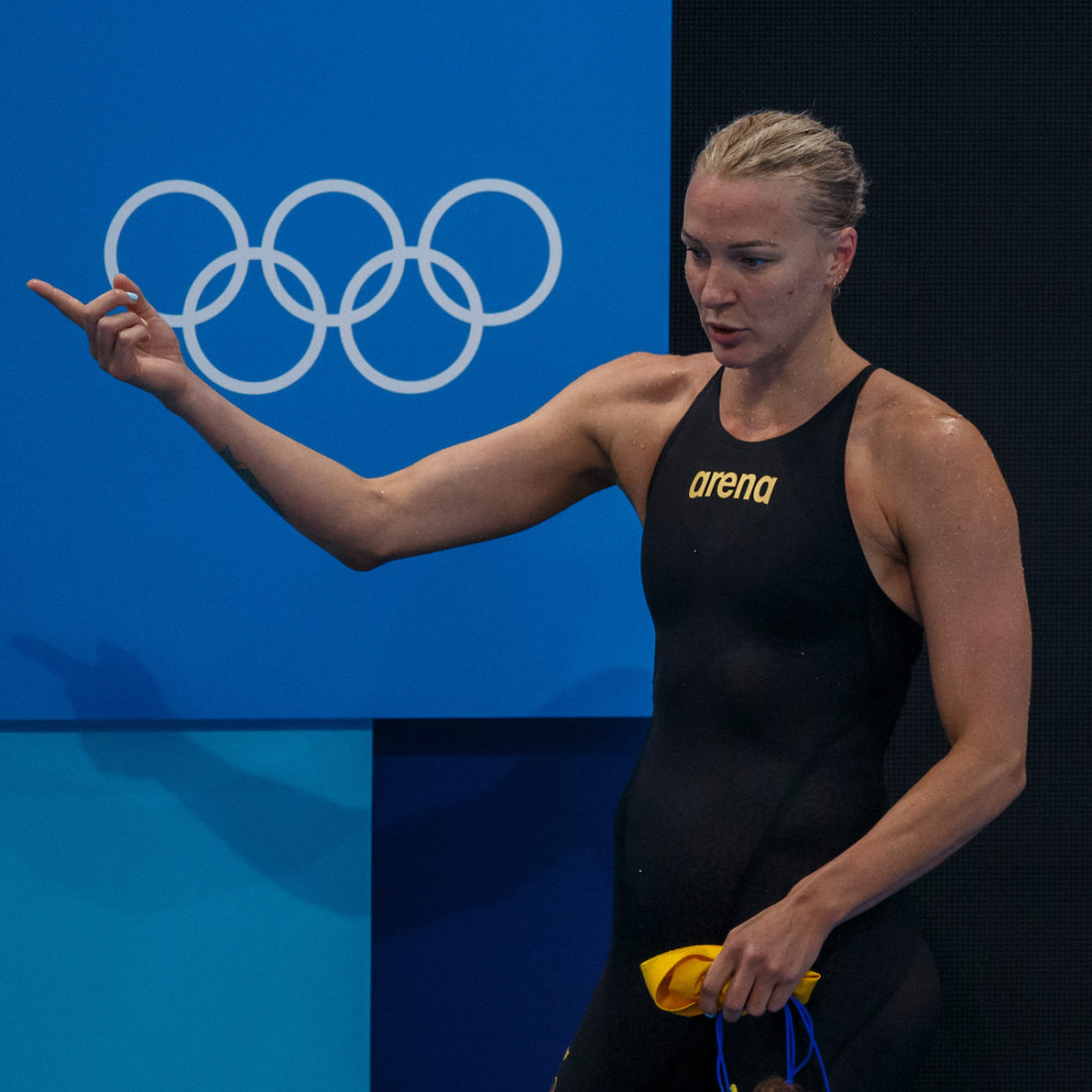 "It feels unreal that I've been able to be at this level for so long. I won my first title (world) title in 2009 – Michael Phelps was still swimming at that time and I was really looking up to him. So,yeah, it feels amazing to still be around and still win the medals and I've learned that there's nothing I can take for granted.

"I am very proud of it."

Sarah Sjostrom – photo: warming up at the Tokyo 2020 Aquatics Centre – Photo by Patrick B. Kraemer / MAGICPBK
I ask Sarah about that Boras 24.43. She smiles and says: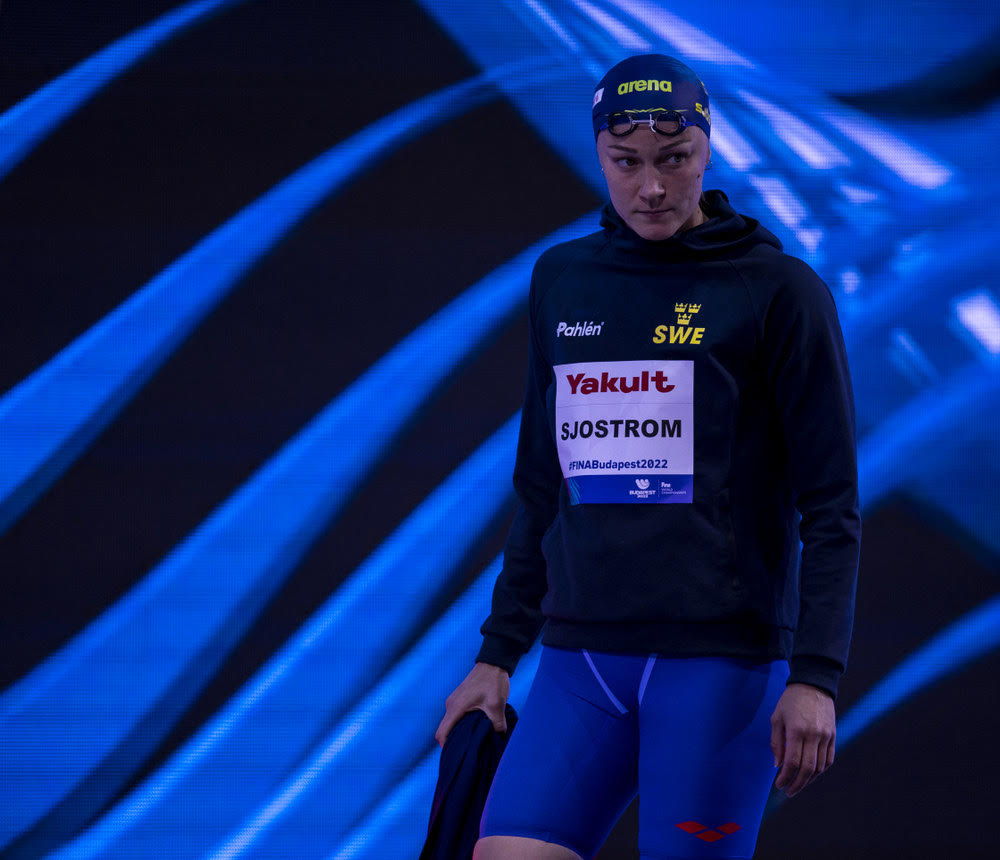 "That time is ridiculous. Something I've learned about swimming is sometimes it doesn't really matter how hard you train, how well-prepared you are, how strong you feel in the gym or in the pool.

"When it matters it's sometimes just the timing in your stroke and the feeling you have mentally coming up to the race. That's the things that's going to make the difference when it really matters in the finals."

Sarah Sjostrom – Photo – set for action at the Duna Arena (Photo by Patrick B. Kraemer / MAGICPBK)
The experience of years has taught her to enjoy the journey, take the knocks and bruises ands elbow breaks in her stride and take no result for granted in the way she might have done in her youth: "I am not taking it for granted anymore that I am going to be on top of the podium and that I am going to race the best swimmers in the world all the time. I know it can change very quick so I am trying to enjoy it much more."
Sjostrom said she was still keen to learn new tricks and was constantly adapting her training and approach as she got older and what might have been possible then is not possible now, but what was not possible before might make a big difference now.
She cited training partner Ben Proud and his rocket-fuelled start. She's not as confident as Proud its when it comes to standing tall on the back of the blocks, crouching very little any 'on your marks' before taking the height and momentum of it through into the dive for an explosive effect. Said Sjostrom: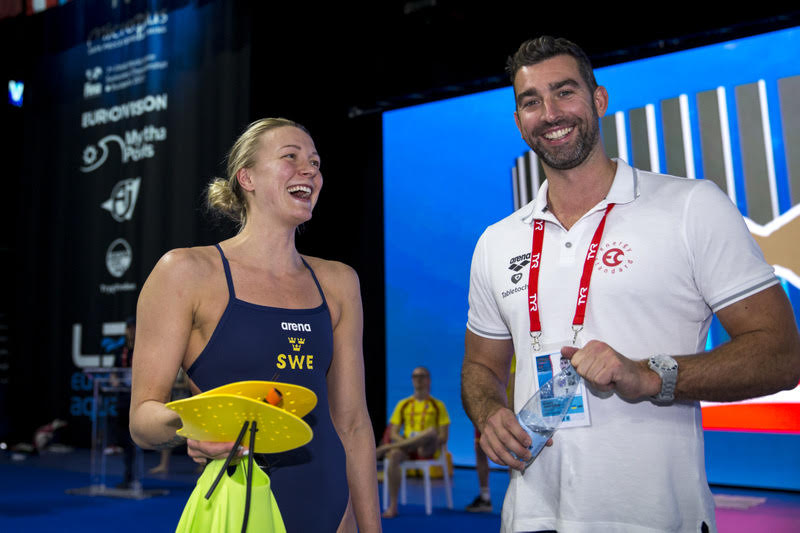 "I just felt like I needed to start playing with some new technique with my start because I feel like I've been stuck with my technique and you can see I am still quite far behind when it comes to 15m, 20m.

"I know that's not when you win the race but I still want to improve that part.

"I've been looking at other swimmers like Ben Proud – I have been training with him and I've seen he does something similar and some American swimmers stand up before.

"I just felt like I wanted to try it before: I feel very good in training when I do it but I haven't really figured it out in the race yet.

"Whenever I am able to make it work 100% in a race, I think it's going to make a difference when I have learned the technique."

Sarah Sjostrom – photo: with coach James Gibson – Photo by Patrick B. Kraemer / MAGICPBK
From The SOS Archive: July 5, 2014
Sarah Sjostrom Storms To Beamonesque 24.43 World Record In 50 Butterfly In Boras
They may have to check the measures on the pool in Boras after Sarah Sjostrom's latest blast at Swedish nationals: in 24.43, the 20-year-old raced half a second inside the world record over 50m butterfly that had stood to fellow Swedish sprinter Therese Alshammar since a time of shiny suits in 2009.
If a 23.98 in the freestyle dash for a textile-suit world record and maiden 24-sec swim yesterday made history, then today's stunner from the World 100m butterfly champion went beyond.
This was the most outstanding performance since the ban on shiny suits and followed a 25.23 world textile record by Sjostrom in heats. Sjostrom, a rapid rate of turnover noteworthy, did not take a breath in the race and nailed her finish. Some swims get close to as 'perfect as possible' – this was one of them. Sjostrom had taken four strokes before those in the lanes beside her had reached the third stroke out of the start. Flat and streamlined, Sjostrom redefined the dash on 'fly.
If those in the same pool, Rebecka Palm, Linköpings Allmänna SS, closest on 26.78, found themselves racing in a different decade, then so, too, will the rest of the best in the world wonder at the challenge ahead.
Sjostrom, coached by Carl Jenner, is now a baffling 0.81sec faster down one lap than any other woman has ever travelled when not aided by a suit now banned. Sjostrom's blast levelled the count shiny suit to textile on the chart of world records, 10 of the 20 long-course standards dating back to 2008-09, 10 having been beaten since.
Watch the world record – courtesy SK Neptun:
Brain-bending in magnitude, the off-the-chart time would have placed Sjostrom last in the men's final at the French Open in Vichy within a second of the winner, World Champion Cesar Cielo. Inge Dekker, the former world champion from The Netherlands, won the 50m butterfly in Vichy today in 26.00. Only five women have dipped inside 26 so far this year, Dekker among them.
Sjostrom closed the day with a 55.73 100m butterfly split in the medley relay for her club Södertörns Simsällskap, which took silver in 4:10.84 behind a 4:10.05 gold for a quartet from Spårvägen Simförening.
As Sjostrom put it herself in a tweet: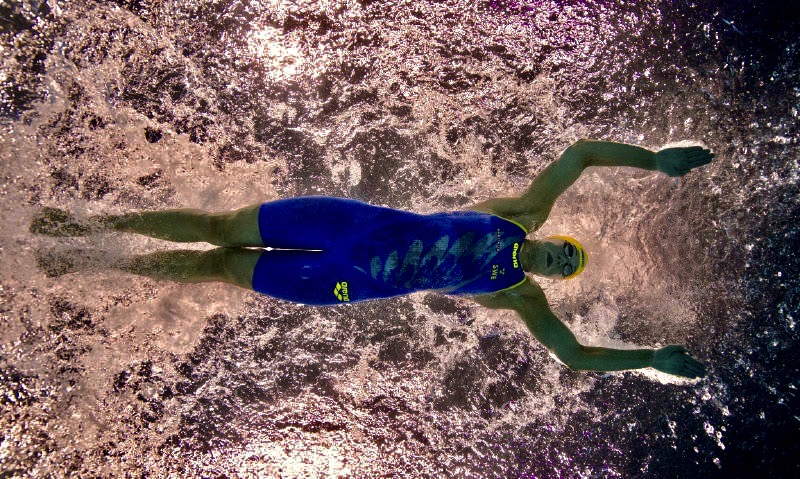 "haha!! This day was sick!!!!! #saywhat #worldrecord"
The Stunning Sjostrom Statistics Of A Beamonesque Breaker
The time also ranks sixth best this year among all women over 50m freestyle, Sjostrom having covered the 50m butterfly a tiny fraction outside the Danish record of 24.40 established on freestyle by Jeanette Ottesen.
the time is also good enough to rank 15th on the all-time 50m freestyle ranks among women
the 25.07 at which the world record had stood is equivalent to 81st all-time 50m freestyle
the 25.24 at which Denmark's Jeanette Ottesen had held the world textile mark until this morning is equivalent to 127th all-time 50m freestyle
the swim would have won the world 50m freestyle title at all championships 1986 to 2007 and would have been good for bronze in 2011 (forget 2009 shiny suits)
Sjostrom would have beaten herself doing freestyle last year: she was fourth in the 50m free at world titles in 24.45
the swim is just shy of the world short-course record of 24.38
the timewarp swim is almost the pace of the men's world best time back in 1990 when Nils Rudolph clocked 24.39
Most world records for women today are at about the pace of men in the mid-1970s
The Swedish men's record in 1994 was 24.27, then a world record for Jan Karlsson
Men from 26 nations have swum faster than Sjostrom this year, leaving more than 170 FINA members without a man to beat the Swedish sprinter
If Sjostrom's morning swim represented a personal gain of 0.29, then the day brought a gain of 1.09sec for a 50m race. That is not reflected in the 56.50 she swam in the 100m butterfly two days ago: the time, the best in the world so far this year, in line with her previous best form and equivalent to the best among men in the 1960s.
What Sjostrom did down one lap today, the rate of turnover, the head-down, no-breathing blast of it all, is clearly not be something that can be replicated in the 100m. Dana Vollmer, on a world record of 55.98 for Olympic 100m gold, meanwhile, has a best of 25.80 down one lap, that clocked in Olympic year but not in the same conditions. Just how one-off Sjostrom's swim is will only become clear from the European Championships in Berlin next month and at further meets down the line.
The 50m butterfly had a journey ahead for men back in 1990 a decade before stroke 50m races became a part of the men's world-championship programme but even so, the narrowing of the gender gap is astonishing.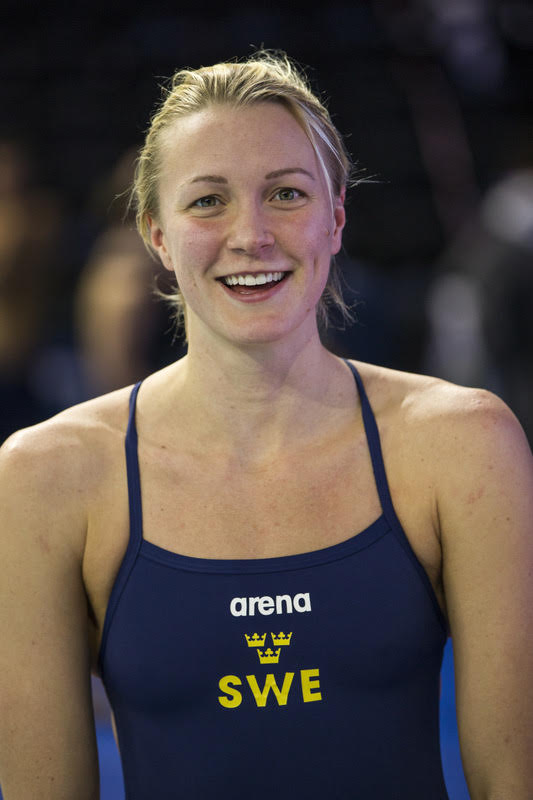 The equivalent time-range swims would mean world records among women of the following magnitude, for example:
100m free: 48.42
400m free: 3:47.38
1500m free: 14:54.76
100 back: 54.51
200m breast: 2:11.93
100 'fly: 52.84
200IM: 2:00.11
A giant stroke forward, then.
The advance is so great that it raises the need to have the pool measured and the timing system checked. Worth noting: in the final, six opt the eight swimmers set personal lifetime bests. Here are Sjostrom's best 5 ever – a one lap race:
24.43 2014 Today
25.23 2014 Today
25.52 2014
25.53 2014
25.64 2012
Needless to say, the new World Record also blew to smithereens Alshammar's Swedish record and the meet mark of 25.23 that Sjostrom established in heats this morning to set a World Textile Record 0.01sec inside Ottesen's mark.
Sjostrom was 14 when she claimed her first European crown back in 2008 and 15 when she claimed the world title a year later. Though bumps and knocks along the way, her progress has been steady and consistent. Today altered the direction of that curve in one event in which she swam a pure sprint race in a manner that redefines how women race the 'fly dash.
The all-time top 10, all suits (as at July 5, 2014):
24.43 Sjostrom, Sarah, SWE LCM2014
25.07 Alshammar, Therese, SWE LCM2009
25.24 Ottesen, Jeanette, DEN LCM2013
25.28 Veldhuis, Marleen, NED LCM2009
25.42 Lu, Ying, CHN LCM2013
25.48 D'Cruz (n. Guehrer), Marieke, AUS LCM2009
25.50 Dekker, Inge, NED LCM2014
25.50 Torres, Dara, USA LCM2009
25.53 Snildal, Ingvild, NOR LCM2009
25.53 Kromowidjojo, Ranomi, NED LCM2013
The all-time top 10, textile (as at July 5, 2014)
24.43 Sjostrom, Sarah, SWE LCM2014
25.24 Ottesen, Jeanette, DEN LCM2013
25.37 Alshammar, Therese, SWE LCM2011
25.42 Lu, Ying, CHN LCM2013
25.50 Dekker, Inge, NED LCM2014
25.53 Kromowidjojo, Ranomi, NED LCM2013
25.57 Kammerling, Anna-Karin, SWE LCM2002
25.64 de Bruijn, Inge, NED LCM2000
25.69 Halsall, Francesca, GBR LCM2013
25.78 Coutts, Alicia, AUS LCM2013
Hard for any other swim to pop its head above the water under such circumstances but Jennie Johansson, Simklubben Neptun, was out in 31.60 and home to a 1:07.54 victory in the 100m breaststroke and in the wake of a 54.34 win for Jesper Jonsson, Uddevalla Sim, in the 100m butterfly came a Swedish junior record of 54.40 for a man who leaves his teens behind this year, Oscar Ekström, Linköpings Allmänna SS.