Kaylee McKeown Anointed By Queen Krisztina Egerszegi After 200 Back Triumph Before Dolphins Crack Mixed Free WR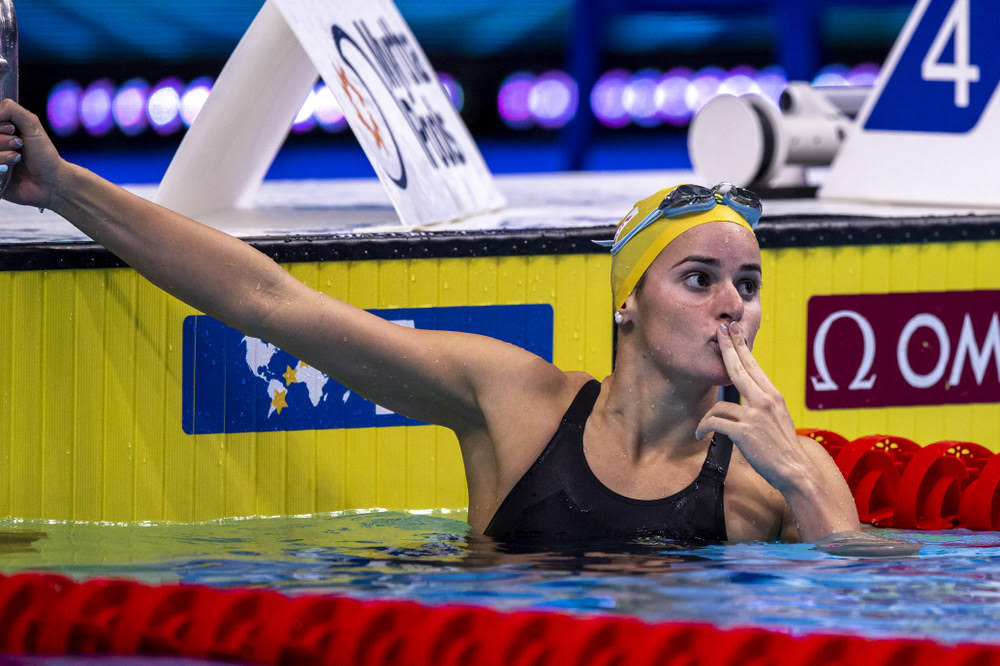 Kaylee McKeown added the World 200m backstroke crown to the Olympic gold she claimed in Tokyo last year in the heady days of the biggest Dolphin leap in Games history.
It was a close call that ended with McKeown taking the title by just 0.04sec over American Phoebe Bacon, who was 0.33 ahead of her Australian shadow at the half-way mark.
McKeown went through the 50 in 29.59 ahead of Bacon (29.68) and Canadian 50m champion here this week Kylie Masse (29.69) but Bacon hit back to lead at the 100m in 1:00.87, 0.64 ahead of the Australian.
Off the final wall, the two were all but inseparable. Stroke for stroke the battle raged, neither opponent giving an inch, each wedded to having either green and gold or Stars and Stripes float up the tallest pole.
Neither flinched but McKeown had a whisker of an edge when it came to momentum and the winning reach: 2:05.08; 2:05.12.
The bronze went to the second American home, Rhyan White, on 2:06.96, which pleased Queen Krisztina Egerszegi very much. She would have taken bronze with the World record of 2:06.62 she set for the European title in Athens back in 1991.
I was there that day and was so stunned by the split of Egerszegi's turn after three scorching laps that I stood to honour the last length and in so doing knocked the drink at my elbow into a bag full of rankings, stats and scribblings of various kind. The numbers, like Egerszegi's record that day, survived, the bag had to go.
Only the onset of shiny suits in 2008 got the better of Egerszegi at the height of her powers in a career that included such lines as second member of the triple crown club after Dawn Fraser courtesy of Olympic victories over 200m backstroke in 1988, 1992 and 1996; and, for a while, until last year in fact, the only woman to have win five solo Olympic golds. With victory over 800m in Tokyo, Katie Ledecky took the solo record to six in three Games.
Egerszegi presented the medallists with their prizes last night and then returned to the serenity of the royal box and the pantheon of great Hungarian Olympians.
Medal No3 For McKeown In Budapest
Victory marked McKeown's first gold and third medal this week, after silvers in the 200m medley that served as a test and a reason to pull her out of the 100m backstroke, and 4x100m mixed medley relay.
In Tokyo, McKeown celebrated the backstroke double, medley relay gold and mixed medley bronze. On her return home, she opted to switch coaches, from Chris Mooney to Michael Bohl, who she treated to plaudits this evening: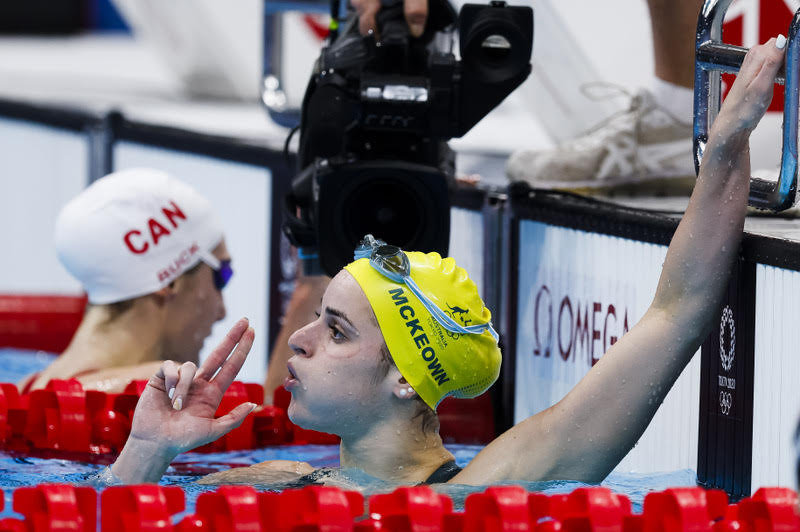 "I wasn't expecting to be here at the start of the year so to come out with two individual podium swims is amazing. It's a real testament to Michael Bohl being able to pick me up in six months' time and try to figure me out as an athlete – some things like that take five, six years and he has done that in six months. So I am really excited to see what happens in two years' time."

Kaylee McKeown – Photo Aussie ace by blowing the smoke off the gun after hitting her second target for the Olympic backstroke double – by Patrick B. Kraemer
WR For Aussie Mixed Free Relay
Jack Cartwright (48.15), Kyle Chalmers (46.98), Madison Wilson (52.25) and Mollie O'Callaghan (52.03) combined for gold in a World record of 3:19.38, 0.02sec inside the standard set by an American quartet in 2019. Canada claimed silver, the USA bronze.