Olympic Champion Evgeny Rylov Dumped By Speedo After Appearing At Putin's 'Z' War Rally In Moscow; Athlete & Russia Face Sanction For Bringing Sport Into Disrepute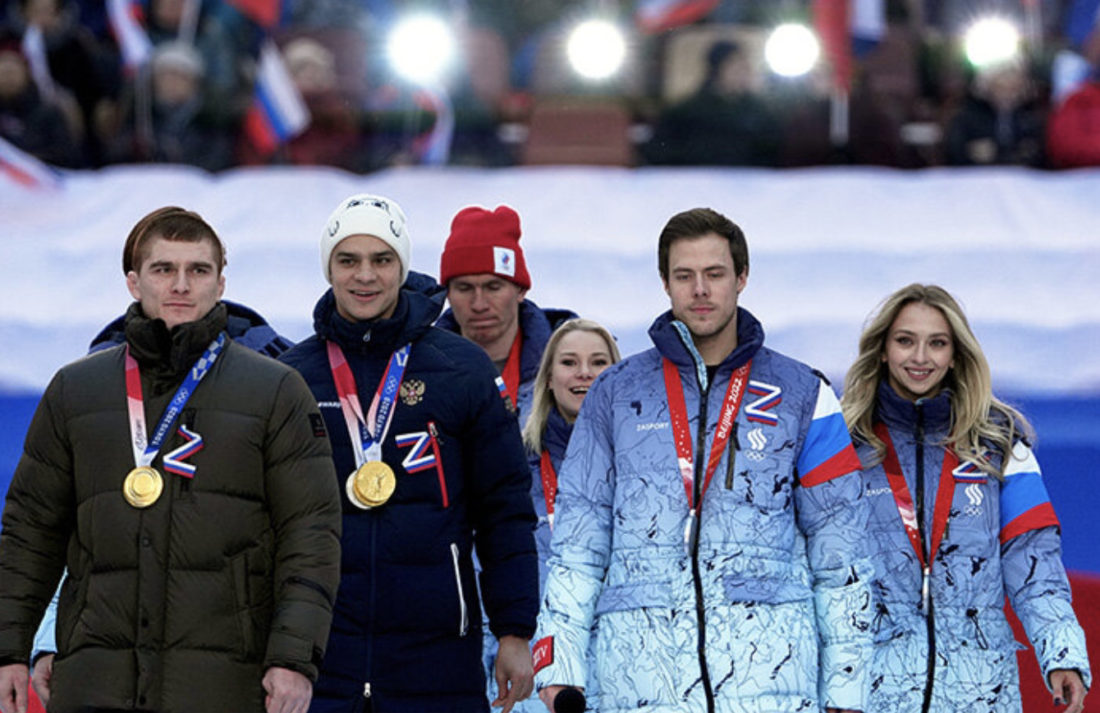 Evgeny Rylov, the double Olympic backstroke champion, has been stripped of his kit contract with Speedo after appearing at Vladimir Putin's war rally against Ukraine with a nationalist Z on his jacket at a Moscow stadium last Friday.
A source at FINA also suggested that Evgeny Rylov could now face suspension for bringing the sport of swimming into disrepute. There is a possibility that Rylov had no choice but to be there: he is a staff sergeant in the Moscow Oblast Police in Lobnya. That said, he appeared in photos and film appearing to be enjoying the moment in the stadium a little more than he enjoyed his victories at the Olympic Games last year.
Putin told those gathered in the stadium, including public-sector workers who later told the BBC that they had had no choice but to be there, that his 'special mission' to 'denazify Ukraine' was going according to plan. He did not tell them whether the murder of 96-year-old Holocaust survivor Boris Romanchenko was part of that plan.
Speedo, the leading swim suit brand that signed up Britain's Adam Peaty of late, will donate the money that would have gone to Evgeny Rylov in sponsorship fees to the UNHCR.
In a Statement On Evgeny Rylov, Speedo said: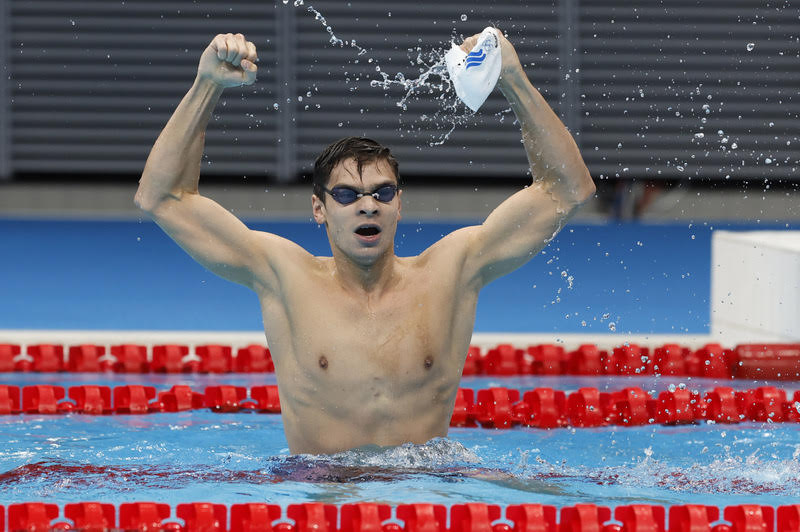 Following his attendance at the Luzhniki Stadium in Moscow at the weekend, Speedo can confirm that it has terminated the sponsorship of Evgeny Rylov with immediate effect. We condemn the war in Ukraine in the strongest possible way and stand in solidarity with the people of Ukraine, our athletes and our teammates who have been impacted by the conflict.

As part of this decision, any outstanding sponsorship fees will be donated to UNHCR.

Speedo, image – Evgeny Rylov, by Patrick B. Kraemer
---
Comment: there is no telling quite what is going through the hearts and minds of the athletes in a single snap shot of a single moment in time (main image) but it is fair to say that at the moment of the snap, there were significant differences between the moods of the athletes about to be paraded as symbols of nationalistic pride at a time boasting the Z symbol painted on the sides of the tanks in a sovereign country of Ukraine bathing in blood and destruction. There is no way of telling whether the athletes were there as public-sector workers with no choice and living at a time of menace in their country or whether they were there of their own free will. Either way, Speedo took the right decision: athletes should never choose to be involved in such things without realising there is a clear price to pay nor should they be forced to be involved in such things, the current circumstances in Russia requiring no-compromise decisions in the face of tyranny.
SOS today called for FINA to sever all links with Russia.
---
Putin held a Russian propaganda rally at the Luzhniki Stadium in Moscow, with public-sector workers bussed in to appear as flag-waving supporters even if they did not wish to attend.
In scenes reminiscent of the 1930s swastika-soaked rallies of Hitler in Nazi Germany, the captive crowd cheered for Putin, Rylov among several Russian Olympic medalists.
Ironically, Evgeny Rylov has also been supported by Konstantin Grigorishin, the Ukrainian energy billionaire who runs and funds the Energy Standard swim team as part of the International Swimming League. Grigorishin has long been in opposition to the Putin regime and in recent years has had more than 300 million dollars in artworks seized by the Russian authorities.
Rylov was among athletes who wore the nationalist "Z", a symbol of the war on and invasion of Ukraine.
Evgeny Rylov appeared on stage alongside gymnasts and figure skaters in support of the 'special mission' in Ukraine that Putin has been lying about to the Russian people since troops under his command invaded Ukraine.
Rylov and others appeared on stage before Putin lied to the nation wearing his Olympic medals from Tokyo 2020ne, where he was part of a controversy when American defending champion Ryan Murphy denounced Russian drug-taking and the presence of athletes racing under a neutral flag because their country was serving a second whole-nation ban for systematic doping and manipulation of data.
A FINA source told SOS: "This has to be discussed. Obviously, the rule on bringing the sport into disrepute is available to us and we should consider what action is appropriate."
Evgeny Rylov could receive a sanction of anything between a warning to a suspension. The FINA Constitution states:
C 12 SANCTIONS
C 12.1 Any Member, member of a Member, or individual member of a Member, as well as Continental Organisation, may be sanctioned:
… C 12.1.3 for bringing the Aquatics sport and/or FINA into disrepute.
C 12.2 Sanctions are:
a) warning
b) fine
c) suspension
d) expulsion, withdrawal of recognition
e) cancellation of results
f) return of awards, medals, prizes, etc.
C 12.3 Sanctions shall be imposed by the Executive unless otherwise provided by the FINA Rules (e.g. and without limitation, FINA Rule C 12.4, FINA Rule C 12.5, FINA Rule C 12.6 FINA Rule C 12.7).
Beyond measures open to FINA in response to Russian acts of war now the subject of investigation at the International Criminal Court in The Hague, the global regulator could also sanction Russia and even withdraw recognition of the country if there is any evidence of coercion of an athlete/athletes:
C 12.12 In addition to the measures and sanctions provided in the case of infringement of the FINA Rules, the FINA Executive may take any reasonable decisions for the protection of the Aquatics in the country of a Member, including suspension of or withdrawal of recognition from such Member if the constitution, law or other regulations in force in the country concerned, or any act by any governmental or other body, causes the activity of the Member or the making or expression of its will to be hampered. The FINA Executive shall offer such Member an opportunity to be heard before any such decision is taken.
Among the athletes on the Moscow stage was Vladimir Morozov, but the skater not the swimmer.
FINA is yet to make a decision on whether to bar Russian and Belarussian athletes and officials from its showcase events.
SOS today called for FINA to sever all links with Russia.