High Time For FINA To Sever All Ties With Putin's Russia, Ditch The Kazan Development Centre & Ask Mad Wave To Update Its Position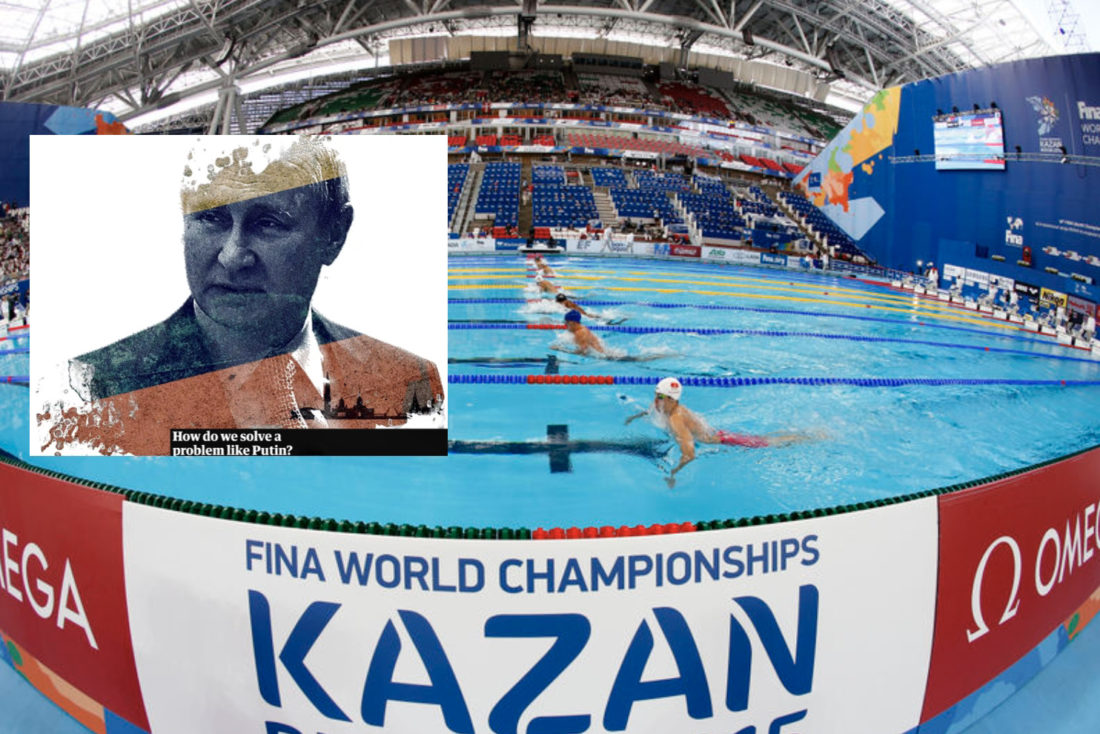 Editorial – March 21, the spring equinox at the start of a week in which FINA must place integrity above all else, cancel all remaining events scheduled to be hosted in Russia and inform Kazan that it has no choice but to withdraw FINA Development Centre status.
The Kazan centre is there but for the goodwill and resources generated from the efforts of swimmers and coaches from around a world in opposition to Vladimir Putin's invasion of Ukraine and the acts of war, murder, mutilation and wholesale destruction of a sovereign country that has ensued.
The 16th World Short-Course Swimming Championships remain scheduled for Kazan on December 17-22, despite the war, despite the atrocities, despite the fact that several countries, Britain the first to make a specific stand after the Baltic nations were first to make a general stand and Switzerland nailed the message home as the first to specify that it will not attend the showcase FINA World Aquatics Championships in Budapest this June.
Swiss Swimming has already said that it will not attend if Russians and Belarussians are allowed to, while the Berlin Government in Germany has told the DSV, the nation's swimming federation, that it will receive no funding towards costs an estimated 100,000 euros budget for preparation and attendance at the Budapest event across all aquatics disciplines should Russia and Belarus be in town.
If Russians and Belarussians make not to Budapest, here is what we can expect: a repeat, but much worse, of the booing and jeering that greeted swimmers with a doping record at the Rio 2016 Olympic Games. The protest came from the athletes' stand, so sick and tired were they of FINA support for Russians, so heavily supported by there FINA president Julio Maglione, and Sun Yang, hugged on the deck by then director Cornel Marculescu, and others towing WADA Code penalties to the blocks with them at an Olympic Games.
From the New York Times in 2016:
Last week, the president of the international swimming federation, Julio C. Maglione of Uruguay, traveled to Moscow to meet with Mr. Mutko. Four days later, as antidoping officials indicated that they were preparing to request that the I.O.C. ban Russia's entire Olympic team, the swimming federation released a statement saying it was "concerned by the premature calls" to keep Russia out of the Games.
FINA should do everything it can to steer clear of anything like a repeat of that appalling governance that was so painfully remote from athlete welfare. The regulator should avoid putting athletes, coaches and others in the same position of having to protest in that way so that their legitimate complaints get heard when the big TV audience and mainstream media are tuned in and the lights are on.
There are contracts in place with Kazan, the city where FINA welcomed Putin and Putin welcomed FINA back in 2015. It is wise to make sure least-damage is done but not at the cost of being seen to be callous even though that is unlikely to be true of any of those who must make the hard calls. Those people need to have the resolve to know and act on this: the pain of ripping up contracts and paying any dollars due (but only then after international sanctions have been lifted) is nothing compared to the pain of a nation and her people under attack.
This is no moment for FINA to hesitate any longer if it wishes to avoid the perception that it cares more for its business ventures than it does for the lives of Ukraine citizens; if it wants to avoid the perception that it has failed to understand the magnitude of what is unfolding and how that links directly back to appeasement of a monster at the very heights of Olympic sport. It was February 27 when FINA stated: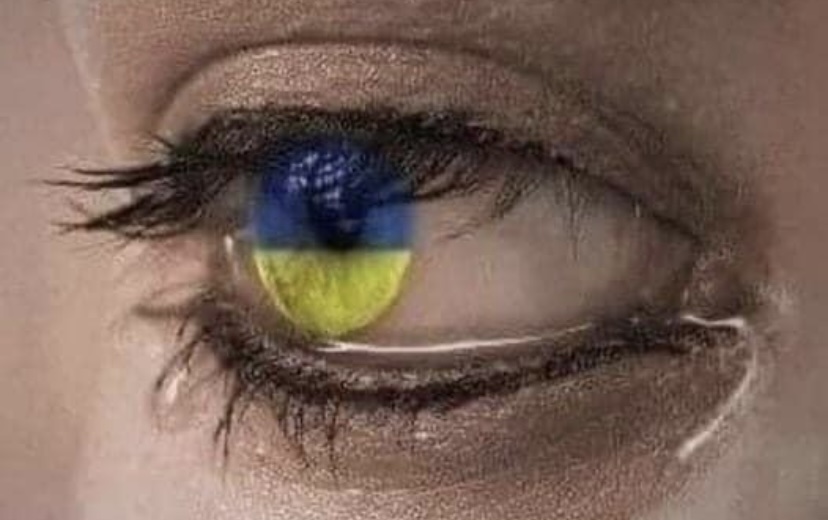 FINA remains extremely concerned with the continuing war in Ukraine and following ongoing consultation with athletes and stakeholders from the aquatics family, FINA can now confirm that the 8th FINA World Junior Swimming Championships (23 – 28 August) is cancelled and FINA will not be holding any future events in Russia if this grave crisis continues.

FINA – image courtesy of FINA, issued with its statement
Well, this "grave crisis" is now swimming in graves, tears, the blood of murdered civilians, catastrophic destruction that will take decades to put right and live "for centuries in human memory", as Ukraine president Volodymyr Zelenskyy put it.
The evidence of criminality, coercion and brutality, including hunting down civilians in their homes to take them hostage, floods the world in images in media and on social media. No matter hard Putin tries to suppress the truth, all of it will await the citizens of Russia when the wall falls, as walls tend to do, including the one that fell when the Russian dictator was a KGB official, a Soviet spy, based in Germany.
We reached the stage of it being unconscionable not to sever ties with Russia, a few days into a "special mission" that was in fact an illegal act of war, an invasion, a premeditated plan to annihilate. Since then, we have witnessed horror upon horror, newspapers and broadcasts of the last 24 hours stacked high with news of schools and hospitals sheltering women and children being shelled, hungry people standing in bread queues being wiped out, women with new born children finding themselves on a drip feed with bandages around their heads.
Yet still there are sports organisations hanging on to what they imagine will be part of their norm once more in the not too distant, hanging on to a World titles event in the 25m pool, hanging on to a development centre in Kazan. Mad Wave is a sponsor. It issued a statement on February 24. That needs updating with the word "war" and the company, which notes its international culture, should let us know if it intends to close its office in Moscow. Why would not need one?
There is also this: who do any of those involved in the centre imagine might wish to take up residence in such place anytime soon? Who is using such facilities right now, while Ukraine athletes struggle, their families flee their homes and their country fights to the death for survival?
Yes, there are heartening stories of athletes making it to safety and news from Germany, which has been among many European nations providing shelter and safety for Ukraine athletes and raising money to support them, that distance ace Florian Wellbrock welcomed the presence of Ukrainian friend, rival and fellow distance ace and fellow Olympic medallist Mykhailo Romanchuk at altitude camp in the Sierra Nevada in the past week.
German ARD TV filmed the two in training and showed Romanchuk reeling through mobile phone videos of the swimming pool back home in which the national championships were supposed to have taken place this month but now lie in ruins having been shelled by Russian bombs. Said a grateful but torn Romanchuk: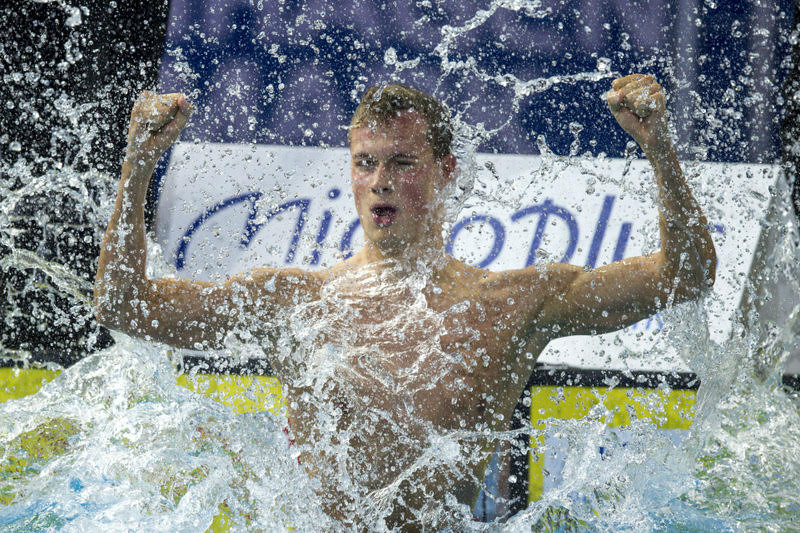 "I think about Ukraine all the time, about my wife, about my family, my friends. I can't think about training normally. It's difficult. If I hadn't come here, I probably would have ended my swimming career. Then I would have had to get a gun and go to war."

Mykhailo Romanchuk
Ukraine has asked FINA and other Olympic sports federations to keep Russia and Belarus, its athlete sand officials, away from them for the foreseeable future. That's not only understandable but a matter of safety for all athletes. Kazan cannot go ahead. Nor should the development centre in Kazan carry the FINA brand.
The global regulator now needs to let Planet Swimming know how long they think it will be before the devastation of Ukraine, regardless of any peace talks leading to a ceasefire any time soon, can be put right. 2023? 2024? 2030? How long before it takes a stand? Today, tomorrow, this week. The time draws near when it will be too late if reputations are to be salvaged.
We're actually looking a period of time and grieving and mourning and rebuilding, assuming the bloodletting stops and there is no Third World War, that will go on for many years beyond the Paris 2024 Olympic Games.
In the wake of the Second World War, Germany and Japan, as aggressor nations, were banned from the 1948 Olympics. It was eight years after the war ended that those nations were allowed back into the Olympic sports community. In 2022, Putin's Russia has threatened the world with nuclear engagement if it intervenes to stop the slaughter in Ukraine and the International Criminal Court is investigating a growing list of alleged war crimes, including the indiscriminate bombing of civilians, like Olga, who today recalls the horror of seeing blood covering her six-week-old daughter after shrapnel blasts in Okhmatdyt Children's hospital in Kyiv.
Yet still we wait for sporting ties with Russia to be completely severed, as they should be for the foreseeable future:
Here's another among so many horrid images of human pain and suffering inflicted by Putin, the Systematic Doper in Chief and President of Olympic Schmooze who surely believes that Kazan can host a World titles swim event come December, who surely thinks that Kazan can continue to host FINA's development centre. In his mind, there is no reason to think otherwise, not even this enough to help him find his humanity and moral compass:
Kazan Key To The FINA Honour Putin Was Stripped Of
FINA stripped Putin of the FINA Order it granted him in error and beyond the rules of its own Constitution in 2014. The swimming regulator acted in the waker of the International Olympic Committee stripping Putin of its Olympic Order after two days of schmoozing the dictator-in-waiting.
Such acts are token measures if they are not linked to the reasons why the Orders were granted Putin in the first place. It was on the way to Kazan hosting the 2015 FINA World Championships that a handful of men at the helm of FINA announced that the Russian president was to be given the FINA Order for services to swimming. Among the problems with that decision:
The FINA Constitution obliges the executive to put such award decisions to the full voted of the ruling Bureau. That did not happen.
Awards to political leaders should be avoided if the key to autonomy of governance in Olympic sport is to mean anything, namely, an Olympic Charter that insists on neutrality. If anyone thinks awarding Putin an honour is an act of neutrality, think again and take into account the links below to brilliant explanations
Those who pointed the above (at a time when Kazan prepared to hosts and Russia had 23 active doping cases in aquatics) were singled out in a JTA Associates plan for FINA that came with a price tag of 150,000 smackers: FINA would "discredit" the work of this author, leaders of the World and American Swimming Coaches Associations and other "critics" and use Michael Phelps as a poster boy (as if!)
A recent FINA Tour of Africa and tweets on the account of JTA suggest that those who wrote that plan to discredit (which led to advertisers being told by the then FINA director not to support the work of SwimVortex on pain of being given "no more contracts with FINA", according to two big commercial entities in the sport) remain in the FINA fold working on 'PR' and image for the federation. A reform process is underway and has sought to draw a line to past mistakes and damage done. How can that happen if the past continues to be dragged into the future not by these reminders but by FINA itself?
That's small beer, of course, compared to how the man in the middle of what FINA 2014-15 was standing up for to the detriment of the swimming community, Putin, and the mob running Russia treat journalists in order to protect their massive wealth and the associated power. In Ukraine, Russians are also hunting down journalists, as this Associated Press file described so well in this excoriating tale of the terror raining down on Ukraine and her people.
The purpose of catching journalists: propaganda, of course. It was to get them on camera to deny there is a war, to tell the Russian people its just a special mission to de-Nazify a neighbour and save the Ukrainian people. In other words, to tell lies so that Russian citizens will believe Putin's lies as truth.
FINA should be many, many leagues away from any such leader and the country he runs until he runs that country no more.
There have been several key signs of FINA leaders making genuine attempts to reform and put the international federation on a good-governance pathway. Some of it has been truly heartening and aquatics sports have been given hope of a new start in which athlete welfare and integrity are priorities not after-thoughts "if we must".
The good work is not helped by the dragging of heels on what is clearly wrong, including a failure to tell the new head of the European Swimming League (LEN), Antonio Silva, that he should answer media questions as a FINA-Bureau signatory to an agreed and approved Reform Process that includes a commitment to end what the Reform Committee called a "no communication communication policy" on media.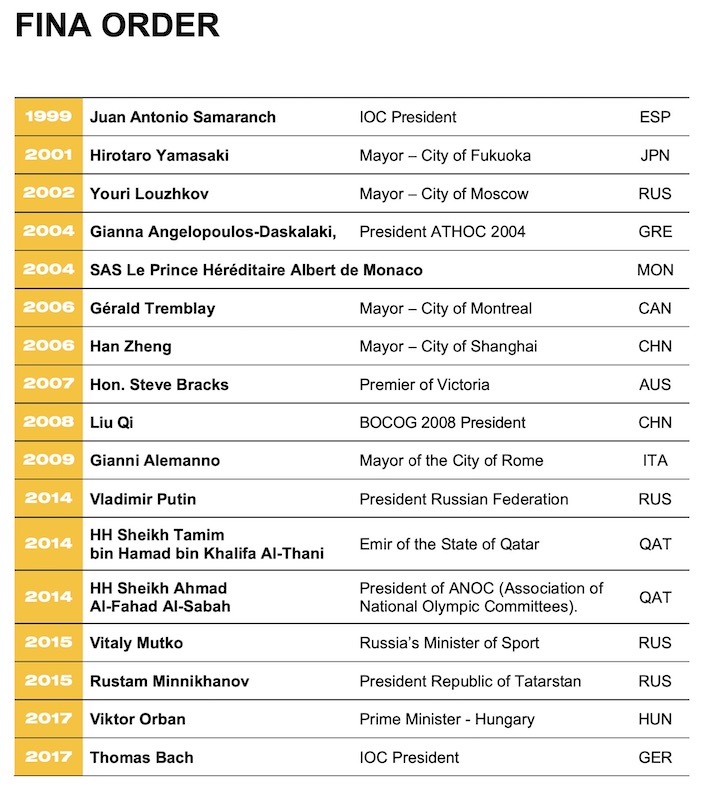 One of the key problems with failed governance in the past was the failure to end a culture of omertà and the protection, some of that through hard-faced silence in the face of sincere and legitimate stakeholder questions put by media, of anyone in the "family". Awards for Putin before Kazan and Vitaly Mutko in 2015, the year in which we learned that doping positives in Russia had been hidden on the way to Kazan hosting the World titles and only revealed long after the show was out of the way and the FINA Orders were carved out.
In the past 20 years, that "family" includes at least nine members of FINA Bureau who were convicted of crimes and handed jail terms or have been or are the subject of legal processes, intelligence and police inquiries into alleged fraud, corruption or financial irregularities.
That's not a good look. It has resulted in people in positions of authority in swimming who are easily persuaded to look away when an announcement goes out to say that Putin has been given FINA's highest honour. In the backdrop of that culture is the ongoing dispute with the International Swimming League (ISL) founded and funded by Konstantin Grigorishin, head of an Energy sector under attack along with much else in the country of his birth, Ukraine.
A strong relationship between Putin and former FINA president Julio Maglione, the head of Uruguay's Olympic committee and now an honorary at FINA, was revealed in disclosure documents in a U.S. court, as described in this blistering deep-dive by Alex Perry, which includes: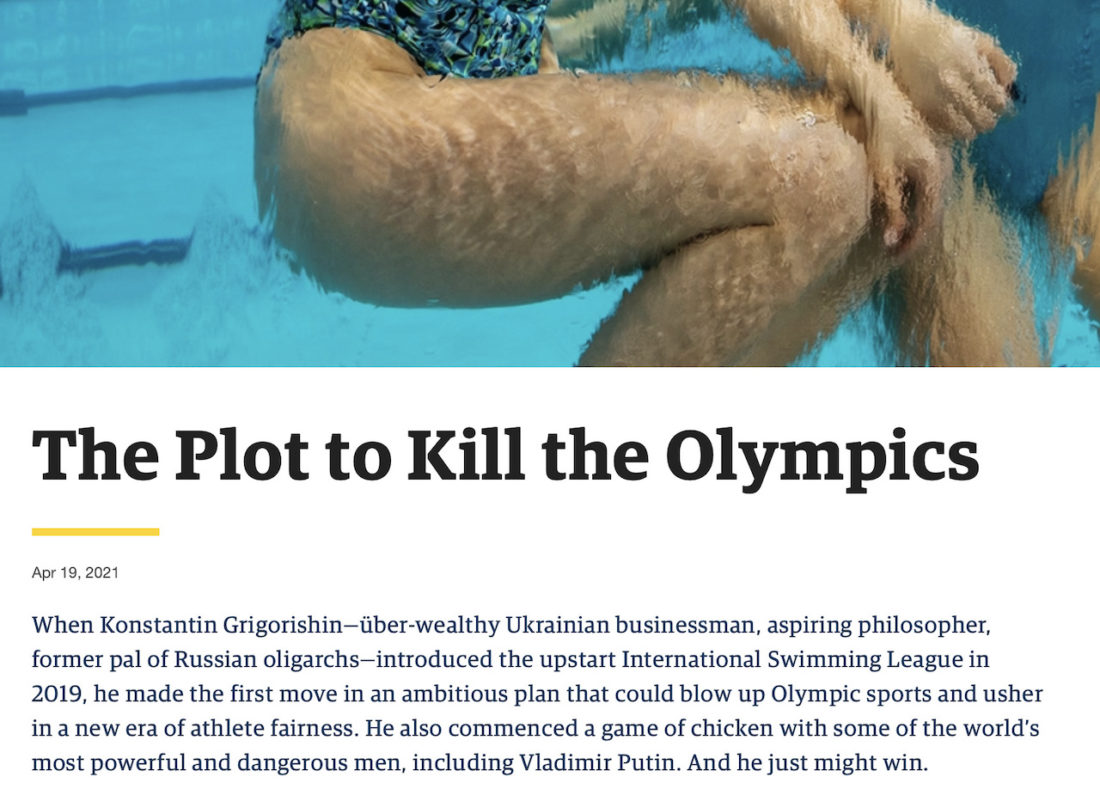 Exploring the bond between Putin and the pool one snowy February day in Moscow, I visited Alexey Vlasenko in the gray concrete block on the banks of the Moskva River which houses Russia's Olympic administrators. Vlasenko, 55, is Putinism personified. He graduated from Moscow's university for sports, once the engine of the Soviet Olympic effort. Today he's head of three Russian aquatics federations (water polo, diving, and artistic swimming) and a member of Russia's Olympic committee. In politics, he's a member of the Eurasian Peoples' Assembly, an international forum set up by Putin to counter the Western bias he perceives in global institutions. In business, before it was sunk by money laundering and embezzlement in 2015, he was chairman of Russia's MAST-Bank. (Vlasenko was not among MAST-Bank managers prosecuted for stealing $90 million.)

Vlasenko turned out to be a jovial, portly man who fed me giant slices of chocolate cake and presented me with a pair of skintight purple water-polo trunks. On the walls of his office were two photographs of Naryshkin, one of which showed him conferring with Putin. When I asked how Russia's top spy assisted the nation's Olympic ambitions, Vlasenko was candid. "I go to Naryshkin and I say, 'This is important for the country.' One phone call, tick, it's decided—the money is immediately found. I have three sports. I feel support on every level, at every step. Any question, whatever I need, it's decided immediately."

Part of Vlasenko's job is to promote Russian interests and influence overseas. This he does through positions in the Olympics' two big swimming subordinates, the International Swimming Federation (FINA) and the European Swimming Federation. Vlasenko has been especially successful with FINA, forging a close relationship with its 85-year-old president, Julio Maglione of Uruguay, and its 79-year-old chief executive, Cornel Marculescu, a Romanian former water-polo player who assumed the job in 1986, near the end of the Cold War. In 2014, before MAST-Bank went bust, Vlasenko struck a deal for the bank to sponsor FINA's World Cup. He has also facilitated a friendship between Putin and Maglione. In 2014, Maglione presented Putin with his organization's highest honor, the FINA Order, declaring Russia "one of the most important and major powers in world sport." Maglione has since become a regular companion of Putin's, sharing the stage with him at FINA's 2015 World Championships in Kazan, in central Russia, accompanying him at international sports conferences, and attending his third presidential inauguration, in 2018, at his invitation. When I asked Vlasenko about the warmth between the two men, he beamed. "Our president adores him," he said of Maglione. "He loves him."
Why is it important to remind ourselves of matters the wrong side of the reform divide? Well, because some of those responsible for the wrong remain in positions of influence and authority; and because Putin fully intends to worm his way back into the Olympic family fold if he can get away with it.
Consider what happened late last week. At a time when the commender in chief of a murderous, bloody war has his next targets and peace talks to think about and the country he dictates to is starting to feel the pinch of hefty sanctions, you might imagine him to be to busy to worry about sport.
But no. We're talking Putin the pariah, after all. And sport has been one of the biggest public-relations weapons in his armoury for at least two decades now. So, in the midst of murder and mayhem we get this from the Kremlin, explaining why its all just so unfair to Russians in sport: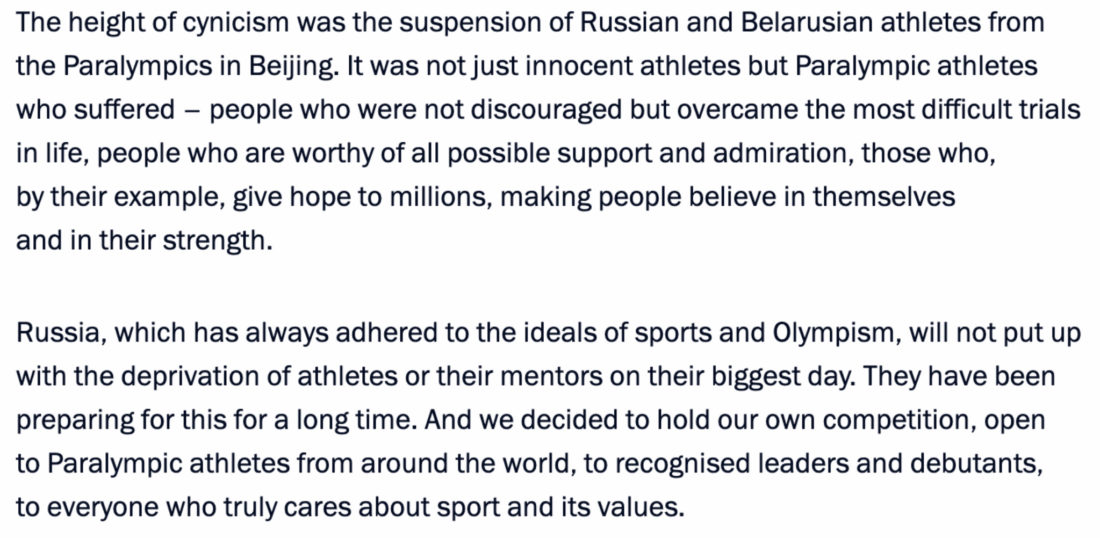 The note in full was treated to the reaction it deserved, here an example from an investigative journalist on top of the story its tentacles and ripples:
Those words are straight from the Kremlin Playbook of lies told to the Russian people. Compromat is never far away and Putin knows that some in the Olympic family know he knows too much. That's a theme that Jens Weinreich explains very well in this long read worth the time of any who truly wish to understand the depths of nefarious behaviour at the heart of Olympic sport linked to the biggest systematic doping crisis since the days of the GDR's State Research Plan 14:25:
Compromat. KGB. FSB. GRU. A brief intelligence overview of Vladimir Putin's relationship with the IOC
To better understand what sport has got itself involved in by getting far too close to Putin, his wish to have Russia pay for hosting Olympic federations and their showcases and establish centres such as that in Kazan, and work with folk directly linked to the president and the Kremlin, it is helpful to look at the wider world sport is part of.
Here is a brilliant package of essays by five leading guest writers (Tom Burgis, Catriona Kelly, Oliver Bullough, Ruth Deyermond, Peter Pomerantsev) penning their thoughts on this theme: "The Russian president's invasion of Ukraine threatens the safety of the entire world. Writers on Russian history and politics suggest possible ways forward". All in this package at The Observer yesterday:
The Tom Burgis opener concludes: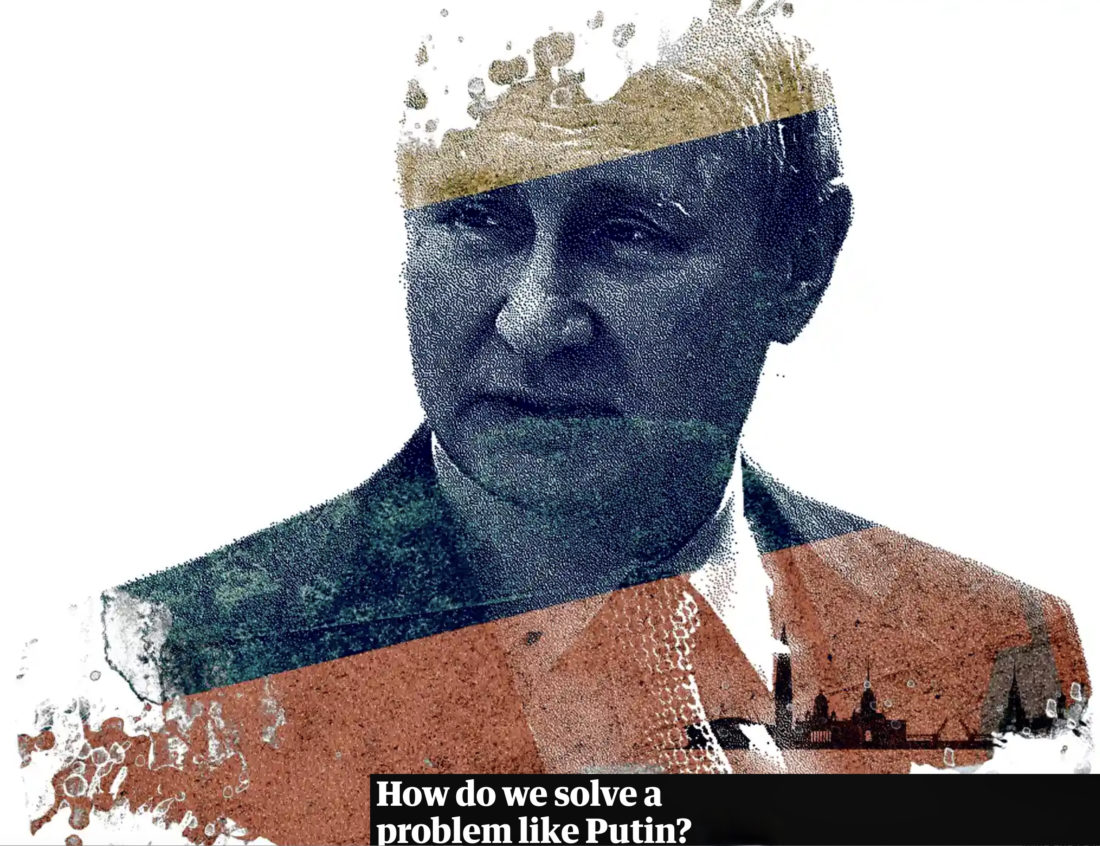 We are watching the rise of what I've called Kleptopia. An undeclared, unconventional war between kleptocracy and democracy has been under way since long before Putin's troops marched into Ukraine. The two sides are not arranged merely by geography. The kleptocrats have plenty of allies in the west, from the lawyers shielding their plunder to the politicians advancing their influence within democratic governments. Their victims include both Ukrainian civilians and Russian conscripts. With whom do we stand?

Tom Burgis in The Observer – image, courtesy of screenshot of Observer design
That is a question that sports leaders must now ask themselves. They should do so in the knowledge that there is no sitting on old-style fences like those erected not by the Olympic Charter but by the likes of Putin and the Gríma-Wormtongue pressure he brings to bear.
There is no going back to the sporting equivalent of this from Tom Burgis' article: "The rulers of the west applied the same logic to Putin as they applied to the rulers of DRC or Kazakhstan. They wanted to buy these countries' commodities so they pretended the kleptocrats were legitimate leaders with whom they could do business. They kept this up when he murdered exiled dissidents abroad, when he stole South Ossetia in 2008 and Crimea in 2014, all the while developing a tribal imperialist spiel to stir fealty at home. After 22 years of this, Putin evidently believes his own propaganda that he is a statesman, rather than a character from The Godfather. As his forces devastate Ukraine, I asked a Russian former intelligence officer what Putin wants. "Respect," he said. "It's all about respect."
He deserves none.
All that politics above should be a million miles away from FINA, of course. In this era of reform, old habits may die hard among some. Those who find it easier to say "under the circumstances, Russia, we must part company and severe all ties for the foreseeable future" must win the day at the global regulator if FINA is to emerge unscathed and untainted by a global crisis delivered by Putin on top of a global pandemic.
Cancel those contracts, withdraw and make clear that no sports contract or relationship is worth a single human life, let alone many more, let alone the thousands of casualties, let alone the millions grieving, let alone an estimated 10 million people forced to feel their homes and the devastating effect on the lives of Ukrainians, let alone the 7.5 million children in need of support, let alone the need for many nations to take in vast numbers of refugees, let alone the emotional cost, let alone the financial cost and the spill that includes an end of production in one of the world's big wheat-harvest boxes, with consequences for millions who may now face starvation if help cannot be found.
FINA leaders have a fine chance to distance themselves from a horrid history. Severing ties with Russia, including a farewell note to Kazan, is the only response available to those who value integrity.
Related SOS Coverage: