Olympic Governance Under Scrutiny Over Weakness Of Response To Russian War On Ukraine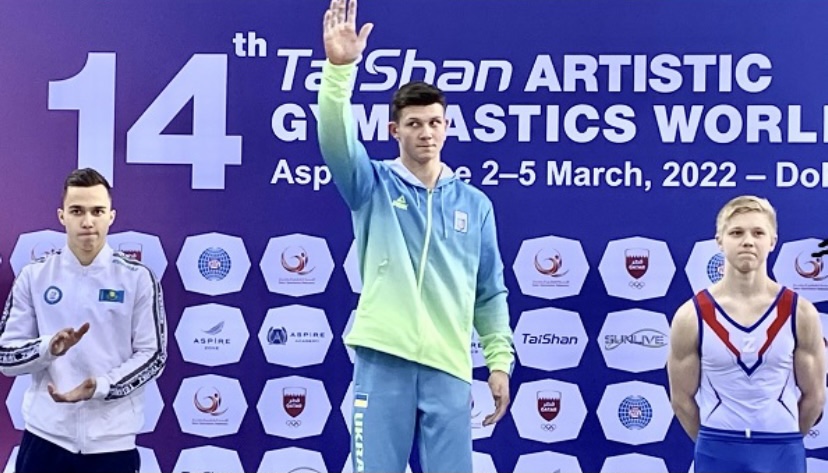 The coming week will be a telling one for Olympic governance as pressure grows on the IOC and its international federations to change course or risk the loss of any right to autonomy for sports regulators.
As the shells and bombs rain down indiscriminately in Ukraine, hitting kindergartens, hospitals, apartment blocks and other concentrations of civilian life, more than 100 countries around the world have imposed stringent sanctions on Russia to bite back not with tanks but banks and financial penalties aimed at making Putin bring a halt to invasion, murder and acts of war that are now subject to investigation at the International Criminal Court in The Hague.
Meanwhile, the International Olympic Committee (IOC) and the international federations under its Games umbrella, have imposed their own sanctions in sport but are widely viewed to have fallen shy of the full extent of penalties available to them.
No images from sport can be compared to those of the images unfolding from Ukraine, a country being laid to waste and rubble by the invading Russian military following Putin's bloody orders. Even so, a snap from the Gymnastics World Cup in Doha caught the eye as a prime example of the inappropriate influence of Russia in sport and how that has brought war and politics to the sporting arena in ways that many believe ought to have resulted in immediate suspension of all Russian athletes and officials, including any serving in governance positions.
In a chilling evocation of Berlin 1936 and an Olympics of swastika-soaked stadia, athletes and officials, including IOC leaders, performing the Hitlergruß, or Nazi salute, a picture of a podium presentation from Doha, the last competition at which Russians will be allowed to compete before a ban kicks in tomorrow, shows Ukraine's Illia Kovtun taking gold, beside him Russia's Ivan Kuliak taking bronze and wearing the "Z" that has come to symbolise Putin's war.
Kuliak is forbidden from wearing Russian colours and codes under the second whole-nation ban on imposed by the IOC on Russia since 2015 on grounds of clear evidence of systematic doping and mass manipulation of doping data included the national anti-doping agency Rusada and state-security services under instruction from the very top of the tree in Russian politics.
The International Gymnastics Federation insisted that Kuliak avoid anything with "RUS" on it, but "Z" as a symbol of invasion of Ukraine while he was standing next to Kovtun of Ukraine was, apparentlyacceptable enough for him not to be dragged from podium. Investigative reporter Jens Weinreich, whose trawl of Russian influence in sport is a must read for any wishing to know where it all went wrong, tweeted:
The FIG put out the above statement when the Z-Factor snaps went viral.
Weinreich points out that the head of Russia's gymnastic federation, Andrey Leonidovich Kostin, is already on the sanction's list of the US and the EU, his positions noted in this securities documents, reference to his various positions on Russian websites now blocked under Putin's blackout of media and Internet designed to keep the Russian population in the dark.
Thousands of Russians were detained at anti-war protests across Russia today, Sunday, rights groups and Russian authorities report.
About 1,700 people were detained in Moscow alone, the RIA news agency reported, citing the interior ministry. The OVD-Info rights group says detainments took place in 49 cities, while suggesting that more than 10,000 people have been detained since the war on Ukraine began 11 days ago. Putin's life-threatening attacks are not only aimed at Ukraine but stretch to the streets and homes and lives of Russian citizens and then the wider world through menacing mention of consequences for the planet as Putin placed Russia's nuclear arsenal on alert.
"The screws are being fully tightened – essentially we are witnessing military censorship. We are seeing rather big protests today – even in Siberian cities, where we only rarely saw such numbers of arrests."

Maria Kuznetsova, OVD-Info's spokeswoman, told Reuters news agency from Tbilisi in Georgia
Pressure Grows On Olympic Governance
Against that backdrop pressure is growing for senior Russian figures in sporting organisations to be suspended despite IOC and International Federation insistence that they cannot include in sanctions key Russians at the top tables of sports governance across almost all sports.
Yelena Isinbayeva, double Olympic pole vault medallist is a case in point, as reported by Martyn Ziegler in The Sunday Times today. The 39-year-old paid a price for railing against the World Anti-Doping Agency (WADA) and the IOC for imposing whole-nation suspensions but her campaigning contributed to a watering down of sanctions against "innocent" athletes. Instead of a whole-nation ban, most Russians were allowed to compete under "neutral flags" such as the Olympic flag and while stripped of country codes and anthems often continued to wear colours that left no doubt where they were from.
Isinbayeva has been an IOC member since 2016 and a close associate of Vladimir Putin for a while longer. Two years ago she was tasked by the Russian president in rewriting the country's constitution. As Ziegler notes: "She is also a long-serving officer in the Russian army and has been an ambassador for the country at the world military games."
An Olympic Charter that insists on neutrality looks a little shaky, some suggest, when overlaid by this kind of image at a time of war instigated by the country of an IOC member who is a member of the aggressor's military:
The IOC told The Sunday Times: "The IOC can only sanction organisations or individuals for the breach of the Olympic Charter and the Olympic Truce. For the breach of the Olympic Truce, it is only the Russian and Belarusian government the IOC is addressing, since it is only governments who can take decisions about peace and war, and it is only governments who are addressed by the UN Truce resolution."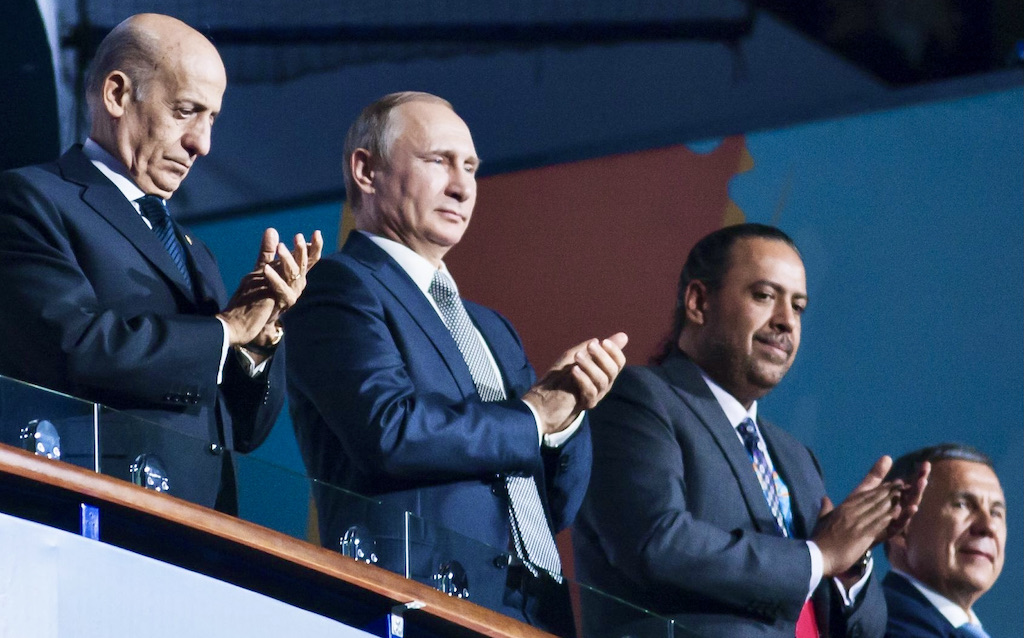 Putin was stripped of the Olympic Order and the FINA Order and was suspended as honorary president of and 'ambassador' for the International Judo Federation (IJF) isn the past week.
No issues with that, say waves of folk far and wide but what about all the Russians at the top tables and influential committees of many sports, aquatics included? FINA leaders have not, as yet, gone as far as barring swimmers from the World Championships in June but pressure is mounting on the global regulator to do so.
The Ukrainian Swimming Federation has written a letter to FINA urging it to follow constitutional rules that disallow "discrimination … on political grounds". FINA has interpreted that as a clause that does not allow it to ban Russian athletes but Andriy Vlashkov, president of the USF says that to allow Russians to compete while Ukrainian Athletes are being bombed out of their homes by Russia, cannot train and cannot make out to preparation competitions currently under way, is clear discrimination of Ukrainians on political grounds, war and invasion clearly acts of politics.
Beyond that, many in swimming are asking, if you do ban Russian swimmers, how could it be right to allow Vladimir Salnikov, the 1980 and 1988 Olympic 1500m freestyle champion and president of the Russian Swimming Federation, attend the big events as a member of the ruling Bureaus at FINA, the global regulator, and LEN, the European regulator for aquatic sports?
As one senior figure and peer of Salnikov's put it in an email to SOS: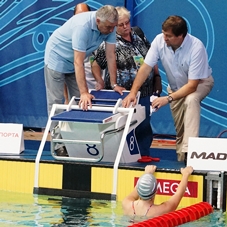 "That would be complete hypocrisy. I agree with the Ukrainian federation: Russians and Belarussians, athletes and officials, should be told they are not invited to all events for the foreseeable future until resolution of the conflict, and one that is to the satisfaction of the sovereign country currently being blown to pieces. In those circumstances, many of the athletes and officials will be blameless as far as Putin's aggression goes but they would not be welcome right now, just as Salnikov would not be a welcome figure in the boardroom."

Image – Vladimir Salnikov with then FINA director Cornel Marculescu
In 2009, Salnikov attempted to hold an investigation at the RSF to ascertain who was responsible for administering EPO (Erythropoetin, the banned blood booster) to two Russian teenage swimmers. The athletes identified a doctor but the meeting at which the doctor was confronted was interrupted by a local police official and relative of the doctor who instructed Salnikov and Co to desist and ensure the process went no further.
The two EPO positives were never reported to WADA and when this reporter revealed the story in The Times, the then FINA director Cornel Marculescu asked the paper to reveal its sources. That did not happen but FINA was advised to ask the Russian member of the FINA Bureau to provide the details of the case. To this day, no action has been taken.
In theory, such cases could be referred to the Aquatics Integrity Unit that FINA will establish in June as part of a reform process.
Meanwhile, Ziegler's article takes us on a trawl of some of the key inconsistencies in sports sanctions, where top Russian officials remain in place even in sports that have extended their sanctions to suspension of athletes.
With a nod to a failure to ban Russian and Belarussian delegates from the European Cycling Union (UEC) Congress this weekend in Odense and the decision of the International Cycling Union (UCI) to fall shy of suspending the Russian and Belarusian federations and officials in positions of authority on the UCI management committee and UCI commissions, Frank Slevin, British Cycling's chairman, told The Times:
"It is simply wrong that Russian and Belarusian officials will be permitted places of honour and influence at the highest level of our sport while our colleagues in Ukraine live in fear for their homes and their families."

Frank Slevin, British Cycling's chairman
The story in full from Martyn Ziegler at The Times.
It was February 24 when SOS called for FINA to cancel all events in Russia and bar all Russians from the field of play until Ukraine was handed back to Ukrainians and there has been full international resolution of the war Putin has brought on the country he covets and the rest of the world, even if that thought is confined to the impact on economics and human welfare.
Sport is allowed to exercise a high level of autonomy in Olympic governance because of an Olympic Charter that commits it to neutrality and a "no politics" stance. The schmoozing of leaders such as Putin down the years blew the lid off claims to neutrality a long time ago.
Now that Putin's war on Ukraine leaves no doubt, governments are starting to wonder whether they too should follow the example of American legislators and write into the statute books the checks and balances of sport contained in the Empowering Olympic, Paralympic, and Amateur Athlete Act (S2330).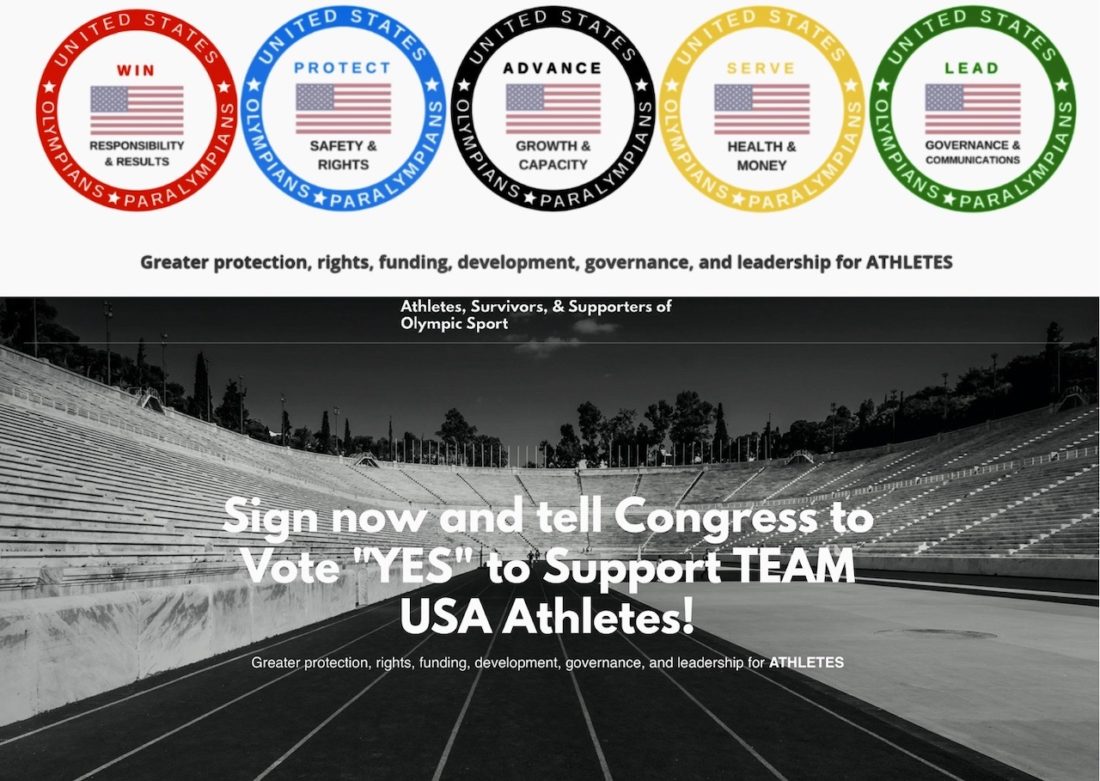 The legislation was drawn up in the wake of the Larry Nasser abuse scandal at USA Gym, many an allegation of cover-up in the mix on the way to big heads rolling courtesy of Team Integrity and the work of Safe Sport advocates such as Nancy Hogshead-Makar.
It comes down to this: the United States Government could, given reasonable grounds such as corruption, abuse, cover-up and the like, sack the entire United States Olympic and Paralympic Committee (USOPC). Goodbye autonomy and rules that suggest the IOC will suspend any nation where politicians interfere with the process of selecting Olympic officials.
Lawyers Cutting Ties With Kremlin-linked Clients – Is Sport Next?
The Financial Times reports that City of London lawyers "have moved quickly to sever ties with Kremlin-linked groups and oligarchs accused of propping up the Putin regime, ending what has been a lucrative business for decades".
In a comprehensive trawl of cases and examples, the leading financial paper notes: "Having generated billions in legal fees from Russian business, international law firms now face intense pressure from their staff and politicians to distance themselves from Kremlin-linked companies and individuals, whether targeted by the restrictions or not."
On the potential risks form law firms still dealing with Russian outfits and individuals in the current climate, Siobhán Lewington, managing director at headhunter Fox Rodney, tells the Financial Times: "Law firm leaders are having to make decisions very quickly. All law firms are reviewing their Russian work. Apart from commercial and reputational risks, there is also the ESG risk. particularly the human rights implications of Russia's invasion of Ukraine . . . it's crucial that law firm leaders get this judgment call right."
If there are implications for law firms that have represented Russian business and others with business interests in Russia, legal representatives active in the sports realm may also be keeping an eye on the situation as Russia's war on Ukraine continues to amass casualties, condemnation from around the world and sanctions galore.
The kind of work conducted by sports lawyers, even that which can be perceived as unpalatable to many in sport, is legitimate but any firms now intending to represent Russians seeking to challenge sanctions at a time when sanctions are hitting all other realms, will surely know that they are likely to fall under the spotlight of prevailing circumstances like never before.
It was announced this week that Sun Yang, of China, lost his latest appeal against a four years and three months suspension for manipulation of an anti-doping test sample in 2018. His first anti-doping offence, dating back to 2014, was for trimetazidine, the same banned heart booster for which 15-year-old Russian figure skater Kamila Valieva tested positive on the way to controversy at the Winter Olympic in Beijing last month.
In his latest appeal, Sun was represented by a legal team from the Schellenberg Wittmer law firm that is also acting for Valieva and has represented scores of Russian athletes challenging a whole-nation anti-doping ban imposed on Russia by the International Olympic Committee for systematic cheating.
Doping cases are one thing. Efforts to keep Russian and Belarussian athletes on their blocks and in the field of play alongside athletes from Ukraine and risk the kind of scenes seen on the podium at the Gym World Cup in Doha this weekend may well be viewed with a far more critical eye at the interface of sport and politics.
Perhaps, all under Olympic governance scrutiny in the week ahead will keep the children of Ukraine in mind as the minimum of moral and ethical requirements.
It's been such a long week
So much crying
I no longer see a future
I've been told when I get older 
That I'll understand it all
But I'm not sure if I want to … – 'Peter Pan' – by Kate Bush
'Teach Your Children… of Putin's Fascists', says Ukraine elder and retired history teacher:
---
Related SOS Coverage
Ukraine Athletes In A Race Against Time & Russian Attacks Blocking Their Way To The Border – Swim Boss Andriy Vlaskov Speaks To SOS From Kiev Under Siege
Russia & Belarus Barred From European Aquatics Events "Until Further Notice" As Putin War On Ukraine Rages & Swim Coach Is Saved From Rubble
Boycott Threats Force Paralympic U-Turn – Russia & Belarus Athletes Out Of Paralympics Day After 'No Legal Basis' Decision Kept Them In
Ukrainian Swimming Says Athletes/Coaches Injured & Insists FINA Does Have Legal Basis For Full Russia/Belarus Ban: Discrimination
British Swimming To Boycott 2022 World S/C Titles & 2024 Euro Champs If They Stay In Kazan, Russia As FINA Says 'No Legal Basis' To Ban Athletes
Vladimir Putin Stripped Of FINA Order But Russia / Belarus Athletes Only Barred From Flying Flag
No More Bubbly – Putin Stripped Of Olympic Order As IOC Bosses Tell Feds To 'Ban All Russian Athletes & Officials'
Ukraine Athletes Call On IOC To Ban All Athletes & Olympic/Paralympic Committees Of Russia/Belarus
Kazan Stripped Of World Championships As FINA Responds To Ukraine Invasion & Pressure From Swim Feds
Ukraine Swimming Federation Calls On FINA To Suspend Russia / Belarus & Cancel All Events
Nordic Swimming Feds Call On FINA To 'Immediately Suspend Russia & Belarus' Pending Peace In Ukraine
Red Card For Russia Is The Only Moral & Ethical Response From Sport To Putin Power
IOC Urges FINA & Other International Federations To Cancel All Events In Russia Or Belarus; LEN Scraps Russian Competitions
FINA Cancels Two Events But Leaves World Championships, Junior & Senior, "Under Close Review" As Putin's Murderous Attack On Ukraine & Its Sovereignty Continues
Blood In The Water & Why Sports Leaders Cannot Allow Warmongers To Use Sport As A Bargaining Chip In Their Olympic Power Games
Putin Putsch: FINA Must Cancel All Events In Russia To Guarantee Athlete Safety As No1 On 4-Point Priority Plan To Honour Olympic Charter "Neutrality" Key To Autonomy
The Red Lines Between Beijing 2008, 2022, Olympic Governance, Games Investors & Athletes Demanding Cultural Revolution