McKeon Joins Sub-56 100 'Fly Club; Smith Sets 400IM Standard; & Winnington & McLoughlin Halt Horton Defence Of 400 Olympic Crown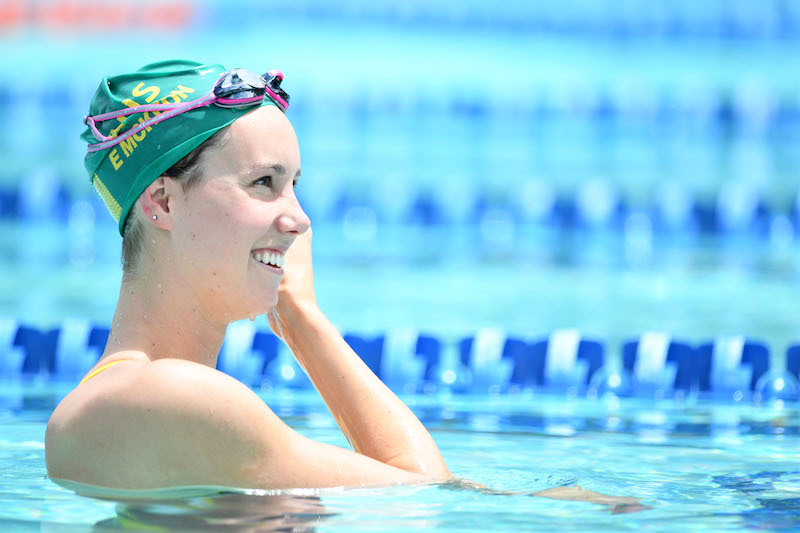 Emma McKeon took the pace of Australian 100 'fly just into 55-second waters for the first time and Brendon Smith joined her in the club of 2021 Olympic ticket holders at trials with a 4:10 national 400m medley mark on the first day of action in Adelaide.
The first session of finals was also full of drama, Olympic 400m freestyle champion Mack Horton on 3:43.92 but there middle man among five who raced inside the Tokyo target time, the two tickets for Tokyo going to Elijah Winnington, on 3:42.65, and Jack McLoughlin, on 3:43.27.
No Defence for Horton but Winnington and McLoughlin vow to "do it for Mack" as they emerge from a terrific battle. The top three in Australia are the top three in then world so far this year, highlighting the knock of universality rules that dictate a "two per nation" limit at the Olympic Games. Countless trials in the United States have thrown up similar down the years, while there is no provision for a wild-card entry for any reason, including being a defending champion ranked third in the world – and third at home. Neither the USA nor Australia have campaigned for change.
The 2021 World Rankings in the 400m free, with Australians filling four of the top 10 slots from racing in Adelaide today: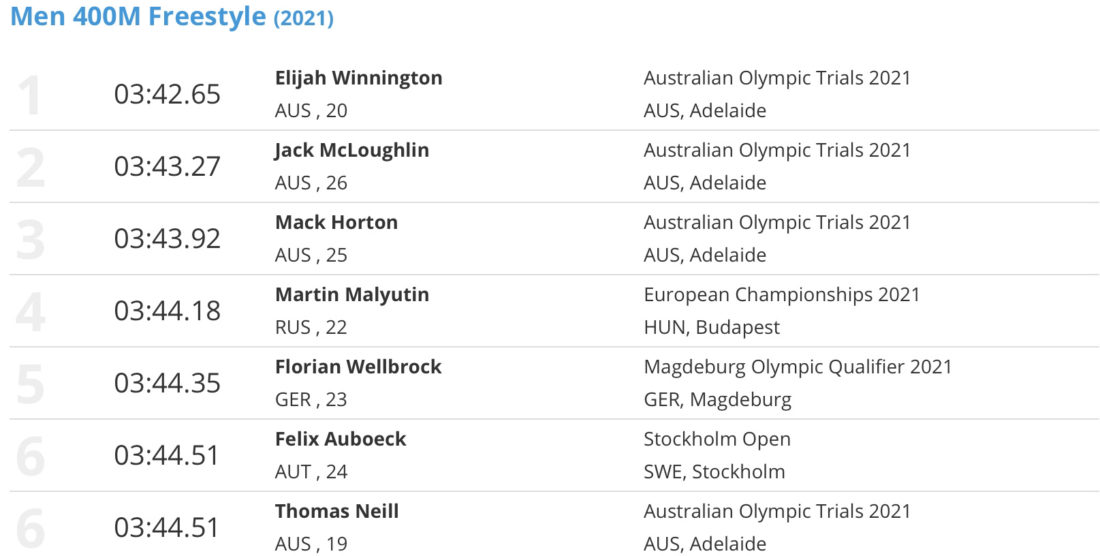 Women's 100m Butterfly
Emma McKeon and her 55.93sec victory make it a high-five in the sorority of sub-56sec: the founder member was American Dana Vollmer, who raced into what were then uncharted waters in 55.98 for Olympic gold at London 2012. Then came World record holder and 2016 Olympic champion for Sweden Sarah Sjostrom (55.48), who has since been joined by China's Zhang Yufei (55.62) and Canada's 2019 World champion Maggie MacNeil (55.83).
McKeon, coached by Michael Bohl, was out in 25.96 and home in 29.97 for a pioneering 55.93, the first sub-56sec blast from an Australian. The effort swept the 27-year-old inside the 56.18 at which she had held the national standard since 2017 and just 0.1sec shy of the Commonwealth record held by MacNeil since July 2019 when she claimed the global crown in Gwangju ahead of Sjostrom and McKeon, who said today: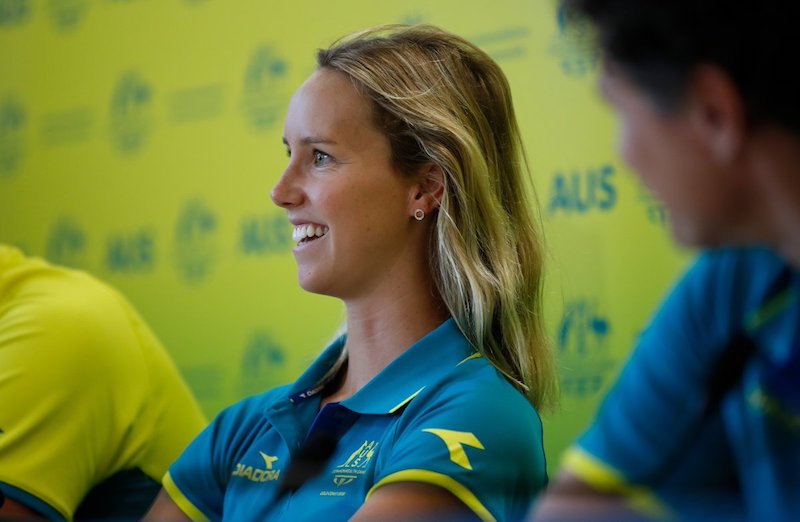 "I think it's just nice to qualify in the first event and get that done and now settle into the rest of the week. It is significantly faster than what I was going for the last four years, I definitely felt like I was due for a good one. I have been putting in a lot of work with my coach and definitely have a lot of faith in him. And I think when he tells me that I'm due for a good one I have a lot more belief in myself."

Emma McKeon, courtesy of Swimming Australia
In Adelaide today, the silver went to Brianna Throssell, whose 57.11 was just 0.01sec shy of the target time for the Tokyo Olympic Games. Third place went to Alexan Perkins in 58.61.
McKeon is now ranked No2 in the world so far this year adrift Zhang, with MacNeil yet to race at her own Olympic trials, set for Toronto next week, and Sjostrom's form by July will depend on the pace of her recovery from a cracked elbow.
The 2021 and All-time World Rankings: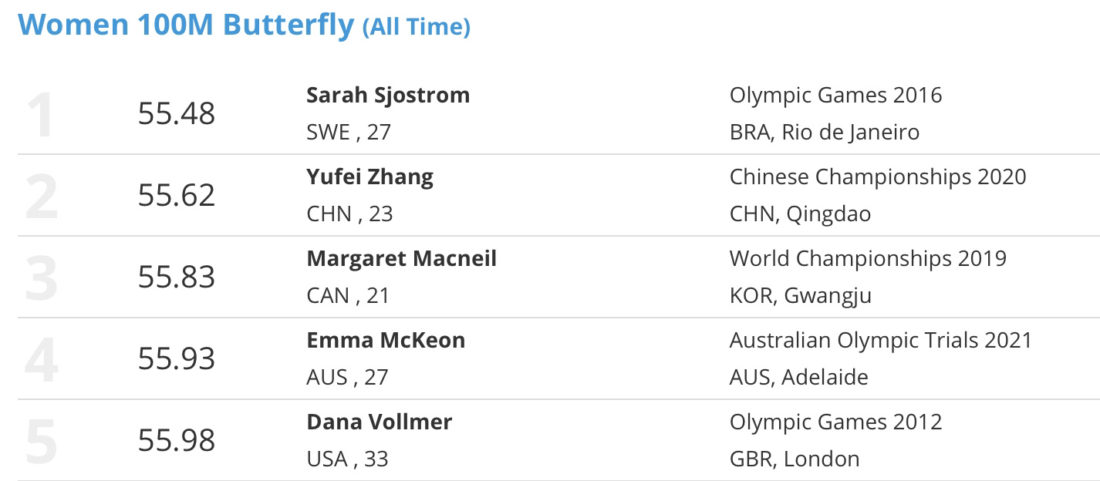 Men's 400m freestyle
Australian 400m history is stacked with legendary moments and trials dramas, from Murray Rose through to Ian Thorpe and his flop off the blocks back in 2004. For Horton to make the defence of the 400m crown in Tokyo, one of the two men ahead of him would have to step aside – and that seems unlikely.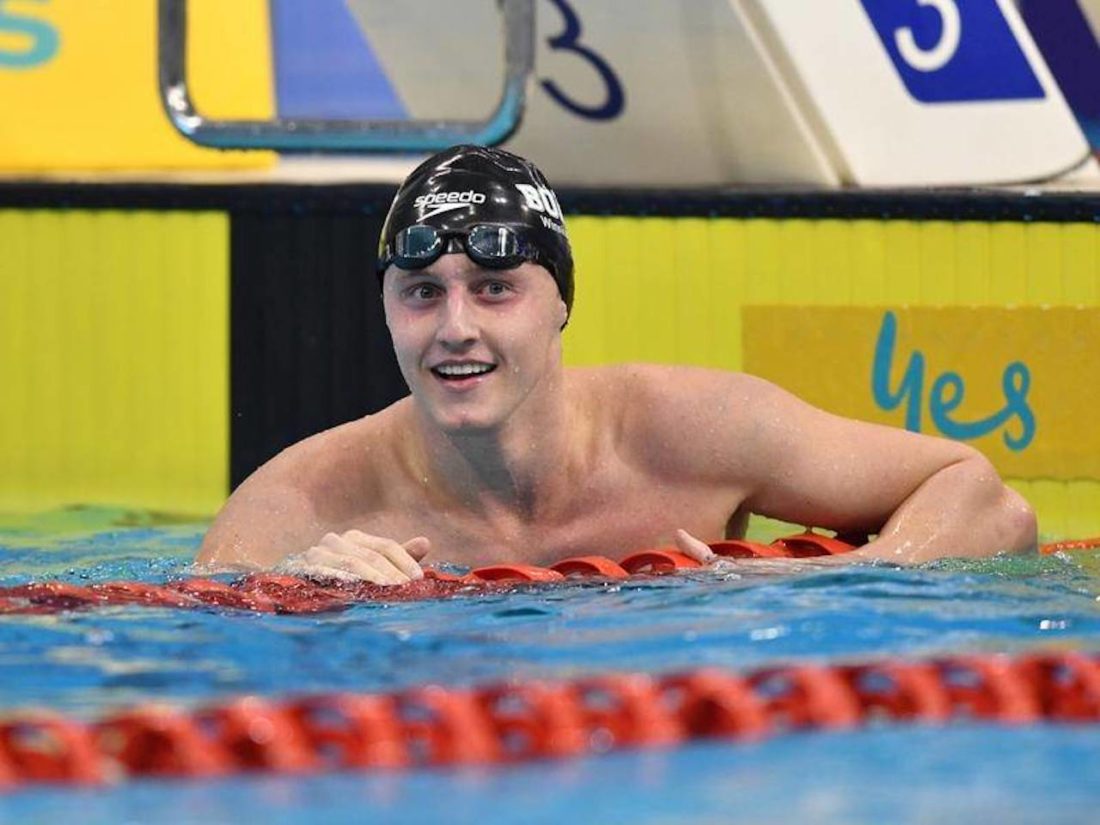 Winnington set the pace from go to gold:
25.39 53.49 (28.10)
1:21.70 (28.21) 1:50.36 (28.66)
2:18.71 (28.35) 2:47.42 (28.71)
3:15.31 (27.89) 3:42.65 (27.34) Winnington
25.62 53.77 (28.15)
1:21.96 (28.19) 1:50.61 (28.65)
2:18.95 (28.34) 2:47.66 (28.71)
3:15.91 (28.25) 3:43.27 (27.36) McLoughlin
26.21 53.98 (27.77)
1:22.41 (28.43) 1:50.83 (28.42)
2:18.90 (28.07) 2:47.33 (28.43)
3:16.25 (28.92) 3:43.92 (27.67) Horton
Thomas Neill, on 3:44.51, and Sam Short, 17, on 3:46.33, made not five inside the target time and the fastest domestic 400m freestyle race in the world this year.
When battle was done and the defence was off, a gracious Horton told reporters in Adelaide: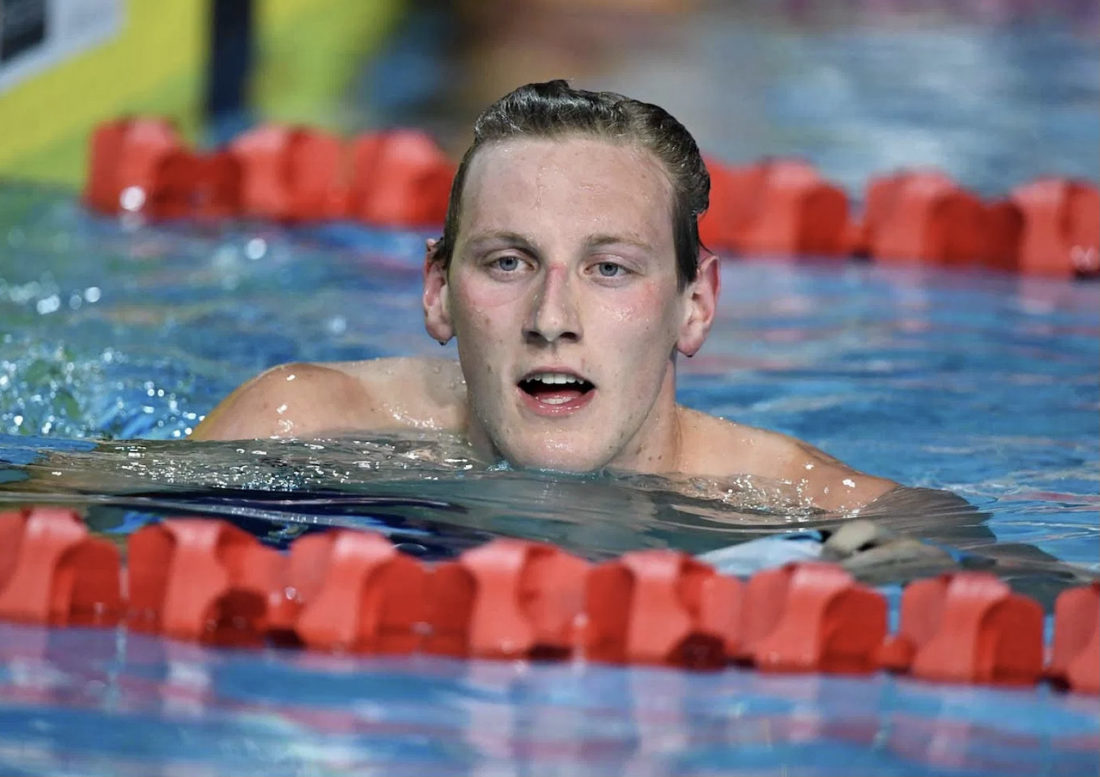 "Very happy for the boys, Jack works his arse off, has done for years, Elijah is so talented. Hopefully they can keep carrying the 400m legacy for Australia. I was comfortable pretty much the whole way. I thought I had it to be honest. I was just on the wrong side of the pool, breathing the wrong way, I literally gave it everything. As long as you give it your all. Every time you turn in the 300m, you always question if there is another 100m in there. That was the same today, clearly not enough."

Mack Horton – image – by Deli Carr, courtesy of Swimming Australia
Winnington, coached by Dean Boxall, paid tribute to Horton when he spoke to Phil Lutton at the SMH: "It means everything to me. I dreamed of this moment as a kid. To see that I touched the wall first and I made the qualifying time, it was pretty special. I had a little moment with Mack after that race and I pretty much told him he's my hero. I remember being here five years ago at the Rio trials, watching Mack go 3.41s, a second faster than what I went there, so he's an incredible swimmer and always will be an incredible swimmer so it means a lot that Mack would speak that highly of me."
Men's 400m Medley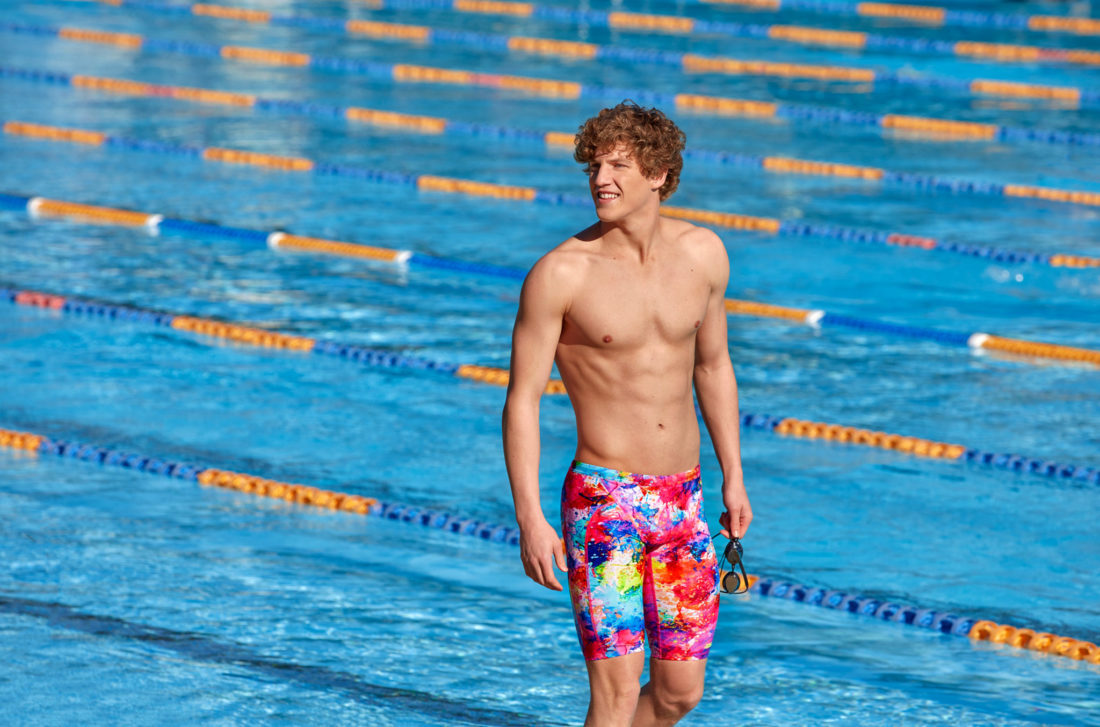 If McKeon set the tone for record-breaking swims from the very first final at trials, Nunawading's Brendon Smith followed up with a
4:10.04 victory in the 400m medley, his time taking down the Australian record that had stood at 4:10.14 since May 2013 to Tom Fraser-Holmes.
Smith's new standard granted him the second automatic ticket to Tokyo today, the third going to the man closed to him: Carlile's Se-bom Lee crushed his best time with a 4:14.16 for silver, the bronze going to Kieren Pollard in 4:15.68.
Smith's splits: 56.89; 2:00.59; 3:13.31; 4:10.04 (27.91 last length)
Victory fell 0.42sec shy of the Commonwealth record held at 4:09.62 since 2017 by Britain and England's Max Litchfield.
Said Smith: "Pretty surprising swim, everything went right and I had an amazing race. There is definitely a lot of time I can drop with that swim, but I am just looking forward to getting back into training and see if I can drop more."
The 2021 World Ranks: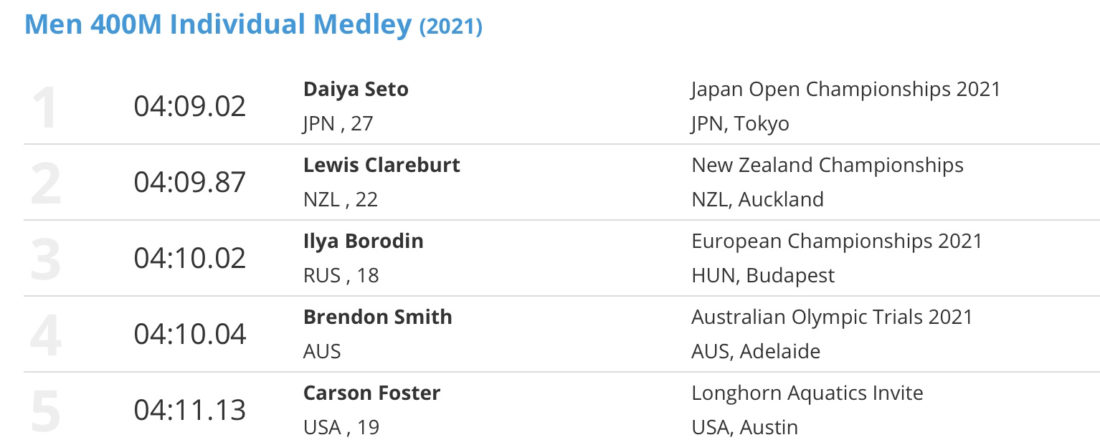 Men's 100m breaststroke
There were no qualifiers, closest to the 59.21 target Zac Stubblety-Cook on 59.69, 0.3sec ahead of Daniel Cave's 59.99, Jake Packard and Matt Wilson on 1:00.12 and 1:00.23 respectively in their battle for the bronze.