Ariarne Titmus Punches 3:56.90 All-Time No2 An Arm-swing From Katie Ledecky On Way To Olympic 400m Bout of Bouts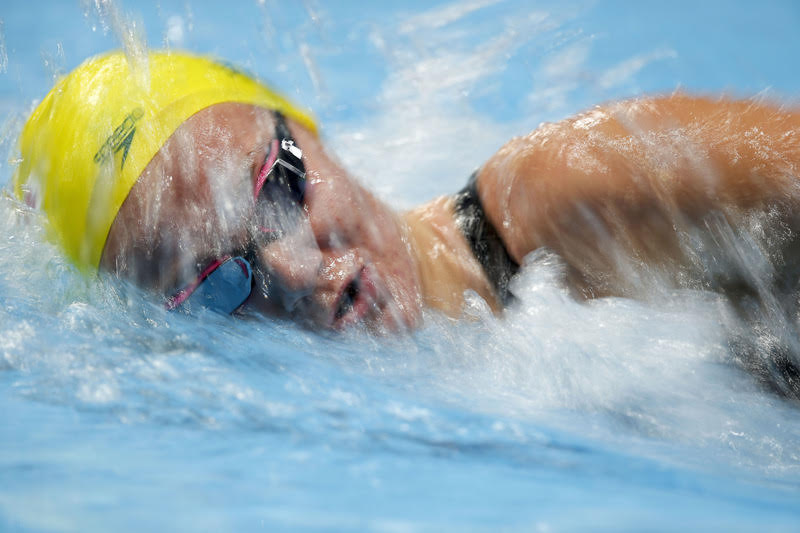 If Olympic freestyle gold is to be found in abundance in the vault of swim roos boxing above their weight in the pool down the decades, then the speedy efforts of Ariarne Titmus and the top 6 men home in the 200m freestyle, led by 100m Olympic champ Kyle Chalmers, confirmed that the Australian tradition is alive and kicking.
Titmus had a shoulder injury last southern summer but appeared to shrug off fears that the World champion would not be at her best at the Tokyo Olympic Games when she clocked solid times over 200m and 400m in a test of her prep several weeks ago. Today, doubt was ground into the dust with a 3:56.90 sledgehammer.
After Adelaide and Australia celebrated a 57.45 World record from Kaylee McKeown in the 100m backstroke, Titmus piled on the pressure Americans may be feeling, though the virtual world of trials will count for little beyond form guide it writes come the hour in Tokyo.
In a final that saw six women race inside the Tokyo cut, the podium in Adelaide was completed by Tamsin Cook, who claimed the second Aussie berth in 4:04.10, and open-water and 1500m ace Kiah Melverton, on 4:04.78 ahead of Maddy Gough, 4:05.60, Lani Pallister, 4:07.07, and Moesha Johnson, 4:07.08.
Titmus said she surprised herself with the record-breaking swim: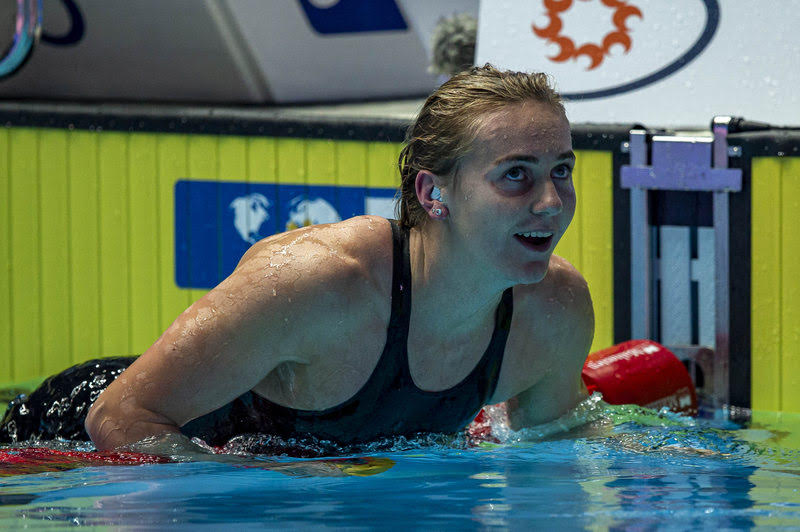 "I honestly didn't think I could go that fast. The way I've been training, I would have been happy to get to my PB and hope I could squeeze a little bit more out in Tokyo. It goes to show the adrenalin, the pressure and what it brings."

Ariarne Titmus – by Patrick B. Kraemer
Before today, American pioneer Katie Ledecky was the only woman ever to have raced inside 3:58 and 3:57. Now there are two in the 3:56 club, Titmus, coached by Dean Boxall, just 0.44sec shy of the 3:56.46 in which Ledecky lifted the Olympic crown in Rio five years ago. Until now, that's where the high bar of time has stayed, Ledecky now joined on the all-time top 10 performances list by two efforts from Titmus, in at No2 today and her Gwangju effort now No09.
A virtual exercise hints at the neck-and-neck ahead in Tokyo.
The 3:56 splits of Ledecky and Titmus compared:
27.73; 57.05; 1:26.99; 1:57.11; 2:27.41; 2:57.62; 3:27.54; 3:56.46 (28.92) – Ledecky 2016
27.68; 57.31; 1:27.32; 1:57.49; 2:27.73; 2:57.77; 3:27.88; 3:56.90 (29.02) – Titmus 2021
The two are outliers: you have to trawl down to No33 all-time before you find a name other than Ledecky and Titmus on the textile performances list, while Italian Federica Pellegrini interrupts the flow at No15 and No29 with her World-championship efforts of Rome 2009 at the height of the shiny suits circus.
If Ledecky looks back five years to her career high on the clock, Titmus moved her personal pace on big time today after terrific progress leading up to a stellar 2019 season: she had held the Commonwealth and Aussie record at 3:58.76 since that fateful July 25, 2019, in Gwangju when she got the better of Ledecky for the World title. It was the American's first international defeat over 400m freestyle since she started collecting big honours with the 2013 global crown a year after lifting the Olympic 800m freestyle title at 15 years of age.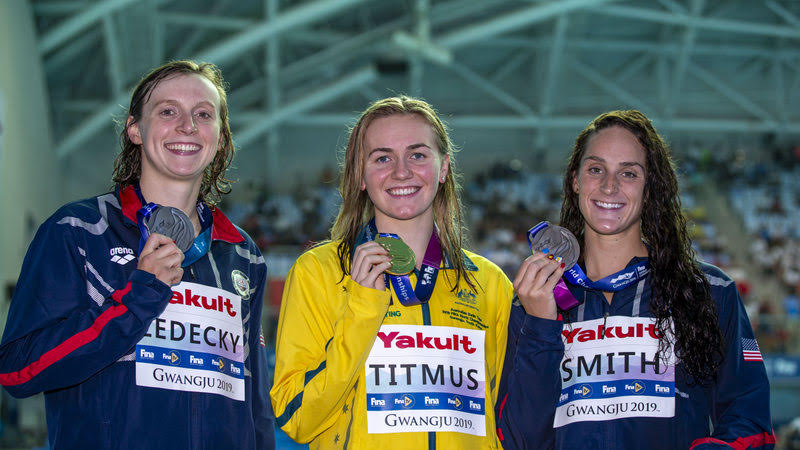 A phenom was born back at London 2012, though it was unclear at the time just how dominant she would become. At Rio 2016, Ledecky claimed the 200, 400 and 800m freestyle titles to match the triple-crown feat of fellow American Debbie Meyer in 1968. World records of 400, 800 and 1500m then sparked talk of four golds at Tokyo 2020, after the longest race on the World-Championship program was added to the Olympic schedule.
Ledecky has enjoyed a big time advantage on all her rivals for several seasons – and still does over 800 and 1500m. In 2019, illness set her back and after silver in the 400m, she withdrew, sat out the 1500m and the 200m but came back for the 800m and put in what was not one of the fastest efforts of her career but was one of her greatest races on the way to retaining the World crown in a fight with Italian Simona Quadarella.
Tokyo 2020 was supposed to have been the 400m rematch with Titmus but the Covid-19 pandemic shunted the whole thing into the future by a year. How critical that year will be for many is yet to be revealed but today's 400m in Adelaide takes the game on to a new level: 3:56. Here's how Titmus shuffled the pack: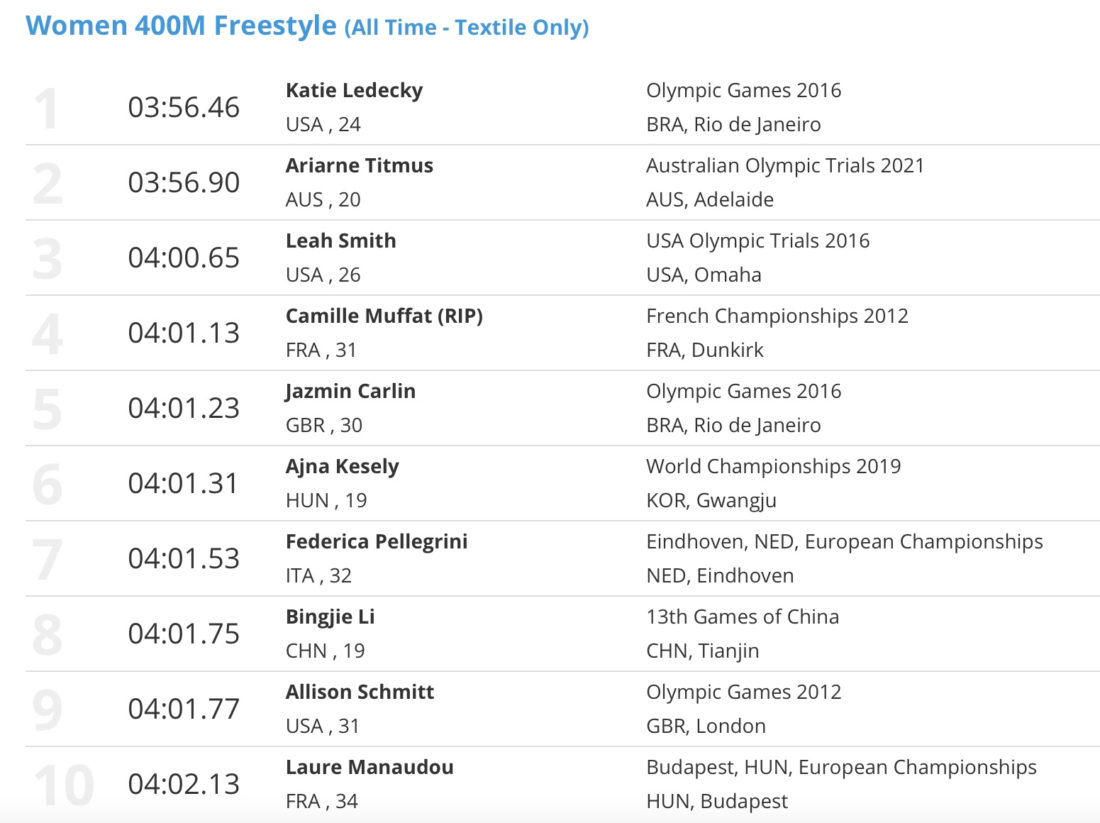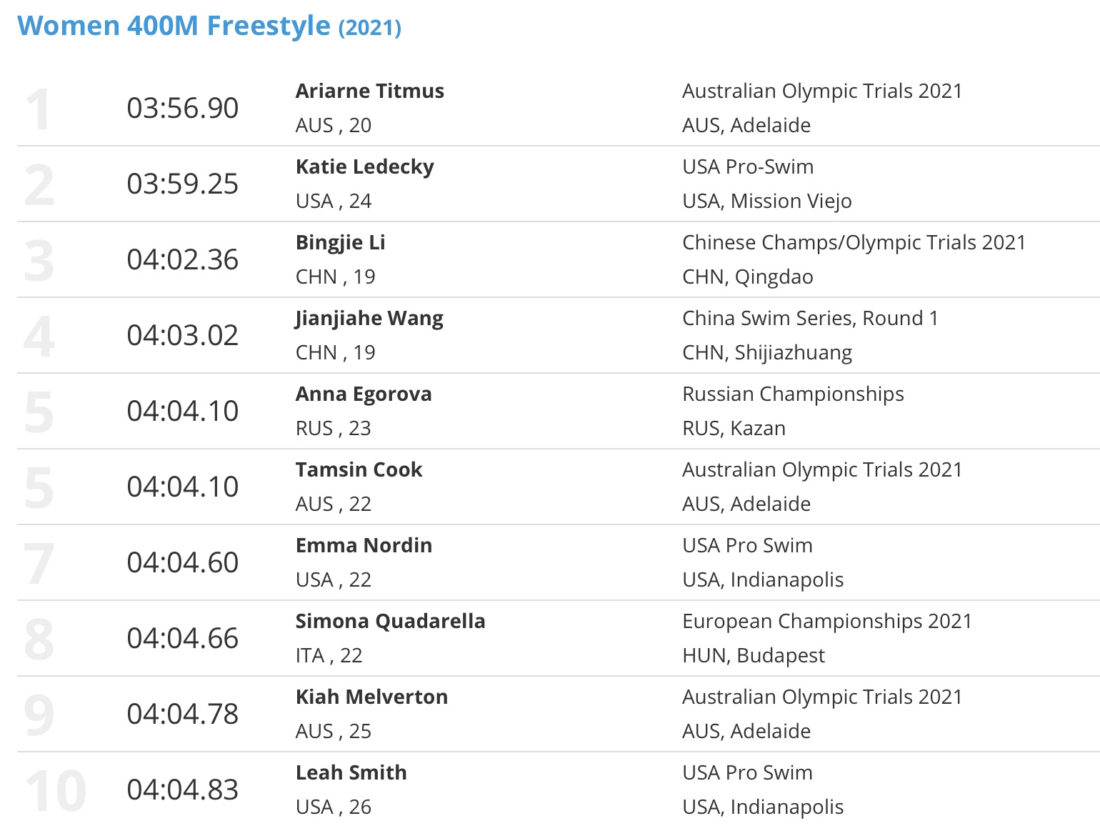 Men's 200m freestyle
There were no records but the first four home in 1:45s all raced inside the Tokyo cut, Olympic 100m champion Kyle Chalmers at the helm on 1:45.48, 0.23sec ahead of fourth man home, Alexander Graham, with the second solo berth going to 400m champion of yesterday Elijah Winnington, 1:45.55, just ahead of 17-year-old Thomas Neill, on 1:45.70.
What a race – and if selectors were looking for a way of rewarding Mack Horton for all that he's achieved and meant to the Dolphins and many others around the world looking for Fair Play, then here it was: in 1:46.33, beyond Zac Incerti's 1:46.18, the 2016 Olympic 400m free champion, on 3:43 for third in the world this year but locked out of the defence of the crown by being third in his nation too, would surely be a most welcome presence in the Tokyo pool.
The first five men home all swam lifetime bests.
Clyde Lewis, on 1:44.90 at World titles in 2019 and a contributor to 4x200m gold at that event for Australia, clocked 1:46.60, while Jack McLoughlin, on the team for the 400m free from day 1 a touch ahead of Horton, closed the final in 1:46.80.
The Aussie battle did not quite match the speed and tightness of the final at the British Olympic Trials but the 2019 World champions from Down Under will be battling for gold with the 2015 and 2017 World Champions from Britain, the Russian quartet that just claimed the European crown ahead of a Britain quartet significantly down on potential, and, doubtless, a USA quartet that will take shape in Omaha this week. There'll be others in the hunt, too, of course.
Meanwhile, history screams back the reasons why it is best to add up the teams going in only as a general guide to form. The day, the race, is everything.
Here's the potential, going with the best 200m solo swims of each of the top three quartets in the world so far this year (the best relay efforts need then to be factored in, as Duncan Scott's 46.1 when delivered gold for Britain in the medley relay at 2019 World titles, among myriad other examples, shows us (times in brackets are career bests faster than 2021 season best, the combined time the additional of season bests):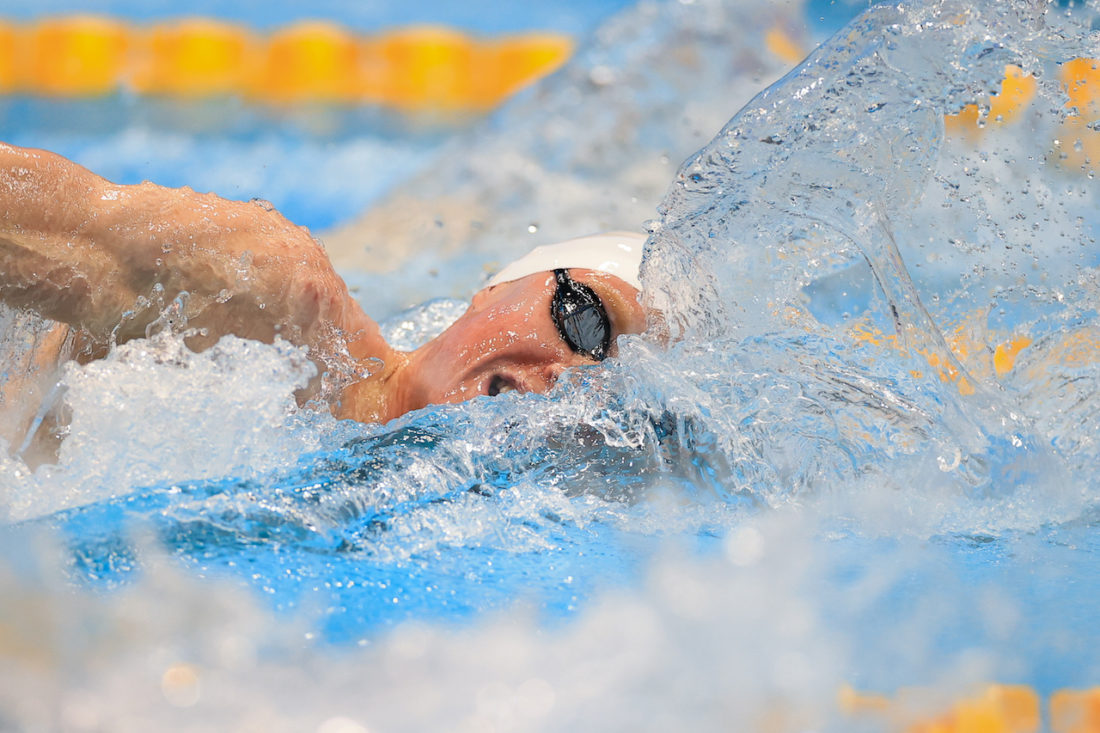 Great Britain – 7:00.86
1:44.47 Duncan Scott
1:44.58 Tom Dean
1:45.77 Matt Richards
1:46.04 James Guy (1:45.14)
Australia – 7:01.95
1:45.48 Kyle Chalmers
1:45.55 Elijah Winnington
1:45.70 Tom Neill
1:45.22 Alex Graham – final: 1:45.71
Russia – 7:01.98
1:44.79 Martin Malyutin
1:45.49 Ivan Girev
1:45.82 Aleksandr Shchegolev
1:45.88 Alexander Krasnykh (1:45.23)