Maxime Grousset Tops The French 100m Crew In 47.89, Five On 48s, Manaudou 48.5 In Prelims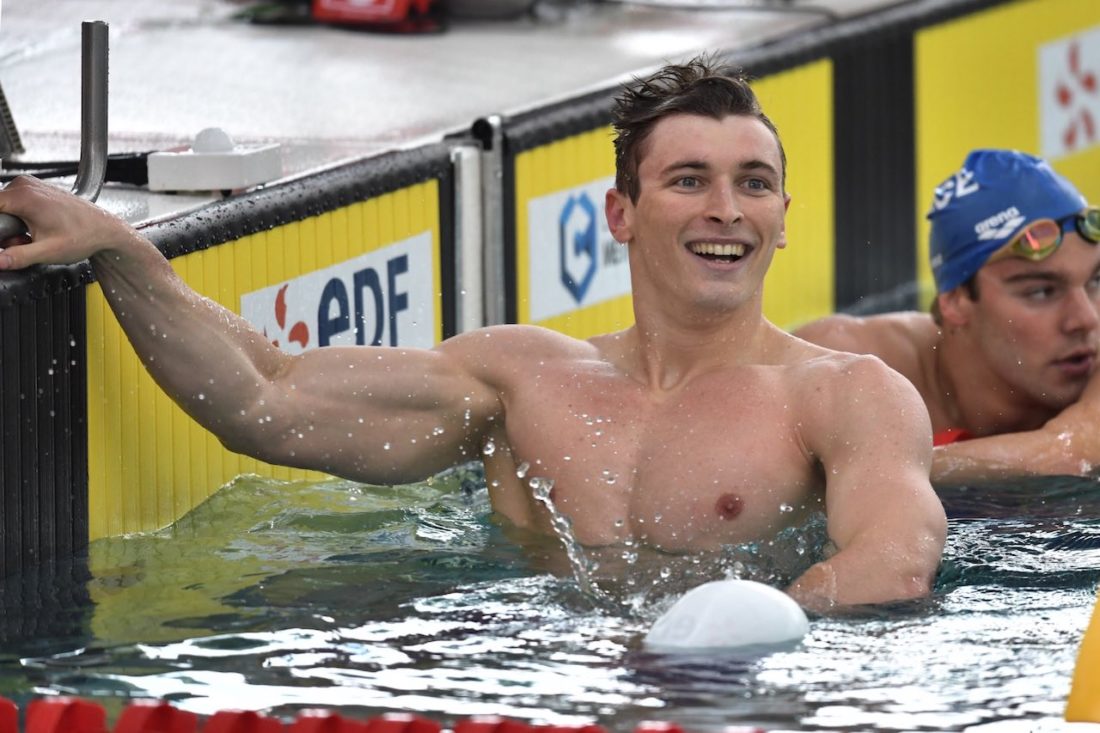 Maxime Grousset will fly the French tricolour in the 100m freestyle at the Tokyo Olympic Games after posting two sub-48 swims on the day at French Championships in Chartres, a 47.99 in heats followed by a 47.89 in a final he won by a blast.
Florent Manaudou, the might of Marseille who posted a 48.58 and then withdrew from further challenge in the 100m in order to be eligible for 4x100m service in Tokyo, remained the second-fastest Frenchman in Chartres after Grousset, of Amiens, was followed home by Nice's Charles Rihoux, 48.81, and three other men of Marseille, Clément Mignon on 48.89; Mehdy Metella on 48.93 and Julien Berol, the one teenager in the mix, on 48.94.
Having broken 49sec for the first time this year with a 47.90 for fourth place in the European-Championship final in Budapest last month, Grousset looks back at pre-pandemic best, in the last flush off his teenage years, of 49.09.
At a new high of 47.89, he is 8th on the all-time French ranking, but third on the textile list behind a 47.65 from Metella in 2017 and a 47.84 from Yannick Agnel at the London 2012 Olympic Games.
In terms of the relay, the French pace as things stand on the clock in 2021 would struggle to challenge for the podium, let alone replicate the tremendous victory of London 2012, when Agnel roared past Ryan Lochte and the USA with a tremendous textile 46.74 split to avenge France for its loss to the United States at Beijing 2008 in a shiny suit thriller, the assisted pace of which cannot be compared.
That said: the 2021 team now has access to three sub-48 swimmers and a fourth man on 48-flat, from a standing start and on previous form – and it would be unwise to overlook such possibilities.
In other finals, the 200m breaststroke title went to Antoine Viquerat, of Toulouse, in 2:10.21, Swiss medley ace Jeremy Desplanches, Nice, on 2:13.07, third home in 2:13.51 Antoine Marc, of Mulhouse.
Lara Grangeon, of Sarcelles, edged 15-year-old Lucie Delmas 2:11.16 to 2:11.57 in the 200m butterfly, third place to another teen, 17-year-old Lilou Ressencourt in 2:12.46.