Top Tokyo Tickets for Dressel, Flickinger, Fink & Finke But The 100m Defence of 'Overtrained' Manuel Is Off: 9th in 54.1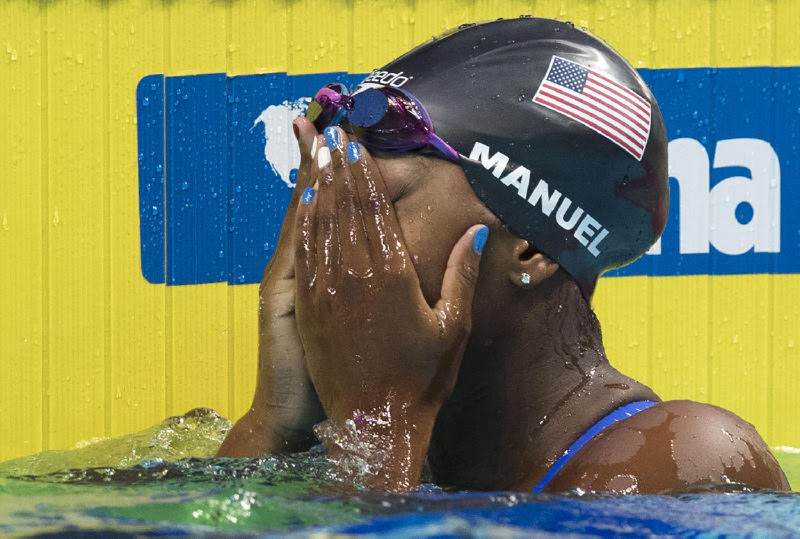 There were wins for Flickinger, Caeleb Dressel, Hali Flickinger, Nic Fink & Bobby Finke on day 5 at U.S. Olympic Trials but the biggest drama and revelation of the day was a ninth-place finish for Olympic 100m free champion Simone Manuel in the semis.
The highlights of the session produced Tokyo tickets for Caeleb Dressel, 47.39, and Zach Apple, 47.72, in the 100m free; Hali Flickinger, 2:05.85, and Regan Smith, 2:06.99, in the 200m butterfly; Nick Fink, 2:07.55, and Andrew Wilson, 2:08.32, in the 200m breaststroke; Bobby Finke, 7:48.22, and Michael Brinegar, 7:49.94, in the 800m freestyle; and 1:55.26 World-ranks topping blast Michael Andrew in the 200m medley semis. The detail on those finals can be found below the drama of the day…
Simone Manuel and her 'biggest fight'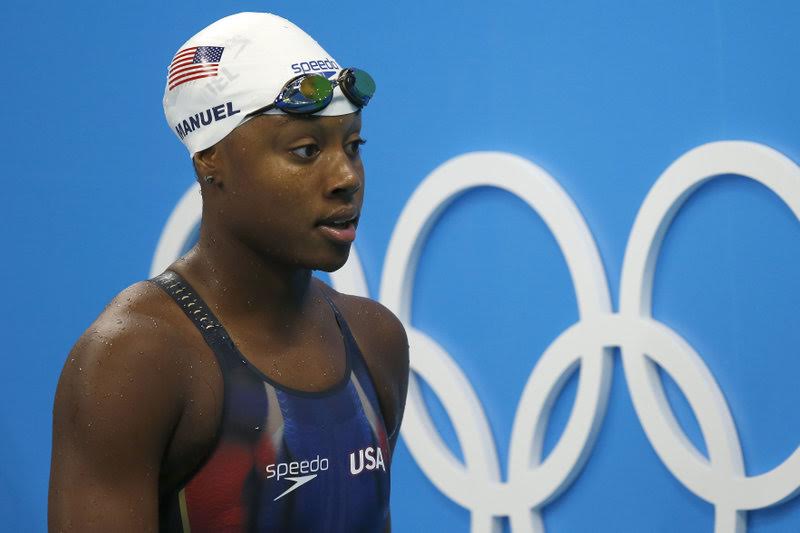 On 54.17, Manuel was out of the final, out of the defence and suffering from 'overtraining syndrome'. Talk of American women winning every title in the pool at the Tokyo Games surely fell silent after Manuel's miss in semis led by two 53.55s, with four of those making the final on 54s, six women home between 54.03 and 54.18. Manuel, a snap for Rio 2016 gold with Canadian then-teen Penny Oleksiak, on 52.70, was the fifth of the 54s home in Omaha semis today.
The final will unfold today in Omaha but contrast the pace going in with the Aussie might at trials in Adelaide, where four women raced 52s in one domestic race for the first time in history and sixth place was a 53.25. There are no guarantees in life, nor Olympic life, and gold is never won until won but in all likelihood, only a mishap of DQ or some such horror should keep the Dolphins from keeping the 4x100m crown.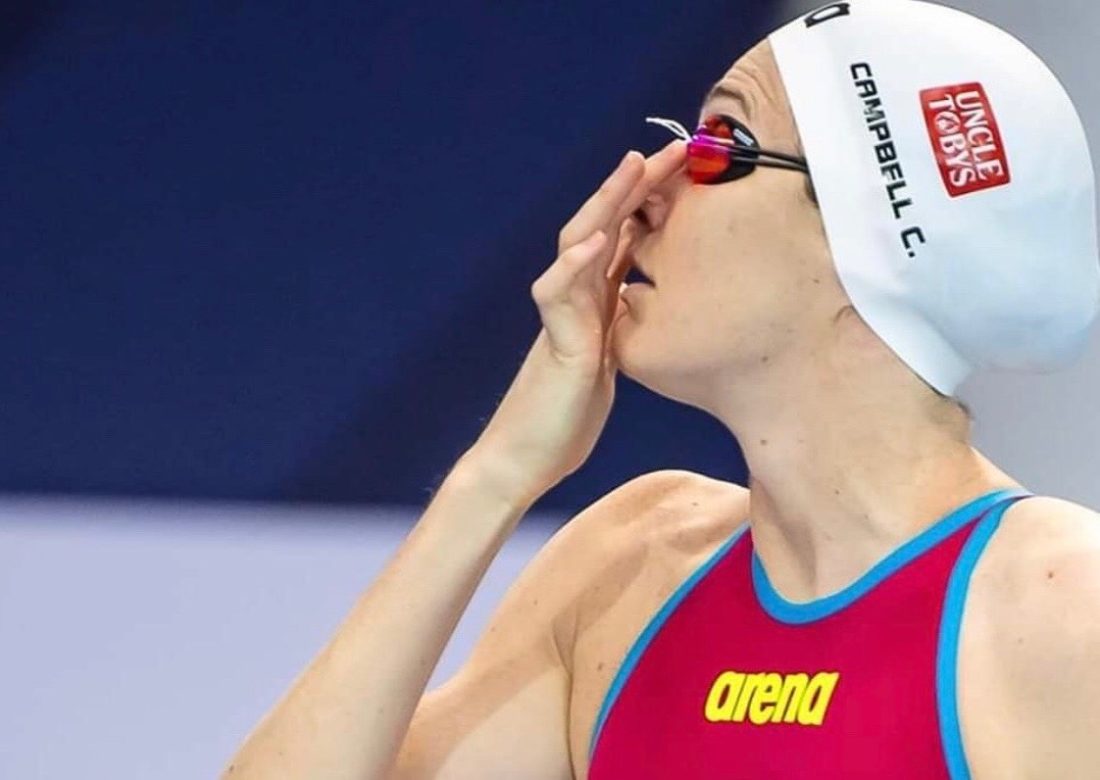 52.06 AUSBGP16 Campbell, Cate, AUS
52.58 AUSNAT16 Campbell, Bronte, AUS
52.70 OLYM2016 Manuel, Simone, USA
52.70 OLYM2016 Oleksiak, Penny, CAN
52.78 SWEOPN16 Sjostrom, Sarah, SWE
52.80 AUSNAT16 McKeon, Emma, AUS
In 2019, last time out for the global swimming elite before the pandemic struck, Manuel retained the World title in a sizzling 52.04, Cate Campbell on 52.43 for silver, Sarah Sjostrom, of Sweden, on 52.46 for bronze.
Ahead of the Olympics, and trials finals in the U.S. Canada, where Oleksiak will race, and France, where Charlotte Bonnet, a 52+ swimmer will race, the World Top 10 looks like this:
Australians Set The Global Pace There and Back: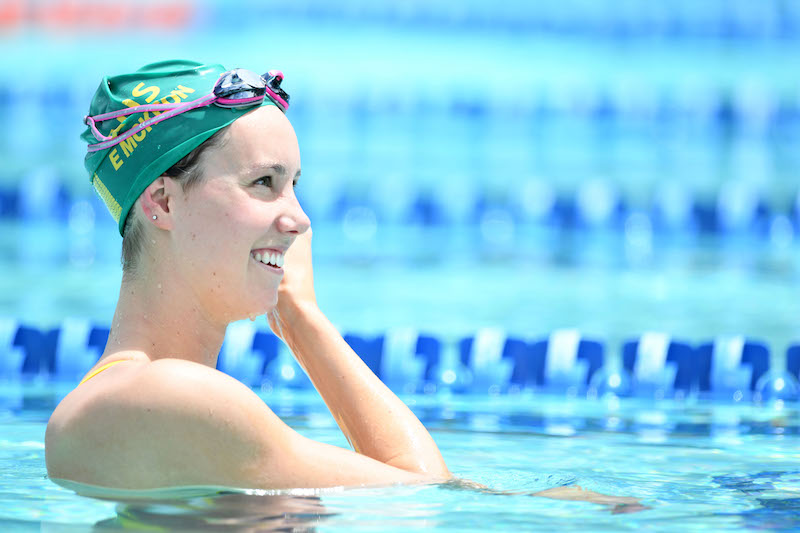 52.19 AUSOLY21 H McKeon, Emma, AUS
52.43 AUSSCC21 H Campbell, Cate, AUS
52.76 AUSOLY21 F Wilson, Madison, AUS
52.90 CHNNAT21 H Zhang, Yufei, CHN
52.92 AUSOLY21 F Harris, Meg, AUS
53.05 EUROPE21 F Heemskerk, Femke, NED
53.08 AUSOLY21 F Campbell, Bronte, AUS
53.13 NEDEIN21 F Kromowidjojo, Ranomi, NED
53.21 CHNNAT21 F Yang, Junxuan, CHN
53.25 AUSOLY21 F O'Callaghan, Mollie, AUS
A USA quartet without Manuel at or close to best would weaken the American quartet significantly. Manuel has the 50 still to go but if the condition she says she is suffering from has left her so far shy of top flight over 100m, there is little hope in her getting much within half a second of her best in the dash. Any place on the squad, of course, would make her eligible for addition to a relay should she recover and show better form on the way to Tokyo.
She told reporters in Omaha that she would be taking several months out of swimming, whether she makes the Tokyo team this week or not, to give her body and mind time to heal. Omaha would not be her last appearance as a someone capable of being "great in the poll". Fighting back tears, she said:
"Your dream is worth fighting for and this definitely was my biggest fight. This isn't the last time I am going to do something great in the pool, and I am confident in that."
The 2016 Olympic 100m final is, of course, one of those moments that remind us never to call a result until the clock stops: not only did the Campbell sisters have a bad day at the office but this is what the sub-53sec club looked like in 2016 by the end of the year:
Manuel took comfort in the status no-one can ever deny her but acknowledge the hurt, telling reporters: "I'm an Olympic champion. It's still a tough pill to swallow."
Before the gun went off, NBC had reported that Manuel skipped three weeks of training with Greg Meehan at Stanford in April and took a break back home in Houston.
At a post-race press conference, Manuel revealed that she had been suffering from 'overtraining syndrome', the symptoms of which include a general feeling of fatigue and malaise, and not only in training. It was January when the condition reared its head. Said Manuel: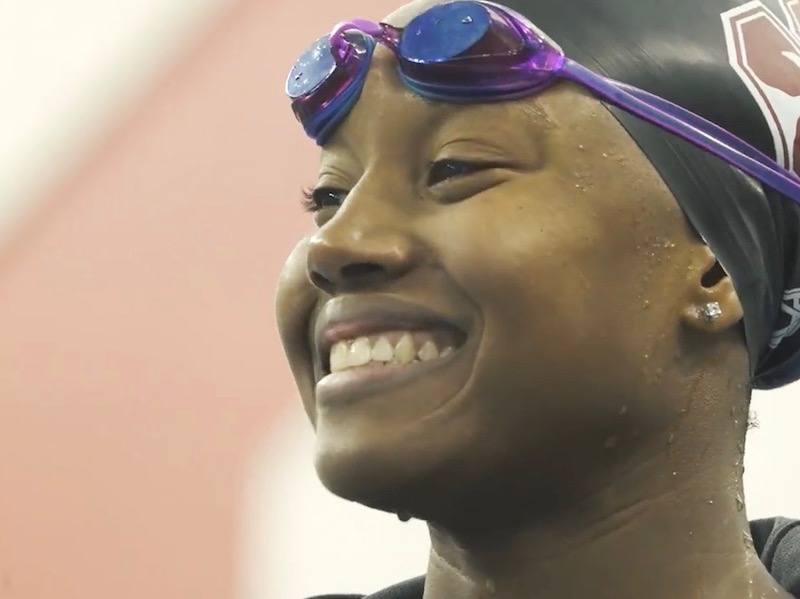 " … my body kind of crashed. It is definitely hard for me to be sitting up here. I feel like I want to share my story, what I have been through this past year, especially the past couple months. It has not been easy by any stretch. I am proud of myself and I did everything I possibly could have done to be my very best at this meet. I had moments I didn't even want to go to the pool because I knew it would be bad. It was an uphill climb. To do what I did at this meet is something I can't take lightly."

Simone Manuel – photo courtesy of Patrick B. Kraemer
As yet, here has been no comment from Manuel's coach Greg Meehan, also coach to Katie Ledecky and U.S. Olympic Women's Swim Team Head Coach, on the details of how 'overtraining syndrome' took hold.
Not all was lost by stepping up at trials and giving it a go, even knowing that it might no go as she would have wanted it. Indeed, Manual noted what she'd gained this time round at Trials: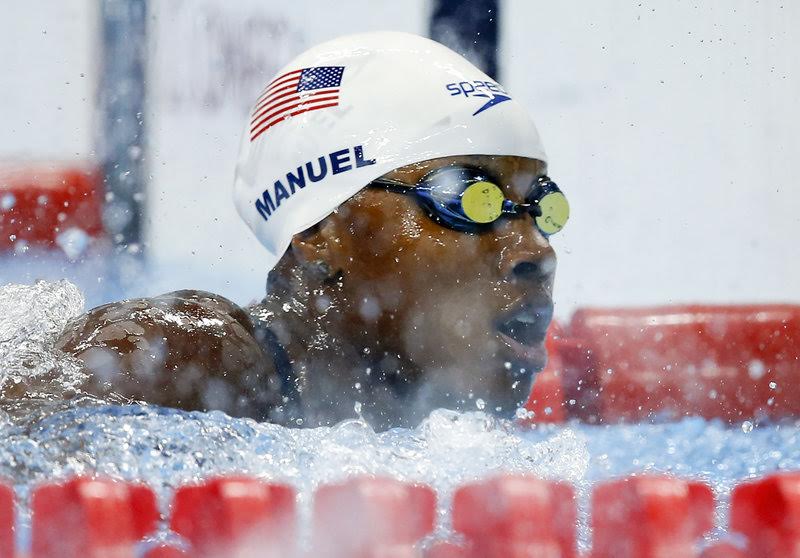 "I'm someone where when I have accomplished something, I'm always looking forward to the next thing. I think sometimes I don't sit back and appreciate what I've done. I think this was the first time where before I showed up at the meet, I was proud of myself. I think that was a big step. I hope that inspires more athletes to feel that way. I think most athletes, we're not proud of ourselves when we accomplish something so great. And I've done it. I'm an Olympic champion. I know there's more there. It's a tough pill to swallow, but that's what's giving me peace. I know I did everything I possibly could to be here, and that made me proud because I continued to stay strong during this process, even when there were times I wanted to give up."

Simone Manuel – photo by Patrick B. Kraemer
Manuel said she arrived in Omaha knowing she might struggle because of health and emotional issues. The emotional was this: the racial turmoil since George Floyd's death had taken a toll on her. In swimming terms, a touch of that was on public display at a time of riots on American streets last year, when Manuel responded to poor handling of an article on Swimming World during the year I served as editor: colleagues had made poor decisions and mistakes and I issued the following apology on behalf of them and the publication, which was republished as part off a celebration of International Women's Day
Dressel, Flickinger, Fink & Finke…
Caeleb Dressel has swum significantly faster, inside 47sec, the first to do so in textile but a 47.39 was followed by a leap on the lane line and a show of emotion. The pressure that builds for Trials must out.
"It's a huge weight off my shoulders," said Dressel said. "I'm excited to get the job done and move forward."
Flowing home after him were Zach Apple, the only other inside 48, on 47.72; Blake Pieroni, 48.16; Brooks Curry, 48.19; Bowe Becker, 48.22; and Ryan Held, a 47sec swimmer who must wait to see is a 48.46 for 6th is enough in these days of few alternatives/reserves allowed. As things stand, the American 4x100m free force is looking weaker than it has for some time on paper compared to quartets from other nations, including that which may not speak its nationality or fly its flag in Tokyo, courtesy of the Russian doping crisis.
Dressel, coached by Gregg Troy, has filled the void left by Michael Phelps, at least as far as "potential to be a big multiple-media hauler' goes. The potential is key: Dressel has two relay gold medals with U.S. mates from the Rio Olympics but Tokyo will be his first as a major solo force, with two stellar World Championships in the vault.
Many a comparison with the past is made but when it comes to medal and other counts, comparisons now need a string of footnotes attached because the thread of history has been severed by the addition of events to the Olympic and the World-Championship programs.
As Paul Newberry at AP notes, "Dressel captured seven gold medals in Budapest — joining [Michael] Phelps and Mark Spitz as the only swimmers to win that many races at a major international meet", and "Dressel followed up with six golds and two silvers at the 2019 championships in Gwangju, becoming only the second swimmer to take as many as eight medals after Phelps". True … but not the whole truth. For example Spitz had no 50 free to go at; Phelps had no mixed medley to go at; Dressel has all their targets available to him, plus two they never had.
In theory, he could target the 50, 100, 200 free; the 100 'fly; and four relays, with a view to matching Phelps. In practice, he has set his cap on all that minus the solo 200, from which he withdrew after heats, having posted as time as an 'available' for the 4×200 come the hour.
Of the hype, including the giant picture of him that adorns the outside of the downtown Omaha arena, venue for the trials, and the medal counts Dressel tells Newberry: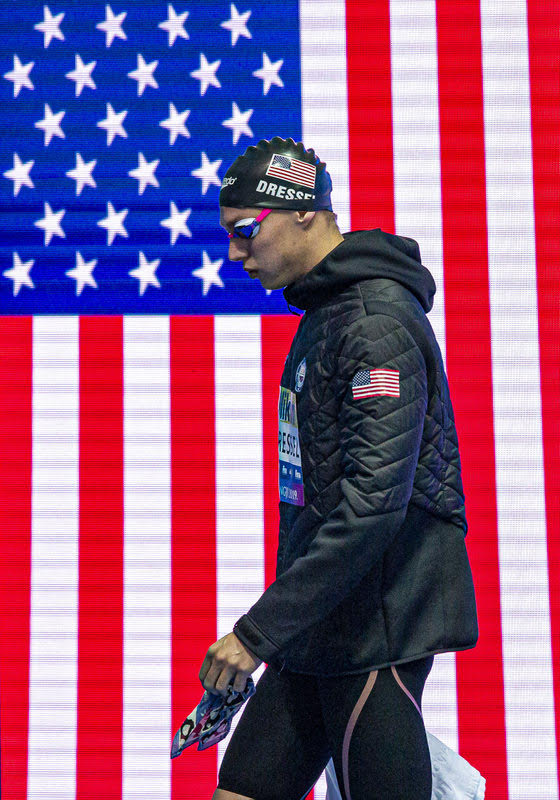 "All the fluff that comes with it, your name on the building, is cool. But it adds a little bit different pressure to it.

"You can't win five, six or seven medals if you don't qualify for the events," he said. "I'm focused on qualifying right now."

Caeleb Dressel – by Patrick B. Kraemer
Dressel, among the relative few in swimming who attract lucrative endorsement deals that will set them up financially for life, cannot match Spitz because the comparison no longer works; he can match Spitz's tally of seven, of course, if he races in all relays, including the inaugural Mixed Medley, which seems like, if he wins all his solo events and the USA wins all the relays, the latter the least likely to those scenarios but all of it possible.
Women's 200m butterfly
World-champion and record-holding 200m backstroke ace Regan Smith led the pace for the first 100m, Hali Flickinger right there with her. The third length could barely part the two and they turned for home 0.21sec apart, Flickinger now with the edge, momentum and, as it would turn out, the bigger speed in the hunt for home:
28.28; 59.98; 1:32.73; 2:05.85 (33.12) Flickinger
28.04; 59.96; 1:32.94; 2:06.99 (34.05) Smith
Third place went to Charlotte Hook in 2:07.92. Flickinger's effort, 0.02sec inside her previous high, from 2018, was a U.S. all-comers record just outside the American textile record held since 2012 at 2:05.78 by Kathleen Hersey. The American record belongs to the shiny suits and the Rome 2009 circus, Mary Descenza on 2:04.14 in heats at an event that witnessed a ludicrous 43 World records in eight days as swimming gave way for a short while to an imposter sport governed by non-textile materials that altered angles of buoyancy and provided significant benefits to some more than others.
Flickinger, who finished seventh in the 200 'fly at the Rio 2016 Olympics, is gunning for the podium and as part of her plan to get there, she moved to Arizona to work with Bob Bowman. The work is starting to pay off. Said Flickinger: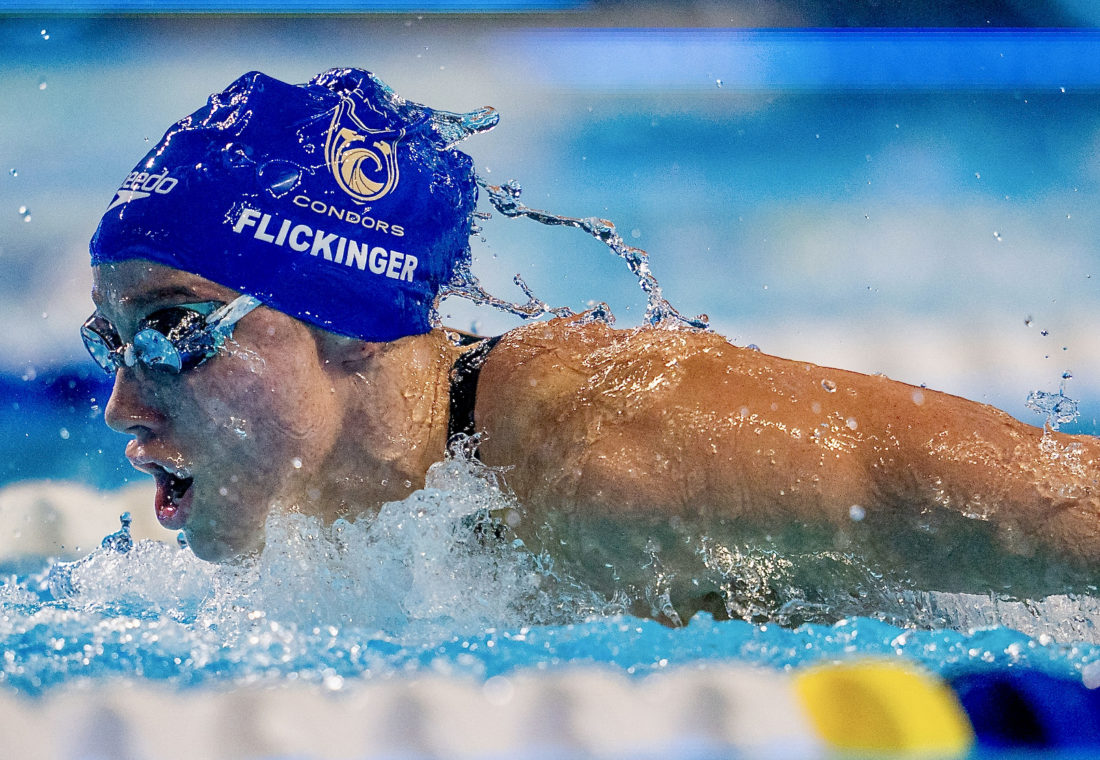 "It's helped tremendously, and my swimming is really showing that. I love the group that I train with every single day, along with Bob. I'm really grateful."

Hali Flickinger, photo by Mine Kasapoglu, courtesy of the ISL
Men's 800m freestyle
Bobby Finke of Clearwater, Florida, will make his Olympic debut in the inaugural men's 800m freestyle. In 7:48.22, he held off Michael Brinegar, on 7:49.94 for the second ticket, and Ross Dant, who put in a late challenge for a top-two finish but fell just 0.72 shy.
Men's 200m breaststroke
Nick Fink claimed the top Tokyo ticket in 2:07.55 after a close fight with Andrew Wilson and Will Licon and beyond shadowing Daniel Roy on the second and third lengths before Roy felt the weight of the world in arms and legs and faded dramatically from first to seventh, just as he had sped from seventh to first after the first turn.
The ebb, flow and torture, top 4 and 7th:
28.95; 1:01.49; 1:34.57; 2:07.55 (32.98) Fink
28.80; 1:01.42; 1:34.59; 2:08.32 (33.73) Wilson
29.69; 1:01.63; 1:34.70; 2:08.50 (33.80) Licon
29.23; 1:01.72; 1:35.15; 2:10.06 (34.91) Kevin Cordes
30.23; 1:01.37; 1:34.35; 2:11.87 (37.52) Roy
In semis…
World 200IM record holder (1:54.00, 2011), 36-year-old Ryan Lochte hung on – and ought never to be ruled out until his day is done. Even so, he has a mountain to climb today in the final in Omaha after Michael Andrew axed another chunk off his best, for a 1:55.26 ticket to lane 4 with the fastest time in the world so far this year. Lochte was sixth through in 1:58.65.
Andrew's splits: 23.90 53.09 (29.19) 1.25.30 (32.21) 1.55.26 (29.96)
Natalie Hinds and Olivia Smoliga led the way to the 100m free final in 53.55.