Ryan Murphy Books Back-To-Back Double Defence As Andrew Delivers, Lochte Takes A Bow & The U.S. Says Its Prayers For Women's 100 Free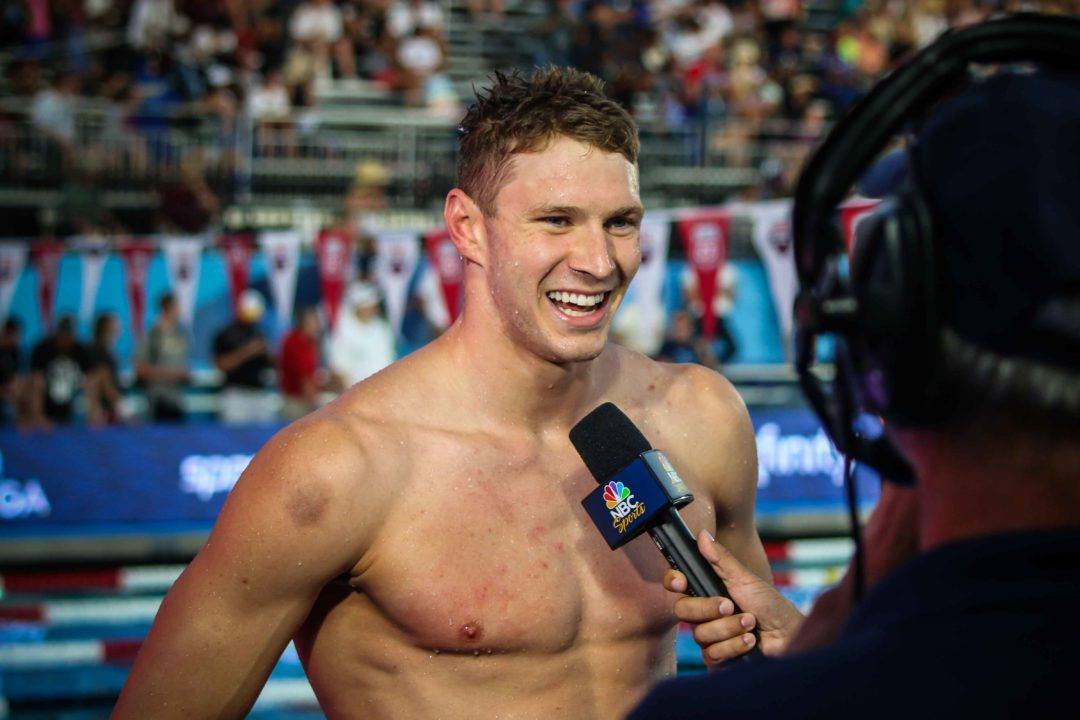 The double defence of both backstroke crowns is on for Ryan Murphy, Michael Andrew will be the top American hope in an Olympic 200m medley that holds some of the biggest hopes of triumph for the Japanese hosts and will go without comeback World-record holder Ryan Lochte and Annie Lazor led Lilly King to claim the first 200m breaststroke ticket.
Day 6 at U.S. Olympic trials in Omaha was another on which the big names expected to make it, largely did and the clock was, on the whole, not where its been relative to the rest of the world on many previous trials occasions. Trials do, the definition of the world reminds us, lead to judgement but whatever the shape of the U.S. team come the conclusion Sunday across the Pond, some challenges look more mountainous than they have for the United States for quite some years.
Take the 4x100m free relay prospects for the Stars and Stripes. If Doc Counsilman, Peter Daland, George Haines and Sherm Chavoor are up there having a beer together and sailing a few notes down to Don Gambril, now 87 and gracing trials with his presence in Omaha this week, I wonder what their advice would be for the current crew of U.S. Olympic coaches as the clock ticks, a cautious chortle or two to be heard from Don Talbot and Forbes Carlile on the other side of the table of Eternity's Mentor Pub on the Corner?
What tips could they all pass on to Greg Meehan, U.S. Women's head coach? One of his aces at Stanford, Katie Ledecky, has sailed through, while the other, Simone Manuel, now relies on whatever unfolds in the 50m free today and tomorrow, to be in Tokyo at all.
The top 5 sums below reflect the direction of travel for America's women's 100 free pace since the Rio 2016 trials and the start of a tremendous season of plenty for Manuel (Olympic crown followed by 2017 and 2019 World titles, the pace not the but right up with the best there's ever been but the race more significant: Manuel had the Midas Touch with her):
2021 trials: 53.53, 53.59, 53.63, 53.84, 53.87 (Simone Manuel out in semis, those top five in the final Abbey Weitzeil, Erika Brown, Olivia Smoliga, Natalie Hinds, Catie Deloof)
2016 trials: 53.28, 53.52, 53.75, 53.77, 53.87
What happened Down Under, where the sixth home, in 53.25, was faster than the American trials winner:
2021 trials: 52.35; 52.59; 52.76; 52.92; 53.08 (Emma McKeon on 52.19 in morning heats, the time of day when the heat will be on in Tokyo finals)
2016 trials: 52.38; 52.58; 52.80; 53.54; 54.09
Throw in the odd reminder that others are stepping up, too, such as this at European Championships last month:
GBR – Lucy Hope (53.89) Anna Hopkin (53.59) Abbie Wood (53.90) Freya Anderson (52.79) 3:34.17 Gold
NED – Ranomi Kromowidjojo (53.56) Kira Toussaint (54.61) Marrit Steenbergen (54.13) Femke Heemskerk (51.99) 3:34.29 Silver
So, forecasts are for the trash can of history but impossible not to see an unusually steep mountain to climb in some events at U.S. Trials this week, the women's 100m free among those events where the palette bleeds primary colours.
There was, of course, plenty to celebrate on day 6 in Omaha for Americans, Ryan Murphy top of the bill as the proven force lining up to prove himself again in two Olympic backstroke battles. Murphy was just one of several reasons why the rest of swim planet will now that a U.S. swim team will leave Omaha, confine it all to history and set its sights on the big prize.
Men's 200m backstroke
– Ryan Murphy Books Double defence
Ryan Murphy set himself up for a crack at a double defence of backstroke backstroke crowns. Much history and tradition is said to weigh on his broad shoulders: the U.S. has not lost a backstroke race at the Olympics since it lost both at Barcelona 1992, Mark Tewksbury lifting the 100m crown for Canada, Martin Lopez-Zubero the 200m title for Spain, Americans taking some consolation from the fact that Martin, head coach at the Episcopal School of Jacksonville, Florida, these days, was born in Jacksonville, grew up there and trained throughout his career in the U.S.
Murphy posted a 1:54.20 victory, good for second in the world adrift the 1:53.23 of World champion Evgeny Rylov, who will race under the flag of neutrality in Tokyo because of the whole-nation penalty served on Russia because of the mass manipulation of test-sample data and other issues at the heart of the biggest (in scale, scope, number of sports, involvement of state, including security services, and worldwide headlines) systematic doping scandal since the days of the GDR.
Like Lopez-Zubero, Murphy, 25, is Florida born. He trains with Dave Durden, U.S. Olympic men's coach, in California, and five years ago in Rio he was king of both the 100 and 200. Murphy wants to keep the crowns but he's a double Olympic champion taking a pragmatic approach of the kind required to keep the nerves running cool. Murphy told AP in Omaha: "Obviously, I want to go in there and win. I'm as competitive as anyone. But it doesn't make or break my life."
Bryce Mefford was close to Murphy, a 1:54.79 good for fifth in the world so far this year and the second U.S. ticket to Tokyo. Austin Katz took third in 1:55.86.
Men's 200m medley
– Michael Andrew Sets Up Golden Shot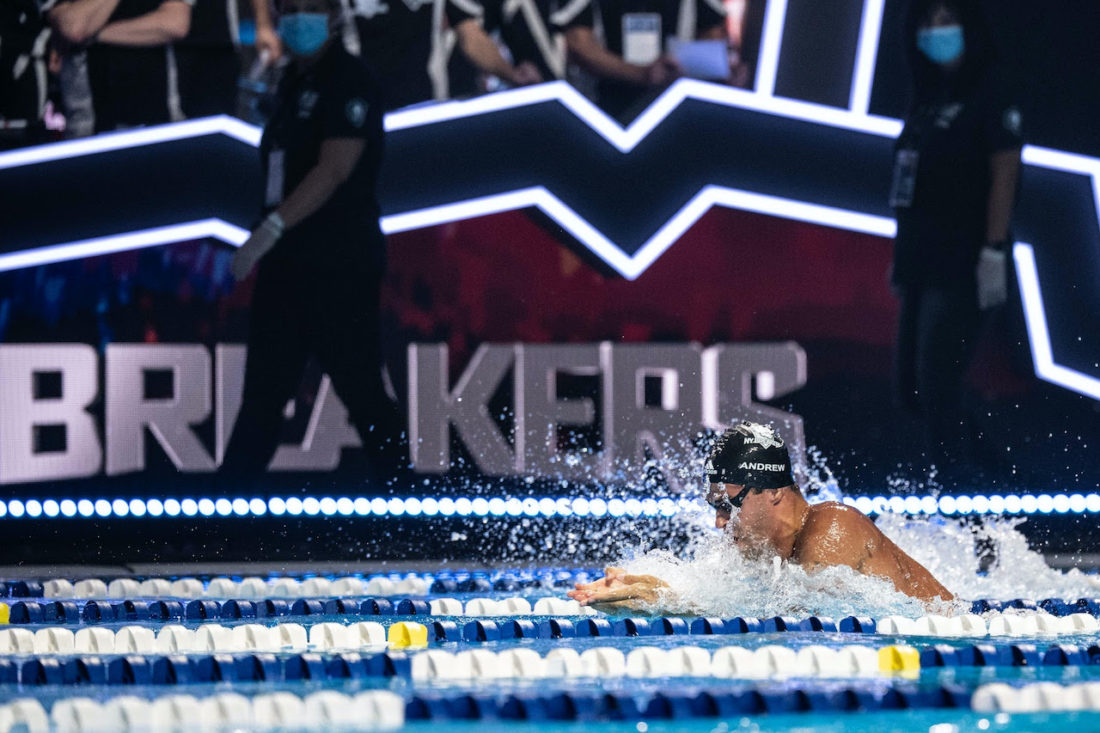 The Team USA tickets went to Michael Andrew, 1:55.44, and Chase Kalisz, 1:56.97. The man they waited on deck to hug deserved their plaudits as he bowed out of contention. Ryan Lochte was doubtless grateful but the hug that will last longest in memory in that moment was that from Michael Phelps, who descended from the stands to comfort and pay tribute to his long-time rival and teammate.
Paul Newberry, at AP, wrote: "After beating only one other swimmer, Ryan Lochte was the last one to climb from the pool. He struggled to lift himself out of the water, undoubtedly feeling all of his 36 years after attempting to make one more Olympic team in the gruelling 200m individual medley. In the end, he didn't come close. There won't be a chance for redemption in Tokyo. After embarrassing himself five years ago in Rio de Janeiro, Lochte's bid for a fifth Olympics ended with a labored, seventh-place finish in the 200 IM at the U.S. swimming trials Friday night."
There will be time for tributes in the long grass. Despite the errors he made in Rio, Lochte served Team USA and American swimming more than well down many a long year. He deserves credit and honour for his achievements, all the more so in a sport and a country where the Hall of Fame includes yet coaches accused of sexually abusing girls as young as 11 but does not includes all Olympic gold medal winners in history, for example.
This 200IM day belonged to Michael Andrew, 14 years Lochte's junior. A touch slower than his heats time of 1:55.26, the best in the world so far this year, Andrew stopped the clock in 1:55.44 ahead of 400IM winner Chase Kalisz, far back on 1:56.97 but close enough for Tokyo ticket No2 and way ahead of Lochte's 1:59.67. No-one came close to the pace of Lochte at his best: 1:54.00, the World record since 2011.
A tearful Lochte told reporters: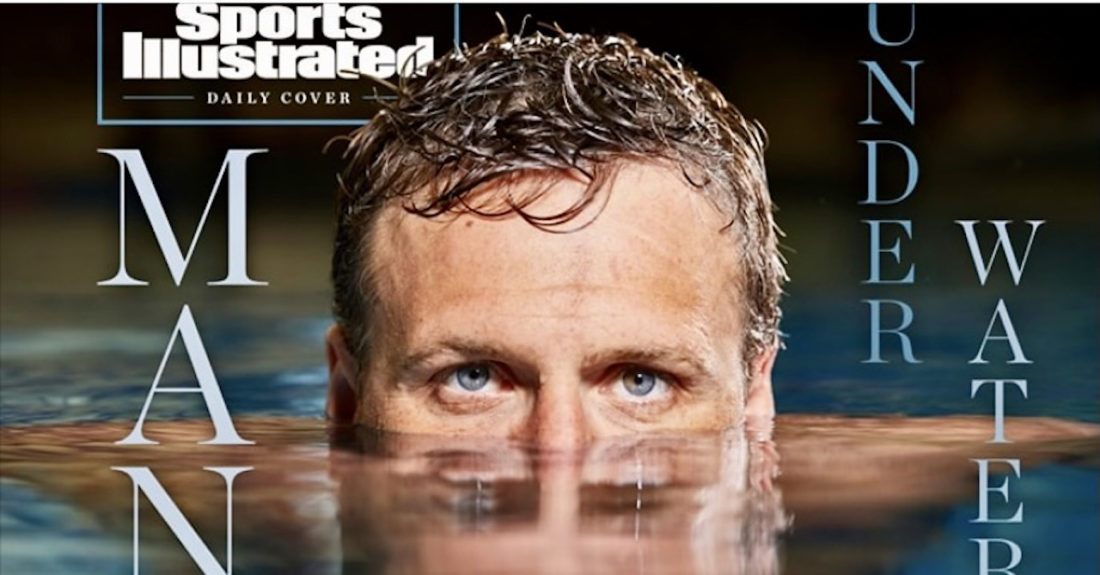 "I really wanted to be on this Olympic team. This is probably my most important swim meet that I've ever had in my entire career, the one that meant the most to me. So falling short and feeling like I let everyone down was one of the hardest things."

Ryan Lochte – on the cover of Sports Illustrated, on video and in pictures crafted by Simon Bruty of SI
He may come to feel differently in time and someone might quietly remind him that the most important moments of his athletic career were the ones unseen, the work with the Gators, mates and Gregg Troy and coaching team of Anthony Nesty, Martin Wilby and others; and the ones very much seen and celebrated during the prime of his career.
A 12-time Olympic medallist with 27 World-championship medals to his name, Lochte lost his sponsors, lost support, three all the good years away on a boisterous night out in Rio with several younger USA teammates. An incident at a petrol station led to the manager accusing the inebriated Americans of urinating in his shop. Lochte lied about being robbed at gunpoint but his story fell apart and it subsequently became clear that Lochte's life had been heading in the wrong direction, complete with bouts of drinking.
On the way to Omaha, Lochte talked about his journey, making amends and making it up to his family. He told Sports Illustrated:
"Everyone around me is putting a lot of pressure on me—more than I've ever had in my entire life. I feel it from everyone. Like my family. The people that live in this house. My agent. It's just everyone. I feel like, if I don't [make it], I'll become a failure."

Ryan Lochte – Ryan Lochte – on the cover of Sports Illustrated, on video and in pictures crafted by Simon Bruty of SI
Lochte married Kayla Rae Reid in 2018 and the couple have two young children. They were all there cheering him on. Their support was a huge comfort, said Lochte: "I had my family there. My kids got to watch their daddy swim, so that means everything to me."
Lochte's not done yet, though Paris 2024 at 40 years of age…? "I still want to race, but as far as another Olympic trials, I don't know about that," Lochte said. "I'll be (almost) 40. That's pushing it."
Said Andrew in tribute: "He's a legend in the water. He's done some incredible things. To share the pool with him is always an honour."
Andrew will now arrive in Tokyo as a medal hope with a shot at gold. His 1:55.26 is fourth all-time on a top 10 ranking that includes seven others still in contention, including Kalisz just below him on a best of 1:55.40 (Pan Pacs title, 2018) and Kosuke Hagino, just about them both on 1:55.07, from 2016. Then there's the second Japanese contender, Daiya Seto, on 1:55.55 (2020), Australian Mitch Larkin, 1:55.72 (2019); the man who had topped the World rankings before Andrew this year, Britain's Duncan Scott, on 1:55.90 and a man with a 46.1-of-a-best-ever 4x100m homecoming split in his box of threats; and China's Wang Shun, the only top-10er over 1:56, on 1:56.16.
Women's 200m breaststroke
– Annie Lazor Takes Top Ticket Ahead Of Lilly King
Olympic 100m champion Lilly King set up a third and possibly fourth event (100, 200, potential two medley relays) in Tokyo with second place behind a delighted Annie Lazor, 2:21.07 to 2:21.75. Lazor missed the top 2 in the 100m by a slither but the 26-year-old from Michigan will make her Olympic debut with a time just 0.3sec shy of her best from 2019, when she got closer than any other American ever has to what remains the American record and sole sub-2:20 in the U.S.: the pioneering 2:19.59 in which Rebecca Soni lifted the London 2012 Olympic title with the first 200m inside 2:20 in a textile suits. then World record
In semis…
Caeleb Dressel, World champion and record holder, led the way to the finals of the 100m butterfly in a 49.76 tub-thumper that screamed catch and match me if you can in the sub-50 club of just one current member and only one all-time when it comes to textile suits.
Another World champion and record holder led the way into the women's 200m back showdown: Regan Smith clocked 2:07.23, Phoebe Bacon closest, on 2:07.46.