Mykhailo Romanchuk 14:39 Gets The Better Of Gregorio Paltrinieri, An Olympic Champ With Weight Of Open-Water Gold In His Wings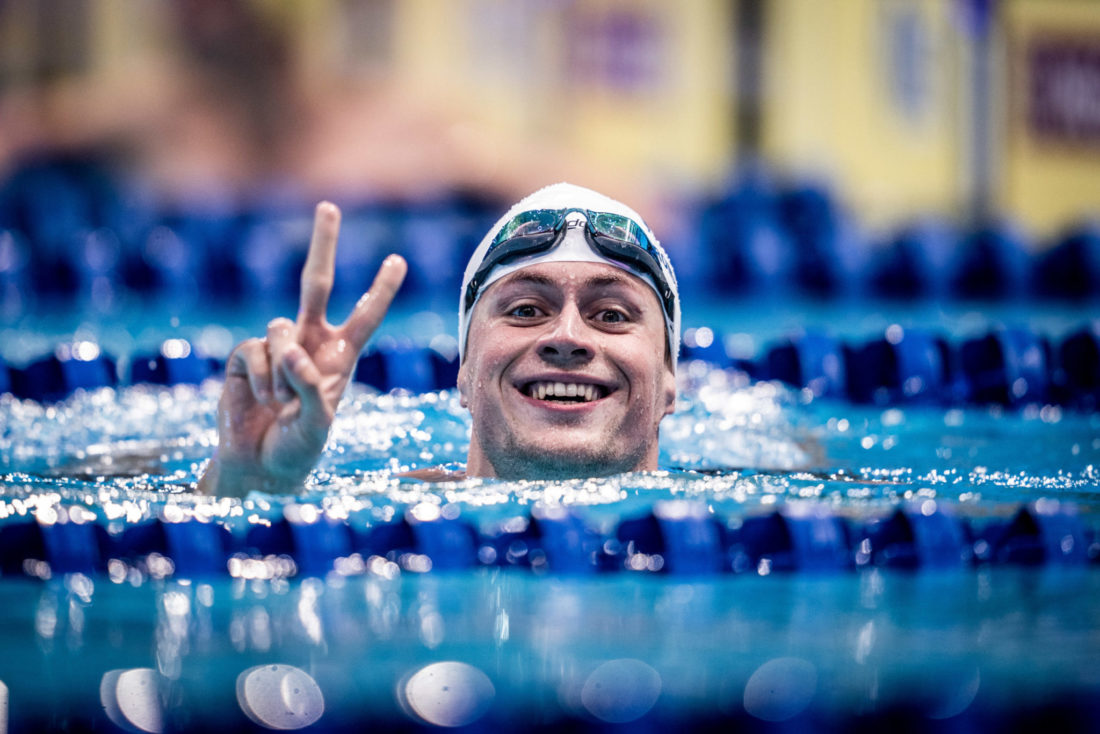 Gregorio Paltrinieri attacked from go and it looked as though the weight of gold in his arms from 16,250km of open water victories for Italy last week had been diluted by rest but Ukraine's Mykhailo Romanchuk was back in touch by 400m on his way to a 14:39.89 victory over the Olympic champion for the first major long-course gold of his career.
Coverage of day 3 finals and semis is limited today, for personal reasons, see two other finals below
Paltrinieri, out on the wing in lane 1, came home in 14:42.91, with teammate Domenico Acerenza, also racing the week after team gold at Lupa Beach, giving Italy two bites of the cherry in 14:54.36 ahead of France's Damien Joly, on 14:56.38, and Britain's Dan Jervis, on 14:58.42.
The Olympic 1500m champion and European record holder (14:33.10) had scraped into the 1500m final after crawling out of the lake with golds in the 5km, 10km and team 5km event with Italian mates last week. He looked tired in heats and though he was a lot sharper today, there was no coping with Romanchuk as he travelled a touch faster that the speed Paltrinieri mustered at Italian Olympic trials (14:40) without the open-water drain on his his tank.
By 400m, Paltrinieri's lead had been boiled down to just 0.47sec, the Italian through in 3:53.98 as Romanchuk started to pile on the pressure. By the 500m mark, the Ukraine challenger who claimed silver at the last three big international outings before the pandemic, took the lead for the first time, on 4:53.23, 0.12 ahead of Paltrinieri.
The 2017 World title went to the Italian ahead of Romanchuk before Germany's Florian Wellbrock claimed the 2018 European title and the 2019 World title ahead of Romanchuk, Paltrinieri taking bronze on both occasions.
At 800m at the Duna Arena, Romanchuk went through in 7:49.96, Paltrinieri refusing to give up the fight 0.93sec adrift. That would remain the biggest gap between the two until 0.97sec split them with 300m to go, after the two-thirds mark split of 8.49.14 kept the Ukrainian 0.53sec ahead. Still, neither man was for yielding.
With 200m to go, the gap was 1.63sec and Romanchuk, with none of the weight of open water in his wings, was charging towards the first major long-course title of his career.
The two men will meet in different circumstances at the Tokyo Olympic Games in July, the pool racing the week before open water, giving Paltrinieri and World marathon as well as 1500m champion Wellbrock, contenders indoors and out, a chance to get the racing between walls done and dusted before taking on a 10km battle (let alone races over 5 and 10km and then 1,250 in the relay in a lake).
Men's 100m freestyle Final – Kolesnikov Crowned In 47.37 Championship Record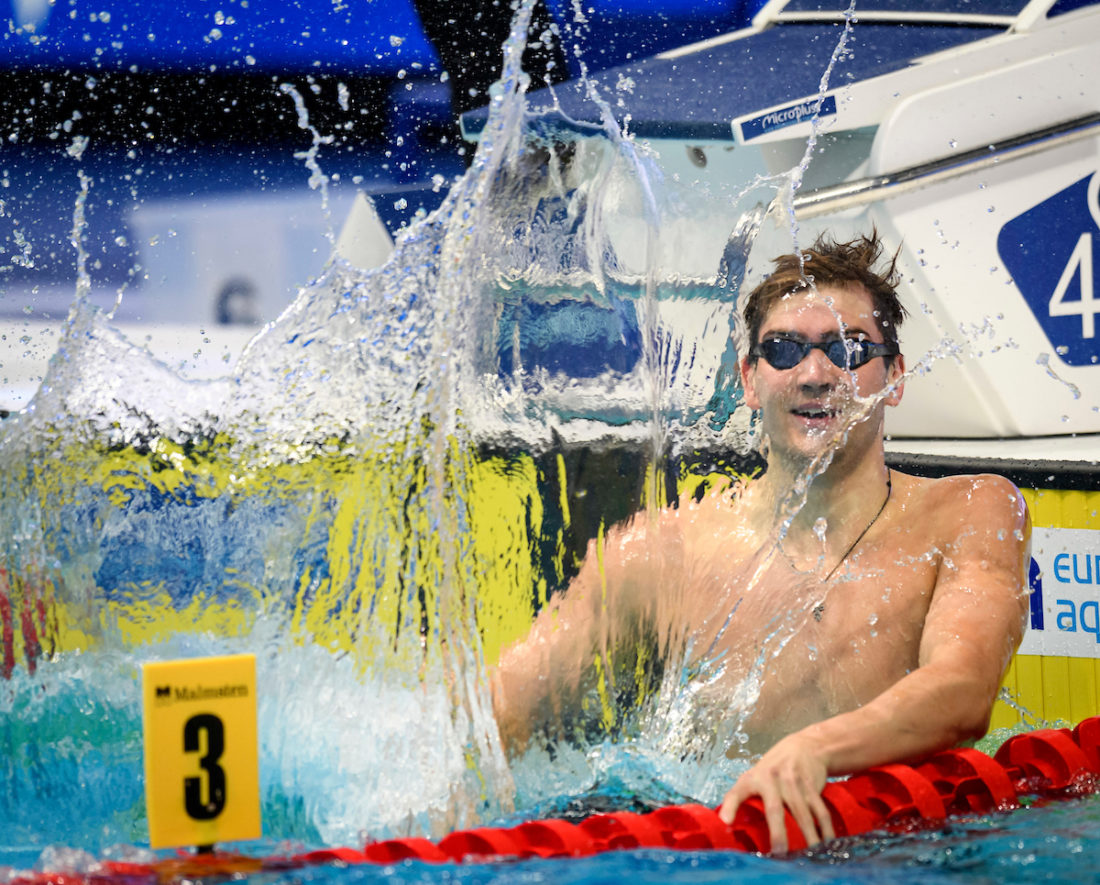 If the Romanchuk vs Paltrinieri fight had indicated that even the most astonishing of endures have their limits, then there was a similar story in the 100m freestyle – or rather what happened next.
Kliment Kolesnikov had to fight with everything he had all the way into the wall for a 47.37 Championship-record victory over two lengths freestyle, as Alessandro Miressi thundered home in his second Italian record in 24 hours, a 47.45 following a 47.53 in semis yesterday. Kolesnikov's 22.50 half-way split, compared top Miressi's 22.70 proved decisive, the Italian clawing back 0.12sec on the Russian on the way home. The bronze took a 47.74, Andrei Minakov making it a Russian 1-3 0.1sec ahead of Hungarian Nandor Nemeth, France's Maxine Grousset the last inside 48, on 47.90.
Kolesnikov – his third gold in as many days in the bag after wins with mates in the 4x100m free and then the 50m backstroke in his second world record of the meet in the dash – then had to sprint to the 100m backstroke semis as defending champion from 2018. Perhaps he knew it before the race: on 52.32 in heats this morning, he clocked 54.86 in the semis: 16th and gone.
The 100m final:
P
L
Nation
Swimmer / DoB
R
50m
Time/2nd
50 split
Gap
1
3
RUS
KOLESNIKOV Kliment
(09 JUL 2000)
0.63
22.50
47.37CR
24.87
CR
2
4
ITA
MIRESSI Alessandro
(02 OCT 1998)
0.70
22.70
47.45
24.75
0.08
3
5
RUS
MINAKOV Andrei
(17 MAR 2002)
0.63
22.83
47.74
24.91
0.37
4
6
HUN
NEMETH Nandor
(19 NOV 1999)
0.61
23.41
47.84
24.43
0.47
5
2
FRA
GROUSSET Maxime
(24 APR 1999)
0.70
23.15
47.90
24.75
0.53
6
1
ROU
POPOVICI David
(15 SEP 2004)
0.68
23.05
48.08
25.03
0.71
7
8
GBR
DEAN Thomas
(02 MAY 2000)
0.66
23.13
48.30
25.17
0.93
8
7
SUI
MITYUKOV Roman
(30 JUL 2000)
0.55
23.55
48.47
24.92
1.10
Women's 100m breaststroke: Gold For Sophie Hansson In 1:05.69 As Sole Sub 1:06-er
Sophie Hansson claimed gold in 1:05.69 ahead of Italians Arianna Castiglioni and Martina Carraro, on 1:06.13 and 1:06.21 respectively. Defending champion Yuliya Efimova* finished fourth.
P
L
Nation
Swimmer / DoB
R
50m
Time/2nd
50 split
Gap
1
4
SWE
HANSSON Sophie
(02 AUG 1998)
0.70
30.90
1:05.69
34.79
2
6
ITA
CASTIGLIONI Arianna
(15 AUG 1997)
0.62
31.45
1:06.13
34.68
0.44
3
5
ITA
CARRARO Martina
(21 JUN 1993)
0.63
31.22
1:06.21
34.99
0.52
4
2
RUS
EFIMOVA Yuliya
(03 APR 1992)
0.77
31.42
1:06.33
34.91
0.64
5
3
GBR
RENSHAW Molly
(06 MAY 1996)
0.69
31.43
1:06.35
34.92
0.66
6
8
GBR
VASEY Sarah
(29 AUG 1996)
0.66
30.79
1:06.42
35.63
0.73
7
7
IRL
MC SHARRY Mona
(21 AUG 2000)
0.64
31.27
1:06.58
35.31
0.89
8
1
EST
JEFIMOVA Eneli
(27 DEC 2006)
0.67
31.31
1:06.83
35.52
1.14
* – swimmer tested positive and received an anti-doping penalty in career