Gregorio Paltrinieri Goes 7:41 For Meet-Mark Italian 800m Title On Trajectory To Shot At Tokyo Olympics Distance Double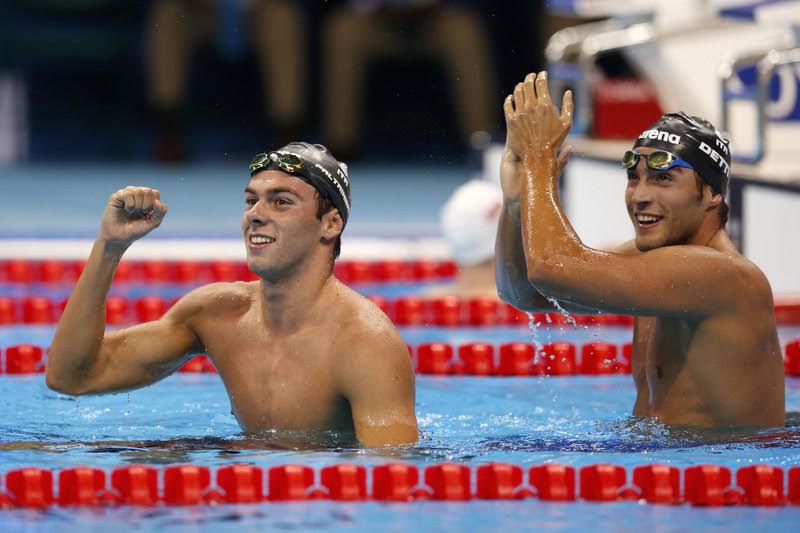 Gregorio Paltrinieri has had to wait an extra year to defend the Olympic 1500m freestyle because of the Covid-19 pandemic but on the way to Tokyo 2020 in 2021, Italy's distance powerhouse is in fine fettle: he set the pace in the first final on day 2 at the Italian Spring Championships in Riccione with a meet-mark victory of 7:41.96 win the 800m freestyle.
Perhaps sensing the fatigue in the men next to him, Gabriele Detti and Marco de Tullio having battled blow-for-blow to 3:44 tickets to Tokyo in the 400m, the 1500m king and World 800m champion was off like a rocket from the go: by 200m, on 1:52.08, he was 1.5 clear of Detti, De Tullio a further two seconds back.
At half-way, Gregorio Paltrinieri had established a strong lead, his 3:47.96 better than all but a line-up of men have gone over a solo 400m so far this year, Detti one 3:51.19, De Tullio on 3:55.22.
There was no coming back from that but Tokyo tickets on the line, it was for all to get from the race what they could. Gregorio Paltrinieri, the Italian record holder in 7:39.27 since he claimed the World title in 2019, went through the 600m mark in 5:45.00, the closest challenger 4.1sec adrift, on his way inside Detti's Riccione record of 7:42.74 from 2014.
Detti, who had his Covid jabs only last Monday because he is a member of a military group (the same priority is given to athletes who are members of police sports clubs), was home in 7:46.58, 0.58sec shy of an automatic berth for Tokyo, De Tullio on 7:50.98. Gregorio Paltrinieri at the helm, all three medal winners can race again at European Championships, under the four-per-nation rule.
In the slower heats ins the morning, Lorenzo Galossi, who turns 15 this year (born in 2006 when Grant Hackett was the man to beat over 800 and 1500m freestyle) and coached at Aurelia Nuoto by Simone Palombi, clocked 8:03.19. That took down one of the oldest surviving domestic records in the world: the previous standard for that age group in Italy, of 8:06.12, was established by Stefano Battistelli at the world championships in Madrid in 1986 on his way to silver in the 1500m freestyle in an Italian record of 15:14.80. Two years later, at the 1988 Seoul Olympic Games, Batistelli became the first Italian man to win an Olympic medal in the pool, 16 years after Novella Calligaris claimed bronze in the 800m freestyle at Munich 1972.
The 800m freestyle will make its Olympic debut for men at Tokyo 2020, as women get to race the 1500m freestyle for the first time. For Paltrinieri, that adds up to three shots at the podium, two in the pool and one in the open water 10km marathon he has already qualified for.
One of the key contenders for medals in both the 800m and 1500m is Italy's Simone Quadarella, who claimed the 1500 World title in 2019 in the absence of defending champion Katie Ledecky, the American having withdrew through illness, but had to be content with silver ink the 800m after Ledecky drew on every strength she had to put in one of the finest, not fastest, performances of her career under challenging circumstances.
Today was a much calmer affair for Quadarella, who is already selected for Tokyo 2020. She retained the 800m freestyle title in 8:23.77, the podium completed by Rita Caramognoli, on 8:26.02, and Giulia Salin, on 8:31.35.
Tokyo Ticket For Federico Burdisso 0.02sec Shy Of His Italian 200 'Fly Record
Federico Burdisso, 20 this year, celebrated a ticket to Tokyo with a 1:54.41 victory in the 200m butterfly that swept him inside target time by more than a second and rattled his own Italian record of 1:54.39 sent at World titles in Gwangju back in 2019 on the last big global peak-performance moment.
Racing for Esercito/Aurelia Nuoto, Burdisso was out in 24.82, at the half-way mark on 53.19, turned for home in 1:23.02 and then held on for dear life, his last length a 31.39 split that delivered victory and passage to Japan.
The podium was completed by Alberto Razzetti in 1:56.10, 0.6sec shy of a Tokyo berth this day but win the plane to Budapest for European Championships in May; and Giacomo Carini, on 1:57.42.
Budapest At Best For The Rest of The Ticket Chasers
There were no Tokyo tickets in the men's 200m backstroke but Lorenzo Mora, on 1:57.23 for the crown, was good for passage to Budapest and three European Championships in May. The minor spoils went to Matteo Restivo in 1:57.69, just 0.19sec shy of the Budapest target, and Christopher Ciccaresse, on 1:58.44.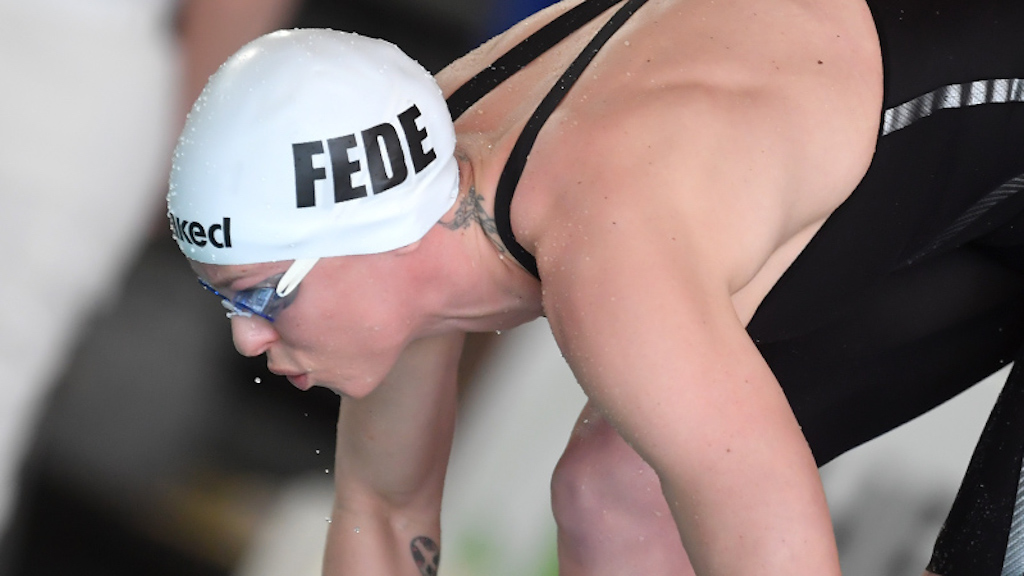 The target time in the 100m at 53.6, Federica Pellegrini's 53.86 victory and title was just shy but the premium Italian asset and 200m living legend with eight World Championship podiums in her vault for the four-lengthy freestyle alone, will be in Tokyo anyway.
The next three home as possible relay contenders were 17-year-old Chiara Tarantino, 54.90, Silvia di Pietro, 54.97, and 50m champion Costanza Cocconcelli, on 55.06.
The top two in the men's 100m freestyle will race at Budapest Europeans but neither Alessandro Miressi, GS Fiamme Oro/CN Torino, on 48.34 off a 22.95 split, nor Thomas Ceccon on 48.50 (23.41), got down to the 48.2 target for Tokyo.
Chances are, they will be there: Italy has a strong 4x100m freestyle squad building, Manuel Frigo taking bronze today ion 48.83 (23.26), followed by efforts of 48.92 from Lorenzo Zazzeri and 49.00 and 49.14 for Leonardo Deplano and Alessandro Bori. That left former Canadian international Santo Condorelli out of contention, on 49.15.
Budapest Europeans was the prize today for Francesca Fangio and Lisa Angiolini after a stroke-for-stroke battle in the 200m breaststroke final. It ended in Fangio's favour 2:25.10 to 2:25.16, bronze to Ilaria Tongi in 2:28.83.
There were no tickets to either big two senior meets this summer in the women's 200m butterfly, the crown going to Ilaria Cusinato in 2:09.75, a touch ahead of Antonella Crispino, on 2:09.80, the battle for bronze going to Anna Pirovano in 2:10.33.