Nicolo' Martinenghi Marches To Third All-Time With 58.37 Italian 100m Breaststroke Blast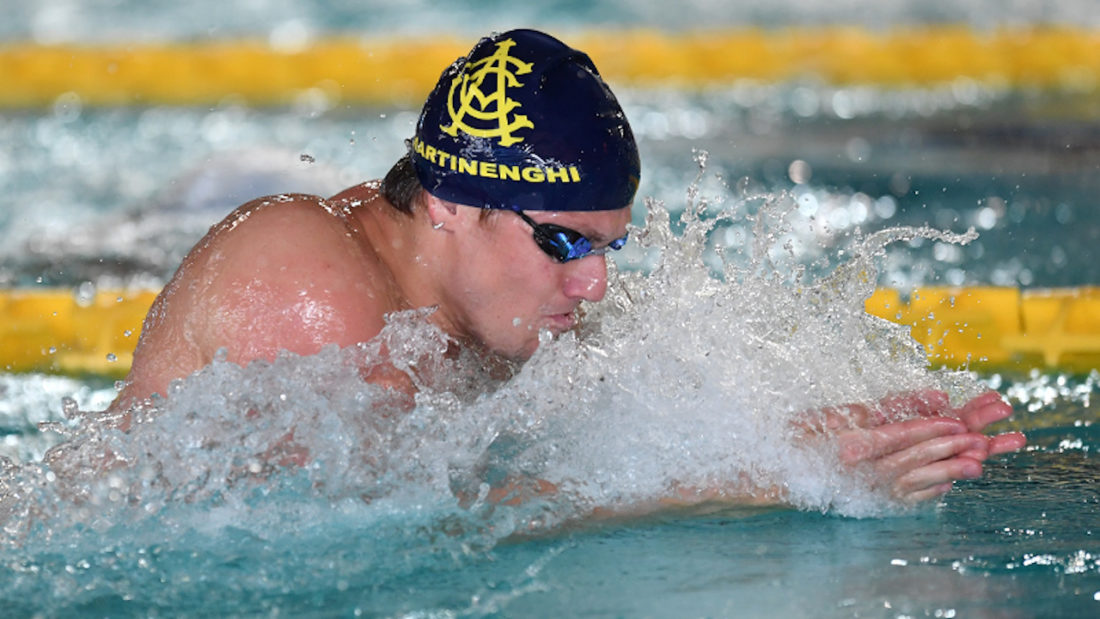 Nicolo' Martinenghi made the breakthrough he's been working towards with a thumping 58.37 Italian-record victory in the 100m breaststroke at Spring Swimming Championships in Riccione.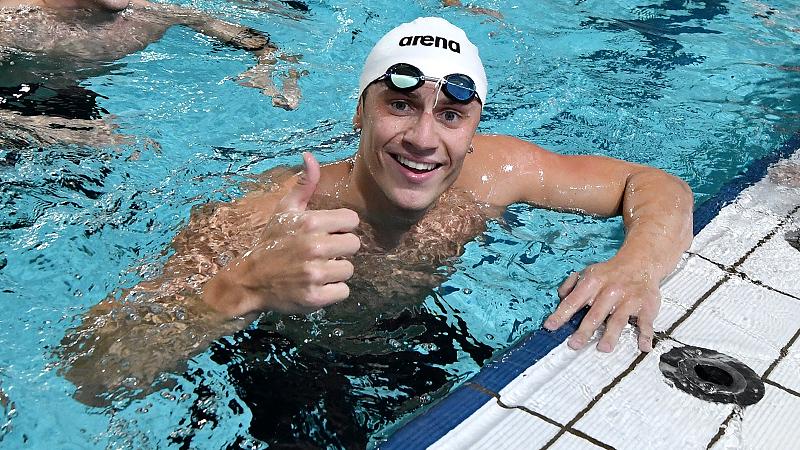 Needless to say, a time that makes him the third-fastest man ever in the event also stamped a ticket to the Covid-19 delayed Tokyo 2020 Olympic Games.
On a 59.01 in heats, not far shy of his 58.75 Italian record from 2019, Nicolo' Martinenghi hinted at what was to come. Out in 27.28, he was home in 31.09 for his new 58.37 high bar at the helm of sub-minute podium.
Alessandro Pinzuti took silver in 59.72, the bronze to Federico Poggio in 59.92.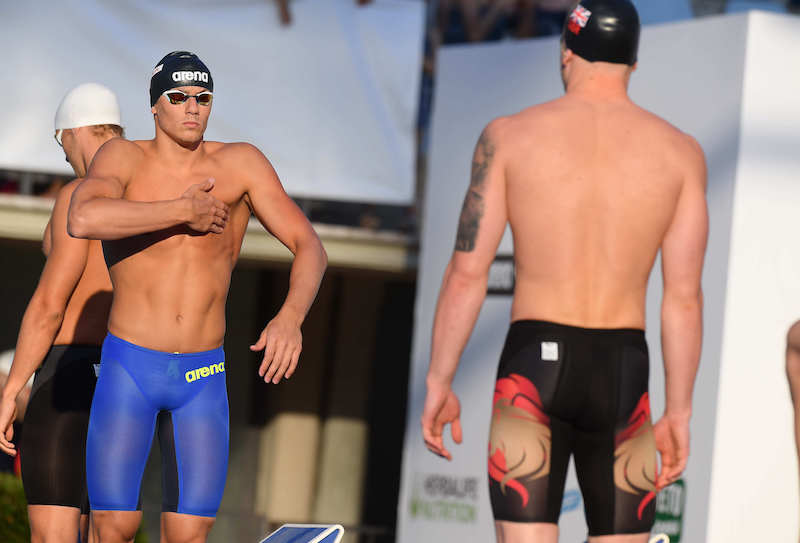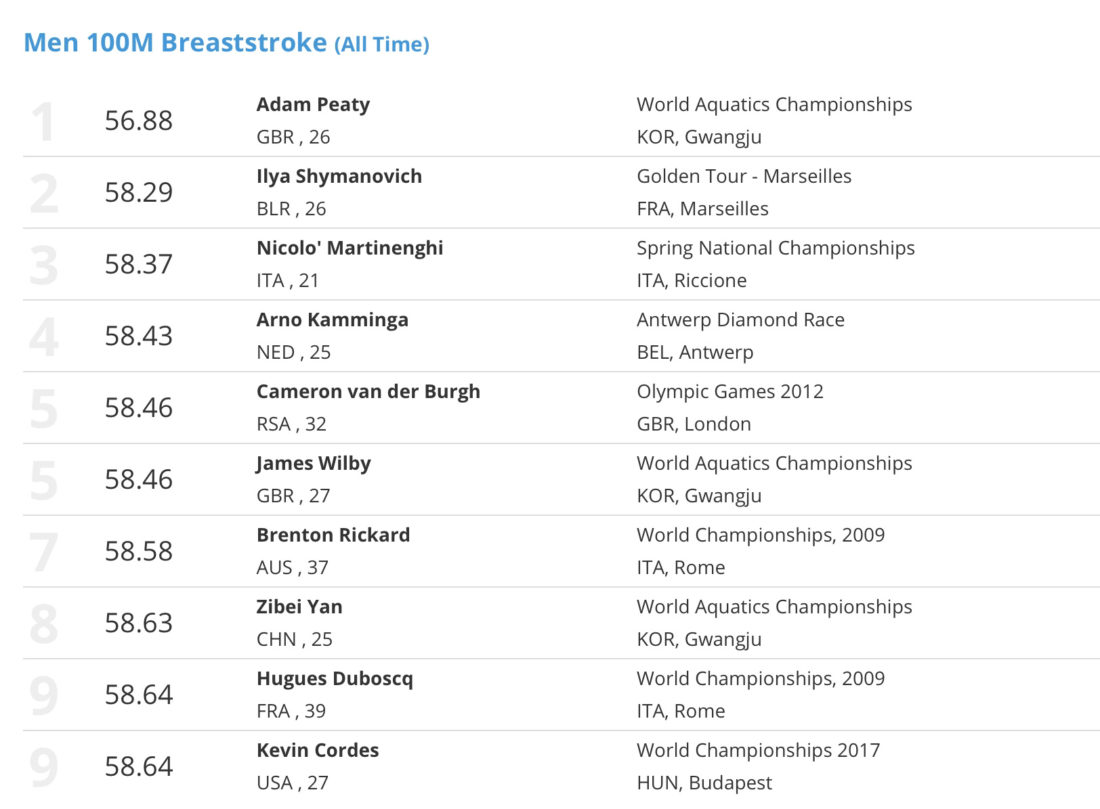 The stunning World record of 56.88 set by 2016 and reigning Olympic champion Adam Peaty, of Britain, on his way to a World crown retained for a record second time in 2019, and a 59.29 from Ilya Shymanovich on Golden Tour in France in the same year are now the only top performances that top Nicolo' Martinenghi at his new best. After Martinenghi comes Dutch challenger Arno Kamminga and his 58.43 from last year.
On the all-time performances list, a No3 performer might expect to be in the top 10. But then Adam Peaty doesn't leave much room for others: Nicolo' Martinenghi enters the top 20 at No 20, Shymanovich having one entry at No18, the best 17 ever belonging to the Brit outer-orbiter (he has one other entry twixt Shymanovic and Martinenghi.
The Italian's advance demoted from the all-time top 20 a 58.41 from Peaty, who owns a staggering 40% of the top 100 all-time performances over 100pm breaststroke; Kamminga, 2012 Olympic champion Cameron van Der Burgh, on 58.46 in London, and a match of that by James Wilby for silver behind his British teammate at Gwangju World titles.
From the Archive – June 2017, Rome
When Adam Peaty Met Nicolo Martinenghi For The First Time
In the summer heat of the Foro Italico at the Sette Colli meet in Rome back in 2017, the Eternal City witnessed the first clash of Adam Peaty and a junior on the rise, Nicolo Martinenghi.
Peaty saw off the young pretender in the 100m breaststroke in a time of 58.72 that far exceeded what he was producing this time in 2016, weeks away from his mind-boggling 57.13 world record en-route to Olympic gold.
Such was his popularity in Rome that he could not be found for the medal ceremony, his journey from pool to swim-down delayed by numerous photo requests, all of which he accepted with a smile.
For Martinenghi it was a new national record of 59.31 and also a world junior mark, his time yet to come on this evidence.
Peaty will lead an attack – not defence – of his titles in Budapest in July, defence not positive or proactive enough a prospect for the Briton, coached by Mel Marshall at the National Centre, Loughborough.
He did not have a great start and was down but made his way through to lead at the halfway stage, 31.50 to Martinenghi's 31.77.
But it was on the second length that Peaty underlined just why he is the pioneer he is, moving away to win in a meet record of 58.72, Martinenghi eclipsing Fabio Scozzoli's mark by 0.9secs.
At the moment it seems few people can get near Peaty both in and out of the pool, the Briton missing when his medal ceremony was being announced such is his popularity and willingness to respond to requests of fans.
The man on the microphone joined in the fun – "Peaty, come out" he implored and on the count of five he exhorted the crowd to shout "Adam".
When he did appear Peaty was happy given he is still in hard training and has packed on the muscle, saying:
"Very satisfied. Last year before Olympics at the same time of year I went 59.5 so it is looking very good for World Championships.

"I have put a lot more muscle on so I need more rest to swim fast but it's looking very good.

"For me it's all about racing, all about racing the young guns and he gave me a good fight this evening.

"But it's all about trying to find areas I can improve and just like last year and the year before and the year before as soon as I rest I get really fast.

"Carrying this much muscle in the water every time I race is quite hard but it's looking good for World Championships."

Adam Peaty
For Martinenghi, the national record was something he was not expecting.
"I am very satisfied and surprised to have claimed the Italian record," he said. "The hard training has given its fruits – this was a race to break my limits.