Margherita Panziera Punches Tokyo Ticket With 2:05.56 Italian Record As Gabrielle Detti Vs Marco De Tullio Blow-by-Blow Delivers Brace of 3:44s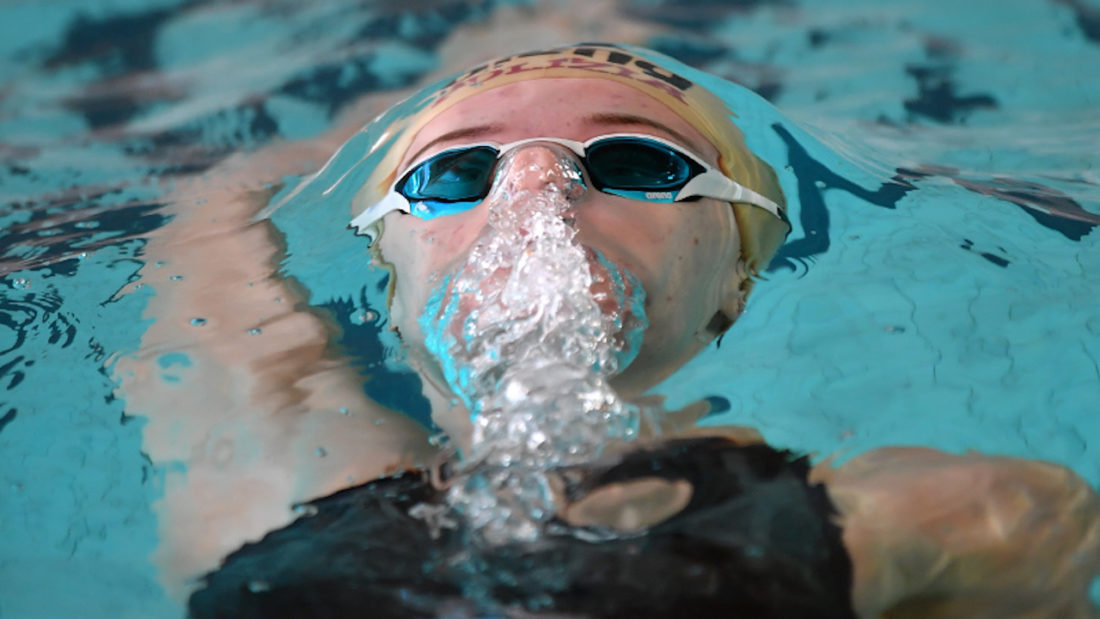 Margherita Panziera punched a ticket to the Covid-delayed Tokyo 2020 Olympic Games with a 2:05.56 Italian record and two flew inside the 400m freestyle target – Gabriele Detti and Marco de Tullio both on 3:44s on the first day of action at National Swimming Championships in Riccione. In an oddity of the Italian selection policy, Sara Franceschi was also granted a ticket to Tokyo on 4:37.06 in the 400m medley, despite a time limit of 4:37.0, the result rounded up, or down …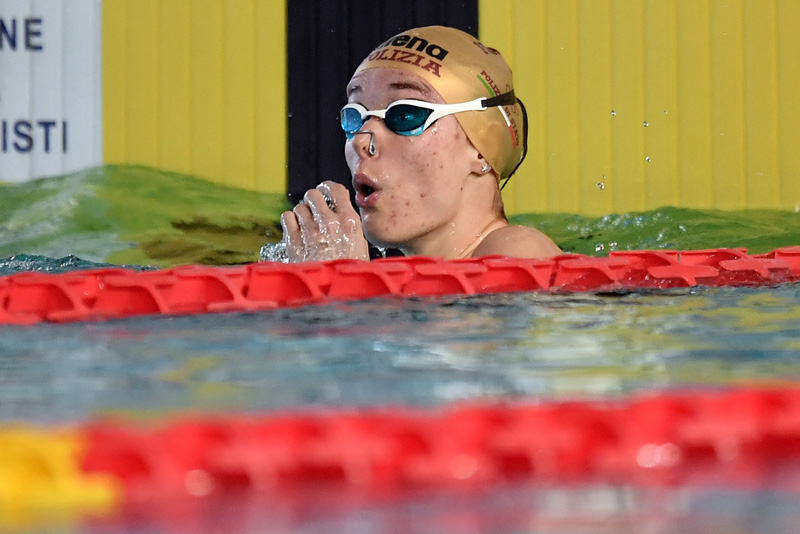 Panziera, 26 and racing for GS Fiamme Oro/CC Aniene, was out in 30.11, reached half way in 1:01.88 (31.77) and turned for home in 1:33.82 (31.94) before confining her 2019 the Italian record of 2:05.72 to history with a 31.74sec last length. Her new high of 2:05.56 rocketed her inside the 2:08.50 target she needed for Olympic selection.
Panziera's 2021 World No 1-ranked performance* left her high-fiving a rise top the all-time rankings to fourth best in textile, behind Americans Regan Smith (2:03.35) and 2012 Olympic champion Missy Franklin (2:04.06) and Australian Kaylee McKeown, on 2:04.46 for World No 1 ranking last year. All suits, Panziera is now No6 all-time.
No-one came close to the 2018 European Champion, the podium completed by 16-year-old Erika Gaetani in 2:11.80, and Martina Cenci, on 2:12.20.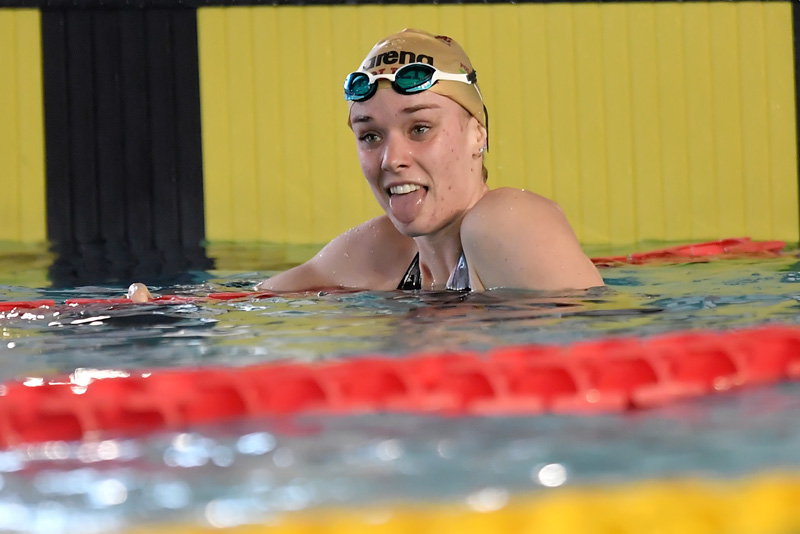 After Margherita Panziera, who in 2019 suffered Cytomegalovirus (see story below), stopped the clock in record time, she said:
"It was a totally unexpected record. Let's say that I arrived a little more energised than my team-mates because I already had the Olympic qualification. In the water I felt good but we didn't think so good; we take it as a good starting point for this season. I feel ready for all the next big national and international events. Apart from Covid, I am quite happy this year: I believe I can do very well."

Margherita Panziera –photo © Andrea Staccioli/Deepbluemedia/Insidefoto – courtesy of FIN, the Italian Swimming Federation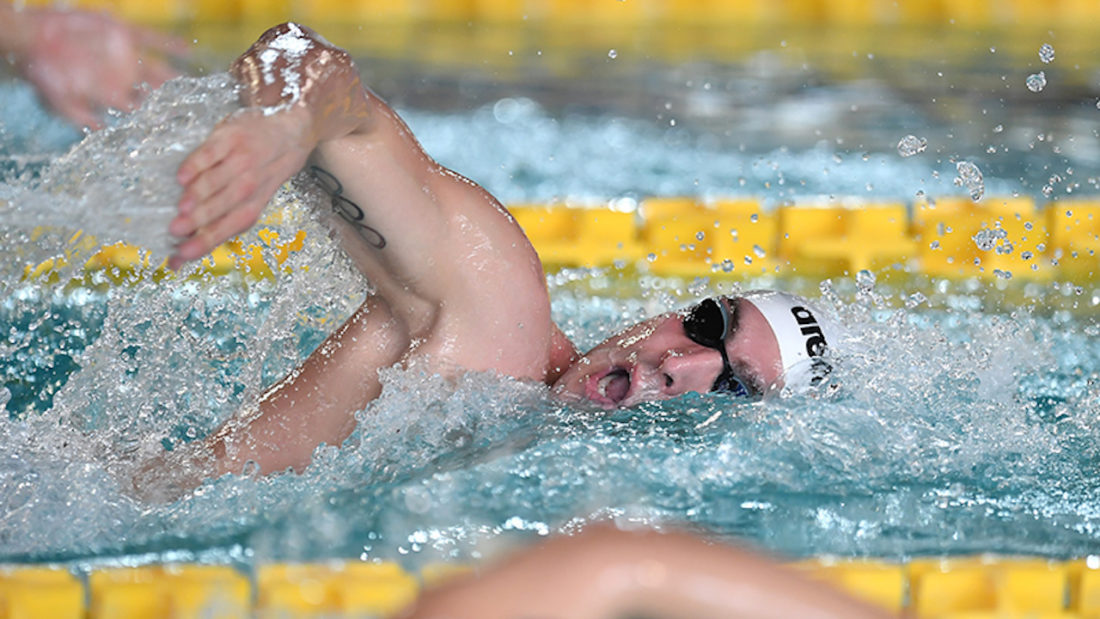 The next two tickets followed swiftly on Panziera's heels. In the 400m freestyle, the target time set at 3:46, Gabriele Detti, the Olympic and World bronze medallist racing for Esercito/In Sport Rane Rosse, made the first 100m, on 54.91, the last one in the race where he was not ahead. Marco De Tullio, GS Fiamme Oro/Sport Project ssd, turned in 54.68, felt the determination of Detti down the next length but refused to yield all the way home.
Detti turned in 1:52.13, De Tullio in 1:52.33 at half way. By 100m to go, it was Detti 2:49.24 to De Tullio 2:49.56. De Tullio then put in a 27.98 length to Detti's 28.24, the gap between then just 0.06sec. Detti was having none of it; and neither was De Tullio. The sprint for the wall left Detti delivering the decisive punch, 27.17 to 27.20, 3:44.65 to 3:44.74, World No 1 and 2 ranking for 2021. The bronze went to Matteo Ciampi in 3:47.61.
The race marked the biggest clash for Detti and De Tullio since World Championships in July 2019, when Detti took bronze in what remains the Italian record of 3:43.23, De Tullio in fifth on 3:44.86, today's effort marking a personal best for the domestic challenger to the national thrown. Said Detti:
"It is always fun to compete with Marco De Tullio, he's much younger and that's a big incentive for me not to lower my guard. We have fun, both in training and in competition."
Detti revealed that he had his Covid jab on Monday, confirmation that some athletes are being placed ahead of more vulnerable members of society in general as the Tokyo 2020 Olympics loom and the majority of over-60s have yet to be vaccinated in Europe. Italy has a population of 60m, of which almost a third are 60 and over; around 8 million have so far received a vaccine. The explanation is as follows: athletes who are members of clubs linked to the military and police in Italy have priority through those connections, not their sports status.
Detti noted through FIN:
"On Monday I had the vaccine, then I had a little fever but now it's okay. I was hoping to get to these races a little more relaxed. But my preparation had been very good. We hope to close the qualification pphase in the 800, so we can get to work with greater peace of mind. I'm missing race practice [because of Covid restrictions]. Training is important but if you don't race, you lose the sensation in the water. It is a matter of mind ver matter."

Gabriele Detti
De Tullio echoed those sentiments, saying: "Beating Gabriele Detti is not easy. We also challenge each other in training. I'm glad I got rid of the thought of qualification. I'm happy with the race … I also swam my best. "
Close Calls For Quadarella, Franceschi (Tokyo ticket granted despite 0.06sec beyond limit) & Zazzeri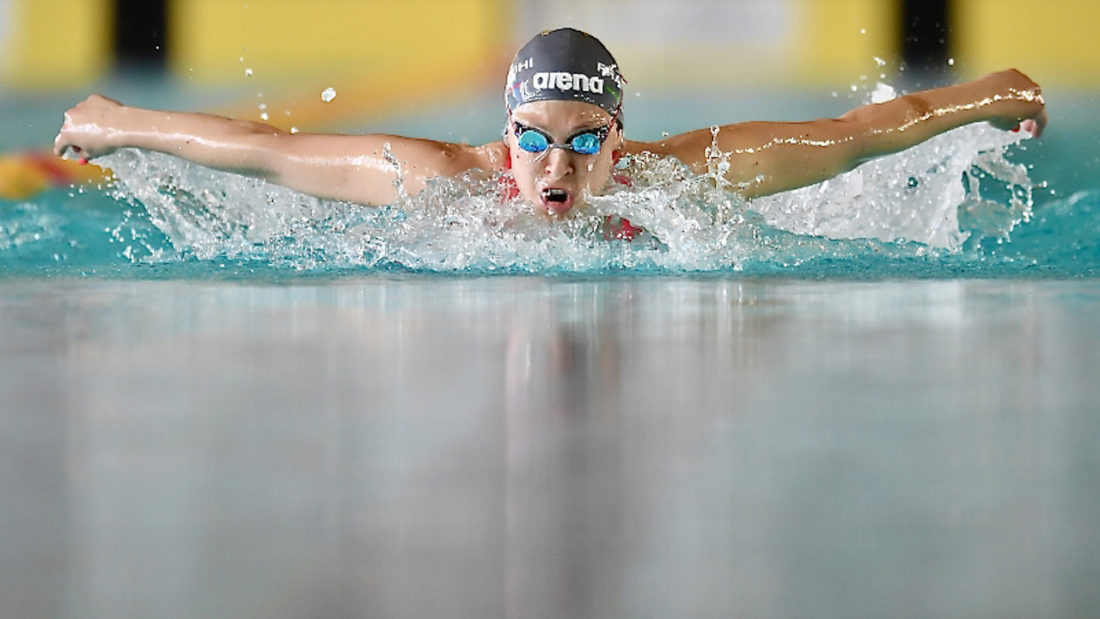 There were no other immediate tickets to Tokyo on the day, though Simona Quadarella was one of three close calls, with Sara Franceschi and Lorenzo Zazzeri, the World 1500m freestyle champion racing for CC Aniene on 4:06.49, No 4 in the World in 2021 and just shy of a 4:06.20 goal at the low end of her range of her distance freestyle powers. Quadarella had the company of Martina Caramignoli for much of the race, silver gone in 4:08.39, the bronze to Giulia Salin in 4:11.04.
Franceschi was the closest call of all on the day – and, as it turned out, her close call led to a call by selectors to ignore the specifics of the clock, the Italian federation announcing that Franceschi had indeed landed a Tokyo ticket. The 21-year-old racing for Fiamme Gialle/Livorno Aquatics ssd fell 0.06sec shy in the 400m medley, on 4:37.06, via splits of 1:04.26, 2:14.95 and 3:33.01. Only 0.06sec the wrong side of a time limit is, apparently, not shy at all. The size of Franceschi's victory and improvement left mono room for begrudging her selection and achievement. She said:
"What a joy! I didn't expect it either. The idea was to win and qualify for the Europeans (in Budapest in May), then the Olympic ticket even arrived. I was very lucky to have been able to train even in this particular period and I thank the coaches, the club and the federation. It will be my second Olympics, in the first I was very young, so this will have a particular flavor and importance."
The podium was completed by Ilaria Cusinato, on 4:40.58 , and Carlotta Toni, on 4:44.04. Franceschi celebrated a 3sec personal best and sub-4:40 debut, as well as a ticket to Budapest for European Championships in May and an early season World Rank No 3 so far this year.
Zazzeri's 21.89 victory in the 50m freestyle left him inside the qualifying time for Budapest European Championships in May, when the Esercito/Rari Nantes Florentia sprinter will have another shot at Olympic qualification. Today, he was 0.19sec shy of a ticket to Tokyo but champion by a comfortable margin and No3 on the early 2021 World rankings. Silver went to Leonardo Deplano in 22.11, the bronze to Alessandro Bori in 22.15.
In other finals, the women's 50m freestyle crown went to Costanza Cocconcelli, 18 and racing for Fiamme Gialle/Nuoto Cl.Azzurra 91, in 25.04, 200m freestyle living legend Federica Pellegrini just 0.03sec away for silver, a bronze each for Silvia Di Pietro and Chiara Tarantino, both on 25.19
Edoardo Giorgetti, GS Fiamme Oro/CC Aniene, took the 200m breaststroke title in 2:10.93 ahead of Andrea Castello and Alessandro Fusco, on 2:11.16 and 2:12.56 respectively, while the 400m medley crown went to Pier Andrea Matteazzi, Esercito/In Sport Rane Rosse, in 4:15.80, the podium completed by Pietro Paolo Sarpe in 4:19.42 and Federico Turrini in 4:21.06.
Margherita Panziera & A Different Virus
Margherita Panziera's 2019 season was hit by cytomegalovirus, Italy's European backstroke champion revealed in late 2019.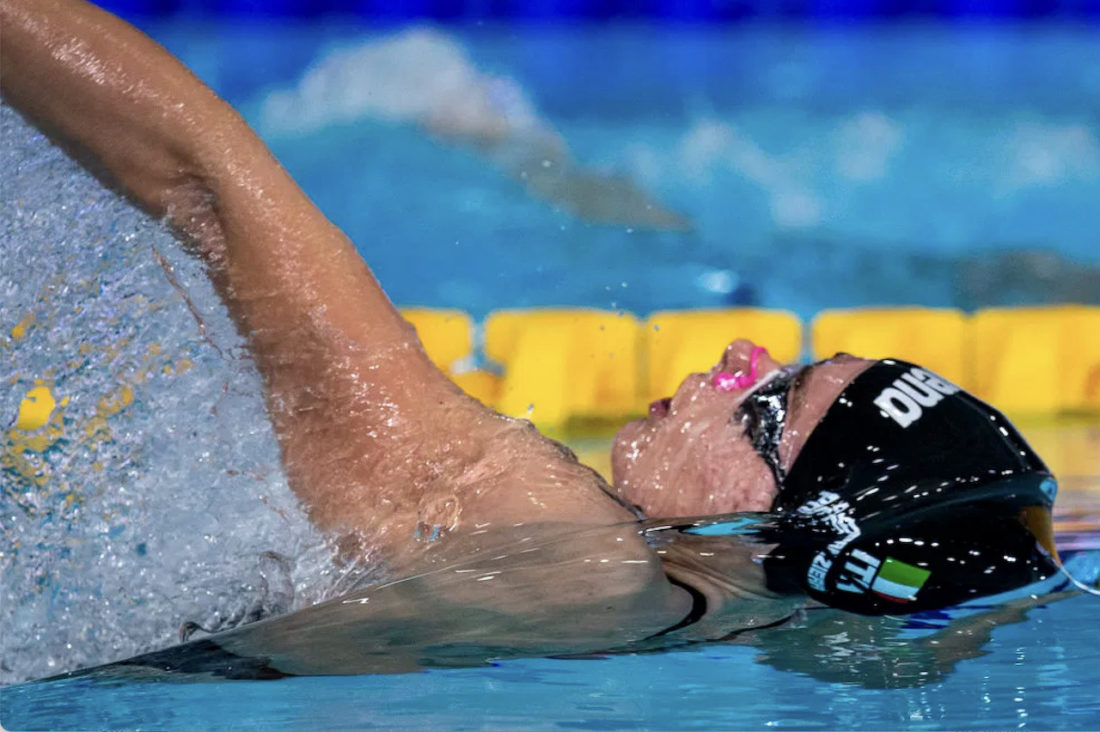 Panziera was not far off her best at the World Championships in Gwangju, Korea, back in July 2019. Even so, after a summer break, she was still not feeling her old self. Tests taken between June and September revealed the presence of the virus. She told Italian media:
"In September, I was tested and found that in June I had cytomegalovirus, so I was debilitated for quite some time. It's definitely not an excuse, but in Korea, I was not in top form."

Margherita Panziera – photo by Patrick B. Kraemer
Cytomegalovirus (CMV) is a common virus. Once infected, the body retains the virus for life. Most people don't know they have CMV because it rarely causes problems in healthy people. If the immune system is weakened for any reason, the virus can break out, fatigue among symptoms.
In July 2019, after clocking 2:06.62 for third best through to the 200m backstroke final in World-championship semis that witnessed a 2:03.35 World record from American Regan Smith, Panziera finished fourth in 2:06.67, 0.05sec shy of the podium (100m champion Kylie Masse, of Canada, claimed bronze) and 0.41sec shy of silver (Australian Kaylee McKeown), Smith a world apart on 2:03.69 for the crown.
Panziera told La Nuova that she was "hot and thirsty for revenge" on the circumstance that held her back in 2019
"I want the failure to medal at the worlds to drive me on in Tokyo."
That desire manifested itself with three lifetime bests at the European short-course championships in Glasgow at the end of 2019. Panziera, who read Marketing at the Libera Università Internazionale degli Studi Sociali "Guido Carli" (Luiss) private university in Rome, ended her year with gold, courtesy of victory in the 200m backstroke. There were also personal bests in the 100m backstroke and 200m freestyle.
Panziera, who celebrated New Year into 2020 in Malta, described her coming season of intense training under the guidance of Italy head coach Stefano Morini on foreign tour at altitude in the United States as "seven months of intense beauty".
– * – Long-course rankings have traditionally, for almost half a century, been contained and counted in calendar years. The modern competition calendar and global reach of the sport makes that point all the more important in assessing rankings and the thread of progress in the pool year-in, year-out for decades.