Bruno Fratus Cleared For Take Off As Brazilian Nationals End With 16 Men & 2 Women Confirmed For Tokyo Olympics; Gustavo Borges Honoured; Calvelo Suspended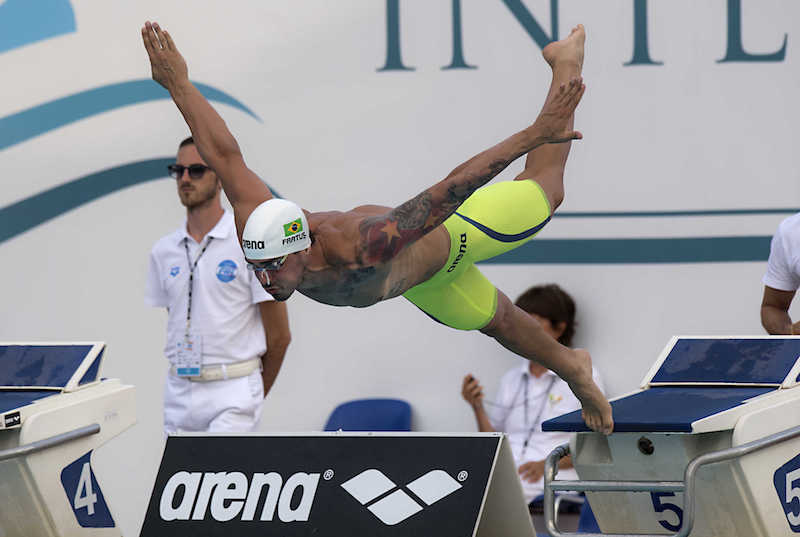 Six days of Brazilian Swimming Championships came to a close in Rio de Janeiro with 16 men and just two women with a ticket to the Covid-pandemic-delayed Tokyo Olympics in their hands.
Five more time cuts were achieved on the last two days of after six days of racing, the final day of racing also delivering confirmation that Bruno Fratus, with a time he clocked at the Mission Viejo round of the Pro-Swim series in the U.S., has been added to the team for the Games in July.
Fratus, who has had to wait to hear whether his effort would be good enough for Brazilian selection, said: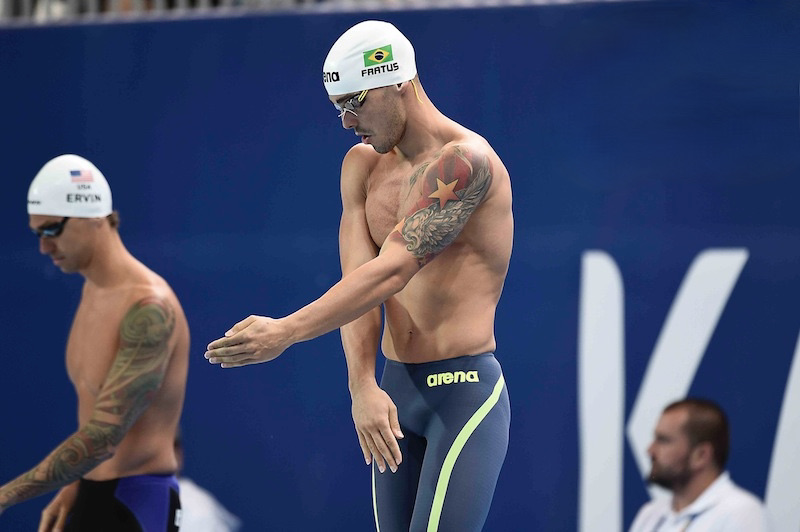 "It's hard to watch events from where the action is taking place in the pool, where you can control things. Since making the time cut in California I've been confident but not comfortable. It's been two week of having to control my anxiety, but it worked out well. I'm back in training and focussing on Japan."

Bruno Fratus
In the end, Fratus sailed it with his 21.73 from the heats of the dash at Mission Viejo – and the 21.80 in the final that Brazil now counts). In Rio, the 50m free was topped by Pedro Spajari in 22.04.
There was controversy and irony in the mix as the meet drew to a close: the Brazilian Confederation of Aquatic Sports (CBDA) announced late Friday that André Calvelo had returned an adverse analytical finding and had been placed on provisional suspension. Calvelo won the 100m freestyle at trials this week in a sharp low 48. His positive test came from an out-of-competition visit on March 18. The B sample of the test is now being processed. As things stand, Calvelo is off the team, his place taken, via time trial, by Gabriel Santos, who returned a positive test in 2019 but had the case dismissed by the Court of Arbitration for Sport – ruling in full.
For Brazil, the news of Calvelo's test deals another blow to a nation with the second-highest level of positive doping tests in swimming in the past decade, after Russia.
Gustavo Borges Enters Brazilian Hall Of Fame
The final day of action in Rio also delivered better news: Gustavo Borges, the Olympic silver and bronze medallist for Brazil at the 1992, 1996 and 2000 Olympic Games, has been honoured with a place in his country's new Hall of Fame.
Borges received his award on the cusp of the last session at the Parque Aquático Maria Lenk. The 10th induction into the fledgling Hall, Borges, speaking through the CBDA, said: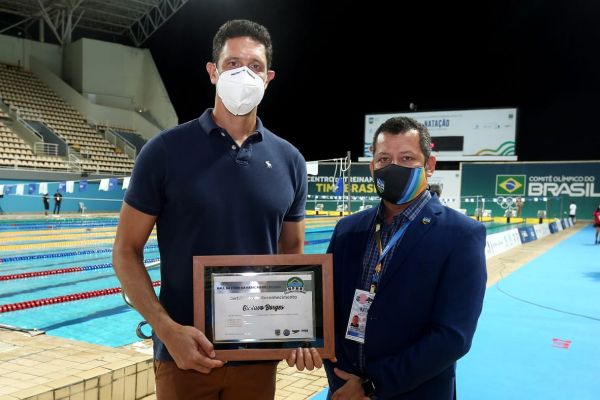 "The Brazilian Swimming Hall of Fame has honoured some great names and its an honour to be a part of that group. I'm thankful for the honour and the recognition, all the more so for it to have happened during an event as important as the Olympic trials."

Gustavo Borges – image, Borges, left, honoured with Brazilian Hall of Fame induction – courtesy of CBDA, photo by Satiro Sodré/SS Press
The owner of four Olympic medals, Borges stepped on to 35 international podiums for Brazil, 12 gold, 14 silver and 9 bronze medals at Olympic, World and Continental/Regional levels.
His haul started with gold in the 100m free and 4x100m free at the 1991 Pan Am Games in Havana, Cuba. The following year marked his big arrival in Olympic waters, with silver in the 100m freestyle behind a man who would become a double-double Olympic sprint champion, Alex Popov, of Russia.
Four years later, at Atlanta 1996, Borges took silver in the 200m freestyle behind Danyon Loader, of New Zealand, and bronze in the 100m behind Popov and Gary Hall Jr., of the USA. Borges completed his set of Olympic medals with bronze at the Sydney 2000 Games with mates in the 4x100m freestyle.
Along the way, there were bronze medals in the 100m and 4x100m freestyle at the 1994 World Championships in Rome, the World short-course title over 100m free at the inaugural championships in Palma de Majorca in 1993, followed by gold in the 200m free and the 4x100m free at a home World s/c gathering in a temporary pool in Copacabana Beach in Rio in 1995. Two years on, Borges became the first to retain the 200m freestyle title, at Gothenburg, Sweden, in 1997. He wasn't done in the little pool of global waters: in 2002 in Moscow, he claimed silver in the 200m freestyle.
At Pan American Games, Borges claimed eight golds, six silvers and three bronzes between 1991 and 2003, while the Universiade, World Student Games, delivered silver medals in the 100m free and 4x100m free at Fukuoka 1995.
A fine career celebrated in Rio (you can read more at the CBDA) as Olympic trials came to a close with the following swimmers having achieved Tokyo time cuts and guaranteed a place on Brazil's Olympic swim team (there is a chance for others to join the team yet):
Women:
Beatriz Dizotti – 1500m free
Betina Lorscheitter – 1500 free
Men: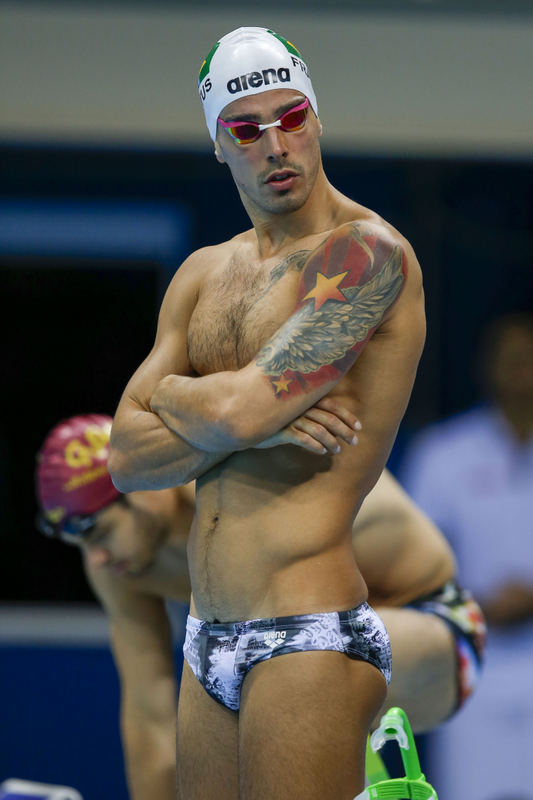 Guilherme Costa – 400, 800, 1500m free
Felipe Lima – 100 breaststroke, 4×100 medley
Fernando Scheffer – 200 and 4x200m free
Breno Correia – 200m, 4×100 and 4×200 free
Murilo Sartori – 4×200 free
Luiz Altamir – 4×200 free
Guilherme Basseto – 100 back, 4×100 medley
Guilherme Guido – 100 back
Leonardo de Deus – 200 butterfly
Pedro Spajari – 100m freestyle
Gabriel Santos – 100m freestyle
Marcelo Chierighini – 4x100m free
Caio Pumputis – 200 medley
Vinicius Lanza – 200 medley
Matheus Gonche – 100 butterfly
Bruno Fratus – 50 free
The last day of racing in Rio delivered two more time cuts, for Matheus Gonche, on 51.94 ahead of Kayky Mota's 52.11 in the 100m butterfly, and Gabriel Santos, in the 100m free time trials held to determine relay line-ups but also the solo event. Santos clocked 48.49sec in the time trial and will be in both individual and relay events in Tokyo, the solo as a result of the temporary suspension of André Calvelo.
There may be more women heading for the Tokyo team to, courtesy of a 4x100m Mixed Medley time trial at the end of the Championships: a South American record of 3:45.51 was established by Guilherme Basseto (53.68), Felipe Lima (59.03), Giovanna Diamante (59.10) and Larissa Oliveira (53.70). Many national have not held time trials this season and are relying on 2019 times for Tokyo entry. The names of nations that have filled all available slots for Tokyo should be known in June, by which time final confirmation that the Olympics can go ahead (or not) should be in place.
The Other Five Days of Action:
On the penultimate day at Brazilian Championships, Guilherme Costa, who in 2019 became the first from his country to race below 15 minutes over 1500m, added the 1500m freestyle to a busy race schedule in Tokyo with a 14:59.21 win over 1500m freestyle, not far shy of his national and South American record of 14:55.49, set at the U.S. Open in December 2019.
There were also Tokyo tickets for Caio Pumputis and Vinícius Lanza, on respective times of 1:58.53 and 1:59.58 in the 200m medley. There was heartache for Larissa Oliveira, who clocked a career high of 54.39 in the 100m freestyle, 0.1sec shy of Tokyo target.
Day 4
It took until day 4 of Brazilian trials for the first woman to join the team for Tokyo: when Beatriz Dizotti set a national 1500m freestyle record of 16:22.07 as he took to 16 the number of Tokyo targets achieved to that point, 17 if you counted the one that can't count in an Olympic realm of "two per nation".
Like buses, if you wait long enough, three Olympic cuts will arrive at once: adrift Dizotti in the 1500m, open water marathon gold-medal shot Ana Marcela clocked 16:25.76 and Betina Lorscheitter 16:27.73. Whether Marcela wants the berth remains to be confirmed but if not, Lorscheitter will ensure that Brazil has two women in the inaugural Olympic 1500m freestyle.
Many nations insist on a target time faster than the FINA A times – which are competitive but not what it may take to make a final in many events. As such, some line-ups in Tokyo will not reflect the perceived "best two per nation" standard but rather the standards set for qualification by leading swim nations that will leave at home national champions capable of a top 16 finish in events such as the 1500m.
If the women's 1500m free grabbed headlines as the first woman's race to deliver qualifiers, all eyes were on the men's 100m freestyle and what it may mean for Brazil's chances in the 4x100m relay.
In heats, André Calvelo booked a ticket to lane 4 on a sizzling best of 48.09, inside his previous career high of 48.74 from the 'Troféu Brasil' in 2019. By then, authorities were on the verge of announcing that Calvelo had failed a doping test. He is now temporarily suspended pending the testing of the B sample and the process to follow.
There were also best times for Lucas Peixoto and Victor Alcará in a stacked Brazilian 100 free field. Peixoto clocked 48.82, his previous best 49.36 alongside Calvelo in that same 2019 event, which also featured a 49.58 from Alcará, who now boasts a 49.19 best.
The final a more nervy affair, it panned out like this: Andre Calvelo, 48.15; Pedro Spajari, 48.31; Breno Correia, 48.74; and Marcelo Chierighini, 48.83.
Day four also saw Caio Pumputis, on 2:11.81 in the 200m breaststroke ahead of a shot at making the Tokyo squad in the 200IM.
Brazil also staged a 4×200m free time trial for its top 4: Larissa Oliveira, Nathalia Almeida, Gabrielle Roncatto an Aline Rodrigues combined for a 8:00.92, which leaves them second in line to take up slots left vacant, Italy for in lines do far. The European Championships in Budapest next month – and team time trials planned in other countries – will decide, the obvious candidates for getting well inside 8mins teams from France, Great Britain, the Netherlands, Spain and Sweden.
There are four slots open beyond those already over the line for the Tokyo race: the times of the best four quartets clocked between March 2019 and May 31, 2021 will get the call. Here is another example of the Olympic Games not reflecting the best line-ups even at the top end of the game: since 2018, Britain, France, Spain have not fielded a senior 4x200m relay, on grounds that they're not deemed good enough.
The count of 16 cuts so far does not include the one achieved by Bruno Fratus at the recent Pro-Swim in Mission Viejo over 50m freestyle.
Day 3
On day 3 in Rio, Guilherme Costa backed up his 3:45 Brazilian record and Olympic berth in the 400m on day 1 with a 7:50.41 win over 800m freestyle; Leonardo de Deus made it to his third Olympics with a 1:56.01 in the 200m butterfly.
Day 2
Day 2 put six more names on the Brazil team for Tokyo: Fernando Scheffer, Breno Correia, Murilo Sartori and Luiz Altamir the first four home in the 200m freestyle to secure 4x200m free berths, while Scheffer (1:46.28) and Breno (1:46.72) took the solo 200m slots, Sartori (1:47.33) and Altamir (1:48.02) next home.
The other two team additions came in the 100m backstroke: the target was 53.85, the result Guilherme Basseto, 53.84; Guilherme Guido, 53.85, Gabriel Fantoni locked out in 54.28.
The 100m backstroke produced an upset of sorts when Etiene Medeiros missed the mark, on 1:01.37. The former 50m backstroke World champion still has chances of making the grade in the 50 and 100m free. Snap in the 100m breaststroke, Jhennifer Conceição on 1:08.08 and shy of her mark. Both Medeiros and Conceição will get another chance of selection as members of the medley relay when Brazil stages another time trial in search of one of the vacant slots in Tokyo.
Day 1
Day 1 witnessed a 3:45.85 South American record in the 400 freestyle win for Guilherme Costa as the first official Brazilian qualifier for Brazil's Tokyo swim team. The win gave Costa a ticket to what will be his debut Games at 22. The target was 3:46.78, a touch too far for Fernando Scheffer, on 3:47.77. Costa took down the 3:46.57 continental record he established in 2019.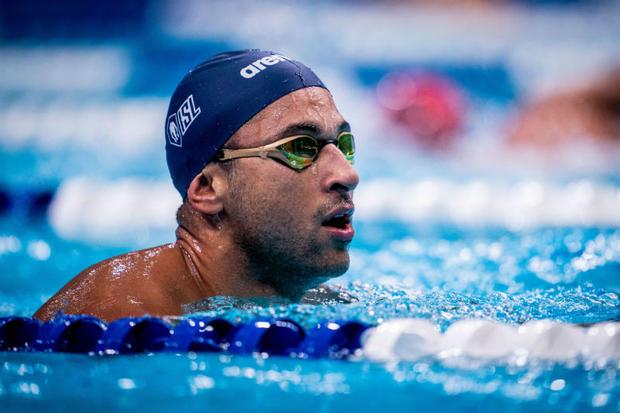 Felipe Lima was the next across the line set for Tokyo selection, on 59.43, inside the 59.93 cut, a reach beyond Joao Gomes*, on 1:00.15, and Caio Pumputis, on 1:00.25.
There were no other qualifiers on the first day, though Brazil's selection process is not all down to the Championships in Rio this week. In the 400m medley, Brandonn Almeida clocked 4:16.49, 0.65sec shy of the 4:15.84 cut and ahead of Leonardo Santos finished in second at 4:18.07. Almeida showed great promise with a 4:13.69 long medley at the 2019 Troféu Brasil.