The Vortex (April 4-11): Kira Toussaint Takes Down Dutch 100 Back Mark In 58.74 In Eindhoven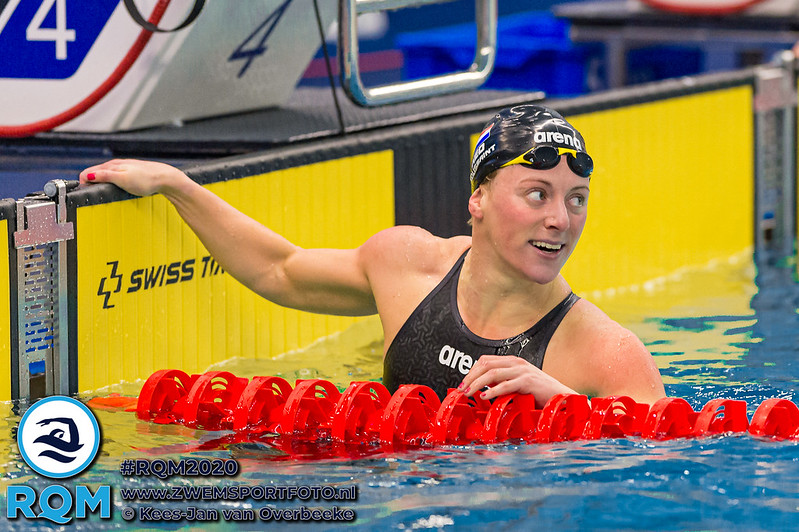 A weekly day-by-day digest and SOS Vortex of swimming news, views, top picks and links to coverage of the sport and related issues around the swim world. Please send any suggestions, links and items of news for inclusion to craig.lord@stateofswimming.com
Sunday, April 11
Kira Toussaint is making a habit of morning speed this week at the Eindhoven Qualification Meet, a 58.74 in the 100m backstroke her latest downing of a Dutch record.
Toussaint, of De Dolfijn, cracked the European 50m record twice yesterday but it's the 100m time that counts on the way to the Covid-delayed Olympic Games.
Out in 28.51 and almost a second clear of the next swiftest half-way in heats, Toussaint, 27 this year, rippled home to a time that grants her the best 28 100m times ever in the Dutch backstroke ranks.
Inside her 58.91 Dutch record from the Rotterdam Qualification Meet last December, Toussaint has swum all but two of her 28 Dutch bests in 2019, 2020 and so far in 2021. The two swim were back in 2018, when she became the first Dutch woman inside the minute, her pioneering times that year 59.88 and 59.94.
Practice makes perfect and Toussaint has raced fast 100m efforts on a consistent basis in the past three years, even notching up several of them in Covid-season 2020.
Today's effort leaves her shy of the top 15 all-time, while the stunning 57.57 World record set by American Regan Smith for the 2019 World title is the pace those gunning to join her in the sub-58 club are aiming for come Tokyo.
Toussaint was one of two Dutch record breakers I heats in Eindhoven this morning. The other standard fell to Nyls Korstanje, on 23.19 in the 50m butterfly.
Another swift effort came from Arno Kamminga, on 2:08.48 in the 200m breaststroke after two more 58sec efforts over 100m yesterday.
Over in heats at the Stockholm Open this morning, Sophie Hansson, Helsingborgs Simsällskap, raced well since the Olympic cut for the 100m breaststroke on 1:06.17.
Investigation: Report Shows Troubling FINA Pursuit Of Aussie Great In Tale Of Leaks & ASADA Concerns Over Confidentiality Breaches
In the second part of an investigation into the realm and role of FINA, the international federation by Julian Linden and Craig Lord, The Sunday Telegraph today uncovers a report that appears to show FINA sought aggressively to raise an anti-doping case against Ian Thorpe long after they were told by ASADA, Australian and overseas independent anti-doping experts that the swimmer had "no case to answer".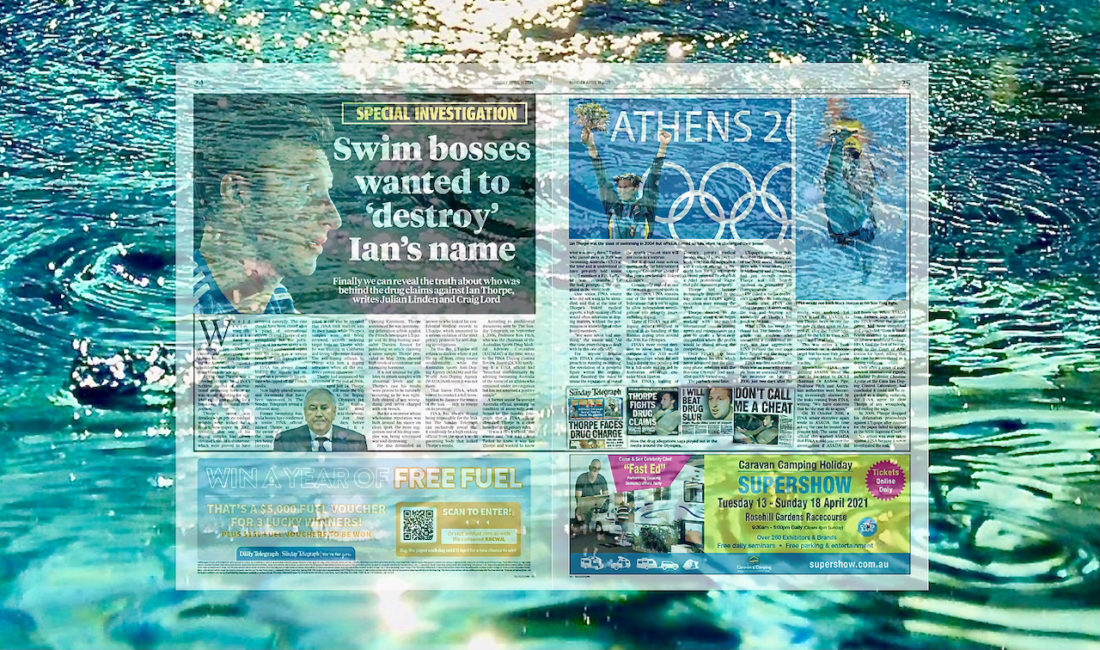 The story in full at The Sunday Telegraph – newspaper available to bay in Australia; online subscription available.
Saturday, April 10
Katie Ledecky
– 20th sub-4mins 400m Free
Olympic champion Katie Ledecky was faster this day over 400m freestyle at the Pro Swim Series in Mission Viejo, California, than she was when feeling under the weather and unable to cope with Australia's Ariarne Titmus at World titles in 2019.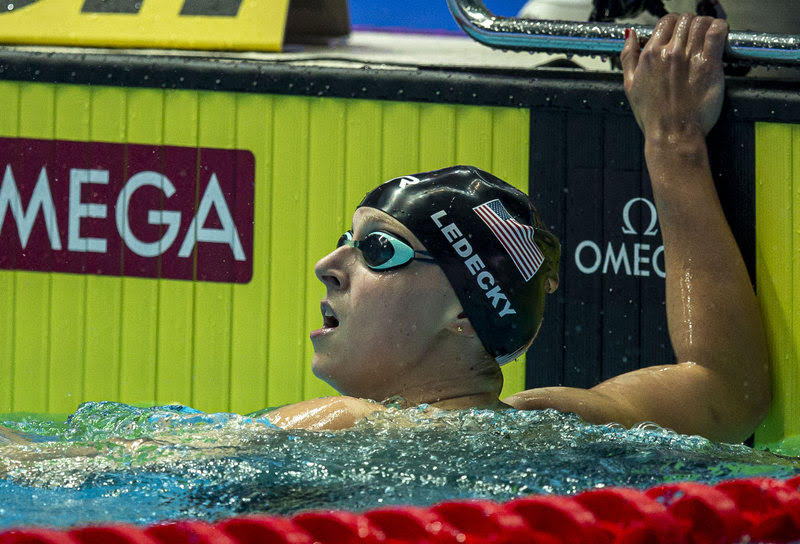 On 4:01.37 in heats yesterday, Ledecky returned this morning to swim 3:59.25 out front alone. Leah Smith was next home, on 4:06.37, Hali Flickinger on 4:08.05.
Katie Ledecky now has 20 sub-4min efforts to her name as the only American to have swum into those largely uncharted waters. Federica Pellegrini in shiny suit season 2009 was the first under 4mins, on 3:59.15, while Titmus has gone that way four times. And that's it for the sub-4min club.
Today, Ledecky split:
28.04; 57.55 (29.51) 1:27.72 (30.17) 1:58.04 (30.32)
2:28.73 (30.69) 2:59.39 (30.66) 3:29.94 (30.55) 3:59.25 (29.31).
Olympic 100m breaststroke champion Lilly King continues to show consistent form meet after meet, the 24-year-old racing for Indiana Swim Club, on 2:22.38 in the 200m this morning, with Annie Lazor, Mission Viejo, a stretch behind on 2:22.73. Third place went to Emily Escobedo, Condors Swim Club, in 2:23.58.
In heats of the 50m freestyle yesterday, Bruno Fratus, of Brazil and Coral Springs Swimming, rattled out a 21.73. This morning in the final, he stopped the clock at 21.80, his berth at the Covid-delayed Tokyo 2020 Olympics surely assured? Well, that depends if two men get inside 21.80 at Brazilian selection trials later this month, according to Brazilian selectors.
After all, look who was 0.03sec behind him: World champion Caeleb Dressel, on 21.83 to the 22.13 of New York Breakers ISL class-action pioneer Michael Andrew, on 22.13, and Olympic 100m champion of 2012, Nathan Adrian, on 22.29.
Andrew was back in the fray not long after for 4th place in the 200m breaststroke on a 2:11.32 that tells a tale of the part of a medley sum he's working on. At the helm was Nic Fink on 2:09.73 ahead of respective efforts of 2:10.85 and 2:11.00 from Lyubomir Epitro and Andrew Wilson.
Three went below the minute in the women's 100m backstroke, Olivia Smoliga at the helm on 59.04, Kathleen Baker on 59.50 and Rhyan White on 59.66.
Other winners on the day were Katie Crom, on 2:10.38, and Nicolas Albiero, on 1:57.86, in the 200m butterfly finals; Abbey Weitzeil, on 24.57 in the 50m freestyle; and Zach Yeadon, on 3:51.57 in the 400m freestyle.
Troubled Waters –
Aussie Telegraph On The Trail Of FINA Misdemeanour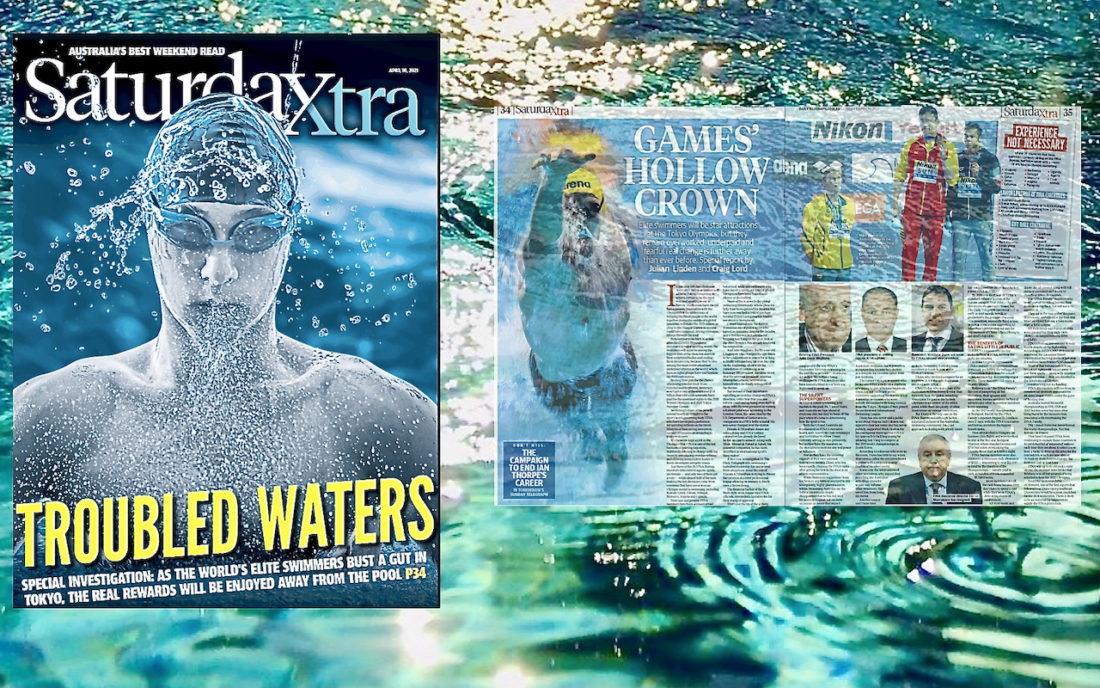 Swimming makes the cover of the SaturdayXtra section of the Australian Daily Telegraph this weekend as the first part in a series that scrutinises the FINA realm and considers issues of integrity, athlete interests and welfare. The lifestyle of 'executive volunteer' governors comes into focus at a time when those holding sway in world swimming are having their authority challenged by the International Swimming League and the swimmers who back it and who have taken the international federation to court in a fight for the right to self-determination in their careers as professional athletes.
Troubled Waters – by Julian Linden and Craig Lord
Readers in Australia can buy the publication; readers everywhere can read the reports via subscription
RSA 4×100 Quartet
Smash African Record in 3:40
At South African National Aquatic Championships in Gqeberha, the 4x100m freestyle quartet of Rebecca Meder, Erin Gallagher, Aimee Canny and Emma Chelius smashed the African Record in the 4 x 100m freestyle relay in 3:40.29, well inside the 2019 standard of 3:43.35. Earlier, Meder had won the 100m backstroke in 1:02.28
Today's finals session featured a Time Trial race in the 200m breaststroke: Kaylene Corbett posted an Olympic Qualification time of 2:25.18, a day after Tatjana Schoenmaker challenged the 2:20 mark with an African record in the same event, Corbett on the podium.
In other action, Pieter Coetze narrowly missed the Olympic cut with a 54.25 win in the 100m backstroke, just 0.40secs shy of target, and Matthew Sates took the 400IM crown in 4:19.38.
Friday, April 9
Canada
Out Of World Juniors, Drops FINA Open Water Events
The Covid-19 pandemic has forced Canada to make hard decisions today. The national will not send swimming teams to the FINA World Junior Swimming Championships in Kazan, Russia, Aug. 24-29, nor to the FINA World Junior Open Water Championships, scheduled for Aug. 13-15 in Victoria, Seychelles but that date and location also uncertain.
In addition, Canada will not be hosting the FINA Marathon Swim World Series July 25 or FINA UltraMarathon Swim Series July 31 in Lac St-Jean, Que., or the Marathon Swim World Series Aug. 7 in Lac Megantic, Que.
The statement in full:
As Swimming Canada continues to re-evaluate plans for the coming months in light of the ongoing COVID-19 pandemic, the organization has decided not to attend world junior championships, or to host international events for 2021.
Canada will not send swimming teams to the FINA World Junior Swimming Championships in Kazan, Russia, Aug. 24-29, or to the FINA World Junior Open Water Championships (Location TBD after originally being scheduled for Aug. 13-15 in Victoria, Seychelles.)
Said High Performance Director and National Coach John Atkinson.
"Our high performance team, including National Development Coach Ken McKinnon, and National Distance/Open Water Coach Mark Perry, have done a thorough review of several factors that complicate our ability to select teams, have them travel internationally and compete safely. This includes health and safety constraints at home and abroad, as well as our inability to run qualification events for athletes in a fair and equitable way."
"We understand what a tough year it's been for our junior swimmers in Canada. Unfortunately the lack of training and racing opportunities, combined with many unknown factors regarding travel, borders and quarantines, have led us to the very difficult decision that Canada will not be sending a team to either the pool or open water world junior championships."
In addition, Canada will not be hosting the FINA Marathon Swim World Series July 25 or FINA UltraMarathon Swim Series July 31 in Lac St-Jean, Que., or the Marathon Swim World Series Aug. 7 in Lac Megantic, Que. This decision has been made in consultation with the local organizing committees and Fédération de natation du Québec.
"Given the current state of the global pandemic, that Canada has restrictions on non-essential travel, and the uncertainties around borders and quarantine protocols, Swimming Canada will not be sanctioning international FINA events this year," said CEO Ahmed El-Awadi. "Our Olympic and Paralympic Trials event set for Toronto this year at the end of May is still in place, however, we must be responsive to the current health situation in the country as we lead up to the event."
"As an organization, we have to put health and safety first. While these are difficult decisions, I am confident it is the right decision to not expose our promising young swimmers to international travel this year, or to encourage swimmers from other countries to travel to Canada for events," added President Cheryl Gibson.
Thursday, April 8
RSA 200 'Fly:
Chad Le Clos On 1:55.8, Ethan du Preez, 17, 1:56.4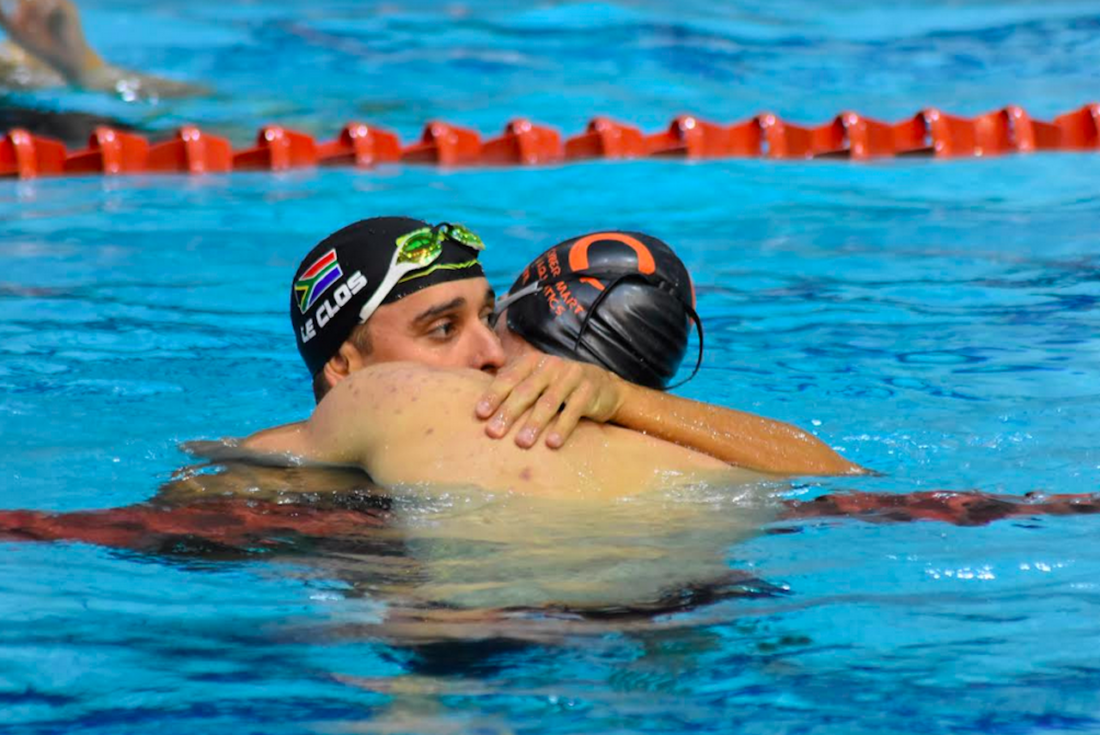 Chad le Clos, Olympic 200 'fly champion of 2012 and the first man home with a clean record over 200m freestyle at Rio 2016, today booked a ticket to his third Olympic Games with a 1:55.88 victory just ahead of 17-year-old Ethan du Preez, whose 1:56.44 made it two South Africans bound for the long butterfly battle in Japan come July.
The two qualifiers were followed by Ross Hartigan, in 2:01.73, to complete the South African Championship podium at the Newton Park Swimming Pool in Gqeberha, where the meet is doubling as Olympic trials.
There were no other qualifiers on the day, Matthew Sates taking the 100m free crown in 49.29, shy of the 48.57 target; and Erin Gallagher on 54.89 at the helm of the women's equivalent , shy of the 54.38 target.
There were also national titles for Dune Coetzee in the 200m butterfly, on 2:13.87.
USA Pro Swim: Wins For Smith & Wilimovsky
On the first day of action at the Mission Viejo round of the U.S. Pro Swim Series, there were wins for Leah Smith and Jordan Wilimovsky.
Women's 800-meter Freestyle – FINAL
Leah Smith (Pittsburgh, Pa./Tucson Ford Dealers Aquatics), 8:24.46
Ashley Twichell (Fayetteville, N.Y./TAC Titans), 8:27.41
Emma Nordin (Carmel, Ind./Sun Devil Swimming), 8:29.67
Men's 800-meter Freestyle – FINAL
Jordan Wilimovsky (Malibu, Calif./KSwim), 7:54.44
Will Gallant (Canton, Conn./Mission Viejo Nadadores), 7:55.57
Zane Grothe (Boulder City, Nev./Boulder City Henderson Swim Team), 7:58.04
Critical Role of Circadian Rhythms –
Jacco's Chrono Coaching Launched
Jacco Verhaeren, the former head swimming coach to his native Netherlands and then Australia and now working with Germany, has created Chrono Coaching.
In a social-media post, he notes: Shifting circadian rhythms for peak performance at any time is what we do. This with the use of light and "dark" glasses and a personalised program. In this great presentation of Renske Lok (and her research) you can see why shifting your time for peak performance can make all the difference.".
Here is that great presentation:
Endurance Swimming
& Space Travel "Shrink the Heart"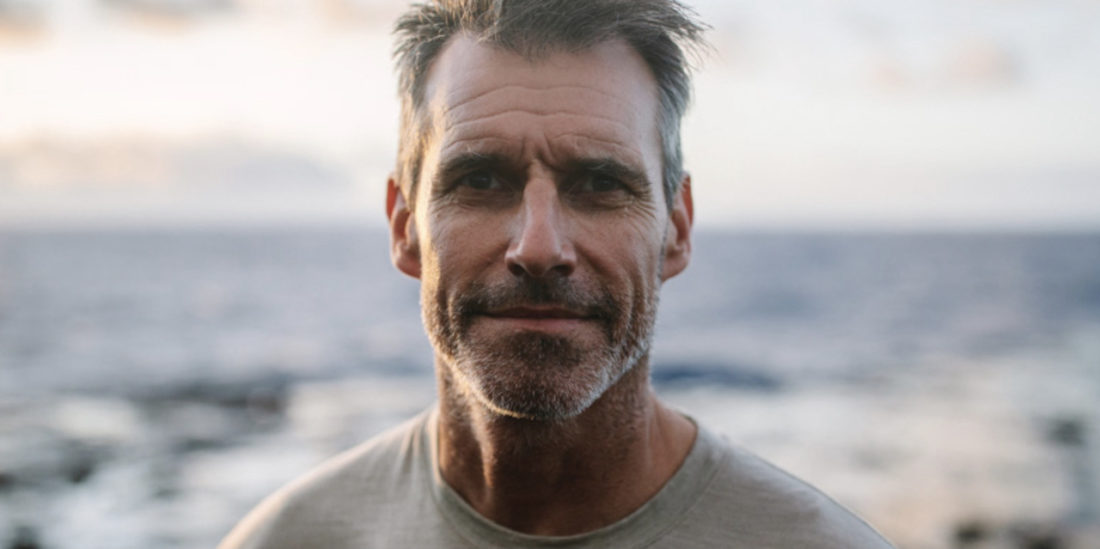 New research concludes that both space travel and endurance swimming can cause your heart to shrink.
A study published recently in the journal Circulation compares how the heart changed during astronaut Scott Kelly's year in space and Benoit Lecomte's marathon swim across the Pacific Ocean.
The buoyancy of water gives long-distance swimming a similar impact to the lack of gravity in space by changing the load placed on the heart due to the horizontal position of the body. "You take away the head-to-foot gradient and then put the person in water…It's just about like being in space," explained Dr. Benjamin Levine, lead author of the study
Benoit Lecomte tried to swim the Pacific Ocean in 2018. He covered 2,822km over 159 days before abandoning the traverse. Between swimming and sleeping, his body was in a horizontal position between 9 and 17 hours a day. "When we look at the left ventricle of the heart, we saw about a 20 to 25 percent loss in total mass over the four or five months that Lecomte was swimming," said co-author Dr. James MacNamara.
Benoit Lecomte's Mission: Saving The Oceans
At first, the researchers thought that the physical aspect of swimming for eight hours a day would be enough to counteract the heart muscle shrinking. Said Dr. Levine:
"I was shocked … I absolutely thought that Ben's heart would not atrophy. That's one of the nice things about science: You learn the most when you find things you didn't expect."
He told The New York Times: "[Kelly] did remarkably well over one year. His heart adapted to reduced gravity…his heart shrank and atrophied kind of as you'd expect from going into space".
Kelly is also a twin. Good news for NASA: they were able to carry out multiple biomedical studies to compare what happened to Scott Kelly both physiologically and psychologically in space compared to his brother Mark, with his feet on Earth. They found a number of differences including body weight, gene regulation, DNA damage, and cognitive performance. They concluded that "Human health can be mostly sustained over this duration of space flight." What might happen on "Space Long Haul" journeys of a year or more is yet to be ascertained.
Kelly's heart shrank from the lack of gravity because it did not have to work as hard to pump blood around the body. This loss of mass occurred despite Kelly exercising six days a week while on the space station.
The Vortex Swim
In 2019, Ben Lecomte swam into San Francisco after 80 days at sea. Having completed his challenge to swim 300 nautical miles, to represent the 300 million tonnes of plastic waste produced each year, he continues his mission on land to raise awareness of plastic pollution.
The Vortex Swim, in partnership with icebreaker, took Ben – a long-distance swimmer and ocean advocate – and his crew from Hawaii to California through The Vortex, otherwise known as the Great Pacific Garbage Patch, where plastic pollution gathers on ocean currents. Consumers followed the journey as part of icebreaker's Move to natural awareness campaign.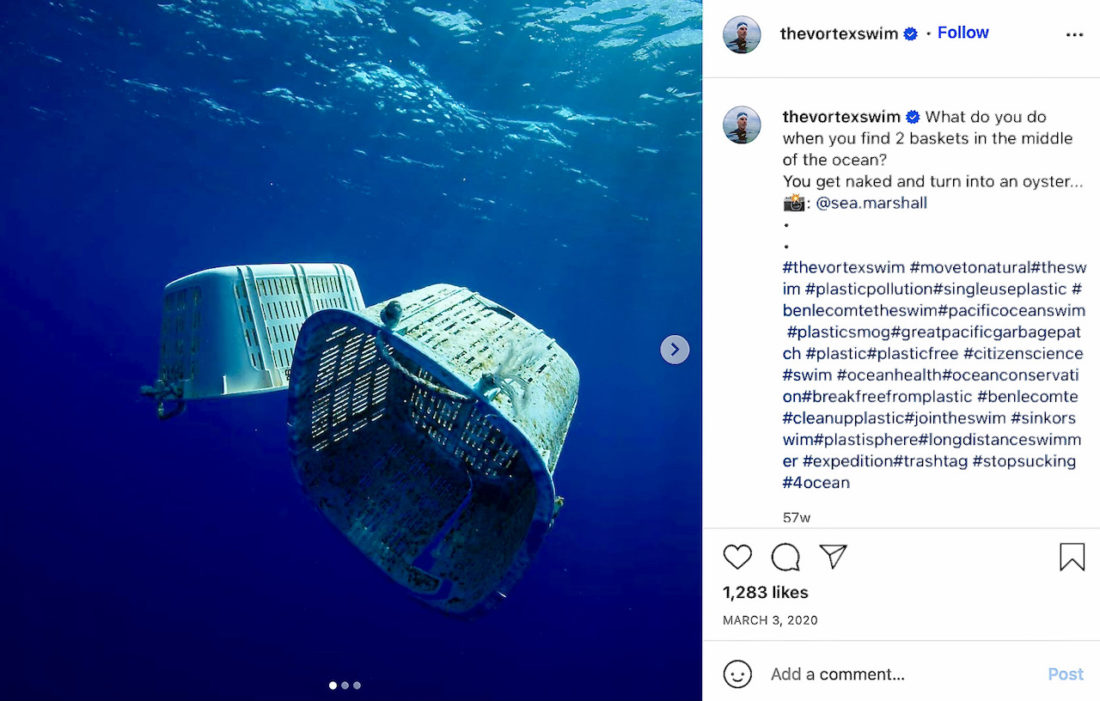 Ben and the crew spotted over 3,700 pieces of floating plastic debris, and collected over 45,000 fragments of microplastics, logging an increase of 1,000% in the concentration of plastics in The Vortex compared to other areas of the Pacific Ocean. Ben said:
"I've reached my goal of swimming 300 nautical miles, but the real challenge is now: to keep the awareness high and for all of us to tackle plastic pollution. My crew and I will keep exploring and I will keep swimming until we reach San Francisco," says Ben from the support boat, I am Ocean. "This expedition ends, but our mission continues on land to inspire people and question our relationship with plastic. There is no silver bullet; we need everyone to be part of the solution, for our oceans and for our future."
Michael Phelps:
Medals, Memories & More
Coming to a screen near some of you: "Michael Phelps: Medals, Memories & More", a Peacock streaming series, will premiere on April 14 – 100 days out from the scheduled start of the Covid-delayed Tokyo 2020 Olympics – on NBC's stream.
The series will feature three episodes, with Michael Phelps talking through each of his Olympic races with broadcasters Dan Hicks and Rowdy Gaines.
Phelps claimed 23 golds atop 28 medals in all at five Olympic Games (Sydney 2000 to Rio 2016), a tally that makes him, by far, the most decorated Olympian in history.
All three episodes will drop on-demand on April 14, which marks 100 days until the opening ceremony of the Tokyo Olympics on July 23.
The Trailer:
Wednesday, April 7
Tatjana Schoenmaker
Dashes To 2 African 50m Records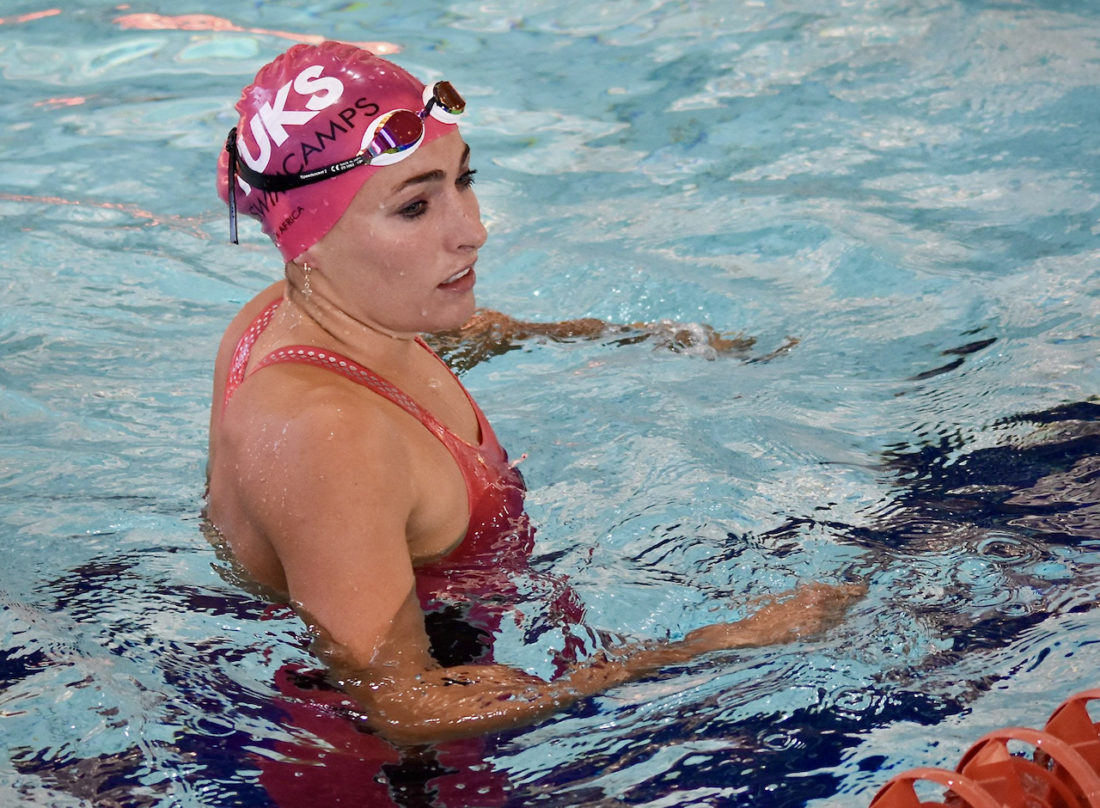 Tatjana Schoenmaker broke the South African 50m breaststroke in heats and finals on the first day of South African Championships and Olympic trials at the Newton Park Swimming Pool in Gqeberha today.
Shoenmaker cut her 2019 standard of 30.82 down to 30.42 in the morning and then back to 30.32 in the final ahead of Lara van Niekerk, on 31.03, and Caitlin de Lange, on 31.87.
In other dash finals: Chad le Clos claimed the 50m butterfly title in 23.73; Pieter Coetze the 50m backstroke, in 25.02; Erin Gallagher the 50 'fly in 26.50; Alaric Basson the 50m breaststroke in 28.09; and Olivia Nel topped the 50m backstroke in 29.13.
In distance finals, Leigh McMorran topped the 800-m freestyle in 8:54.65 and Roberto Gomes took gold in the 1500m on 15:49.02.
The meet livestream can be found here.
China
Hits Back At Threat To Beijing 2022 Winter Olympics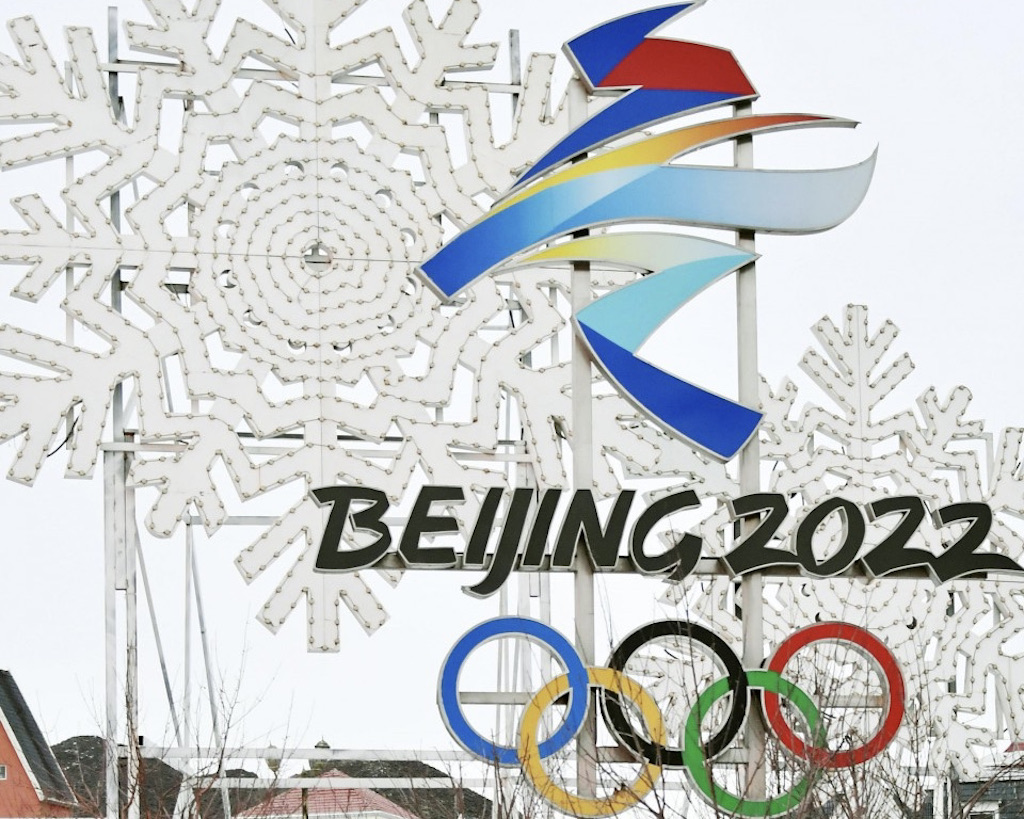 China has gone on the offensive as pressure grows for the world to reject the notion of normalcy on the way to a Beijing 2022 Winter Olympics. Attacking the administration of U.S. President Joe Biden for "politicising sports", China claimed that the international community will not accept a U.S.-led boycott of the International Olympic Committee's Beijing showcase.
The growing dispute centres on alleged human rights abuses, including torture and rape in Uyghur people.
Leading figures in the United States are not alone in suggesting that boycott be placed on the agenda. There is a suggestion that the Biden administration is backing away from the idea of boycott, and is looking at other measures to reinforce its message to China. Mitt Romney recently called for 'economic and diplomatic' boycott of Beijing Olympics.
The Communist-led Chinese government is keen to use the Olympics for enhancement of national prestige, foreign affairs experts say, just as it did with the Beijing 2008 Olympic Games, when supporters of China hosting those Games said that they Wouk,d help bring China closer to the international community. Critics argue that the opposite has happened.
A U.S. State Department spokesman said Tuesday, in response to a reporter's question, that a potential joint boycott of the event is among the issues the United States hopes to discuss with its allies and partners.
"The international community won't accept it," Chinese Foreign Ministry spokesman Zhao Lijian told reporters today, adding:
"I would also like to emphasise that politicising sports is against the spirit of the Olympic Charter and harms the interests of athletes from all countries and the Olympics."
The leadership of Chinese President Xi Jinping has been accused of mass detention of the country's Muslim Uyghur minority who oppose growing state surveillance under a "re-education" campaign in the Xinjiang region. China has consistently said its detention camps are vocational training centers established to preemptively combat terrorism and religious extremism.
Human Rights groups and governments around the world say the evidence suggests something quite different.
Last month, the United States, the European Union, Britain and Canada imposed coordinated sanctions against China over its alleged human rights abuses.
Tuesday, April 6
NZL Trials:
Lewis Clareburt Cracks Kiwi 400IM Record On 4:09.87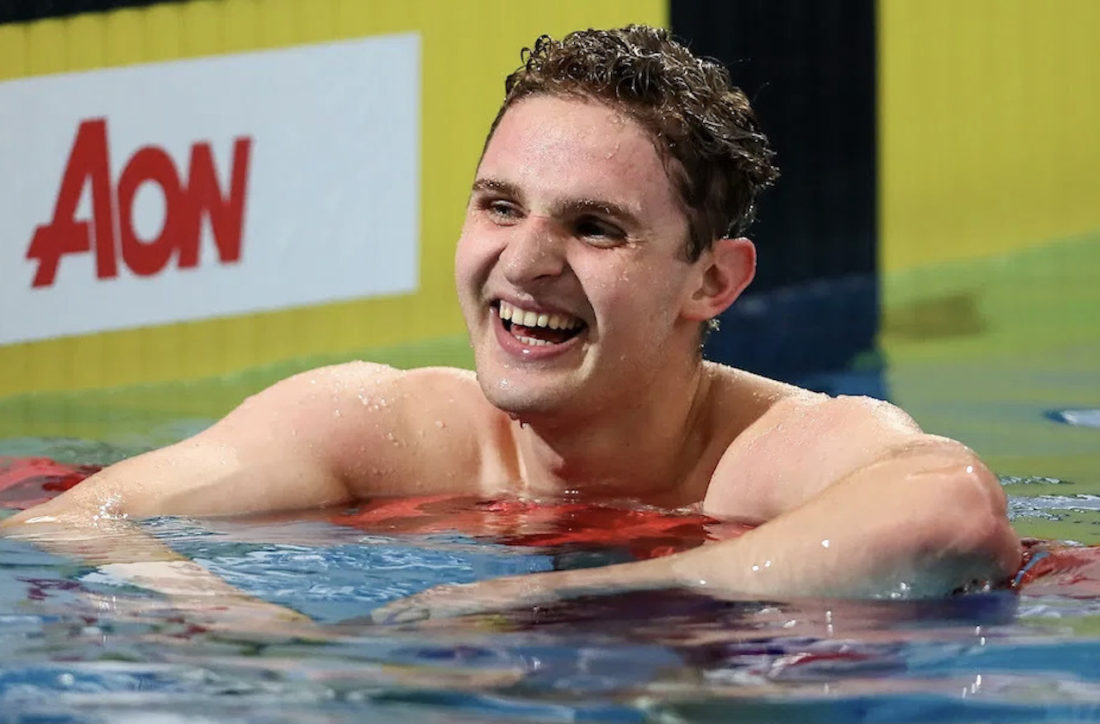 Lewis Clareburt shattered his own New Zealand 400m medley record with a 4:09.87 victory and ticket to the Tokyo Olympic Games at National Swimming Championships in Auckland today.
The 21-year-old from Wellington claimed bronze at World titles in 2019. He now has the second-swiftest time of the year so far adrift Japan's Daiya Seto, on 4:09.02 without full rest at Japan trials ongoing in Tokyo.
Clareburt, 2.2sec inside the best time he set at 2019 Worlds and now 13th on the all-time ranking list among the 14 men in history who have gone inside 4:10, is only the second Commonwealth swimmer to crack 4:10, after Britain and England's Max Litchfield, on 4:09.62 for a place on the podium at World titles in 2017.
The Kiwis have not won an individual medal in the Olympic pool since Danyon Loader (Gold and silver) in Atlanta in 1996 in the 400 and 200m freestyle respectively – and never in the 400IM.
Here are the top 12 swimmers in history ranked ahead of Clareburt as he now prepares to bring home the Kiwis a rare medal from the pool
Other titles went to :
George Williams 50m freestyle 22.99
Laura Littlejohn – 50m freestyle 25.59
Helen Glasson – 100m backstroke (1:00.81)
Andrew Jeffcoat – 100m backstroke (54.89)
Georgina McCarthy – 400IM (4:47.19 NZL 18 Years Record)
FINA
Cancels A Raft Of Test Events in Tokyo & The Marathon Qualifier, Say Japanese Reports
FINA has cancelled test events in water polo, synchronised swimming and diving, and Tokyo Olympics organisers have confirmed the scrapping of a water polo test event scheduled for this weekend after several players linked to the Japanese national team tested positive for Covid-19.
The news from various outlets out of Tokyo delivers another blow to Tokyo 2020 test-event scheduling and planning for the Games, due to get underway on July 23.
FINA has cancelled other Olympic qualifiers and is due to make a statement on others this week. One of those is a water polo event, which had to be cancelled at a time when overseas officials are unable to travel to Japan amid strict COVID-19 countermeasures, public broadcaster NHK said.
A diving test event scheduled for April 18-23 and synchronised swimming on May 1-4 are also said to have been cancelled, though FINA has yet to confirm a decision. The diving event is reported by the Japan Times as having been scrapped because the organisers' planned COVID-19 precautions "will not properly ensure" the safety of athletes.
FINA is also "expected" to cancel a non-test event, the Olympic marathon swim qualifier in the southern Japanese city of Fukuoka in late May, according to NHK.
A spokeswoman for the Tokyo 2020 organizing committee declined to comment when asked by Reuters, the news agency.
Japan is struggling with a nascent fourth wave (see the foot of this Vortex collation of news) in the pandemic, one driven by variants of the coronavirus, and the resurgence is already affecting Olympic test events as well as the torch relay.
Yasuo Mori, a senior Tokyo 2020 official, said on Sunday that FINA intended to cancel the events and that organizers would hold talks with the swimming federation this week.
Meanwhile, North Korea has announced that it will not send a team, any sport, to the Tokyo Games, citing the pandemic.
Monday, April 5
Swim Pick Of Past Week:

Gregorio Paltrinieri
There was plenty of competition for top swim of the week, March 29 – April 4 but the swim and swimmer with the edge was a 14:40.38 from Olympic 1500m freestyle champion Gregorio Paltrinieri, who booked a ticket to the defence of his crown at Italian Spring Open Championships in Riccione.
He warmed up a couple of days before with a 7:41.96. Both times lead the early 2021 World Rankings on the way to the styling into shape of such counts come the Covid-delayed Tokyo 2020 Olympic Games, scheduled to get underway on July 23. He will also race the 10km Marathon in Tokyo the week after his pool campaign.
As SOS noted on the day of Paltrinieris latest big swim, among his credentials are his 11 entries in the all-time top 25 performances in the history of the 1500m, including four in the top 10; his 17 sub-14:45 efforts, which amount to more than the combined total of Grant Hackett (8) and Sun Yang* (7); and Paltrinieri's 9 voyages below 14:40, a record well ahead of next best, Sun on 3.
That and other coverage of the Italian Championships and Olympic trials:
Tokyo 2020:
Japan Fears Fourth Covid-19 Wave Before Olympics
Japanese health authorities are concerned that variants of the coronavirus are driving a nascent fourth wave in the Covid-19 pandemic with just 109 days remaining until the Tokyo Olympic Games, Reuters reports. The variants appear to be more infectious and may be resistant to vaccines, which are still not widely available in Japan. The situation is worst in Osaka, where infections hit fresh records last week, prompting the regional government to start targeted lockdown measures for one month. A mutant Covid-19 variant first discovered in Britain has taken hold in the Osaka region, spreading faster and filling up hospital beds with more serious cases than the original virus, according to Koji Wada, a government adviser on the pandemic. Wada, a professor at Tokyo's International University of Health and Welfare, told Reuters:
"The fourth wave is going to be larger. We need to start to discuss how we could utilize these targeted measures for the Tokyo area."