Australia Must Base Decision On Djokovic Right To Stay & Play Or Leave & Learn On The Playbook Of Life In A Pandemic We All Abide By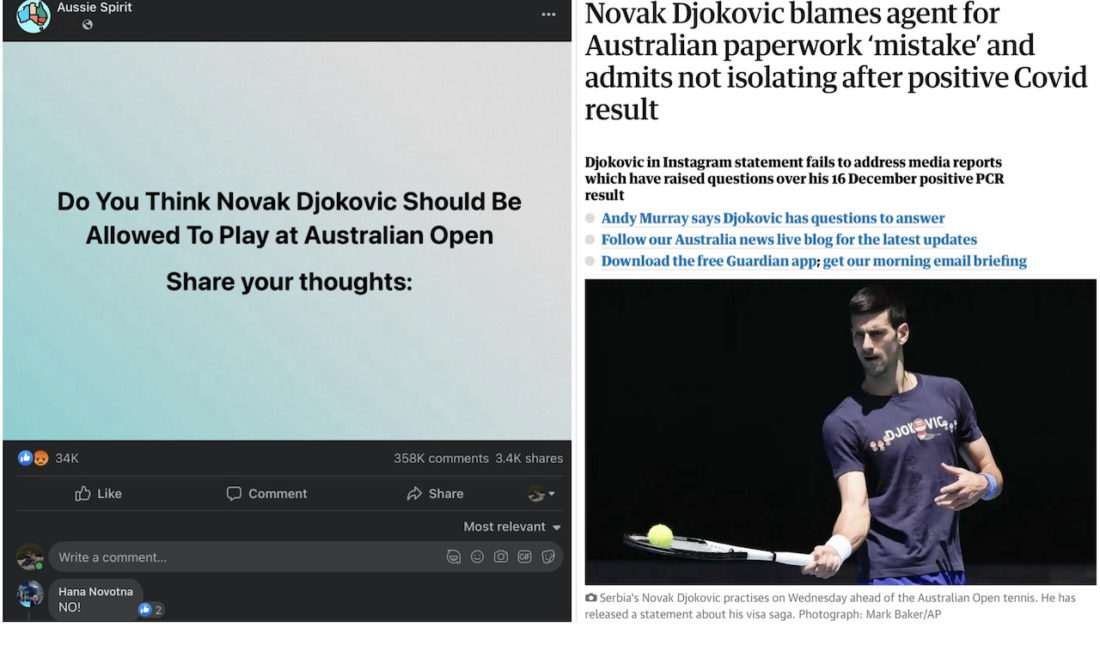 Editorial – Novak Djokovic tells us that his agent cocked up and that it wasn't he, the athlete and World No 1 tennis player, who erred when the two foreign trips he took beyond his home country in the 14 days before he travelled to Australia were not recorded on his passenger locator form for entry Down Under, as required by law.
It was, says Djokovic, an "error of judgement" to appear in person for an interview with L'Equipe two days after he knew he had tested positive for Covid. The player has made plain enough his objective to being vaccinated.
Let's be clear: there is no love lost for an Australian government that locked its own citizens out of the country in a pandemic when its duty of care would have been better honoured by providing safe passage and entry and access to adequate isolation facilities.
And then there is the ruling of a judge and the respect due to the legal process that set the tennis player free from the facility he called a 'migrant' hotel but missed his chance to highlight the plight of those he left behind.
Even so, at a time when the Athlete Voice gets louder and moves to strengthen Athlete Rights are, rightly, gathering momentum and growing stronger, athletes must remember that all of us have rights and responsibilities, regardless of status and achievement in life.
Australian authorities would be well within their rights to ask Djokovic to leave, just as it might ask others to leave if they had erred in the same way when visiting a country that exercises careful controls when it comes to what flora and fauna may pass its borders at any time, virus or no virus.
Djokovic, aiming to defend his title at the Australian Open, says that it was a mistake by his agent, not a deliberate attempt to bypass the rules. Some, understandably under the circumstances and timelines of the case, interpret what happened as a lie. The player denies any deliberate attempt to cheat the system. There are also problems with exemptions given from Australian authorities when other Australian authorities say they should not have been granted. Doubt hangs heavy in the air.
A timeline of the saga from Reuters, among a number of such takes on the theme:
Could it really be the case that an agent to a multi-millionaire World No 1 in any sport would not know that his or her client had been in Spain and one other country on official business in festive-season month? He even flew to Australia from Spain and all who have travelled during the pandemic know that travel through a third country beyond departure and destination has to be registered where the information is asked for.
I genuinely don't know who fills out the passenger locator forms for entire national swimming teams but I imagine that each swimmer must take a degree of responsibility for the truth told on the forms.
Is an athlete so deep in a performance bubble that they leave the world the rest of us live in? Djokovic would surely have known that we live in sensitive times. After all, he's been asked enough times for his thoughts on vaccination.
The controversy surrounding him offers salient lessons for all athletes and those working at the deep-end of performance sport: the world is struggling with grief, economic strains galore, the knock and bruise delivered to family life, work, relationships, businesses, the excoriating realities of life, and death, for those suffering from mental health, cancer and much more all too real at a time when a virus is taking up all the oxygen in our rooms.
Child education and development has suffered, there is talk of a lost generation in sport and other realms. Youth swimming – your very own teammates, clubmates, the would-be champions of morrow, the birthing pools of talent in your own sport – is among communities that have been scarred by the pandemic. Facilities were closed down and many will not make it back, the virus a convenient excuse for some authorities looking for ways to offload ballast that breaks budgets badly hit.
In that world, dear athletes, coaches and others who have largely been able to work on and through the pandemic, despite the challenges, the least all and any of you can do is fill out – or at least check – your own damn passenger locator form when travelling abroad or back home.
Much is written and said about how hard athletes work. True – but then so is this: not a single athlete in the world has it harder or even works harder than many of the rest of us, and in many cases for much, much smaller reward. Don't be upset by that – you know it's true; you have parents to prove it.
Djokovic speaks of "an error of judgement" now that the truth is out there. Attending an interview with L'Equipe two days after testing positive (apparently) for Covid is more than an error of judgement – it is dishonest, irresponsible and places others at risk. It risks a loss of trust. Two small words were hard to hear in the player's statement today, perhaps because they were missing: "I'm sorry". A little respect and humility go a long way.
Many journalists have had weeks of unpaid bureaucracy to plough through just to get to work at big sports events in current climate. A conservative estimate would be 3-4 weeks of unpaid toil on the Olympic playbooks and form filling and test taking and much else required just to get on the plane to Tokyo last year for many freelancers working in sports that rely heavily on freelance coverage in between Olympic Heights.
Against that backdrop and at a time of sorrow and struggle for a great many around the world and a time when elite athletes and entourage are largely working on and celebrating their achievements on the box before our very eyes in circumstances of constraint and lockdown, at least some of the outrage out there over Djokovic is understandable.
Sport and elite athletes often operate in a bubble, bug or no bug. There are many reasons why, including the reasonable to the wholly inappropriate and unhealthy.
At this particular point in history, empathy, honesty, respect, selflessness and humility would be among qualities to reach for in an athlete playbook underpinned by an understanding that none of us are above the law – and all should strive to see that all are treated evenly within the rulebook of life, the best version of which includes a right to be safe.
It is on that basis that Australia, a country whose handling of the pandemic and migration is delivering its own lessons in democracy, rights and freedoms, must make its judgment of Djokovic and his right to stay and play or leave and learn.