RIP Andrew Jennings, Journalist & Giant Thorn In The Side Of Olympic Rogues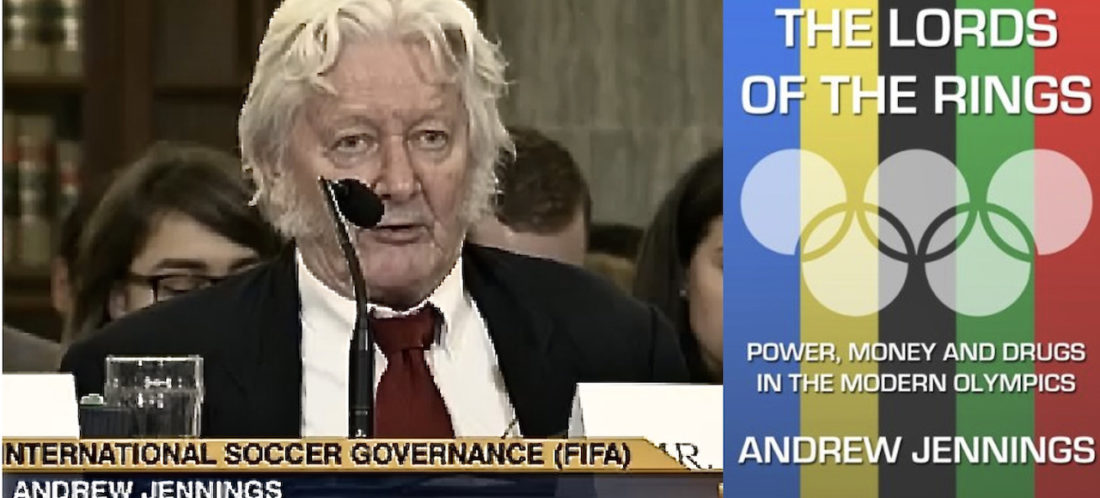 Andrew Jennings, the journalist delivering damning and uncomfortable Olympic truth upon truth down the decades and author of Lords of the Rings, and Francois Carrard, the lawyer working inside the the IOC tent, have passed away within a day of each other.
Two of the biggest players in Olympic sport for the past three decades and more, both men will be mourned, for different reasons by different people.
Carrard headed the FINA Reform Committee of late, the group's recommendations, including the establishment of an independent Integrity Unit, now approved by the leadership and Congreess of nations at the global regulator for aquatics.
Jennings is the man we concentrate on today, as one of those whose work underpinned the very reason why Carrard sat on reform committees and conducted related work long overdue.
Jennings was the giant thorn in the side of Olympic leaders and the in-house Media Commission and the journalists who failed to call out what Jennings made all too clear when it came to the corruption and omertà at the heart of IOC rot.
Update to File: Jens Weinreich has published an 80-page tribute to Andrew Jennings at Sport & Politics, with contributions from 53 authors from 17 countries, including one from me –
In tribute to Jennings, SOS recalls an editorial from my 2015 SwimVortex archive in which I consider a hearing of the U.S. Senate Commerce Subcommittee on Consumer Protection, Product Safety, Insurance and Data Security, its focus the beautiful game and ethics.
The Senate committee hearing raised many key issues that explain why FINA and its members, despite seven years of resistance, were always bound to have to reach for radical reform of swimming governance if they were to survive.
The level of transparency and the keen discussion and blunt honesty that flows at the 2015 Senate hearing at the heart of American democracy is precisely where FINA stakeholders, including organisations such as USA Swimming, should have taken their cue from. Perhaps they did; perhaps they will. At FINA level, the stripping of honour from Dr. Lothar Kipke, provides some evidence that the message has finally hit the spot and prompted a change of heart, min, mindset and direction.
The Senate Commerce Subcommittee on Consumer Protection, Product Safety, Insurance and Data Security described its session as "a hearing on FIFA, soccer's international governing authority, which has faced recent criticism for human-rights abuses ahead of the 2022 men's World Cup and is under federal investigation for racketeering conspiracy and corruption. Veteran freelance journalist Andrew Jennings and Dan Flynn, the CEO and secretary general of the U.S. Soccer Federation, are among the witnesses".
Here is a reminder of that session and the key role played by Andrew Jennings – RIP.
The Senate Committee Hearing With Andrew Jennings – August 2015
Editorial – from the Archive – 2015
The Ugly Side Of The Beautiful Game
The day brought news that FIFA president of 17 years, Sepp Blatter, being handeda 90-day provisional suspension. Members of Fifa's ethics committee recommended the sanction after the Swiss attorney general opened criminal proceedings against the 79-year-old.
Blatter is accused of signing a contract "unfavourable" to football's governing body and making a "disloyal payment" to Uefa president Michel Platini. Blatter denies any wrongdoing and his lawyers said he had "not been notified of any action".
European football chief Michel Platini was also hit with a provisional 90-day ban over the £1.3 million suspected illegal payment he received from Blatter from work he says he carried out nine years ago. If the payment is proven to be illegal, gone are Platini's hopes of succeeding his former mentor as president of the scandal-plagued governing body.
The investigatory chamber of FIFA's ethics committee met today and the decision was issued by Hans Joachim Eckert, the head of FIFA's ethics adjudicatory chamber.
The 79-year-old Blatter was interrogated over the Platini payment and another suspected illegal deal with disgraced former vice-president of FIFA Jack Warner.
What has this to do with swimming? A great deal when it comes to the structures, mindset and model of governance for many sports beyond football/soccer.
At a Senate Congress Committee, Capitol Hill – Russell Senate Office Building, Senator Jerry Moran, right, chaired a Senate hearing on the state of International Soccer Governance (FIFA).
Integrity, ethics and the entire model of international sports governance, including a lack of independent checks and balances, were highlighted.
We hear why some say FIFA is worse than the Mafia. Chief among those saying that is Andrew Jennings, the British journalist who worked with the FBI on work that led to the indictment of a club of high-flyers in an investigation still ongoing. Jennings' contribution, alone, is worth the two hours it takes to watch the video below but all four witnesses and the two men in the chair make this democratic process essential viewing for any who care about the poor state of governance in swimming (and the wider world of federations across many sport beyond).
In stretching to the role of the U.S. in international soccer, concerns over human rights abuses and foreign workers in Qatar – including a woeful death count in the country scheduled to host of the 2022 World Cup – and the pay disparity between men and women in soccer, the hearing can be watched and listened to at two levels:
for what it is and what it means in soccer
for what it means and how it translates and relates to the world of wider international sports governance, swimming our primary focus, of course
First up the link to the two-hour tape of the Senate hearing. If you can find the time to watch it through, all the better, whether you are someone for whom this is confirmation; whether you are someone trying to understand what transparent democracy means; or whether you are right down at the deep end of the spectrum of understanding on FINA and haven't yet connected the dots of a network of governance in need of replacement because nothing else will get the job done.
Below the following link to the official Senate hearing video (mirrored in the YouTube video above), we relate some of the discussion to why this is about much more than soccer and why coaches and others gathered in Cleveland at ASCA Clinic this month overwhelmingly supported a move for change, revolution and even replacement of FINA as the folk running swimming at global level.
Stop The Senate Tape
The following is a trawl of that tape, interspersed with a few STOP THE SENATE TAPE notes where an issue talks to the schism in swimming. Note that the point is not to suggest financial corruption at FINA – but to point to the places where governance structures, wilful blindness, lack of transparency and open processes can, and do, lead. The following is here for the record of a Senate moment in sports history relevant to all sport, swimming included.
Senator Jerry Moran starts by saying that he does not believe Government should get involved in every scandal in the world of sport nor could he give any assurance that any outcome of the hearing on soccer governance would translate to the statue books in any way. But as chairman of a sub-committee overseeing the governance of professional sports, he believed that the issues deserved to have "public attention".
"Corruption, bribery and other criminal activity" had become a part of international soccer. By shining light on that, he hoped that the public, current and future sponsors of sports events, the "media companies that supports the games today" will "better understand the consequences of allowing those governing soccer to continue without reform, including the tragic loss of life".
According to some reports from organisations like Amnesty as many as 4,000 migrants workers will die before world cup starts. "That is appalling."
Soccer gained profile in the United States when its women won the World Cup this year. Billions make up the budget of world soccer. Corruption and loss of life are part off that realm.
Senate Hearing Notes '81 suspicious financial transactions'
"On May 27, 2015, the U.S. Department of Justice unsealed a 47-count indictment against 9 FIFA officials and 5 corporate executives, charging them with racketeering, bribery, wire fraud and money laundering". Four other individuals and two corporate defendants have also pled guilty to various charges and Swiss investigators are looking at 81 suspicious financial transactions in relation to the World Cup bids of 2018 (Qatar) and 2022 (Russia)."
STOP THE SENATE TAPE: if you take the names of those indicted and trawl the history of gatherings among sporting blazers, the dots connect friendships and partnerships, shared committees, government posts and more between those now facing legal action and many in places of high office across a range of sports, including swimming.
Senator Moran adds: "The culture of corruption must be addressed… now is the time for the USA and the USA soccer federation to engage in meaningful reforms as well as elect a leader at FIFA who will spearhead long overdue changes in the organisation."
He talks of the human lives lost and the consequences of "lapses in integrity". He emphasises the need for the USA to take responsibility for "restoring integrity".
"We cannot must not should not turn a blind eye to this issue any longer"
Senator Richard Blumenthal, right, of the commerce sub-committee on Consumer Protection, takes the microphone.
He refers to soccer as a growing sport in the USA and congratulates the USA women's bream on its victory at the World Cup this year.
With a nod to that he addresses the champions directly when he states:
"The corruption in world soccer is a disservice to the game, it is a disrespect to them, it betrays the trust of countless men and women, many of them young people just beginning in this sport who have a right to expect better from the leaders of this sport."
On the FIFA inquiries, he notes:
"What has been revealed so far is a Mafia-style crime syndicate in charge of this sport. My only hesitation in using that term is that it is almost insulting to the Mafia because the Mafia would never have been been so blatant, overt and arrogant in its corruption."
The indictments pressed by the USA Justice Department, he added, showed that the organisation had a 'chart that showed how it [the network of corruption] was run'."
He asks: "… who knew about this criminal wrongdoing, when did they know it and … why did the not act more quickly? … These are classic questions involved in any racketeering conspiracy investigation."
"The facts show that there had to be wilful ignorance or blatant incompetence on the part of many of the members of this organisation – and that's true of U.S. soccer … they either knew about it or should have known about it and I'm not sure which is worse."
The hearing, he hoped, would lay the groundwork for the kind of "far-reaching, fundamental reforms" of the kind that had been necessary in world sports in the past when scandal reared its head.
"I wanna know what reforms the US Soccer federation is planning to introduce to instil greater transparency and accountability in the governance of soccer in America. Not whether but what and when because clearly there is an urgent and immediate need for such reforms."
Having soccer run by a billion-dollar enterprise run behind closed doors was "a recipe for disaster and a moral catastrophe", he added.
One idea is to reorganise FIFA as a public corporation or at least some part of it as a public corporation, the Senator noted.
He urged private corporations that sponsor sports events to take responsibility, too. McDonald's, Nike, Coca-Cola andVisa are all cited as having the chance to serve as "guardians of good governance" rather than acting as "silent beneficiaries who benefit from opaque governance". He notes, without naming, that one of those corporations is mentioned in a FIFA-official indictment.
The Senate Hearing Witnesses
Dan Flynn, USA Soccer federation CEO and Secretary General
The first to talk. He explains how his federation works and how it fits into FIFA and other international bodies such as CONCACAF (Confederation of North, Central American and Caribbean Association Football), among organisations cited in the corruption investigation.
Flynn notes that USA Soccer advocated full release of the reports into the bids for the 2018 and 2022 World Cups. In another defence of his position he notes that true federation he leads backed Prince Ali for FIFA president against Blatter despite "the risks" of damage to any USA bid to host a future World Cup, in 2026.
He noted recent moves to press for "sweeping reforms" at CONCACAF but says almost nothing about the fact that it has taken scandal on a monumental scale to get to a place where the dialogue for reform was even possible or deemed necessary.
Michael Hershman, former member of the FIFA Independent Governance Committee (served for two years), founder of Transparency International and president and CEO of Fairfax Group, a risk management firm
STOP THE SENATE TAPE: Hersham and his outfit did indeed bring some reform to FIFA but as the man notes much on the issues of transparency and more was rejected. If USA Swimming was serious about reform within FINA it could and should have backed the Sweetenham call for a review – and Hershman would have been the perfect man to lead the way. USA Swimming chose to stick with the status quo, with Dale Neuburger, Bureau member, and Carol Zaleski, Technical Committee, leading the call to stick with what has served them well and at certain key levels served swimming well (important to note that much good has come from having the right people take decisions at critical moments down the years). The stance is that what the USA gets out of the status quo is worth putting up with a deal of stuff that really ought not to be tolerated. For example, at the tip and side of the iceberg, no word from the USA on awarding Putin, no word from the USA on FINA's work with a British PR unit offering four months of 'toil' for $150,000 to discredit those raising red flags and selling Michael Phelps as a poster boy for the blazers and bureaucrats at the top table of FINA when they'd never asked him and when clearly he had no intention of being any such thing. Good relations and even friendships stretched and broken all the while. That need not have been.
Hershman widens the discussion beyond football when he says that the FIFA inquiries delivering "a tremendous opportunity to discuss the inherent autonomy in sporting organisations. Sports organisations have long maintained that autonomy is central to the preservation of the values embedded in sport. This is a difficult concept to argue with" he notes but only until the core values of sport and trust are undermined as they have been by the revelations on FIFA.
The growing commercial nature of sport, the protection of governments that soccer has enjoyed and the rapidly expanding gambling industry (legal and illegal) are "all converging to create a situation where self-regulation is increasingly challenging.
"The sports industry must put in place governance and compliance standards which demonstrate the best practices of transparency and accountability."
FIFA business: worth about $5.6 billion every four-year World Cup cycle. FIFA had a chance to lead reform in sports organisations when the scandals started to emerge about 10 years ago on the back of the work of the likes of Andrew Jennings.
Transparency International presented plans for reform to FIFA, Hershman noted, but FIFA held on to the "irresponsible notion that it was autonomous and did not have to adhere to outside oversight or 'interference'".
The US sporting public cannot, he emphasised assume that "FIFA is the only sport with endemic structural problems," he adds.
"Every single governing body in the sports world, from the International Olympic Committee to the ICC to the NFL needs to agree to modern standards of transparency and accountability."
Sport is big business and needs regulating as such, he states.
Recent events were "bigger than FIFA" and require "coordinated action across all sporting bodies and I believe there is a way we can achieve this reform; with the cooperation and support of governments and sports industry leaders around the world."
The International Centre for Sports Security (Hershman sits on the board, he notes) has come up with the Sports Industry Transparency Initiative, a set of standards that would be voluntarily adopted. The group would work with sports organisations to promote higher ethics and values in governance. A benchmark would be created, including:
professionalising boards of directors in sport
managing conflicts of interest
building a democratic foundation
embracing transparency and accountability
levelling the playing field for athletes, men and women
motivating ethical behaviour for staff and volunteers
engaging with key stakeholders
showcasing sports-event integrity
considering the positive role of sport in society
establishing effective risk controls
Comprehensive and far-reaching is how Hershman describes such moves.
The purpose was to leave sports organisations knowing precisely "what is expected of them in terms of integrity and transparency"
Sunjeev Bery, Amnesty International, Middle East & North Africa Advocacy Director
Here, for the most part, I will leave you to watch from 26 minutes in, for the issue is the most important raised in terms of consequences of corruption, bad management and the turning of blind eyes and going along to get along mentality of federations around the world who not only tolerated FIFA's leaders but propped them up and played a part in maintaining the system and status quo. All to one degree or another have blood on the their hands.
Bery notes the outcomes starkly in the realm of a nation such a Qatar (2022 World Cup host so far), where 90% of folk are foreign workers brought in to do the drudge and dangerous stuff in wholly unnacceptable conditions: slavery, entrapment, suicide, hunger, dependence on charities for basic foods, eviction, lack of labour-law enforcement, exclusion from rights, sexual violence … and death.
On construction sites related to but not exclusive to the World Cup bid:
"FIFA assumed responsibility for the above" the moment it awarded the 2022 World Cup to Qatar, a bid "based on labour exploitation".
If reform is not forced through with urgency then the 2020 World Cup will carry the "permanent stain of forced labour and human suffering".
Enter Andrew Jennings
Andrew Jennings: Investigative journalist and filmmaker and the leading force in exposing corruption in the IOC and FIFA down the years, some of that work leading to cooperation with the FBI on enquiries that led to the indictments making the headlines.
Jennings congratulates the USA women's team, who's success "contrasts sadly with the massive, massive deficiencies of the US Soccer Federation; frightened to upset Blatter's corrupt FIFA while enjoying the elite lifestyle that he provides."
Jennings notes the absence of the US Soccer representative at FIFA, Sunil Gulati (Gulati was one of several executive committee members at FIFA to call for the publication of the full Garcia Report into allegations of corruption surrounding Russia and Qatar's bids for the 2018 and 2022 World Cups).
"Where's Sunil?" asks Jennings taking a peek under the table just in case. "He's the man who takes American values to FIFA and CONCACAF and he's not here to talk about it. It rather undermines the whole process."
From there I recommend wholeheartedly that you listen to every single word uttered by Jennings.
Jennings concludes his presentation with two fundamental calls for action:
Scrap FIFA and start again because the organisation is too rotten to cure itself of being "an organised crime family"
Repeat the exercise that followed the Salt lake City scandal at the IOC: "external, respected, non-partisan" investigation was essential, at US Soccer.
Gulati was treating the hearing "with contempt" by not appearing. Jennings urges Gulati to get to Lausanne for a due meeting in the week that followed the hearing on Capitol Hill and tell Blatter to pout all his play slips and earnings on the table, perks, bonuses, per diems, the lot. And if that's not forthcoming, get home and held the USA kick-start reform.
"That's what you've got to do as a country" to regain credibility internationally.
The questions following the presentations:
What did U.S Soccer know?
Flynn: "I knew nothing about any corruption…"
Senator Moran interrupts to ask him to clarify who he's talking for; Flynn answers by saying that neither he nor anyone who was there to report such things ever brought back "cold, hard facts about corruption" at FIFA or CONCACAF.
His defence then stretched to describing the alleged corruption as a series of private transactions that U.S. Soccer knew nothing about, transactions that took four years of FBI work to get to.
Senator Moran: so the indictments came as a surprise?
Flynn pauses and cannot answer the question directly, saying 'I just wasn't involved'.
Bery, of Amnesty is asked how the corruption feeds into the topics that concern him: human rights.
The moment FIFA accepted the bid from Qatar and awarded its event it took on responsibilities for human rights under United Nations principles, replies Bery. It had a duty not to turn a blind eye to human rights abuses related to its activities.
"Why was it that FIFA did not go more deeply into such things" before awarding its event at a time when the human rights abuses there were well documented?" asks Bery. He notes that for 2026, FIFA will incorporate human rights concerns in bidding processes. Tough for the folk losing their lives in large numbers up to 2022, of course…
STOP THE SENATE TAPE: This is an important principle and one that FINA leaders, a group of people increasingly wedded to staging their events in the Middle East, need to take note of. Qatar has been a FINA host and will be again. Thus, FINA bears just as much responsibility of the kind Amnesty talks of as FIFA does. The question is clear: did FINA check whether there were any human rights abuses associated with the construction projects and related hosting of events related to swimming championships?
Jennings is asked for context.
Everyone knows in soccer bids that you have to "pay to play", so silly of England to even have put in a bid given that they, like the USA, says Jennings, tend not to be into paying bribes.
"A Dirty Decision" is how he described the moment FIFA allowed its game to be placed on a strip of sand that is "boiling" and "broiling … people would die if there was a summer tournament there".
Jennings notes that Blatter and "stakeholders" then move the dates to November to take account of the weather. Beyond noting that "stakeholders" were not fans and such folk but "Blatter's mates", Jennings makes a point that ripples out to many sports:
"If you want to die young, come to England and stand outside Arsenal, Manchester City, Manchester United, Liverpool, Everton, all the big clubs and say 'we're going to stop you having football for seven weeks' because Jack Warner took the money'. I hope it's a painless death. You can't just walk into someone else's sports culture and take it away but that's what Blatter's done.
Who, asks Jennings is questioning him, who is calling him to account, holding him in check?
"I don't see any of the U.S. Soccer officials at FIFA saying 'no, no, no – we're friends with the English and the Germans and the Dutch and the other western European nations who are going to have to stop their game because of the dirty slime-bags at FIFA."
STOP THE SENATE TAPE: taking away a sports culture is precisely what has happened in swimming. In some parts of the world they have stuck to their guns: plaudits to the USA, where the college kids race at NCAA's and other college events and never go on world cup tour (most of the 'pro' swimmer don't either for they have other traditions and long-established pathways to follow).
But consider the tit-for-tat escalation in events between LEN and FNA since 1999 and there you will find a wrecking ball.
Take Britain (whose experience can be found elsewhere): the notion of a national champion is not quite dead but it is diluted, distorted and well on the way to being destroyed in terms of what that title ought to mean. Not only the fault of international federations, of course, but these days, national champions are folk who got left off the major team for the year, the domestic event unfolding as the national team leaves for world titles. Calendar chaos, like human rights and all other issues, is the responsibility of the international federations and their domestic members. The discussion has gone on for decades and has become all the more pressing in the past 15 years as FINA and LEN have doubled their impact on the calendar with complete disregard for traditions and events that were established long ago but now have scant connection to any sense of swimming history.
The model in swimming has not been reform and careful readjustment but of sporting colonialism and bullying from top downwards in the name of "promoting swimming", when all the while the lore and glue of the sport has had a flame-thrower aimed at it.
Jennings then suggests that too many soccer officials must have headed a wet football too many times in their youth, only that, he indicates, a possible explanation for how often they seem not to notice things happening and can't remember events at all clearly.
Jennings takes a side swipe at Flynn's suggestion that he knew nothing when he notes that accusations of corruption are there in the media and well documented in 2002, again in 2006, again in 2010.
"Richly documented; that racketeering was a way of life for CONCACAF. But apparently that news never reached the Chicago offices of the U.S. Soccer federation."
Swift intervention from Senator Moran, who hands over to Senator Blumenthal. Flynn had had no knowledge of any corruption until the news broke in May this year, he confirms.
Senator Blumenthal: "Did you have suspicions?"
"There were moments … when if I had a level of discomfort I would just get myself out of any situation that offered any level of discomfort to me".
STOP THE SENATE TAPE: Beyond the sinking feeling you get when you hear a top official utter such words of what might well be described as an abdication of duty and responsibility, Flynn points to a fundamental flaw in the model of sports governance, swimming included. Time and time and time again down the years I have watched and heard witness from delegates who arrive at FINA full of enthusiasm for changing things for the better only to find they meet resistance, a pat on the back, an attempt to persuade – and measures all the way to threats and actual exclusion if they are perceived to be folk who don't tow the party line. Bad culture is a place where bad things are bound to happen.
Senator Blumenthal, looking slightly irritated, presses Flynn: it was evidence that caused him to remove himself from discussions and meetings?
Flynn lays "evidence" aside and says "it was a comfort level".
When did that "comfort level" begin? Flynn could not pinpoint a time.
"Years before the indictment"? Flynn wouldn't say years but couldn't pinpoint the time.
"Months?"
"Greater than months but it would be hard to pinpoint …"
"Did you make any effort to investigate?"
"If there were cold facts I would have brought that to the attention of the appropriate people." Flynn says there were no facts he could take to anyone top press a case.
Outside counsel was consulted and Flynn simply "passed along my level of discomfort".
Senator Blumenthal:
"Would you agree that U.S. Soccer acted inadequately to investigate or prevent or stop any blatant criminal wrongdoing at FIFA?"
"I wouldn't say we would do it differently," says Flynn. "We have two choices. here are 200 nations … we have to find a way to participate in a manner consistent with our mission and our core values and we think that one of the ways to do that, starting in 2013, was that we finally had someone on the FIFA exco [executive committee] … that we had someone at the table…"
Senator Blumenthal interrupts what is "fairly well-known history". Instead he throws it forward to this:
How much did officials come to learn and "very bluntly, why those officials did so little until the Department of justice indicted Chuck Blazer and others who had long-standing ties with U.S. Soccer, particularly in light of the lack of comfort level you had? In retrospect, what's the explanation?"
Flynn starts to answer … "I didn't" … he then cuts his microphone and consults legal counsel.
"I was away of a level of discomfort but it was … a general feeling, so I had no hard evidence and we wanted to continue to participate and influence the organisation of 209 members. The second choice we have is to opt out … with that comes a series of ramifications. We no longer have a seat at the table, we are no longer involved in any competitions, Olympics… "
STOP THE SENATE TAPE: perhaps it is possible to envisage world soccer going on without the USA but I wouldn't know. Translating the scenario to swimming: any such thing would destroy the show – and everyone knows it. Regardless of how things would play out in soccer, swimming or any other sport, does the reported deaths of many people and Amnesty reports galore on human rights abuses not tip the conscience to a better place than 'no real option but to go along to get along'?
There would be ramifications for the business model for soccer in the USA, Flynn continues. Billions have been invested in past 20 years …
Senator Blumenthal understands the options but was there not a third? "To start asking questions and begin an inquiry, begin shining a light, begin blowing the whistle .. and essentially holding accountable officials who might be guilty – and we now know they are – of wire fraud, conspiracy, money laundering, bribery, that directly impacted the quality and integrity of the sport that you are responsible for upholding?"
STOP THE SENATE TAPE: This question is one that cuts to the heart of the issue across many federations regardless of whether financial corruption is present or not. The point is that flag raising, blowing whistles, shining lights is all part of good governance and should be seen as such. Evidence abounds that such things are rejected, sometimes forcibly so, at FINA. Bad culture is a place where bad things can happen. Good culture is a place where poor to bad outcomes are anticipated and prevented wherever possible.
Flynn notes that U.S. Soccer did support the 2011 Ethics Committee moves and pressed for full disclosure of the full Garcia report and supported Prince Ali against Blatter "at great peril" to USA chances of hosting the 2026 World Cup.
He stuck to his view that being at the table was a proper course of action to reform FIFA.
Senator Blumenthal made it clear that his questions and comments were directed not at Flynn personally but at the whole leadership of U.S. Soccer.
On that note, why was Gulati not there?
Flynn and team had anticipated "rather broad and specific questions, potentially". It was determined with outside counsel that Flynn would attend. He had more of "a comfort level" than Gulati when it came to the day-to-day operations of U.S Soccer.
Senator Bluemnthal: "Don't you think he has an obligation to answer the questions we've been directing at you?"
Flynn would do his best to have Gulati answer questions in writing.
Senator Blumenthal describes U.S. Soccer's silence as "deafening" in many respects. He wonders whether Flynn now believes more should have been done to expose the bad things that had unfolded.
Flynn skirts a 'yes' or 'no' and points to "the recent reform of CONCACAF", which was "weeping" and involved independent directors and greater degree of transparency. That was a footprint that "we'd like to bring forward to FIFA, recognising that we're one of 25 on the FIFA executive committee and one of 209 nations …. We pride ourselves on our leadership and recognise … the limited capacity that we have for reform."
STOP THE SENATE TAPE: precisely. Limited capacity for reform. Precisely as things stand in swimming, with deals, compromises and much else a part of universality and a bad model of governance. Precisely one of the reasons why USA Swimming, among others at the pointy end of business, should be pressing for a new model not simply trying to reform what they've got while knowing that decades have gone by and will go by again with the same old, same old if no-one takes a stand.
Senator Steve Daines notes the 15 years of Flynn's governance and asks him to describe any specific example of when he felt "a level of discomfort".
Flynn recalls Blazer's way of holding meetings at which, he seemed to indicate, a deal had been struck or an outcome already decided before a closed votes count was taken.
His discomfort centred on "the way Jack Warner and Chuck Blazer ran their meetings".
Did he express those concerns to Blazer, asks senator Daines.
"I did not," Flynn replies, his subsequent explanation a return to those two choices: participate or jump ship.
Flynn was left to feel that had he raised the issue with Blazer, he would have been made to "feel a level of discomfort in another way".
The threat was tangible, it seems, though the nature of it was not expressed.
Did he see peers experience the same? Says Flynn:
"If we reached out to talk to other federations … there wasn't anyone else that had the same feeling that I did as an organisation, so we operated as best we could …"
STOP THE SENATE TAPE: If I had a dollar for every time an official, coach, athlete, doctor, anti-doping expert and journalist said something very similar about meetings they had attended with the FINA Director Cornel Marculescu and others in the FINA leadership, I'd put a smile on the face of my bank manager. As in the last point, set aside any notion of financial corruption, for that is not the point. It is the mechanisms at the heart of the decision-making process that limit independence and democracy of thought. Just as Flynn is left looking like a man working in a system that does not make provision for red-flag-raising without consequence, the same is true of many navigating their way in FINA World.
There ensues an exchange with Senator Amy Klobuchar over the fact that the USA's world-champion women get far less pay and reward than their male counterparts who finished far from the helm of their world tournament.
STOP THE SENATE TAPE: The discussion is interesting but in swimming we must note that women's equality in prizes is established and there is not an issue. The one issue FINA has not faced well is, yet again, its close relationships with Middle East nations that simply do not allow women to participate in swimming, let alone sports such as water polo, in any meaningful way, the presence of a 10-year-old in Kazan this year part of a sickening parade of sugar-coated political correctness.
Senator Moran asks Hershman what would have to change structurally at U.S Soccer to avoid a repeat of what Flynn had described as the way the domestic federation finds itself operating at international level.
It is, says Hershman, necessary to "understand the nature of the beast". FIFA is, he added "not an international federation; it is not an NOG, it is not a corporation; it doesn't follow any guidelines or standards. What exemplifies FIFA is a small clique of very powerful individuals whose self-dealing was kept very secret at the top level of the organisation.
From an hour and 15 minutes into the tape, well worth listening to the rest of Hershman's description of how Blatter and a few others ran FIFA.
To Jennings, Senator Moran asks what needs to happen at FIFA.
"FIFA's got to be dissolved. They don't want reform. We use terms like reform, they go 'boring'," says Jennings raising his hand to a yawning mouth. "To them everything's fine; a few get arrested…". He notes how the mafia operated on for years even when its leaders were picked off by the authorities.
Jennings procedes to take a sledgehammer to Flynn's notion of reform at CONCACAF.
U.S. Soccer had been "cowardly", says Jennings. A delegate from St Kitts, a titchy island dwarfed by many of its neighbours, had had "the guts" to stand up and says that Warner had been stealing money, says Jennings. Warner and Blazer turned their poison upon him and he "just survived… but he had the courage to do it but where was America?"
STOP THE SENATE TAPE: Some in and close to USA Swimming were "disappointed" by this analysis from yesterday. Well, sorry about that but I stick to the view that the world No 1 swim team's federation is not showing enough courage, is not exercising the power it can most certainly wield and carry the day with when it comes to setting a course that many others would be keen to follow if they could get a sense of an escape route from the current malaise at the heart of FINA.
Senator Moran returns to Flynn: did his belief that to oppose Blatter for presidency of FIFA was to risk success of a USA bid to host the 2026 World Cup stack up to confirmation that he must have known that something was not right at the heart of top-table governance?
"It reflects a management stye and that was what I was trying to impart. Blatter wields a lot of influence in the organisation…," says Flynn – and that would cause U.S. Soccer difficulties comes the 2026 vote.
Senator Blumenthal turns to Jennings. Had big sponsors "been enablers".
"Inadequate," replies the journalist to the term "enablers" before stating: "They've had terrible attacks of blindness … when the rest of the world has been listing corruption at FIFA and CONCUCAF, I mean documented, the sponsors have said 'well, we only sponsor the World Cup, not FIFA'; well, isn't that brave of them."
STOP THE SENATE TAPE: swimming sponsors have privately complained for many years about the way they have to deal with FINA and of late they have complained about an adherence to the same championship models wherever swimming is held, be that eight days, five days, two days: same old, same old. There are practices at the heart of FINA that sponsors and partners are deeply unhappy with … and yet, search the worldwide media database of newspapers, broadcasters, online portals and more and if you can find a truly harsh word of criticism of FINA in the public domain or any suggestion that money is being pulled because the sport's leaders are getting it wrong, I'll take on Sarah Sjostrom over 50m butterfly in a red Jaked from 2009 if anyone can lay their hands on one. The reason may well be obvious: it is the swimmers that the sponsors have a relationship with and wish to support alongside their businesses, FINA an inconvenience. But as the senator asked: just how effective is silence (and even quiet whispers behind closed doors) if genuine change is what you want?
Jennings urges that sponsors withdraw their money until reforms are in place and new body with a new culture is in place.
Should the soccer nations have known about the human trafficking and rights issues related to Qatar – and should they have done something about it, asks Senator Blumenthal.
Yes, says Jennings, while Bery, of Amnesty, says:
"There's definitely been a startling lack of attention by many parties involved … It's time for the sponsors of the sport and the contractors and the businesses involved with the World Cup as well as the host Government itself, Qatar, to start taking action and doing something about this labour rights crisis."
Hershman notes that sponsors spend millions on protecting their brands through adopting best-practice standards. So what dies it say about them if they sign up in partnership with the likes of FIFA.
Is FIFA salvageable, Senator Blumenthal asks Jennings. "Salvageable? No, not at all. Corruption is so heavily embedded that if you cut the head off the snake the rest of it would still be wriggling about." He then dispenses this advice:
"America has to, with its moral values, join with other nations with similar values and say to FIFA 'you stay in Zurich, we're outta here, we're not going to be contaminated by sitting at your meetings with a bunch of organised crime experts; that's what FIFA is. And it was very good to see your FBI, your department of Justice assess them like that. I'd thought that before; I'm very glad that they came aboard. You don't go to John Gotti and say 'Mr Gotti, there's really too much heroine on the streets of New York, could you cut back on it a bit?"
Is FIFA salvageable, Mr Flynn?
Different answer to that of Jennings, as you might expect. He points to CONCACAF reforms once more, the very thing Jennings has shot down in flames for the heap of nonsense he believes that is.
Senator Blumenthal presses on: had he seen tangible evidence of an attempt at reform.
Yes, but they'd come up short. He returns to the stuff holding him back: 209 nations, we work within and try … he sounds like a stuck record.
So Senator Blumenthal asks whether the U.S. Soccer fed will withdraw from FIFA if it fails to put in place meaningful reform.
Flynn returns to more of the same: "… opt out is very difficult and has severe ramifications…".
STOP THE SENATE TAPE: Flynn is struggling at this point; he cannot bring himself to a place where there would be a limit to being a part of FIFA; to a place where a new start would be best. In a swimming context this is interesting: it mirrors the stance of many inside the house of FINA but with one big difference – Flynn has been more critical of FIFA leaders in the public domain than any top official of a domestic federation close to or at the helm of international swimming governance has been of FINA.
As a fan, a public official, a parent, Senator Blumenthal says directly to Flynn:
"Sometimes inaction and silence signal complicity and there'll be a point where in effect U.S. Soccer is complicit in the ongoing lack of reform and action. You may have no direct control of it but I respectfully suggest that may be something you want to consider more seriously."
Flynn confirms that U.S. Soccer will cooperate with an inquiry that is brought to the table. The Senator rolled back: no, he was suggesting that U.S. Soccer launch an inquiry into goings on at FIFA and whether it could have performed better.
Flynn suggests that talks would have to be had with like-minded federations if that was going to get off the ground. His commitment was limited to working with other federations to seek reform at FIFA.
Spin on to 1hour 35-36 on the tape and you find Bery talking about 400 deaths on building sites in Qatar among Indians and others. No serious investigation is underway.
Jennings – "You've got the sponsors, you've got the media, you've got the moral power of this huge country"
Jennings then returns to taking Flynn's arguments apart. American was not a nation that had to go an seek the permission of others to hold an enquiry. "Please," pleads Jennings. "I find this very dispiriting that this view of America as being gutless … because that is what is being suggested. Get on and do it: don't ask permission of some other countries." In other words: lead and show the way; don't move in numbers apt to hold you back in a system that can't afford to be held back any longer.
American didn't need its nuclear weapons to solve the problem, said Jennings. "You've got the sponsors, you've got the media, you've got the moral power of this huge country". Western Europe would follow in a flash, he believed. "They need leadership and they're not getting it."
STOP THE SENATE TAPE: The same could be said in swimming, no matter how disappointed anyone may feel about that conclusion. Courage has not been found in great enough supply so far in the swim schism at federations the world over, USA Swimming at the helm of them.
Senator Moran asks what Jennings hopes will come out of the hearing. American should hold its own inquiry and look at where the old way of doing things had led them, how and then resolve to change the model. Independent, he notes, was what an inquiry should be.
His second point was stark:
Walk away from Blatter and Co; take a new course. If the USA did not do so then they were "cowards, weak and have no perspective on the rest of the world … and I don't think that's true of America, generally".
Herman's final testimony is of great relevance to FINA. He is talking about his time trying to persuade FIFA to reform and says this:
"We came in as a group of independent compliance and sports experts to look at the internal checks and balances of FIFA; to look at their governance and compliance procedures. We did so and made a number of recommendations, many of which were adopted by FIFA."
The Ethics Commission came into being, for example, with two co-chairs who were "independent outsiders". An independent chair of the audit group was established.
But when it came to other issues such as term limits for top officials and the president, when it came to transparency of compensation, including to this day no-one knows what the president of FIFA is paid nor what the members of the executive committee are paid; when it came to setting up an independent, outright oversight mechanism to ensure the compliance and other issues were being observed: all turned down.
Hersham notes, importantly, that without a change of leadership and culture, even the best reform packages would not have resulted in much difference in terms of the way things were done.
Senator Blumenthal described the hearing as just one step in a larger very intensive and critical scrutiny that has to be given to the responsibility of United States Sports Organisations.
The exceptionalism of the United States was not simply its military might but its moral example, its values and its ethics, said the Senator.
"The fans here and around the world deserve better from the sports organisations that have a responsibility to oversee and organise … corruption is not a game; it is deadly, serious , it is criminal and it betrays the trust of fans…"

"U.S Soccer had a responsibility to know; either it knew or it should have name .. the fans can judge which is worse."
The Hearing is almost done. Senator Moran's concluding comments include:
"We cannot tolerate the status quo."