A Gold Apiece For Hansson & Wattel As Sjostrom Matches Popov As Most-Medalled Star Of Euro Showcase Swimming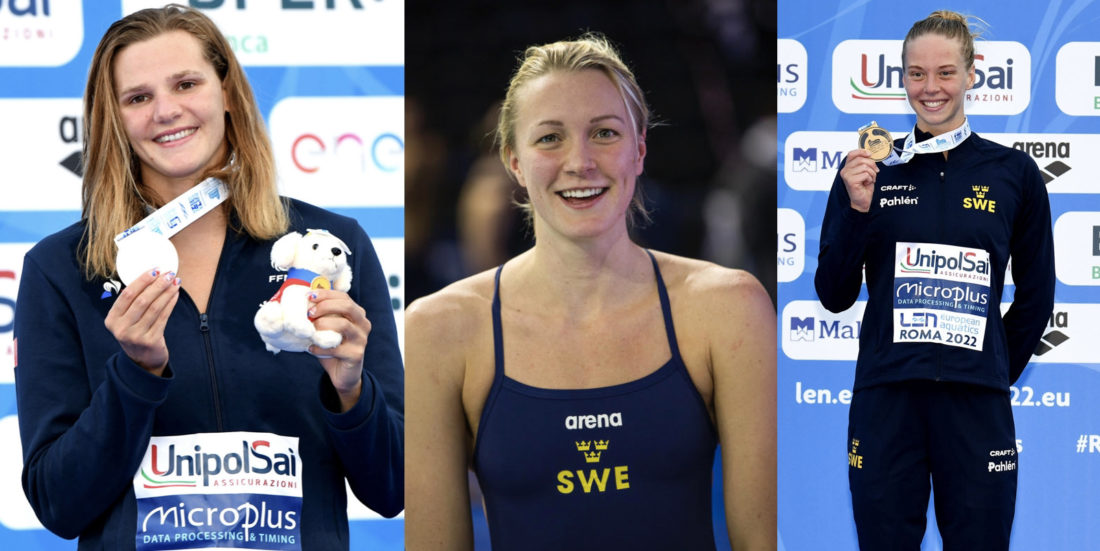 By the time day 5 here at the European Championships was done, Sarah Sjostrom, Sweden mate Louise Hansson and France's Marie Wattel had notched up five medals between them, Sjostrom's making it an historic match with Alexander Popov at 21 orbs as the most-medalled swimmer in the history of European Championships in the long-course pool all the way back to 1926, and 1927 for the women.
The fortunes of all three women came from their part in two events, the 100m butterfly, on the day and back to 2008, and the Mixed 4x100m free relay, which is only eight years old, introduced as it was in 2014.
Wattell emerged from a twin challenge with two prizes for self and France: a silver lining behind Sweden's Louise Hansson in the 100m butterfly a title lost before she delivered gold in the mixed 4x100m freestyle. Hansson followed gold with bronze when she got Sweden home third behind France and Britain in the relay alongside Sjostrom.
The 100m butterfly title had, of course, been draped in Swedish colours plenty of times before, Sjostrom, who came to Rome to focus on dash events and relays, the case in point.
Sweden's first woman ever to claim Olympic gold when she topped the 100m 'fly at the Rio Games of 2016, Sjostrom has four European 100m 'fly titles to her name, the first claimed at 14 back in 2008.
Her illustrious career reached a tipping point today in Rome even without the 100 'fly: in helping Sweden claim bronze behind France and Britain in the Mixed 4x100m free – swam the third leg in 52.68 – Sjostrom matched Popov's all-time total of 26 long-course European Championship medals.
By the time the curtain closes at the Stadio del Nuoto on Wednesday, Sjostrom is likely to have deposed the sprint Tsar as the most-medalled in European long-course history: relays apart, Tuesday marks the start of the 50m dash rounds and the prospect of a second solo gold for the Swedish ace.
Popov, of Olympic double double fame (50, 100m free gold, 1992 and 1996), notched up 21 golds, three silvers and two bronze medals, including 13 relays, while Sjostrom now has 15 golds, seven silvers and four bronzes, including 10 relays. Said Sjostrom: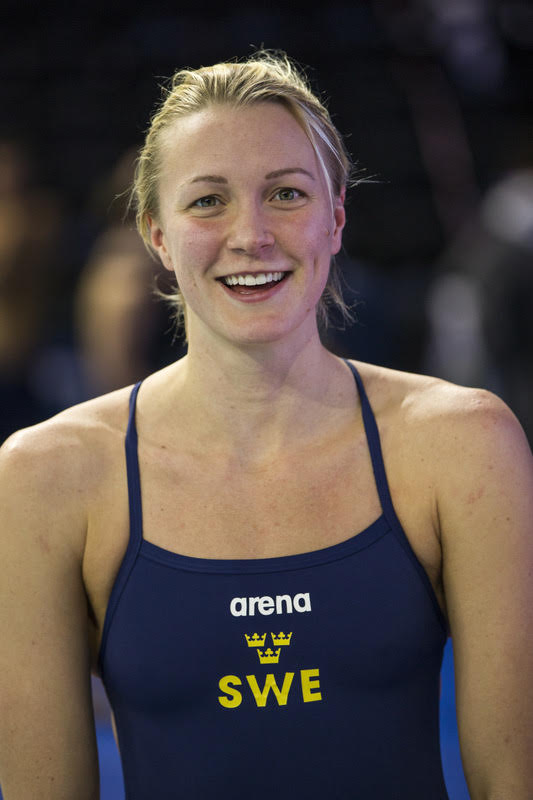 "This is amazing, though you know I always say that I'm not that good with stats, I don't really keep an eye on them.

"This is very fitting that this historic medal came in a relay, it was a great performance from our relay. And I think I have a good chance in the 50m fly and in the medley relay so we two more promising days to come."

Sarah Sjostrom – photo by Patrick B. Kraemer
Women's 100m butterfly – Hansson Brings It Back To Sweden
Marie Wattel entered the fray the defending champion but Louise Hansson insisted that this would be her day to wear the crown.
Previously based at the University of Southern California, Hansson snuck past Wattel down the home length to take the crown in 56.66, the defender on 56.80, and bronze to Bosnia's Lana Pudar in 57.27.
Wattel, the only sub-57 swimmer in the rounds and silver medallist at World titles in Budapest two months ago, held sway down the first length of the showdown, 26.55 to 26.59, but Hansson, bronze medallist last time round, brought it home with a top split of 30.07 to take the 100 'fly crown back for Sweden.
"I'm really pleased with this result," Hansson said. "It was a huge race. Everything went as we had planned with my coach and I'm so glad that I could deliver. This is my first individual gold, so I'm really happy to go home with this gold in my bag as I think the whole country will be proud of me."

Mixed 4x100m Freestyle – Wattel Delivers Gold For France
Maxime Grousset (48.02), Charles Rihoux (48.39) and Charlotte Bonnet (53.34) anded over to Wattel, whose anchor leg of 53.05 turned a 0.07 deficit at the final handover to gold in 3:22.80.
It was silver for Britain, whose Freya Anderson produced a fine 53.03 to convert her team's fourth place as Anna Hopkin handed over, to a close call with France, a 3:23.20 tally keeping Sweden at bay by 0.2sec after Sjostrom's 52.6 had left Sweden joint leader with Hansson to come.
Grousset said: "It's going really well. After the little disappointment in the 200m events it was a great pleasure to win this medal. We have a great team and we are really satisfied."
Tom Dean, who swam the lead-off for Britain in 48.46, paid plaudits to Anderson, who has notched up one gold, three silvers and a bronze so far in Rome. Dean said: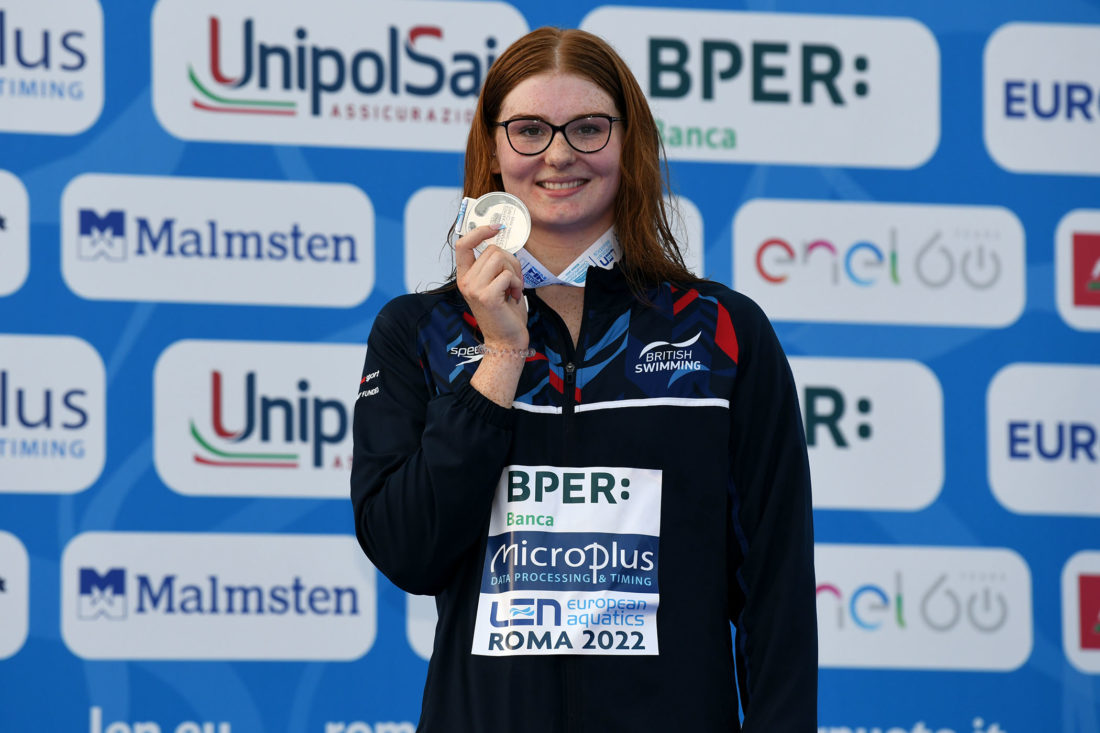 "I think this is Freya's fifth medal and she can end up finishing these Europeans with seven if everything adds up which would be an incredible achievement, I wish to emphasise that.

"We all did very good swims and did well overall. The reason mixed relays is so fun to swim is that it can change rapidly and it's impossible to predict who wins at the end.

"Different teams have different strengths, and so much can change during the race. It has been a very long and tiring season for all of us so we are more than happy to have come out with another medal."

Tom Dean on the race and the role of his teammate Freya Anderson, pictured, courtesy of LEN
Hansson reflected on her gold and bronze efforts: "It was a great night for me today, first with the gold medal in the 100m fly and now this bronze in the relay. I'm really happy with the team's performance and swimming together like this in Rome was fantastic. Two medals in the same session it's something amazing and I will remember this night forever."