How The Success Story Of Sarah Sjöström Speaks To The Themes Of Talent & Athlete Sustainability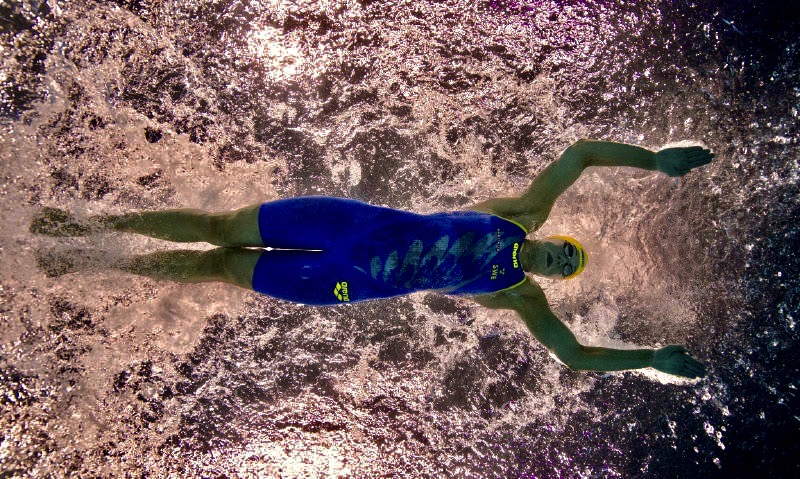 Sarah Sjöström had to be bribed to get her away from the water not long after she took up the sport for fun at 10 to be with a school friend, her mother Jenny Sjöström has revealed in a timely interview in which she raises one of the most critical issues of the age for the sport of swimming: leading kids to water is a no-brainer … but how do you keep them there?
Sjöstrom is the living answer of one of the key answers: passion. Just four years after taking the plunge at 10, she was European 100m butterfly champion, a 14-year-old on the way to her first Olympic Games, a second Games disrupted by illness and a crowning moment at Rio 2016 when she became the first Swedish woman to claim gold in the pool of pools.
Now 27, Sjöstrom is a superstar with 67 international podium honours for Sweden, topped the Olympic 100m butterfly title, one of 34 golds in a collection that includes 11 World and 22 European crowns – and a starring role in the International Swimming League. The World record book boasts her name 14 times; she currently holds seven standards – the 50 and 100m free and 50 and 100m butterfly long-course marks and short-course high bars over 100 and 200 free and the 100 'fly.
Luck is often made not found and in Sjöstrom's case, the willingness of her parents to let her find her way and follow her heart, friends and fun saw the young Sarah try out a number of sports and activities. Athletics topped the wish list at first but then, at 10, she found swimming when she joined a school friend at the pool.
Going back to the start in an interview with Josefin Johansson at expression.se, Jenny Sjöstrom is asked to pinpoint what we learn from her daughter's experience. She notes just how important it is to invite children and young people to try new sports. In a message that speaks to the theme of Athlete Sustainability, Jenny Sjöstrom says:
"You might miss and lose talent if you think it's just the ones you are aiming for as four to five year olds that will become our next generation of elite athletes. I don't really believe it. We have to open up more, there is certainly a lot of talent out there."
Jenny Sjöström laughs at the memory of her daughter's first visit to the pool, notes Johansson as she quotes the champion's mother saying: "She was no special talent; she liked the showers and was just splashing about in the water."
A summer holiday brought more opportunities to swim – and Sarah Sjöström was hooked. Her mother recalls:
"Then [her involvement] took a leap … things developed quickly from there and, you might say, we'd chosen the right activity for her. We had to bribe her with a little bit of everything to get her away [from the water] sometimes. That said, Sarah always did things properly: she enjoys routines and getting away to do what she needs to do; the rest can wait until later."
She saw other parents who had spent much longer in the pool pointing to Sarah Sjöström in admiration. The learning curve began not only for the swimmer. Jenny Sjöstrom began to take notes to try to find perspective and understand her daughter's potential and what it would mean and how, then, she might help to motivate the young Sarah. Mrs. Sjöstrom recalls:
"I got a book where I wrote down times and compared them a little. It became a spur for her to see the results. She got a little pocket money for [improvements]." Not for winning – for making improvements to her own performance.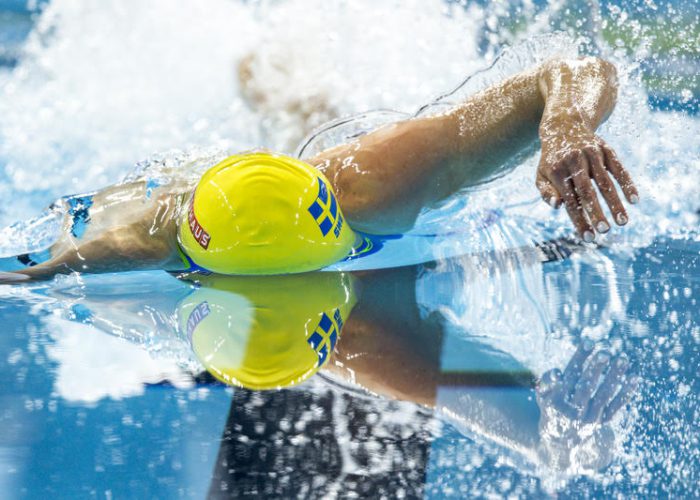 Sarah Sjöström Returns The Support Of Family
Kindness teaches kindness. In recent times, off the back of  a soaring first season of the International Swimming League, Sjöstrom bought her siblings apartments when she heard they were struggling to find suitable accommodation. Says Jenny Sjöstrom:
"It was a nice gesture, I thought. They kept moving back and forth [between different accommodation] and this opportunity came and Sarah also saw it as an investment for her siblings that she could help with."
Sarah Sjöström has three siblings, big brother Tobbe, little sister Ellinor and little brother Linus. There were times when juggling the commitments of the swimmer and those of the rest of the family was far from easy, says Jenny Sjöstrom.
The siblings would often attend competitions to cheer their sister on and the family has attended major international championships to provide support. Says mom: "We are an anonymous little family. No one notices us. Sarah is racing. It's pretty nice … occasionally someone comes and asks "are you Sarah's mother?"
Her daughter, she says, was not seen as "a great talent" from a very young age but it turned out that the talent she did have was enough to convert to world-class excellence given the drive her daughter has when it comes to taking on a task, setting a goal and then working hard to achieve it.
Sarah Sjöstrom – check out the sign on her mirror : "Mirror, Mirror On The Wall, Who Is The Champion of Them All" (a short video for those who speak her language).