Simona Quadarella Races Towards The Distance Triple Triple, A Waddle Of Divine Intervention Cheering Her On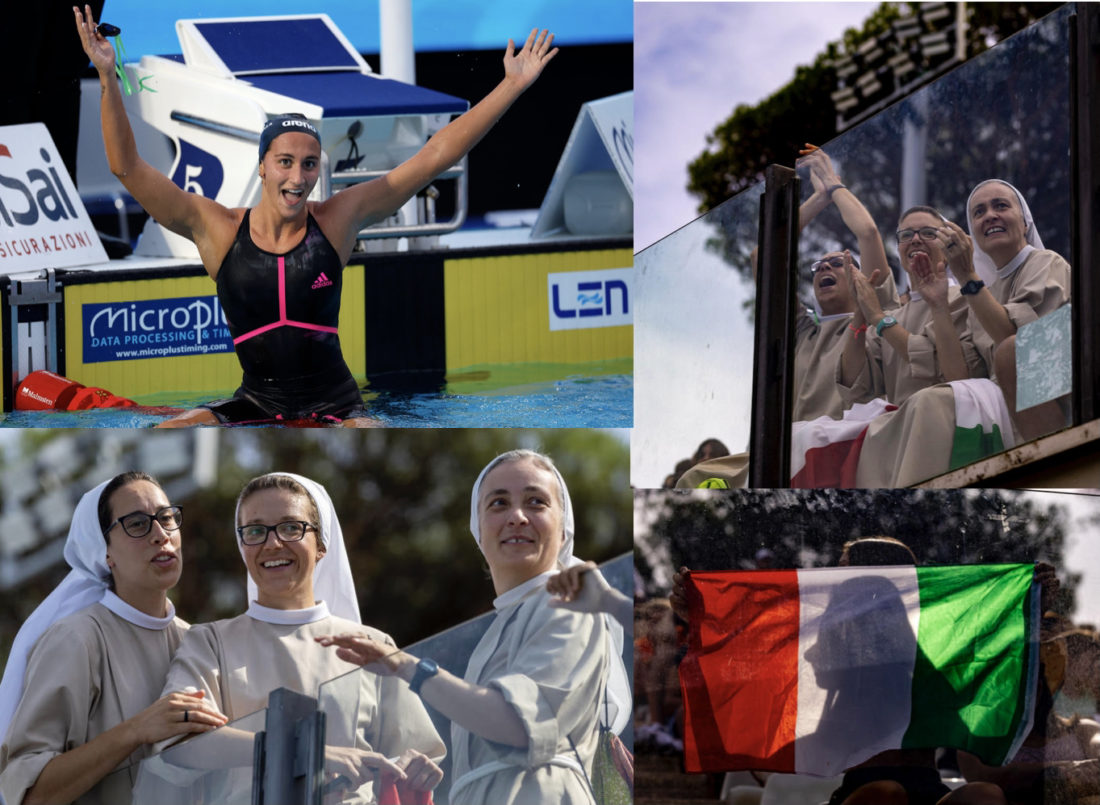 As if the Golden Madonna on one of the Seven Hills overlooking the European championships wasn't enough, Simona Quadarella and the Italian team soaring atop the medals table in the grandest backyard pool in the world, the Stadio del Nuoto in Rome, now has a waddle of nuns in its fan club.
The nuns chose a good day to bring a touch of divine intervention ton proceedings: golden dominance for Quadarella in the 1500m for a third straight championships took the 2019 World champion 30 lengths closer to delivery of a unique distance triple triple: 400, 800, 1500m victories in 2018, 2021 (2020 event shunted forward by the pandemic) and now … 2022, almost there.
Curtain-closing Wednesday brings on the 400m freestyle heats and finals for both men and women. If Romanian shooting star David Popovici, 17, promises to bring a new dimension to the eight-length race at a time when Italy looks to 16-year-old Lorenzo Galossi to catch the wave of Paltrinieri, Detti et al, then look to Quadarella to bring the house down on a giant ripple of Roman roar as she seeks to complete a feat veneer seen in European waters before.
Isabel Gose, bronze medallist for Germany in the 800m on a day of Italian dominance, is faster on paper, 4:03 to 4:04. Then there's the crowd, and the nuns …
Quadarella Gold in 15:54.15
In the 1500m, the party started when Quadarella and teammate Martina Caramignoli were greeted in to the deck. It lasted until Italy had another gold and bronze to add to a tally that had grown to 9 gold, 7 silver and 5 bronze for 21 medals in all by the close of day 5:
| Rank | Nation | Gold | Silver | Bronze | Total |
| --- | --- | --- | --- | --- | --- |
| 1 | ITA | 9 | 7 | 5 | 21 |
| 2 | NED | 4 | 0 | 3 | 7 |
| 3 | HUN  | 3 | 6 | 2 | 11 |
| 4 | FRA | 3 | 4 | 1 | 8 |
| 5 | GBR | 2 | 4 | 5 | 11 |
Quadarella dominated the 1500m: 15:54.15. Hungary's Viktoria Milharyvari-Farkas got the silver, in 16:02.15, Caramignoli  the bronze in 16:12.39:
As the splits show, Quadarella led from toe leaving block to title retained with a stronger effort than she managed at World titles in June: bronze medallist in the 800m in Budapest, Quadarella finished fifth in the 1500m in 16:03.84, three years after claiming the title at the Gwangju championships when illness put Katie Ledecky out of the 200m and 1500m.
Going on for a second per 100m quicker 7 weeks or so beyond Budapest in front of a home-in-Rome crowd, Quadarella was delighted: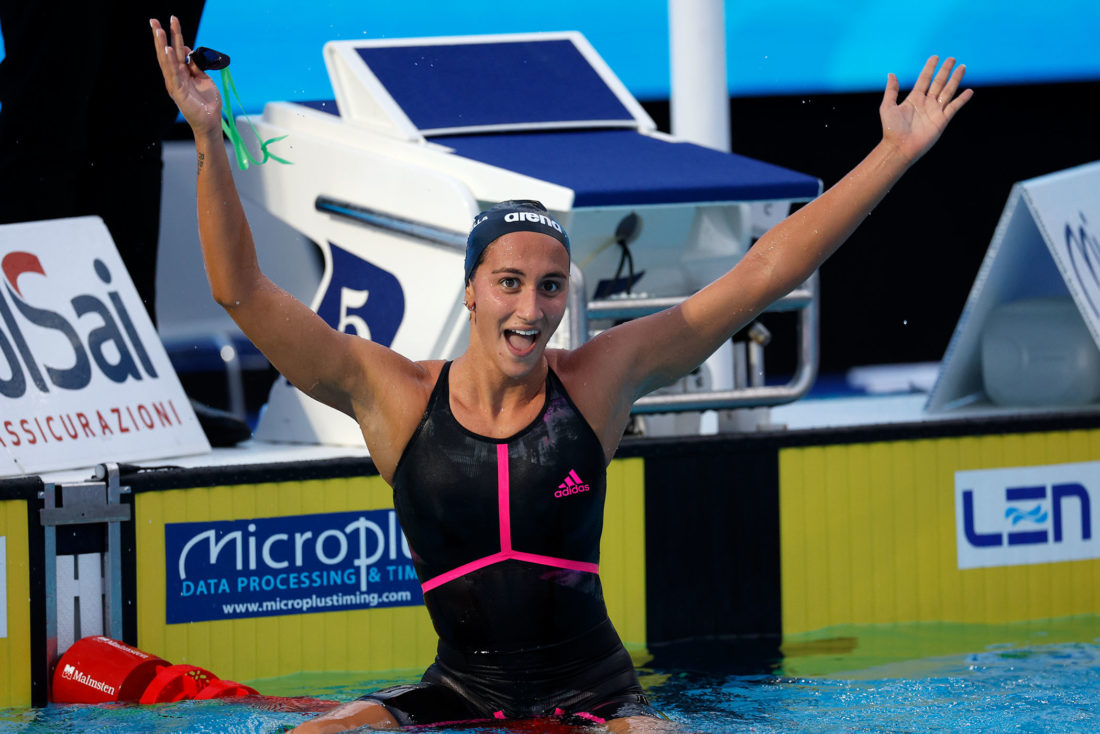 "I'm really satisfied. This is my third European title in a row after Glasgow and Budapest. The time is OK at this stage of the season, which was very long and difficult. Plus, I've never swum that fast at the Europeans, so this is great. What's important to me is to keep on winning in my events and reconfirm myself – and I just did that."

Simona Quadarella – photo courtesy of LEN
Italy had further chances and seized more medals on day 5 but gold went elsewhere:
made more podiums on day 5 but
Men's 50m backstroke – Gold For Apostolos Christou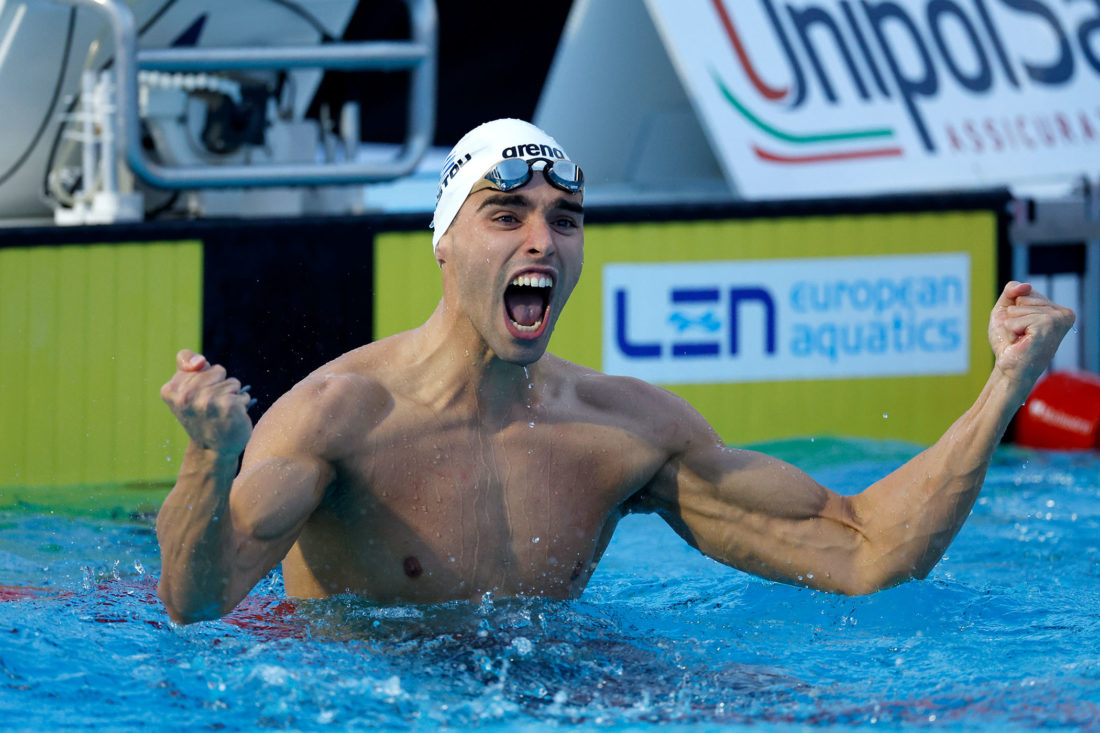 Apostolos Christou set a Greek record of 24.36 for gold ahead of Italy's 100m World champion and record holder Thomas Ceccon, on 24.40 for his own national record. Germany's Ole Braunschweig claimed bronze in 24.68.
Christou was 0.03 inside the Greek standard of 24.39 he set at World Championships in June. It was his fourth European medal but his first in the dash, after bronze in the 100 back at the past three Euro championships.
Christou said: "That was a fantastic race in a fantastic atmosphere. When I came out and I saw the crowd and heard the cheering that really pumped me up, it gave me a lot of energy even if the cheering was for Ceccon but that just made me more competitive. That's my personal best and it came with a gold medal! So I'm a European champion now, I cannot be any much happier!"
Ceccon, with the 100m rounds ahead tomorrow, now has four medals here in Rome, two gold, two silver. He said: "Fine, 24.40 – I did a really good time, this is my new personal best. I messed it up at the end, arriving to the wall. Tomorrow I'll have the 100m, I'll try to do better. By the way, this is my first medal in the 50m, so it's a good feeling."
On his first international senior medal for Germany, Braunschweig said: "This was absolutely unexpected. This was something I've always dreamed of… Still, to get my first European Championship medal in reality just makes me mega-happy!"
Women's 200m breaststroke – Lisa Mamie Writes Swiss History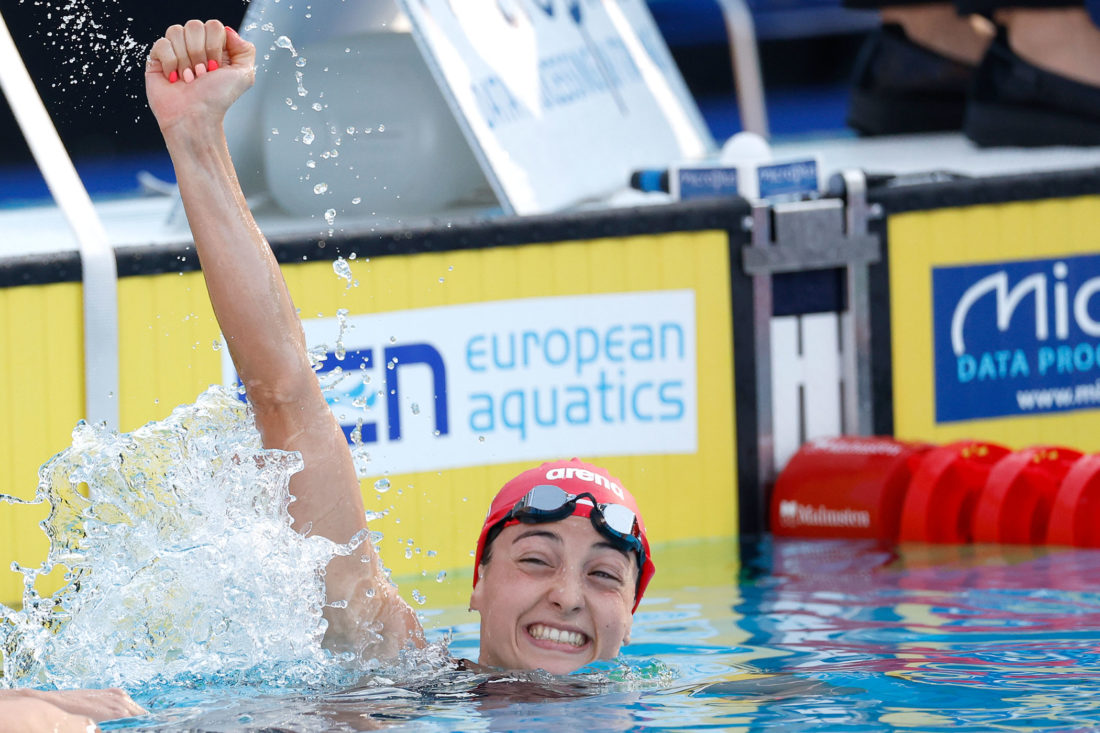 Before today, Switzerland had no gold in its women's breaststroke account, while Italy and Lithuania had never won a medal of any colour in the 200m breaststroke, an event on the program since the first championships that admitted women, in 1927, a year after the inaugural men-only Europeans in 1926.
Lisa Mamie opened Switzerland's 200m medal account last year in Budapest with silver behind Britain's Molly Renshaw, absent from Rome. Today, Mamie deposited gold in the Swiss account with a 2:23.27 victory.
Martina Carraro opened Italy's 200 podium account with a 2:23.64 for silver and Kotryna Teterevkova opened Lithuania's account with a 2:24.16 for bronze.
Mamie was just behind Teterevkova after the 50, while she dropped to third after the 100 with Teterekova maintaining the lead. Teterekova continued to lead at the 150 mark before Mamie made her move. She split 36.92 in the final 50 to pass Teterevkova and surge to the gold medal.
"I'm very happy right now," Mamie said. "I wanted to have fun here. This is my event and winning a medal, and it's gold at a European Championships, this is absolutely fabulous."