World Aquatics Hears Athlete & Coach Voices To Lift Doha Relays Lock For Paris Olympics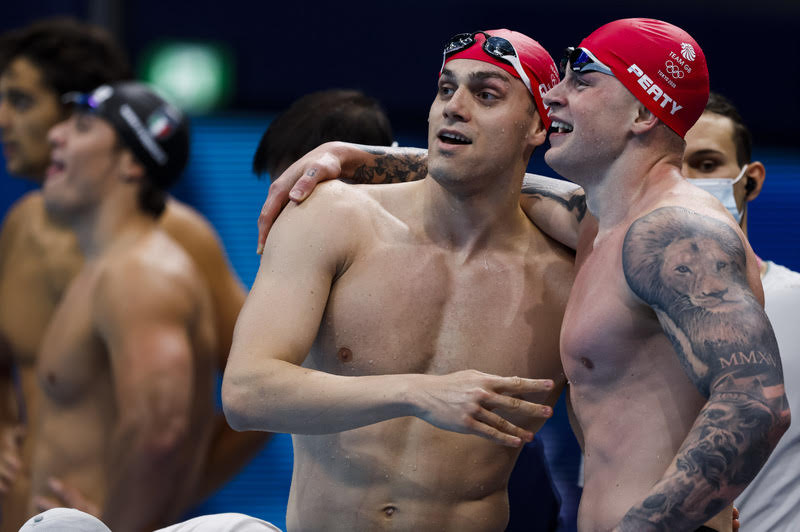 World Aquatics has averted a potential boycott of the 2024 World Championships in Qatar by listening to athletes and coaches asking for bosses to ditch an obligation for teams to attend the global showcase with their best squads at the start of Olympic year for the first time in history.
In a move designed to assure Doha that the best would be showing up at an event behind held to fulfil contractual obligations to hosts whose championships were shunted away from their scheduled and traditional slots on a chaotic competition calendar, FINA, as the federation was called before rebranding this month, made Doha the only event at which most national relay teams could qualify for the Paris 2024 Olympics.
Britain's relay giant James Guy responded to the original plan with a short tweet saying "I won't be going". That stance was echoed far and wide among the best in the world of water.
Adam Peaty, the double Olympic 100m breaststroke champion from Britain and among the newest members of a reformed athletes' committee advising leaders at World Aquatics, and Jon Rudd, head of a revamped coaches committee and the World Swimming Coaches Association, had asked for a rethink and removal of the coercive nature of the relay qualification system first introduced for the Doha event.
Now, qualification will revert to a more traditional process in which the top three finishers at the July 2023 World Championships in Fukuoka will qualify instantly for Paris a year out from the Games.
The remaining 13 berths in each relay will then be decided by the best times set either at Fukuoka or Doha, meaning teams that miss the top three in Fukuoka can still qualify for Paris without sending their best swimmers to the Middle East.
Nations on the borderline of the top 16 will still have to calculate after Fukuoka whether they believe their top 16 effort in Japan is strong enough to resist challenges at the last-chance saloon in Doha but the top 12 or so teams will now feel much more confident that their summer 2023 efforts will get them to Paris.
Hosting rights for the championships were handed to Doha before the Covid pandemic and at a time before FINA engaged in a reform process in 2021 on the way to adopting its new name of World Aquatics after 18 months of heartening changes in the governance of swimming, diving, synchro (artistic swimming) and water polo.
World Aquatics Relay Move Follows Series Of Reforms Gains
The move by World Aquatics, with the blessing of the International Olympic Committee that must approve all qualification conditions for the Games, is the latest in a series of encouraging signs that the global regulator for swimming is turning around a governance tanker that had long been heading for the rocks.
Among decisions that would have been unthinkable under old management was the stripping of an honour that had been held by East German doping and former member of the FINA Medical Committee Lothar Kipke after more than two decades of campaigning and three proposals from this author that ended up in the FINA trash can, one of them despite a unanimous vote by the Media Committee to ask the FINA Bureau to consider exorcising ghosts of its past that caused immense harm to generations of women on both sides of the Cold War in sport.
Another highlight of reform measures so far dovetails into the issues raised by the GDR era: in June 2022, the swimming regulator voted to ring-fence the women's category in aquatic sports for females only. Any athlete who had experienced stage 2 of male puberty (around 12 years of age) is not eligible to compete in the women's category, regardless of gender identity. The details of a new open category are expected to be ready by the time of the Fukuoka World Championships next summer.
The bold and much-welcomed move by the global regulator set the tone for other federations to think again about the consequences of allowing trans women, biological males, into female competition in sports where the performance gap between men and women is of the order of around 10% (swimming is around 11% on average) to more than 160%.
World Aquatics Reform Process
The reform process is in its infancy and there's wheat to sort from the chaff yet, but World Aquatics, led by Husain Al-Musallam, as president, and Brent Nowicki, as CEO and executive director, is ticking box after box when it comes to honouring promises to listen to stakeholders and include them in the decision-making process.
The move on relays in Doha has been welcomed by athletes and coaches who can now return to long-held Olympic plans knowing that they won't have to tear up their scripts because of the timing and circumstances of the Doha event. 
Swimmers had suggested a mass boycott of the 2024 championships because few want to attend a World Championships just six months out from an Olympic Games. That's when FINA introduced its sneaky qualification clause obliging attendance of the best.
The backflip is not only welcomed by teams with few prospects of making Olympic and World podiums. Australia, a big player in relays with six medals at the Tokyo Olympics last year and seven at the Budapest Worlds this year, is an example of a nation that did not want to find itself obliged to send its A team on any relay to Doha because of a fourth place finish in Fukuoka.
Dolphins head coach Rohan Taylor told News Corp that a full-strength team would race in Fukuoka while Doha's entry will come down to the plans of individual swimmers and their coaches. He said:
"It's a logical way to go about it because of the cost to a lot of countries, it allows them to have a choice, particularly with the last couple of years and a lot of different additional meets being put on back to back. It gives a bit of breathing space but it also allows countries like us to have athletes who might want to go and compete, to go and race. So from that perspective it's good.
"In relation to the relays, if we're high enough ranked and we're comfortable we'll definitely sit on our times but we may need to send a relay unfortunately if we get disqualified. So I think it gives us some good flexibility to use the meet for coaches and athletes who want to go and race. Obviously, we'll sit on our relay times, but if we have enough over there and we need to swim a relay then we will do that but this gives us a lot of flexibility."
Aquatics Bureau Reform Adds 14 Women To Top Table
Following the Extraordinary General Congress held on the eve of the World Swimming Championships (25m) 2022, delegates approved a new World Aquatics Bureau has been approved.
There are now 39 Bureau members after 13 places were added, 9 of them allocated to women. in line with an equality plan. The new Bureau was voted in after the federation's National Members overwhelmingly voted (175-4-4) for a new constitution and rebrand to World Aquatics.
The gender balance is now 38 per cent female, a huge improvement on what has gone before.
"This is a big and significant step. Of course, there is more work to do; our target must be a 50-50 split," said Al-Musallam during the Extraordinary General Congress. "Today's vote brings us closer to this goal."
The new World Aquatics Bureau members are:
Europe
Vanja Udovičić (SRB)
Sarah Keane (IRL)
Otylia Jedrzejczak (POL)
Asia
Sirichai Distakul (THA)
Joo Hee Park (KOR)
Tang Kwai Mae (MAS)
Americas
Maureen Croes (ARU)
Ana Joselina Fortin (HON)
Luiz Fernando Coelho De Oliveira (BRA)
Africa
Farida Iddriss (GHA)
Monica Chang'amamuno (MAW)
Yasser Mohamed Ibrahim Idris (EGY)
Oceania