Why Qingdao Trials Raise Questions About The Development Of Chinese Swimming Talent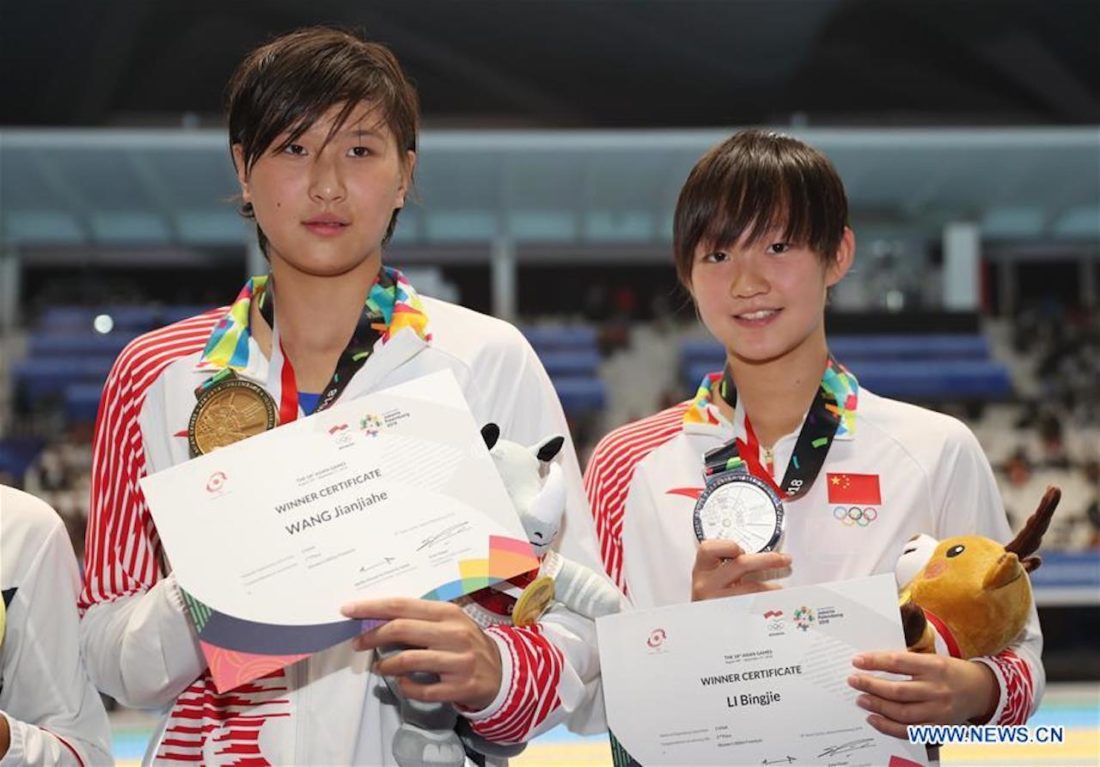 Editorial and notes from the archive – today we break away from simply reporting results from the Chinese Olympic Trials to focus on a particular pattern in the development of swimmers in China and why it raises concern.
There were sigs of a long week of trials in Qingdao taking a toll on the penultimate morning of finals that confirmed four more swims, put one more 'A' cut swimmer on the Chinese team for the Tokyo Olympic Games and begged the question: how does 1 12-year-old swim 2:10 over 200m backstroke but at 14 miss selection in precisely the same time and what does that tell us about how China raises its swimmers?
All eyes were on the women's 800m freestyle. After all, between the ages of 15 and 17, Wang Jianjiahe and Li Bingjie had registered respective best efforts of 8:14.64 and 8:15.46. The latter was the time Li Bingjie clocked at 2017 World titles for silver behind Katie Ledecky, by then a double Olympic champion of London 2012 and Rio 2016, a triple World champion and the world record holder at a stunning 8:04.
If anyone was going to one day be able to remind Ledecky that her main contender was the clock, it might be Li and Wang.
In Qingdao, in a week in which Li clocked a 1:56 best over 200m, a 4:02 400m that got her closer to her 4:01.75 Asian record of 2017 than she's ever come in the intervening years, and a 15:58.35 behind Wang's 15:49.07 in the 1500m, the 800m came down to this:
Wang Jianjiahe 8:20.38 – another swim stamped on a ticket to Tokyo
Li Bingjie 8:25.31 – another swim stamped on a ticket to Tokyo
Hou Yawen 8:30.82 – four years on from a best of 8:25.19 at 18 years of age after an 8:26.49 at 17.
Li Bingjie has tickets to the 200, 400, 800 and 1500m freestyle and the 4x200m freestyle relay. The 200m solo may not be on her schedule but a busy time is assured.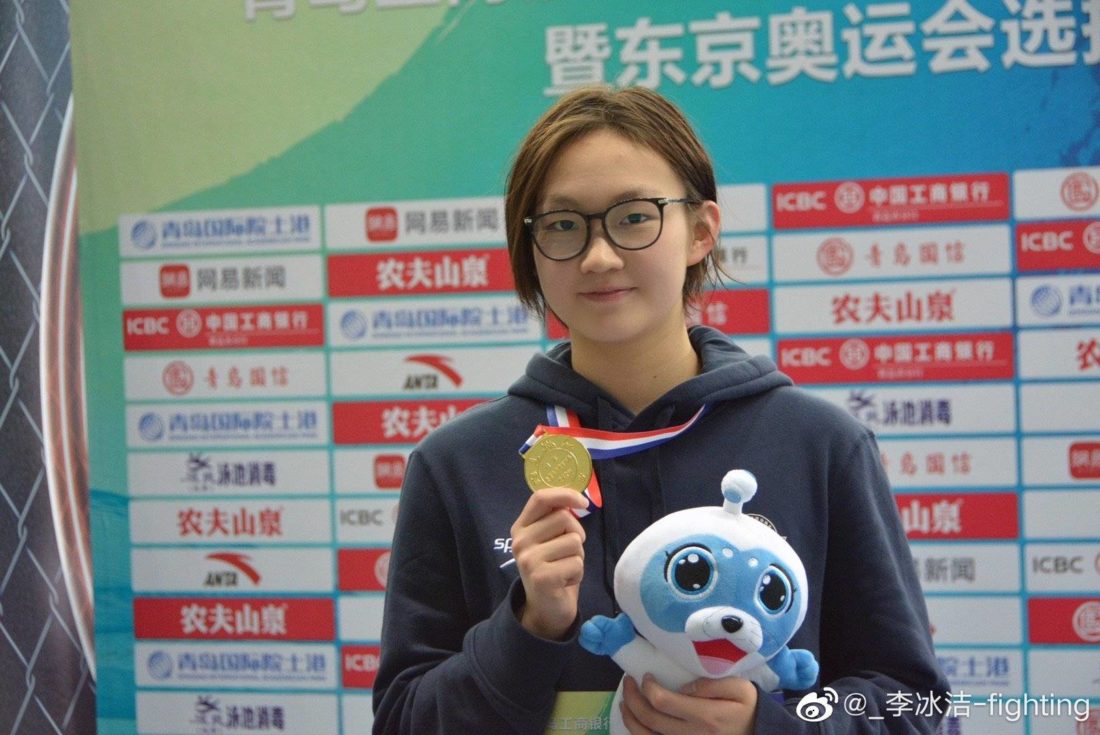 On her Weibo account, Li Bingjie writes:
"14 starts and 6600 meters. A very challenging meet. Some swims are satisfactory and some are not. Will go back and study both of them. I'm looking forward to a better self. Thank you, and see you in Tokyo."

Li Bingjie – image, courtesy of Li Bingjie Weibo
Li raced three rounds of 100, and 200m, two rounds of 400, 800 and 1500 and raced in 4×100 and 4x200m relays in a nine-day program that reflects the Tokyo schedule. Many other nations have bypassed that model this year in view of local Covid-19 restrictions and protocols and responses to them.
Keeping the focus on a distinct pattern in Chinese swimming, we turn to the 200m backstroke final in Qingdao today and find Liu Yaxin joining the team for Tokyo with a 2:08.26 victory over Peng Xuwei, who added the 200m to her roster in 2:09.75.
At 17, Liu made the Rio 2016 team and once in Brazil raced a heat of 2:08.84, a semi of 2:07.56 and then clocked 2:09.03 in the final for seventh.
Third place in Qingdao today went to Wang Jiayin, on 2:10.87. Wang is 14. At 12, she clocked 2:10.85, then last October laid down a 2:09.22 in heats at nationals before Peng pipped her 2:09.92 to 2:10.39 in the final.
In other action, there was no instant qualifier in the men's 100m butterfly, Sun Jiajun, on 51.97, the most likely candidate for the 'fly berth in the medley relay if China enters on for the games in Tokyo. The Qingdao podium was completed by Hong Jinquan, 52.37, and 200m winner Chen Juner, 52.87. Li Zhuhao, the national record holder at 50.96, established when he was 18 in 2017 and who clocked 51.9 at the age of 14, finished last in 55.55.
The penultimate session of finals also witnessed a showcasing of the Mixed medley quartet of Xu Jiayu, Yan Zibei, Zhang Yufei and Yang Junxuan, who last October at nationals combined to set a World record of 3:38.41. Today was a calmer affair at the end of a busy week (one no less busy than it will be in Tokyo, of course): 3:44.10 – Xu Jiayu 53.39; Yan Zibei 58.99; Zhang Yufei 57.21 Yang Junxuan 54.51.
Many kids and coaches are highly likely to be working clean in China and it is important to note that and recognise the risk of taint by association, though the latter is something that the Chinese Swimming Association and many other in China in guardianship roles would need to give thought to before anyone else.
One thing you can almost guarantee: the teenagers heading to Tokyo to represent China will want to do so in the spirit of clean sport and Fair Play – and they deserve that spirit to be matched by every coach, every doctor and sports scientist, every sports authority in China, too.
It is also true to say that whether we take into account the asterisks that follow or not, there are aspects to the development of young talent that raises questions about the Chinese system of producing world-class swimmers.
The Chinese canvas is a complex one, with many programs in far-flung places working within their own ambits and orbits. Even so, there is commonality that evokes memories of what China learned from the GDR and is still dragging with it towards the second quarter of the 21st Century. And that at a time when China is a key partner, sponsor of and investor in FINA, the international regulator for swimming.
In general in swimming, the view of China globally is split by the widespread suspicion of a nation and a sports system that tolerates bad practices – and the relative silence (in some cases, absolute silence) of leaders of some of the biggest swim nations in the world.
That may well have something to do with the crisis at home reminding them of glass houses and throwing stones. Doping is one among many forms of abuse, some of the inherent, coercive behaviours at play pertinent to all forms of abuse, including sexual abuse. The issue that haunts sport in several nations, the USA, including swimming, having only started to get to grips with matters, thanks to the work of advocates and campaigners who were able to finally get their message across forcibly in the wake of the criminality of Larry Nasser and the courage of victims in USA Gymnastics.
Australia is also grappling with issue right now. The nation's Human Rights Commissioner for Sex Discrimination, Kate Jenkins, released the culture review into gymnastics in Australia this week. One of the key conclusions was: "'Athletes suffer because sports mostly investigate themselves". Brava!
As ABC reported: The review uncovered an environment where abuse – in all its guises – occurred because of accepted coaching practices, a focus on winning at all costs, and a complicated governance structure that is not suitable for effectively safeguarding children and young people.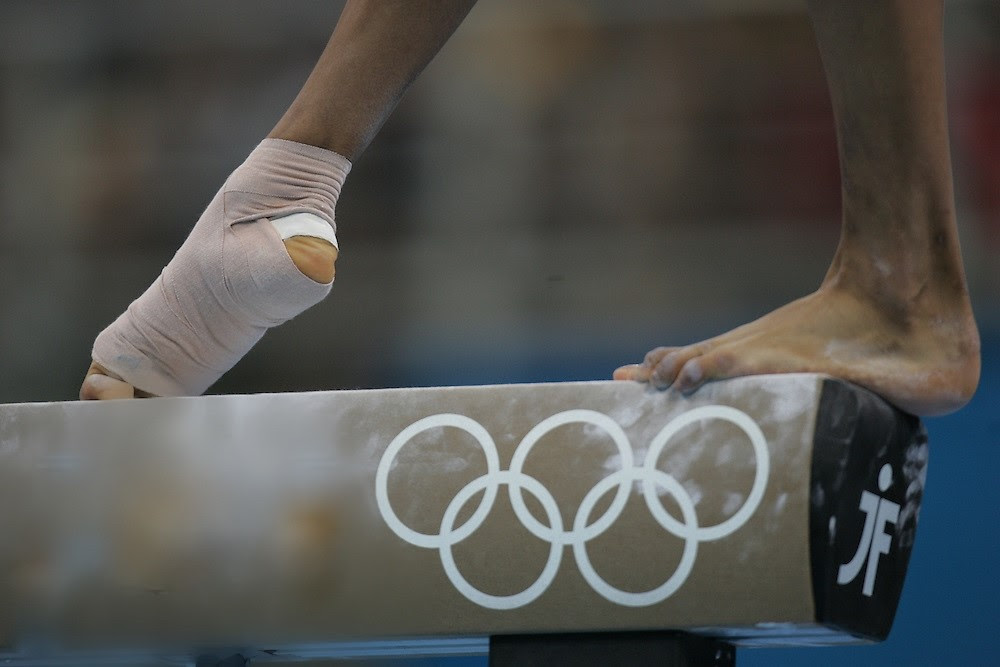 "My view is all sports globally, but if I focus on Australia, all sports should look at this report," Jenkins said. It's very clear that a number of the risk factors that apply to gymnastics apply to all sports."

Kate Jenkins
The Human Rights Commission's review found those risk factors included the power imbalance between coaches and athletes and an insufficient understanding from the sport itself of what constitutes child abuse, resulting in the silencing of athlete voices and an increased risk of harm.
All sports will be sent a condensed version of the report, titled Change the Routine.
The report found many current and former gymnasts, both men and women, used the term "grooming" when speaking of their experiences.
"The abuse and mistreatment many former athletes experienced had such a profound impact on their lives that they formed a sense of hatred and rejection towards the sport," the report said.
Sports globally are being asked how environments of abuse have been allowed to develop to the point of becoming entrenched.
Sport has no answer. Athletes are speaking out in growing numbers, sometimes decades later, after having been ignored or silenced, often with the threat of non-selection to representative teams hanging over them.
Take the above and we see, as in the United States, Britain, Germany and elsewhere and we find a national media prepared to report these matters, ready to challenge politicians and sports leaders and hold them accountable.
Here's to the day when we see the same in China.
Troubling Patterns In Chinese Waters
There are many possibilities as to why one swimmer, like Wang Jiayin, or another slips away from best form come the pressure and test of trials for an Olympic Games but on the canvas of Chinese swimming is a distinct pattern of senior commitment at a very young age and fast-tracking of senior speed in the youth ranks. The question s include: to what end; to what purpose; who's best interest does it serve. And as we ponder such things, best keep in mind that the kids we see are the speedy tip of an iceberg.
Li Bingjie's coach at the time she made the international senior radar admitted as much before a fall from grace. Consider the number of asterisks (12 for individuals, 1 for an organisation) in the following trail of recent (since 2014) history alone, the word recent significant at a time when we're told that the China Crisis in swimming belongs to the 1990s.
Coach Liu Haitao first joined the China national team as a coach to butterfly swimmers in 2005. He guided Jiao Liuyang to 200m butterfly Olympic silver in 2008 and then gold in 2012. His brief has also been instrumental in the development of China's younger generation of girls such as Li and Ai Yanhan.
In 2017, when Li clocked Asian records of 4:01 and 8:15 over 400 and 800m at 15 years of age, Liu was all the rage. Even American niche websites wanted to have a chat with him and talk about all that wonderful work he was doing.
He told one of them that if you want progress in the pool "you must not take shortcuts. Improvement is something that takes time, and there's a certain degree of patience that each coach must have – to continue to put in the work with the understanding that improvement will come".
In the mix of coverage, he was asked by a Chinese-speaking Swimming World intern 'what differences are there between coaching younger swimmers and adults?'
It struck me as an unusual question for a man who was as far from the model of coaches who guide twenty-somethings, let alone third-somethings, in the pool as you could get. Liu Haitao said: "I think the largest difference is that a lot of coaching younger swimmers has to do with enforcing good habits. It's really important for younger swimmers to have a good training mentality, and so a lot of training younger swimmers is teaching them this mindset – older swimmers have already gone through all this.
"I've also found that their goals and motivations are often different. I find it easier to train the younger swimmers because they're always working towards the big goals – Olympic gold and international recognition. Finally, I think there's a greater connection between coaches and younger athletes. In China, it's a common practice for the younger athletes to live and train away from their families, and as a coach, a lot of the responsibility falls onto you, leading to a much closer athlete-coach relationship."
Good habits, responsibility, so many good boxes ticked.
He also said: "I find that the younger swimmers are a lot more self motivated because they have all of these goals and dreams they hope to achieve. I think having the older swimmers, like Sun Yang*, helps a lot as well because the younger swimmers are given a role model and they know that their dreams are achievable. It's really just about motivation, and they bring a lot of that themselves."
Role model. The hint of boxes that ought never to be ticked.
Then this on the difference between China and 'Western' in preparation in the pool: "I think as opposed to a lot of Western training styles, China focuses a lot heavier on training our athletes through childhood. Starting from a young age, promising talent is identified, and through national select camps certain athletes begin to step forward. A lot of factors are taken into consideration beyond simply raw talent, such as health, dedication, and improvement, and by the time the remaining few kids reach 12 or 13 they become essentially semi-professional athletes.
"They spend their days either in school or in the water, and swimming is essentially their entire lives. Unlike most other countries, where swimming is generally a hobby or an interest up until the age of 15 or 16, swimming is taken very seriously and given large commitment from youth. I think that's what separates China from other countries – highly competitive swimming begins at a young age."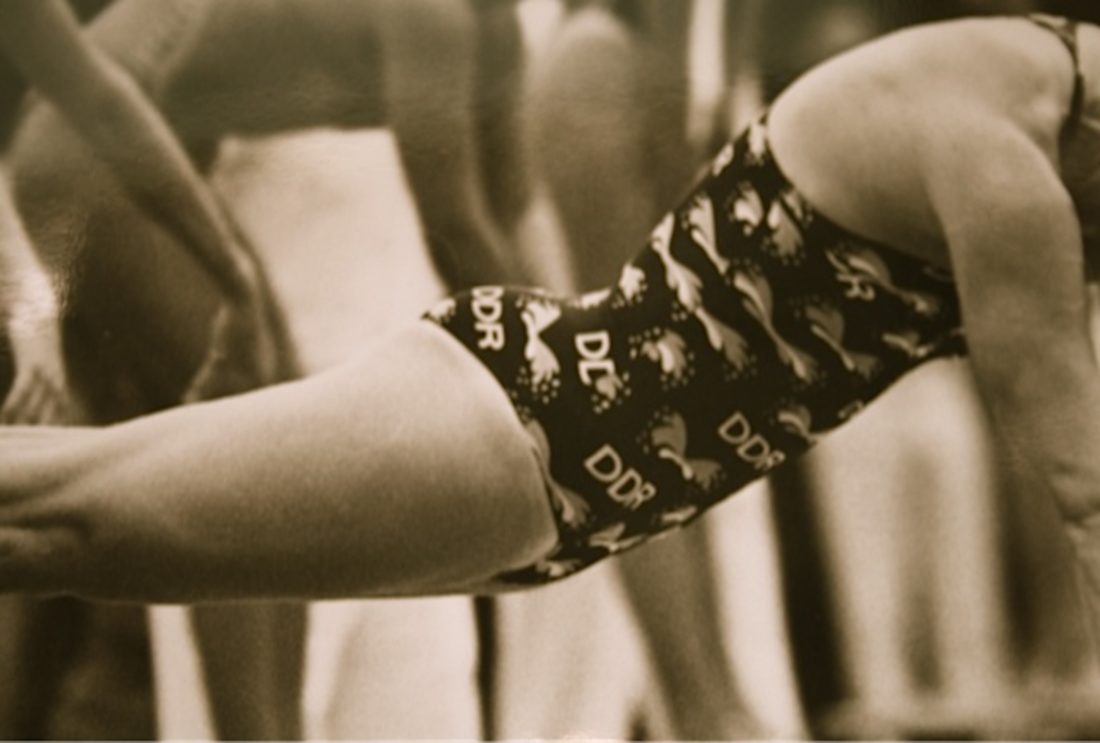 The thread of Shane Gould, Janet Evans and Katie Ledecky et al does not fit that picture in significant ways, of course, while we can also say that the East German approach to selection, removal from home, placement in a sports school and years of monitoring and daily training long before they turned 12-13 is something they would not have known. Chinese kids would, however, certainly recognise it.
Mention of the GDR raises the doping issue, of course. Cue protest and cries from Chinese fans and entourages of it all being so unfair and unreasonable to do so, the crisis 'long behind us in the 1990s'.
Fast forward a couple of weeks before Liu Haitao's new found popularity and we find him being handed a suspension under the WADA Code. Among his charges is Worlds silver medallist Liu Zixuan*, 16-year-old training partner to Li Bingjie and Ai Yanhan, two others in the second-placed 4x200m relay at 2017 World Championships in Budapest. Liu was second in for China.
She tested positive for hydrochlorothiazide, a diuretic, on September 4, 2017, at the the 13th China's National Games. We'd known times when diuretic positives came in floods from China, some of that linked to the wave of human growth hormone vials found in the kit of Yuan Yuan* on the way to 1998 World titles.
Liu Haitao* was suspended for two years and fined 10,000 yuan (about USD$1,500), while the teenager Liu Zixuan was fined 20,000 yuan (about USD$3,000).
In addition to the penalties against swimmer and coach, the Hebei Province Swimming Association* was handed an official warning and a 20,000 yuan (about USD$3,000) fine.
Spot the rot at the heart of that systematic failure in the anti-doping system: a whole federation given the same financial penalty as a 16-year-old whose guardian is given half the financial penalty of a teenager swimmer working in highly controlled conditions for a significant number of years by the time she tests positive for a banned substance.
Hebei Province Swimming Association is an affiliate member of the Chinese Swimming Association, which turns 65 next year. Perhaps that will be a good time to retire a culture that needs to be put out to pasture.
The Chinese Entourage Being Judged Alongside Sun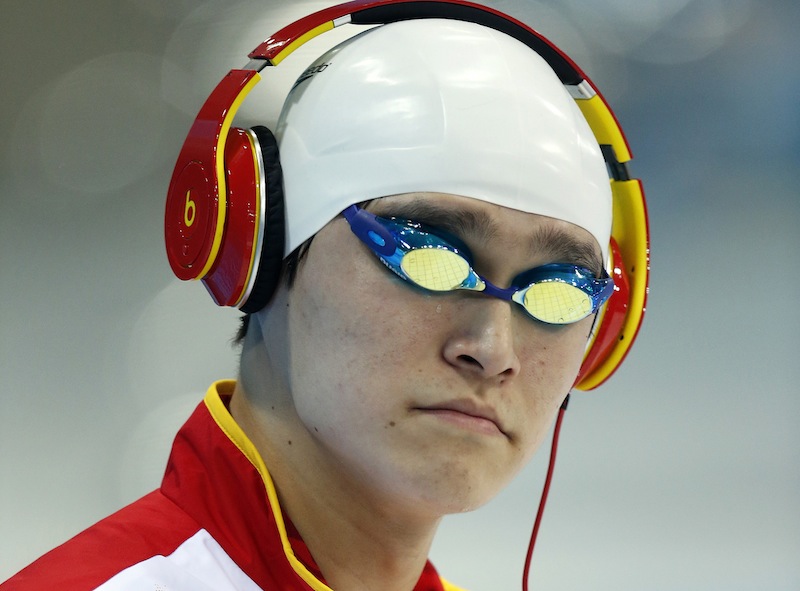 Later this month, a panel of three more judges at the Court of Arbitration (CAS) will hear the same – and possibly more/other – testimony that in November 2019 led to the February 2020 imposition of an eight-year ban on Sun Yang*.
Follow that link to that CAS explanation of what the court felt was "wholly inappropriate" and we find officials who work closely with the swimmer, his team and the CSA and were to be found on a fateful night in September 2018 lobbying, if not not threatening, a young Chinese woman heading an anti-doping team of testers on a call to Sun's house for an out-of-competition control.
Their stance boiled down to this: Sun, having expressed objections to one member of the testing team (the man brought in to observe him taking a pee), agreed to provide a blood sample, did so and signed that sample into the chain of command. That should have been the end of the matter right there, beyond the swimmer registering any concerns and objections he had on the official forms provided for such things to swimmers the world over week in, week out.
What transpired however, was that one China Team leader and two doctors, including the twice-WADA-penalised Ba Zhen** argued that the blood sample should be taken out of the chain of command because the whole process was invalid. That's when Sun's mum called for a security guard to fetch a hammer. The sample in question was taken back by Sun, taken outside the control room and the outer casing of the sample was smashed with the hammer. The sample is said to have survived but was rendered invalid the moment it was removed from the chain of command. Sun's lawyers, backing the three officials who persuaded the swimmer t remove the sample from the chain of command, argue that the sample was never a sample because parts of due process had not been followed.
That will be put to the test once more between May 24-28 in an online hearing over 5 days.
Back to 2017 and we find coach Li Haitao being asked about the disappointing results of breaststroke specialist Li Zhuhao*. Did that simply reflect "a moment of development for China", he is asked. His reply:
"Sun Yang kinda started it all for them, he showed the Xu Jiayus and the Wang Shuns that it was possible to succeed, and now we're beginning to see those kids kinda grow into the scene in both the men and women's teams. A lot of our team is very young right now, and as I mentioned China has continued to put a large effort into discovering young talent. I think by 2020 a lot of the younger swimmers you see now will have matured into formidable swimmers. You can already see a glimpse of what they're capable of, and I think that come 2020, China will be a fierce contender."
Well, when it comes to Wang and Li today, four-to-five years since their best 800m swims and heading to a Covid-delayed Tokyo Games that may put Chen Xinyi* back in Olympic waters, the question is not so much 'will they be the ones to give Katie Ledecky the race of her life' as 'what has their experience truly been like since their swimming journey began'?
All of the above has unfolded against a recent backdrop that includes that following:
From The Craig Lord Archive – December 2016, June 2017
China Crisis Continues: Teenager Chen Xinyi Barred For Two Years After Positive Test At Rio Olympics
Chinese teenager Chen Xinyi* has been handed a two-year suspension after testing positive for Hydrochlorothiazide during the Rio 2016 Olympic Games.
China's top butterfly swimmer of the moment was removed from the Olympic Games after confirmation of the adverse finding back in Brazil in August.
This evening, as racing wrapped up at the world short-course championships in Windsor, Canada, FINA issued the following statement`:
Doping Panel Decision – Xinyi Chen (CHN)
On 8 August 2016, the International Olympic Committee conducted a doping control test during the Rio 2016 Olympic Games on the swimmer Xinyi Chen (CHN). The athlete was tested positive to the substance Hydrochlorothiazide (Class S5 of the WADA Prohibited List 2016, Diuretics and Masking Agents).
The FINA Doping Panel decided according to the FINA DC Rule DC 10.2.2 to impose on the athlete a period of two years' ineligibility, starting on 11 August 2016 and ending on 10 August 2018 for her first anti-doping rule violation.
Furthermore, the FINA Doping Panel acknowledged the Court of Arbitration for Sport (CAS) Panel decision regarding the disqualification of the athlete's results at the Rio 2016 Olympic Games.
Chen Xinyi was barred from racing in Rio after the 100m butterfly final and after the Court of Arbitration for Sport, sitting here in Brazil, handed the 18-year-old a temporary suspension. It has taken until now for FINA to confirm the case and hand out a penalty.
Hydrochlorothiazide is used to treat high blood pressure and swelling caused by heart failure and liver damage. The judgement handed to the swimmer is not accompanied by a penalty for coach, doctor or any other official serving as the guardian of an athlete who has been in the care of the national team in China since she became a teenager.
The Chinese Swimming Association was told the news three days before it was revealed in Rio. Chen was 16 when she catapulted up the world rankings to a 56.61 victory for China over 100m butterfly at the Asian Games. In 2015, she was a second off that pace, then in the Rio 2016 final she finished fourth in 56.72.
Chen, touted as one of China's great hopes in the pool, is coached by Jin Wei, mentor to the 2008 Olympic 200m butterfly champion Liu Zige.
Chen also spent some of her youth training at the Miami club in Australia with coach Denis Cotterell but has not been there for the past 18 months. Miami was told last year that it could no longer admit Sun Yang* to its facilities after he tested positive for a banned substance in 2014.
Australia changed its rules of engagement with foreigners as a result of Sun's case: no swimmer who ever tested positive may train at a funded centre in the country and all who do visit to train must agree to submit to national anti-doping agency testing on demand at their own cost.
Three Chinese national swimming team members have been served suspensions of between six months and a year after they tested positve for the same substance that disqualified teenager Chen Xinyi during the Olympic Games in Rio last month, according to paperwork addressed to FINA last week.
The cases, among six in China that date back many months but have yet to make the published list of FINA cases, involve a masking agent being used by a pod of swimmers in the same season, sparking fears within China of a "systematic network of doping young athletes".
In a season marked by the resignations from FINA of three doping experts in protest at their advice over Russia being ignored by the international swimming federation, Chen, 18, took to seven the number of positive tests by national team members (past and present) in China.
It was six months after an investigation by The Times and SwimVortex that forced Chinese swimming to admit that it had six undeclared positive tests on its account, that we were able to reveal the names of the three swimmers who also tested positive for the hydrochlorothiazide that caught Chen out in Rio.
According to sources in Beijing who did not wish to be named for fear of reprisal, the swimmers and a coach whose suspensions were sent by China to FINA last week are:
Li Xuanxu* – 6 months
Huang Chaocheng* – 6 months
Yang Zhixian* – one year
Fen Zhen* (coach) – one year
Their cases take the number of positive tests from Chinese swimming to more than 80 in the past 25 years. FINA has yet to add the cases reported in China to the official file.
There had been speculation that Li Xuanxu had been among the six cases confirmed by China after The Timesand SwimVortex reported last March that at least five positives had yet to be reported, sparking fears in China of a cover-up until after the Olympic Games in Rio.
Li, world-titles bronze medallist over 1500m freestyle in 2011 at 17 and Olympic bronze medallist in the women's 400m medley at the London 2012 Olympics, and Huang Chaocheng, China's No 2 male medley swimmer of late, have both already served their six-month suspensions even though their January 3 cases have not yet made it to FINA's published cases file.
When Huang, now 21, finished fourth over 400m medley at the Asian Games in 2014, his teammate Yang Zhixian, now 24, finished second in between Japanese swimmers Kosuke Hagino, now Olympic champion, and Daiya Seto, the World champion who claimed bronze in Rio.
Yang was served a suspension of one year, starting February 24, while coach Fen Zhen has received the same suspension, running from the same date.
Sources told this author for The Times:
"This is a worrying picture. That all these young swimmers test positive for the same masking agent, which cleans out their system ahead of testing, indicates a systematic network of doping athletes. We have seen this before in China and we want it to end. We hope that WADA will look more closely at Chinese swimming. There is a deep problem and there are rogues working in the sport."
The Chen Xinyi case came on the back of warnings handed to World junior record holder among men on breaststroke, Wang Lizhuo, and the man who replaced Huang as China No 2 on medley, and An Jiabao, after they tested positive for Clenbuterol last year. Both men qualified for the Olympic Games as winners or second-placed swimmers at trials back in April but were not selected to race in Rio.
To date there has been no official explanation as to why one of China's top freestyle swimmers, Qiu Yuhan, 18, did not make it to the Rio 2016 Olympic Games despite having clearly qualified at Chinese trials.
June 2017 – confirmation of an asterisk for Qiu Yuhan*
Red Faces At FINA As China – da Reports Qiu 9-Month Doping Ban After Penalty 'Spent'
Editorial – China's Qiu Yuhan*, a double 2014 Youth Olympic gold medallist and London 2012 Olympics team member, was banned by the China Anti-Doping Agency (Chinada) in May 2016. The news just made it to the official record of Chinada, the national anti-doping agency, but remains unreported by FINA, the international federation.
The trouble for FINA is two-fold: its relationship with China and leniency is long, while the Qiu case exposes a deep problem in the federation's policy of removing all spent doping cases from the official public record. The case is only now being reported by China but may never appear on any FINA list on the public record because the penalty has already been spent.
Under the headline "More embarrassment for Chinese swimming as details of another doping suspension are revealed … months after ban is served", the South China Morning Post reports that Chinada has finally made the news official – months after SwimVortex reported how Qiu had been left off the Rio 2016 Olympic team without explanation last year even though she clearly qualified to race at national trials.
Now, Chinada reports that she tested positive for hydrochlorothiazide, banned by the World Anti-Doping Agency as a diuretic and masking agent, during an out-of-competition check. The substance is the same as that for which Chen Xinyi* tested positive at the Rio Olympic Games last year – that test landing a two-year penalty. Chinese swimming has a poor history when it comes to a mixture of positive doping tests for the highest category of offences and positive tests for masking agents.
The Qiu case made the Chinada official list this week. FINA has yet to include the case in its list of suspensions and may now never do so in that the moment a suspension is spent, FINA removes cases from the public record on its website.
The international federation made the move away from full transparency more than two years ago. As such there is no full, official public record of the doping history of the sport of swimming.
Chinada barred Qiu for nine months but there is no evidence that she actually served time out of the sport while her case was going through the tardy Chinese system of reporting such things. The swimmer was also asked to cover the 5,000 yuan cost of testing five samples. There is no case reported of any others involved: no doctor, no coach.
The case comes in the week that FINA slapped a one-year ban on Australian Tom-Fraser Holmes, for missing three out-of-competition tests at the time and place he said he would be. The maximum penalty allowed is two years. FINA's halving of that displays customary leniency but not to the extent that the federation has been soft on China.
Qiu's case is the latest to show China as a nation that finds tests and hides them until either/or international authorities force them to reveal the truth – and then often long after any penalties are supposed to have been served.
In the lead-up to the Rio Olympic Games, The Times newspaper in London and SwimVortex revealed that China had five unreported doping cases on its hands. China had two things to say: it had hidden nothing (though no-one knew of the cases) and there were in fact six cases, three from late 2015 and three from January 2016.
Go back to 2014 and China attempted to leave a positive test by Sun Yang*, then the Olympic 400 and 1500m free champion, unpunished. FINA was forced to demand that a penalty be imposed.
What happened next was a matter of searing controversy that spilled into Star Wars and more at Rio 2016. Sun tested positive for a heart booster placed on the banned list in 2014. His defence was that he had been taking the substance throughout his elite career and Chinada, according to the national doping agency itself, had failed to update the Chinese version of the WADA Code.
The positive test was May 2014. In September that year, Sun raced to three golds at the Asian Games in Korea. By his side at that meet was one of his – and the China team's – constant companions on swim tour, Dr Ba. Zhen**. China would later claim that Dr Ba was not accredited through the national team, to cries from critics who noted that it would have been highly unlikely that Games organisers would have given a medical credential on the say so of a doctor and swimmer and not a team and even less likely that China would not have known that the doctor was travelling to work with Sun Yang.
It was November 2014 before Xinhua revealed the truth: Sun had tested positive. The penalty, it would emerge, was three months, imposed retrospectively and therefore never actually ever served.
SwimVortex informed WADA that Dr Ba had worked during what was supposed to have been a one-year suspension period for the doctor. A member of the medical staff of the China team since the home Olympics in 2008, Ba was slapped a second penalty but is now back working with Sun on the way to world titles in Budapest next month.
In Rio, Sun was among those booed to and from his blocks with every passing race as swimmers, coaches and others showed their fatigue with cheats who make their way back to Olympic waters towing doping records with them. Sun was beaten by Australian Mack Horton in the 400m free in Rio but then claimed the 200m crown, after which he was hugged on the poolside by FINA director Cornel Marculescu. In his press conference, Sun referred to the director as being 'like a grandfather' to himself and Chinese swimming.
That contributed to the demand from coaches, swimmers and others, for anti-doping to be removed from the auspices and control of FINA in favour of an independent anti-doping regime.
FINA, pressing for a one-year ban for no-shows from Fraser-Holmes, did not challenge the length of the ban on Sun. Fraser-Holmes, with no such inappropriate "protection" from the international federation, is taking his case to the Court of Arbitration for Sport.
Meanwhile, Qiu, from Liaoning province, took part in the Rio Games selection trials last April and qualified in the 200m freestyle in a time that made her a potential finalist and a big card for the 4x200m relay. Then, when the team was announced, her name was missing, without any explanation from the Chinese Olympic Committee nor the Chinese Swimming Association.
As the South China Post reports: "Qiu first came to prominence at the 2012 London Games as the 14 year-old became the only '90s-born member of the Chinese 4x100m freestyle relay team, which finished fourth in the final. She raced in both 4x100m relay events when the Chinese team claimed a double gold at the 2014 Youth Games in front of the home crowds in Nanjing. She also came second in the 200m freestyle and third in the 100m, behind teammate Shen Duo and Siobhan Haughey of Hong Kong."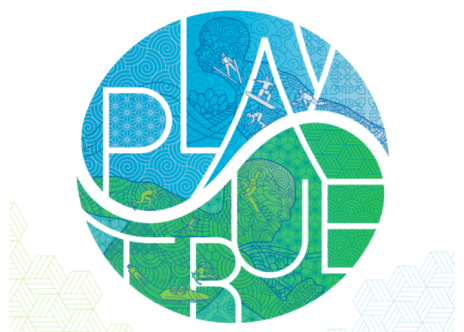 She was part of a generation of 'clean Chinese swimmers' in the wake of the doping crisis of more than 50 positive doping tests within a six-year period in the 1990s. Among her peers who also tested positive were Li Zhesi*, the sprinter who at 15 tested positive for EPO, and Chen Xinyi*, a world-class swimmer at 14 but at 16 in Rio sent home from the Olympics after failing a drugs test when testing positive for hydrochlorothiazide.
Chen's coach, also the man who mentored Beijing 2008 Olympic 200m butterfly champion Liu Zige to victory, was not penalised – nor were any doctors, according to the official record.
– * – swimmer tested positive for a banned substance and was handed a penalty during career + coach or organisation links to case
– ** – doctor was handed two WADA penalties, the second concurrent to reflect that the terms of the first suspension had been broken