Was This The Last Stand & Podium Of Ye Shiwen? Plus, Wang Shun Makes It A Golden Triple & Xu Jiayu A Backstroke Double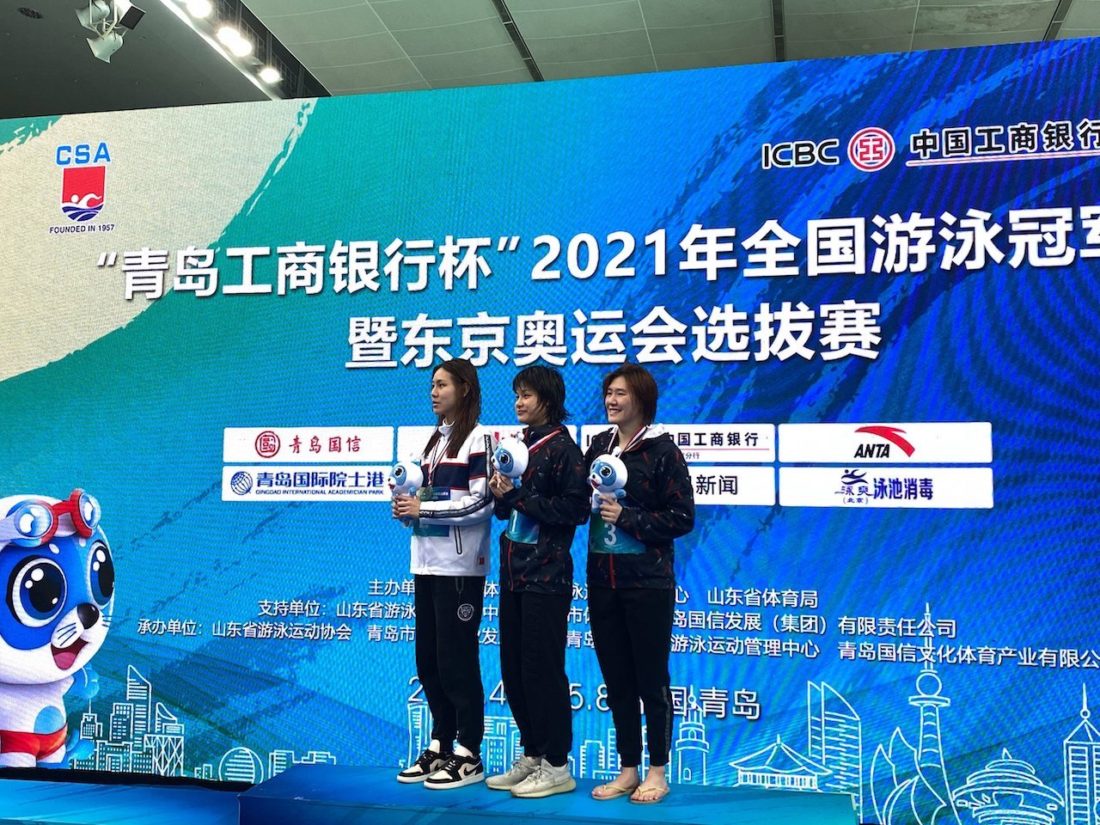 Wang Shun claimed a third gold and ticket to the Covid-delayed Tokyo 2020 Olympic Games in day 6 finals at Chinese Trials in Qingdao, where the big question of the day came down to: was the 200m medley podium this week the last stand of double Olympic champion Ye Shiwen ?
The fate of Ye Shiwen now rests with selectors after she finished second in the 200m breaststroke 2sec outside the A cut. Two days earlier, she missed the target in the 200m medley by 0.01sec when finishing third in the 200m medley, the fate of the swimmer home in second, Chen Xinyi*, also in the balance after she was sent home from Rio 2016 when a doping test turned red.
Wang Shun, the 2016 World short-course champion, took the 200m medley in 1:56.78 as Qin Haiyang got his hand to the wall for silver in 1:59.43, 0.24sec inside the A cut for Tokyo and from from his 1:56.79 best of 2019. Third place was Liu Zongyu in 2:02.74.
Wang emerges from trials with a potential four-event program on his hands in Tokyo, after wins over 200m freestyle, 200 and 400m medley and a certain berth in the 4x200m freestyle should China confirm that it will send a quartet to the blocks in Japan after a last-chance saloon qualification event scheduled for the first week in June, beyond a Court of Arbitration decision on Sun Yang*.
Likely to focus his solo efforts on the medley events, Wang is somewhat off the pace he would need to do any damage in the solo 200m freestyle but his domestic competitiveness is keen in all strokes, making him the danger he is on medley in International waters.
Today's 1:56.78 marked Wang's 15th career sub-1:57 and came it at No9 on a personal ranking topped by his 1:56.16 Chinese record from 2017 nationals.
Victory also marked his 10th Chinese 200IM crown. Wang noted on his Weibo account: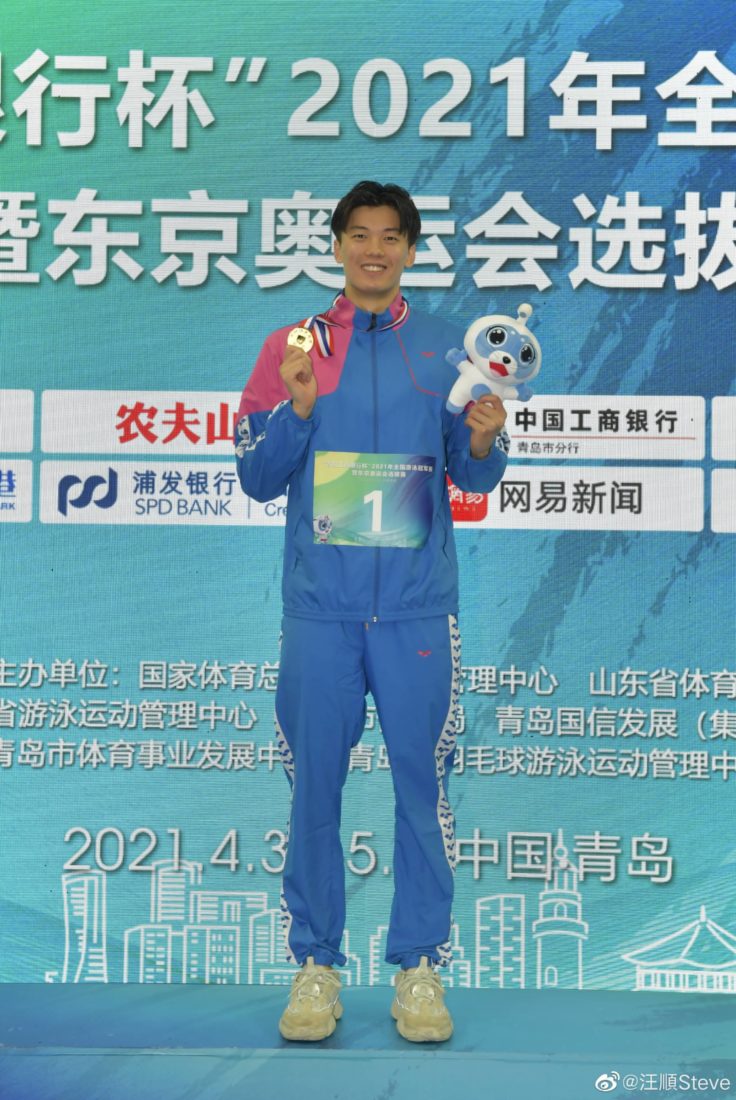 2011-2021 – My tenth 200 IM gold at Chinese Nationals. Thanks for my coach and my family. I feel fortunate to be able to take the path of my own choice. I will never forget why I started, and will always keep going forward. Tokyo, I am coming.
Will Ye Shiwen Still Make It To A Third Games?
The final that raised the biggest question today in Qingdao was a tame 200m breaststroke showdown that granted Yu Jingyao a ticket to Tokyo in 2:25.27. Second home was 2019 national champion on 2:22 and Worlds fourth placer that year on 2:23, Ye Shiwen, on 2:27.54 today and 2sec shy of the A cut she needs to make it to Tokyo. He Yun took third place in 2:27.84.
Ye Shiwen's second place inside B cut and her third place in the 200m medley, also outside A, by just 0.01sec, now shine a torch on Chinese sports authorities.
Day 4 at trials witnessed the second World Junior Record in the 200IM from 15-year-old Yu Yiting, on 2:09.64 in the final after 2:09.88 in heats. The two who shared the podium with her had both been inside 2:09.6 as teenagers but FINA's culture of never looking back to deal with the good and the ghosts of the past means that a record can only be a junior record in global waters if it was set from the date the international federation declared itself to have been interesting in registering such things officially.
In the Qingdao 200IM was Chen Xinyi*, sent home from Rio 2016 after a positive drugs test, on 2:11.58 and potentially headed back to Olympic waters, this time towing an in-Games doping positive.
The Chinese Swimming Association selection policy, any swimmer who has a history of anti-doping violation must face the judgement of the Chinese General Administration of Sport before selection.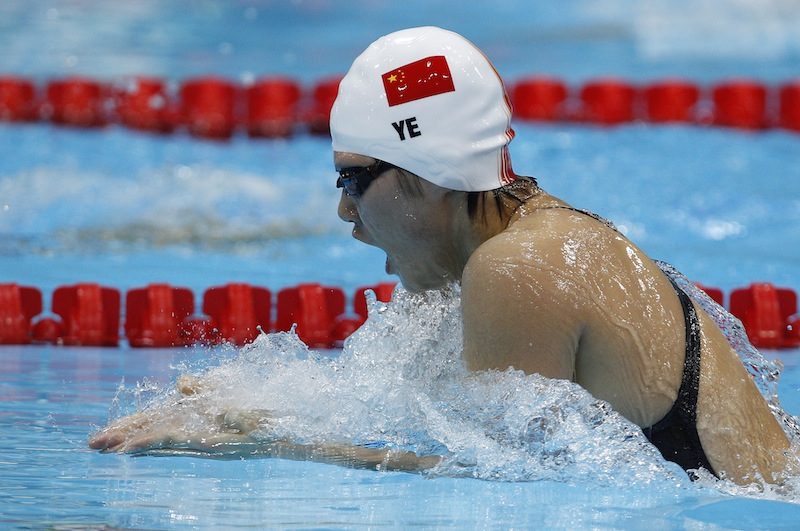 Chen's removal in such a process would not necessarily grant Ye Shiwen the ticket: she was 0.1sec shy of the A cut but the CSA, which has been adding clauses (such as pre-selection of 2019 World champions) to its selection policy as time goes by, may take swimmers inside B cuts at its discretion. Ye Shiwen – and all others still seeking a ticket after trials end on Saturday morning – can also redeem themselves at a meet set up for the last days of May and first days of June.
Back in 2019, Ye established a career high of 2:22.53 in the 200m breaststroke on her way to forty place at World titles in Gwangju in 2:23.15, both efforts faster than the swiftest effort of today's winner, Yu Jingyao's best of 2:23.31 dating back to the Asian Games of 2018.
Team selections in China having been what they've been, it is no less certain that Ye Shiwen will make it to Tokyo than it is to say she won't get to race at what would be her third Olympic Games an odd nine years after her extraordinary double medley victories at London 2012. Back then, Ye Shiwen was 16, and on 2:07.47 in the 200m and 4:28.43 in the 400m medley. Both times were then World records and remain the standards to beat in China and Asia.
In the 400m, Ye Shiwen went down in history as the first woman (girl) ever to race any part of an Olympic swimming final as fast as her male counterparts in the same event. After speeding past World champion Elizabeth Beisel as though she were just starting her race with freestyle to go, Ye matched the pace of Ryan Lochte over the last 100m as he came home for gold in the men's 400m medley final in what remains the fastest textile 400IM among men in history.
Backstroke Double For Xu Jiayu
World 100m backstroke champion Xu Jiayu added the 200m to his Tokyo roster in 1:56.92 ahead of Li Guangyuan, on 1:58.66 and shy of the A cut, and Jin Yan, on 2:00.13.
Xu Jiayin is looking at a four-event program in Tokyo, the solo backstroke battles joined by the men's and Mixed medley relays.
Yan Zibei, with Xu Jiayu, Zhang Yufei and Yang Junxuan are among favourites for the podium, if not gold, in the inaugural 4x100m medley relay at the Tokyo Olympics this July: last October at nationals they combined to set a World record of 3:38.41.
Yang Junxuan missed the A cut at the helm of the 100m freestyle final on 53.21 today but plenty of relay action beckons for the 200m freestyle Asian record-breaker this week come the showdown in Tokyo.
Yang was followed home by Wu Qingfeng, 53.84, and Cheng Yujie, 53.91, while Zhang Yufei, the butterfly ace eyeing a six-event program in Tokyo, clocked 52.90 Chinese records at nationals last October and in Qingdao with a snap in 100m heats two days ago.
The 200m free her big target, Yang is likely to be on the 4×100 and 4×200 freestyle relays and the 4x100m medley quarters, women's and mixed.
In semi-finals, Peng Xuwei led the way to the 200m backstroke final in 2:11.35 and Sun Jiajun checked into lane 4 for the 100 'fly showdown in 52.45.
– * – swimmer tested positive for a banned substance and was handed a penalty during career