Yang Junxuan Blasts 1:54.57 To Take Down Asian 200 Free Record As Yu Yiting Goes 2:09.6 In 200IM That Highlights Farce Of WJRs & Chen Xinyi Adds An * To Team China For Tokyo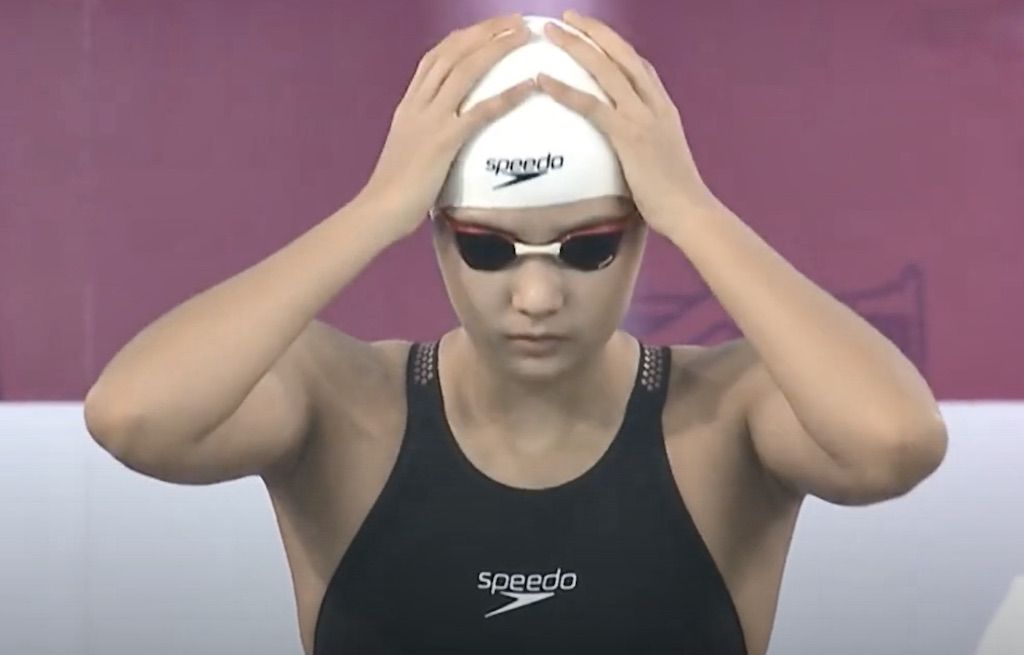 Yang Junxuan took down the Asian 200m freestyle record for the second time this years with a 1:54.57 victory on the fourth day of finals at the China Olympic Trials in Qingdao.
Up from 10th to 8th on the all-time ranking, Yang Junxuan is now within a second of the fastest textile 200m in history, the 1:53.61 in which American Allison Schmidt claimed London 2012 Olympic gold. Only one other woman has even dipped below 1:54: the Rio 2016 Olympic champion Katie Ledecky, on 1:53.73.
Yang Junxuan split 26.69; 55.30 (28.62); 1:24.67 (29.37) before a 29.90 last length, for a second 100m of 59.27 and an Asian record 0.13sec inside the 1:54.70 standard she set in March this year.
Li Bingjie, second to Yang Junxuan in Qingdao today, in 1:56.64, dried herself down and was back in the fray not long after on her way to a third solo ticket to Tokyo 2020 – and fourth ticket overall (4×200): Wang Jianjiahe triumphed in the 1500m, on 15:49.07, Li on 15:58.35, both inside the A cut and bound for the inaugural Olympic women's 1500m in Tokyo. Third place went to Hou Yawen in 16:12.06, while bronze in the 200m went to Tang Muhan in 1:57.83, for a likely 4x200m berth for a swimmer already on the team for the 400m.
There is often a day at Chinese selection trials when the past comes back to haunt. So it was today.
China 200IM Final Mocks FINA's WJRs & Puts Another * In The Olympic Pool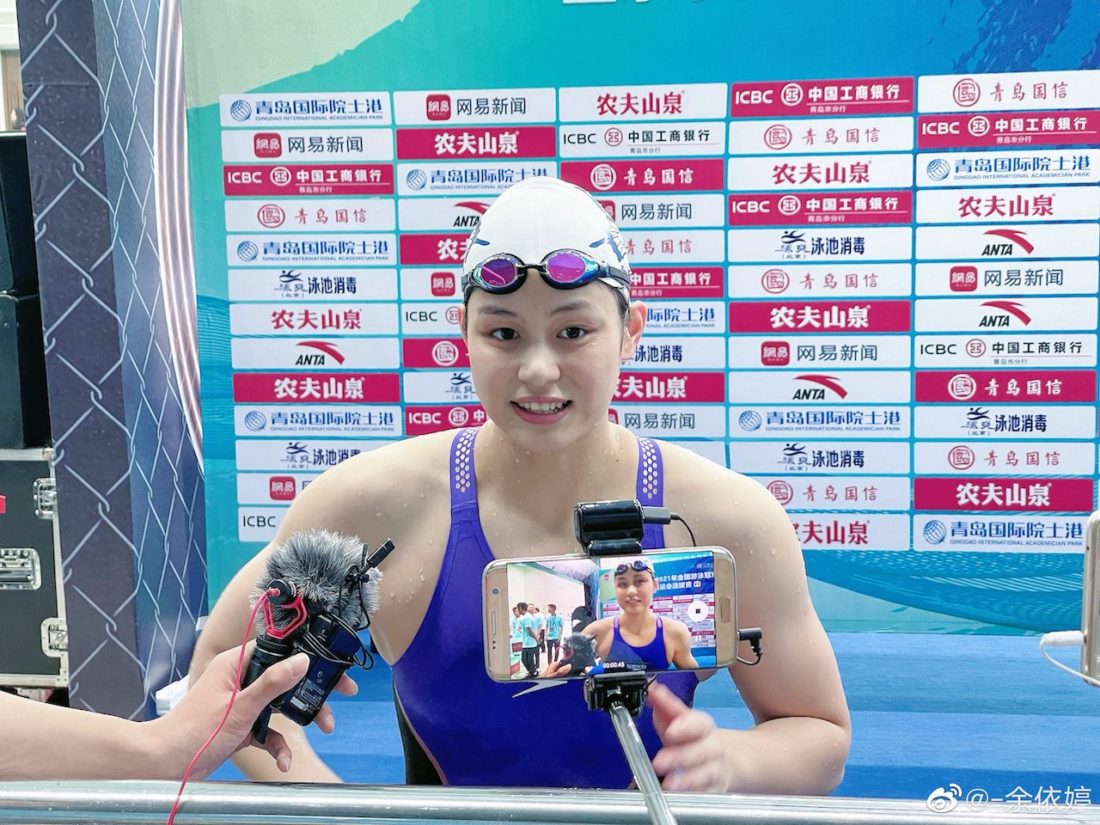 Day 4 also witnessed another World Junior Record from 15-year-old Yu Yiting, on 2:09.64 in the 200m medley to confirm her ticket to both medley events at the Olympic Games this summer. Yu clocked 2:09.88 in heats – and both her heat and her final are slower than the best Junior times of the two she shared the podium with.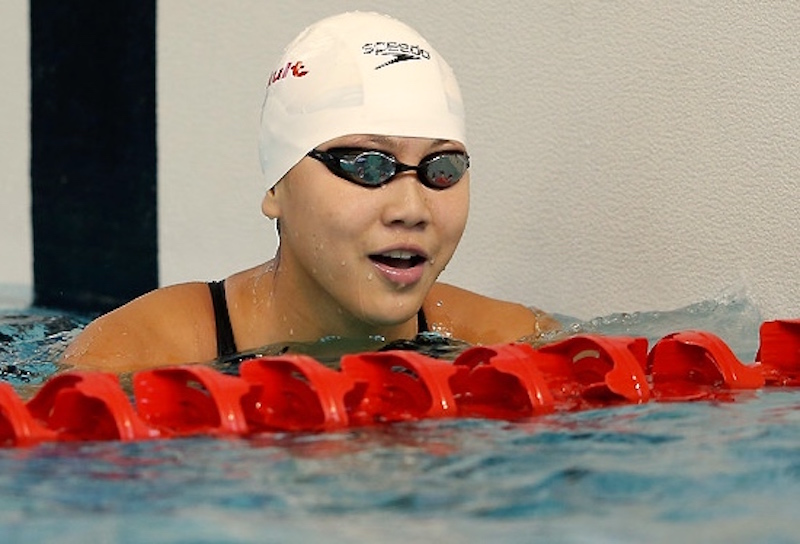 In the mix, the race today was full of the stuff that damages swimming: in second place was Chen Xinyi*, sent home from Rio 2016 after a positive drugs test (see archive below), on 2:11.58 and back in Olympic waters towing the latest thread in the long taint of doping-related issues poured into the pool by China over the past three decades.
China knows it and now faces a decision no guardian of young folk would wish to face: according to Chinese Swimming Association selection policy, any swimmer who has a history of anti-doping violation must face the judgement of the Chinese General Administration of Sport before selection.
A fascinating decision it will be, too: if Chen is told she cannot represent China at the Olympic Games because of her previous form, the questions that run include:
why did the Chinese Swimming Association let her compete at Olympic Trials if a previous violation, including a positive test delivered during an Olympic Games, can trigger exclusion (but in obvious cases in the past has not)?
what will you do about Sun Yang* (?) if at the end of this month he emerges from his second CAS hearing cleared of a case to answer for the events of 2018 that led to an eight-year ban from the World Anti-Doping Agency before the unrelated but unacceptable tweets of a judge railing against the unacceptable treatment of dogs in China sent the matter back for judgement anew.
On what basis did the Chinese General Administration of Sport think it fine for Sun to race at Rio 2016 despite a positive test in 2014?
What will China decide?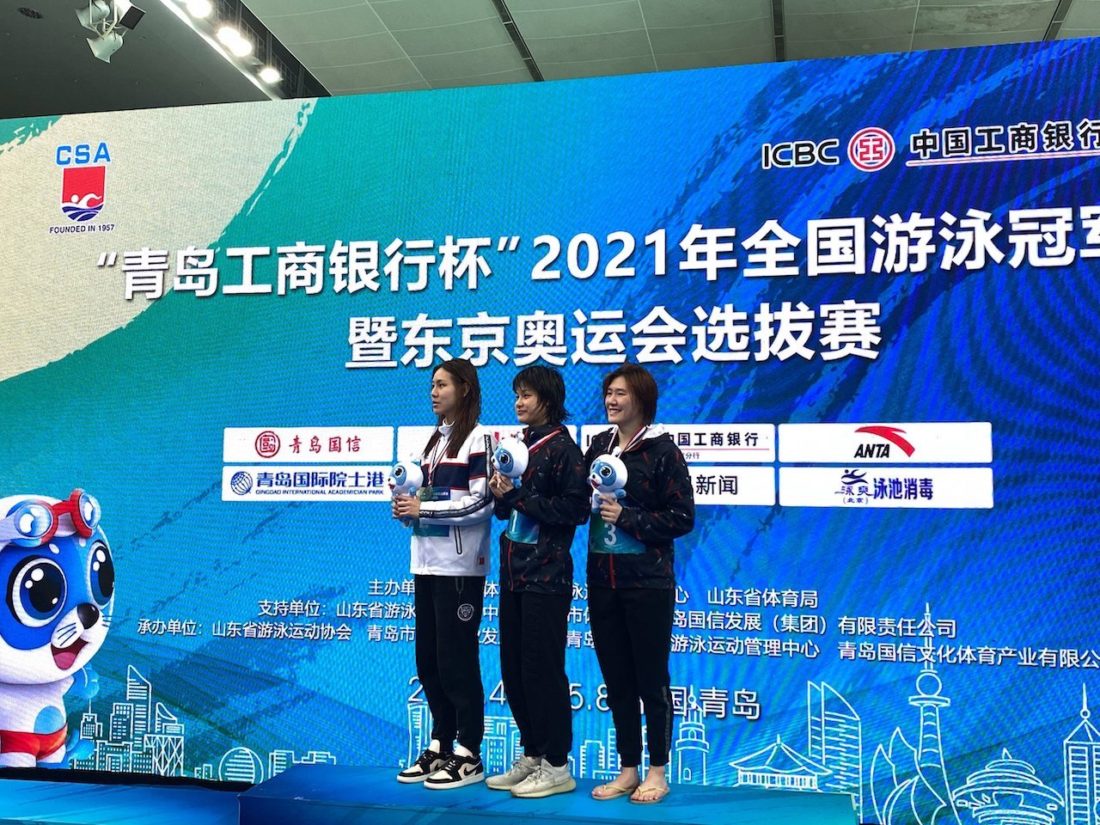 Meanwhile, the top three in that 200IM today made a mockery of the World junior record status as determined by FINA: in third place was the 2012 Olympic champion, Ye Shiwen, who at 16 claimed both the 200 and 400m titles at the Games, the short medley crown her's in 2:07.47, then a world record. Back in 2013 at 15 years of age, Chen Xinyi* clocked 2:09.55, three years out from confirmation that she had a rogue for a coach and had become the latest in a long line of teenagers doped to perform in international waters.
Today, Ye clocked 2:12.57. Back in 2012, she swam the last 100m free of the 400IM faster than five of the finalists in the men's final and at the pace Ryan Lochte came home in for gold in what remains the fastest textile 400IM among men in history. Ye was also third in the 400m on day 1 at trials in Qingdao, so, no medley races for her this time round, even if Chen is dropped: Ye was 0.01sec shy of the A cut. She may be added as a B cut swimmer under China's selection policy, while her last chance to make the 2021 team with an automatic ticket will unfold in the 200m breaststroke.
Yang Junxuan On The Cusp Of Big Podium Speed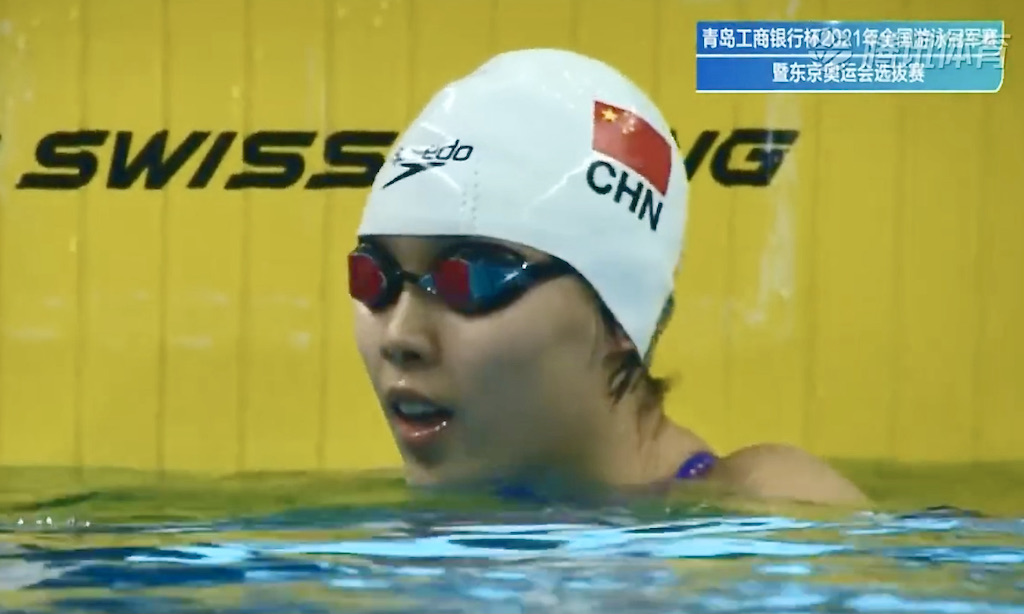 Yang Junxuan was out on her own today in Qingdao, while silver went to one of her China teammates likely to be heading into more battles with Ledecky come the Covid-delayed Tokyo 2020 Olympic Games in July: Li Bingjie, 400m champion on 4:02 on day 2 and on her way to the 1500m final in the same session, clocked a lifetime best of 1:56.64 to make it two qualifiers for the solo four-length fight in Japan.
Tang Muhan came home third in 1:57.83 to add the 4x200m freestyle to her Japan roster after finishing second to Li Bingjie in the 400m. Fourth home was a 1:58, meaning that Zhang Yufei, on 1:57 three times this year, including in the heats at trials before she withdrew top focus on the 200m butterfly after claiming the 100m win in the fastest time of the year so far, 57.73, is likely to be in the fastest-four quartet. Zhang clocked 2:06.31 in 200 'fly semis today to claim lane 4 for the showdown tomorrow.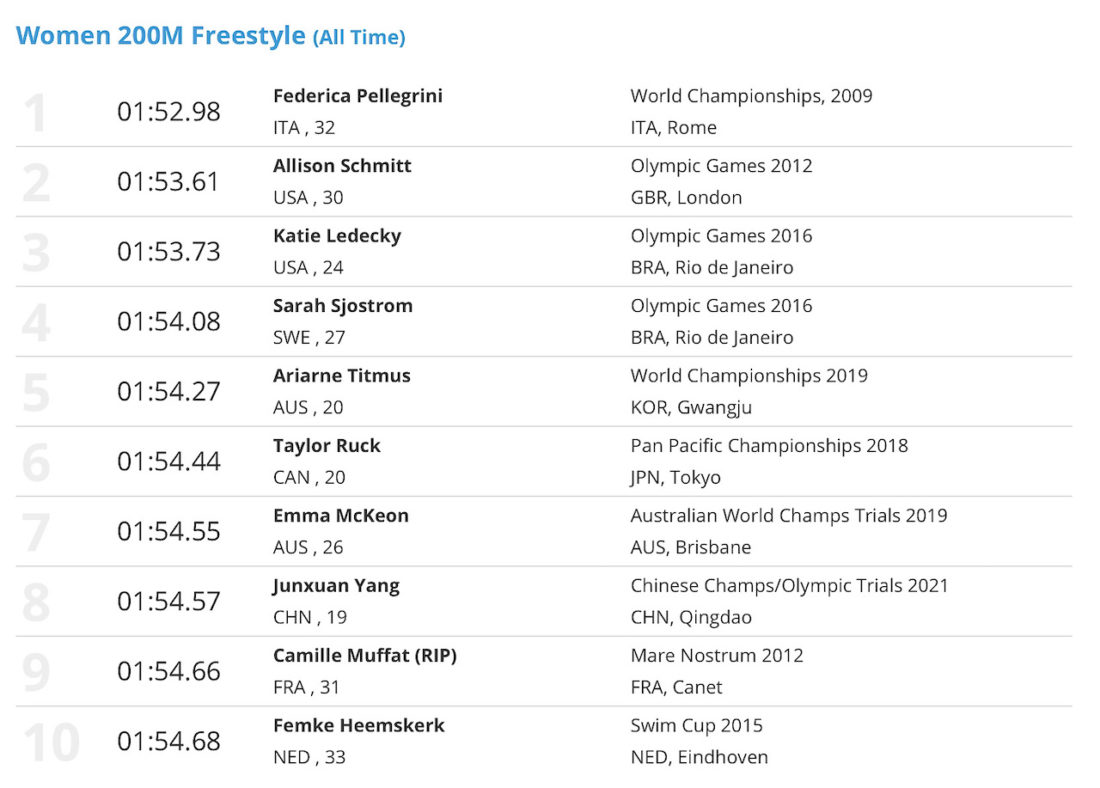 Yuan Junxuan entered the all-time top 10 in March this year with a 1:54.70 Asian record on the China Swim Series:
Yang was 14 when she first broke the 2-minute mark back in 2016 at the Maria Lenk Trophy in Brazil, on 1:59.38. A year later, at the All-China Games, she clocked 1:57.23, the 2018 Chinese nationals producing a 1:56.79 best.
The year before the pandemic struck, back in 2019, Yang Junxuan produced her three fastest efforts of the season at the World Championships: after 1:56.43 in heats, she broke 1:56 for the first time, her 1:55.99 in semis establishing a World junior record.
In the final, she finished fifth on 1:55.43, just shy of the 1:55.25 Chinese record set by Shen Duo in the 2016 Olympic final. At 2019 Worlds the crown went for a fourth time in eight podium to all-time queen of the 200m free Federica Pellegrini, the 2008 Olympic champion on 1:54.22 ahead of Australian 400m champion in Gwangju Ariarne Titmus, 1:54.66, Olympic silver medallist Sarah Sjöström third in 1:54.78 and Hong Kong's Siobhan Haughey on an Asian record of 1:54.98.
Today, Yang Junxuan put in a 200m that only Pellegrini would have topped in Gwangju, though such comparisons are only as good as any race on any day.
What is certain is that Yang is enjoying a fast approach to Tokyo. Since last October, Yang Junxuan has felled Duo's Chinese standard and Haughey's Asian mark and will arrive in Tokyo a medal contender and the bulwark of the China 4x200m.
The women's 4x200m freestyle has been a big motivator for China – but also a place of sorrow and controversy. Zhang Yufei led the 200m heats on 1:57.22 ahead of Yang Junxuan, 1:57.76, Li Bingjie on 1:58.14. Li among members of a 4x200m freestyle quartet that made the podium at World titles in 2017 but later that season heard news that one of their teammates and a training partner of Li's had tested positive for doping.
The Backdrop To The Best Of Li Bingjie in 2017
Li Bingjie's Asian 400m freestyle record stands yet at 4:01.75, a time she established the 13th Chinese National Games in Tianjin back in 2017 after finishing second in the 800m and third in the 400m behind American Katie Ledecky at World Championships in Budapest that year.
Li's 4:02.36 effort at trials this week was her best since a roaring 2017 season, her 4:01.75 backed by 4:02.52 and 4:03.25 swims that remained her best three until today.
That season also saw her coach Liu Haitao suspended for his role in the doping positive of Worlds silver medallist Liu Zixuan. Liu, 16, swam the second leg of China's 4×200 free relay at the 2017 World Championships, earning the 16-year-old a silver medal. She tested positive for hydrochlorothiazide, a diuretic, on on September 4 that year at the the 13th China's National Games, evoking memories of the China Doping Crisis of the 1990s and the flood of diuretic cases linked to the wave of human growth hormone vials found in the kit of Yuan Yuan* on the way to 1998 World titles.
Liu Haitao was suspended for two years and fined 10,000 yuan (about USD$1,500), while the teenager Liu Zixuan was fined 20,000 yuan (about USD$3,000). At the time, Liu Haitao also coached Ai Yanhan and Li Bingjie, two others in the podium-pacing 4x200m relay in 2017. The coach is best known for his work with Jiao Liuyang, the 2012 Olympic 200m butterfly champion.
In addition to the penalties against swimmer and coach, the Hebei Province Swimming Association was handed an official warning and a 20,000 yuan (about USD$3,000) fine: a whole federation given the same financial penalty as a 16-year-old. Liu was barred for two years.
Meanwhile, It took until December 2016 to confirm a two-year ban on Chen Xinyi* after the Rio Games. And when that news came through, here is what was happening at the same time
From The Craig Lord Archive – December 2016, June 2017
China Crisis Continues: Teenager Chen Xinyi Barred For Two Years After Positive Test At Rio Olympics
Chinese teenager Chen Xinyi has been handed a two-year suspension after testing positive for Hydrochlorothiazide during the Rio 2016 Olympic Games.
China's top butterfly swimmer of the moment was removed from the Olympic Games after confirmation of the adverse finding back in Brazil in August.
This evening, as racing wrapped up at the world short-course championships in Windsor, Canada, FINA issued the following statement`:
Doping Panel Decision – Xinyi Chen (CHN)
On 8 August 2016, the International Olympic Committee conducted a doping control test during the Rio 2016 Olympic Games on the swimmer Xinyi Chen (CHN). The athlete was tested positive to the substance Hydrochlorothiazide (Class S5 of the WADA Prohibited List 2016, Diuretics and Masking Agents).
The FINA Doping Panel decided according to the FINA DC Rule DC 10.2.2 to impose on the athlete a period of two years' ineligibility, starting on 11 August 2016 and ending on 10 August 2018 for her first anti-doping rule violation.
Furthermore, the FINA Doping Panel acknowledged the Court of Arbitration for Sport (CAS) Panel decision regarding the disqualification of the athlete's results at the Rio 2016 Olympic Games.
Chen Xinyi was barred from racing in Rio after the 100m butterfly final and after the Court of Arbitration for Sport, sitting here in Brazil, handed the 18-year-old a temporary suspension. It has taken until now for FINA to confirm the case and hand out a penalty.
Hydrochlorothiazide is used to treat high blood pressure and swelling caused by heart failure and liver damage. The judgement handed to the swimmer is not accompanied by a penalty for coach, doctor or any other official serving as the guardian of an athlete who has been in the care of the national team in China since she became a teenager.
The Chinese Swimming Association was told the news three days before it was revealed in Rio. Chen was 16 when she catapulted up the world rankings to a 56.61 victory for China over 100m butterfly at the Asian Games. In 2015, she was a second off that pace, then in the Rio 2016 final she finished fourth in 56.72.
Chen, touted as one of China's great hopes in the pool, is coached by Jin Wei, mentor to the 2008 Olympic 200m butterfly champion Liu Zige.
Chen also spent some of her youth training at the Miami club in Australia with coach Denis Cotterell but has not been there for the past 18 months. Miami was told last year that it could no longer admit Sun Yang* to its facilities after he tested positive for a banned substance in 2014.
Australia changed its rules of engagement with foreigners as a result of Sun's case: no swimmer who ever tested positive may train at a funded centre in the country and all who do visit to train must agree to submit to national anti-doping agency testing on demand at their own cost.
Three Chinese national swimming team members have been served suspensions of between six months and a year after they tested positve for the same substance that disqualified teenager Chen Xinyi during the Olympic Games in Rio last month, according to paperwork addressed to FINA last week.
The cases, among six in China that date back many months but have yet to make the published list of FINA cases, involve a masking agent being used by a pod of swimmers in the same season, sparking fears within China of a "systematic network of doping young athletes".
In a season marked by the resignations from FINA of three doping experts in protest at their advice over Russia being ignored by the international swimming federation, Chen, 18, took to seven the number of positive tests by national team members (past and present) in China.
It was six months after an investigation by The Times and SwimVortex that forced Chinese swimming to admit that it had six undeclared positive tests on its account, that we were able to reveal the names of the three swimmers who also tested positive for the hydrochlorothiazide that caught Chen out in Rio.
According to sources in Beijing who did not wish to be named for fear of reprisal, the swimmers and a coach whose suspensions were sent by China to FINA last week are:
Li Xuanxu* – 6 months
Huang Chaocheng* – 6 months
Yang Zhixian* – one year
Fen Zhen* (coach) – one year
Their cases take the number of positive tests from Chinese swimming to more than 80 in the past 25 years. FINA has yet to add the cases reported in China to the official file.
There had been speculation that Li Xuanxu had been among the six cases confirmed by China after The Times and SwimVortex reported last March that at least five positives had yet to be reported, sparking fears in China of a cover-up until after the Olympic Games in Rio.
Li, world-titles bronze medallist over 1500m freestyle in 2011 at 17 and Olympic bronze medallist in the women's 400m medley at the London 2012 Olympics, and Huang Chaocheng, China's No 2 male medley swimmer of late, have both already served their six-month suspensions even though their January 3 cases have not yet made it to FINA's published cases file.
When Huang, now 21, finished fourth over 400m medley at the Asian Games in 2014, his teammate Yang Zhixian, now 24, finished second in between Japanese swimmers Kosuke Hagino, now Olympic champion, and Daiya Seto, the World champion who claimed bronze in Rio.
Yang was served a suspension of one year, starting February 24, while coach Fen Zhen has received the same suspension, running from the same date.
Sources told this author for The Times:
"This is a worrying picture. That all these young swimmers test positive for the same masking agent, which cleans out their system ahead of testing, indicates a systematic network of doping athletes. We have seen this before in China and we want it to end. We hope that WADA will look more closely at Chinese swimming. There is a deep problem and there are rogues working in the sport."
The Chen Xinyi case came on the back of warnings handed to World junior record holder among men on breaststroke, Wang Lizhuo, and the man who replaced Huang as China No 2 on medley, and An Jiabao, after they tested positive for Clenbuterol last year. Both men qualified for the Olympic Games as winners or second-placed swimmers at trials back in April but were not selected to race in Rio.
To date there has been no official explanation as to why one of China's top freestyle swimmers, Qiu Yuhan, 18, did not make it to the Rio 2016 Olympic Games despite having clearly qualified at Chinese trials.
June 2017 – confirmation of an asterisk for Qiu Yuhan*
Red Faces At FINA As China – da Reports Qiu 9-Month Doping Ban After Penalty 'Spent'
Editorial – China's Qiu Yuhan, a double 2014 Youth Olympic gold medallist and London 2012 Olympics team member, was banned by the China Anti-Doping Agency (Chinada) in May 2016. The news just made it to the official record of Chinada, the national anti-doping agency, but remains unreported by FINA, the international federation.
The trouble for FINA is two-fold: its relationship with China and leniency is long, while the Qiu case exposes a deep problem in the federation's policy of removing all spent doping cases from the official public record. The case is only now being reported by China but may never appear on any FINA list on the public record because the penalty has already been spent.
Under the headline "More embarrassment for Chinese swimming as details of another doping suspension are revealed … months after ban is served", the South China Morning Post reports that Chinada has finally made the news official – months after SwimVortex reported how Qiu had been left off the Rio 2016 Olympic team without explanation last year even though she clearly qualified to race at national trials.
Now, Chinada reports that she tested positive for hydrochlorothiazide, banned by the World Anti-Doping Agency as a diuretic and masking agent, during an out-of-competition check. The substance is the same as that for which Chen Xinyi* tested positive at the Rio Olympic Games last year – that test landing a two-year penalty. Chinese swimming has a poor history when it comes to a mixture of positive doping tests for the highest category of offences and positive tests for masking agents.
The Qiu case made the Chinada official list this week. FINA has yet to include the case in its list of suspensions and may now never do so in that the moment a suspension is spent, FINA removes cases from the public record on its website.
The international federation made the move away from full transparency more than two years ago. As such there is no full, official public record of the doping history of the sport of swimming.
Chinada barred Qiu for nine months but there is no evidence that she actually served time out of the sport while her case was going through the tardy Chinese system of reporting such things. The swimmer was also asked to cover the 5,000 yuan cost of testing five samples. There is no case reported of any others involved: no doctor, no coach.
The case comes in the week that FINA slapped a one-year ban on Australian Tom-Fraser Holmes, for missing three out-of-competition tests at the time and place he said he would be. The maximum penalty allowed is two years. FINA's halving of that displays customary leniency but not to the extent that the federation has been soft on China.
Qiu's case is the latest to show China as a nation that finds tests and hides them until either/or international authorities force them to reveal the truth – and then often long after any penalties are supposed to have been served.
In the lead-up to the Rio Olympic Games, The Times newspaper in London and SwimVortex revealed that China had five unreported doping cases on its hands. China had two things to say: it had hidden nothing (though no-one knew of the cases) and there were in fact six cases, three from late 2015 and three from January 2016.
Go back to 2014 and China attempted to leave a positive test by Sun Yang*, then the Olympic 400 and 1500m free champion, unpunished. FINA was forced to demand that a penalty be imposed.
What happened next was a matter of searing controversy that spilled into Star Wars and more at Rio 2016. Sun tested positive for a heart booster placed on the banned list in 2014. His defence was that he had been taking the substance throughout his elite career and Chinada, according to the national doping agency itself, had failed to update the Chinese version of the WADA Code.
The positive test was May 2014. In September that year, Sun raced to three golds at the Asian Games in Korea. By his side at that meet was one of his – and the China team's – constant companions on swim tour, Dr Ba. Zhen**. China would later claim that Dr Ba was not accredited through the national team, to cries from critics who noted that it would have been highly unlikely that Games organisers would have given a medical credential on the say so of a doctor and swimmer and not a team and even less likely that China would not have known that the doctor was travelling to work with Sun Yang.
It was November 2014 before Xinhua revealed the truth: Sun had tested positive. The penalty, it would emerge, was three months, imposed retrospectively and therefore never actually ever served.
SwimVortex informed WADA that Dr Ba had worked during what was supposed to have been a one-year suspension period for the doctor. A member of the medical staff of the China team since the home Olympics in 2008, Ba was slapped a second penalty but is now back working with Sun on the way to world titles in Budapest next month.
In Rio, Sun was among those booed to and from his blocks with every passing race as swimmers, coaches and others showed their fatigue with cheats who make their way back to Olympic waters towing doping records with them. Sun was beaten by Australian Mack Horton in the 400m free in Rio but then claimed the 200m crown, after which he was hugged on the poolside by FINA director Cornel Marculescu. In his press conference, Sun referred to the director as being 'like a grandfather' to himself and Chinese swimming.
That contributed to the demand from coaches, swimmers and others, for anti-doping to be removed from the auspices and control of FINA in favour of an independent anti-doping regime.
FINA, pressing for a one-year ban for no-shows from Fraser-Holmes, did not challenge the length of the ban on Sun. Fraser-Holmes, with no such inappropriate "protection" from the international federation, is taking his case to the Court of Arbitration for Sport.
Meanwhile, Qiu, from Liaoning province, took part in the Rio Games selection trials last April and qualified in the 200m freestyle in a time that made her a potential finalist and a big card for the 4x200m relay. Then, when the team was announced, her name was missing, without any explanation from the Chinese Olympic Committee nor the Chinese Swimming Association.
As the South China Post reports: "Qiu first came to prominence at the 2012 London Games as the 14 year-old became the only '90s-born member of the Chinese 4x100m freestyle relay team, which finished fourth in the final. She raced in both 4x100m relay events when the Chinese team claimed a double gold at the 2014 Youth Games in front of the home crowds in Nanjing. She also came second in the 200m freestyle and third in the 100m, behind teammate Shen Duo and Siobhan Haughey of Hong Kong."
She was part of a generation of 'clean Chinese swimmers' in the wake of the doping crisis of more than 50 positive doping tests within a six-year period in the 1990s. Among her peers who also tested positive were Li Zhesi*, the sprinter who at 15 tested positive for EPO, and Chen Xinyi*, a world-class swimmer at 14 but at 16 in Rio sent home from the Olympics after failing a drugs test when testing positive for hydrochlorothiazide.
Chen's coach, also the man who mentored Beijing 2008 Olympic 200m butterfly champion Liu Zige to victory, was not penalised – nor were any doctors, according to the official record.
– * – swimmer tested positive for a banned substance and was handed a penalty during career + coach who played a role