W4x100 medley – Australia Nail 8 Days Of Dominance As The Force Of Women's Swimming With 8th Gold in 3:31.60 OR
The slo-mo replay captured what it meant: Cate Campbell peered up at the scoreboard, her face like sun breaking through cloud, her arm arched into the air, her head falling back into the water, eyes closed, the lows washed away with a high that will live with her for the rest of life as the memory of a rollercoaster-ride that ended with a rush not the hush of not quite there.
There are not many 'I'm done' pronouncements at the end of a Games in the pool, retirement best left to the long grass of contemplation un coupled from the last result, whatever that may be.
For Campbell, if Tokyo is it, she would leave the fast lane on a high, her last blast with mates Kaylee McKeown, Chelsea Hodges and Emma McKeon helping Australian women to medley relay gold in the fastest time ever seen in Olympic waters. It delivered an eighth gold in eight days of finals at a meet spread across nine days and held in trying circumstances at a time of pandemic.
And it delivered the first Olympic seven-medal haul for a woman swimmer and only the second for a woman across all sports.
No crowd, no cheers, no flags flying, spectators part of a virtual world of folk out there somewhere sitting up through the night screaming at a TV screen barred from entry to a country that has hosted a Games against the wishes of a great many of its own people on the one hand but managed to stage the world's biggest sports event and in so doing saved athletes form the heartache of years of work in vain.
Swimmers have lived their Olympic dreams and for Australian women that means meet victory with eight gold, a silver and four bronze, leaving the USA trailing with three gold atop 18 medals (neither a tragedy nor where they have been and would have wanted to be), to two for China and the hosts Japan, Canada with one title atop 6 medals.
The last one was all the more thrilling for its impossibility factor and the nearness of battle: 3:51.60 for Kaylee McKeown (58.01), Chelsea Hodges (1:05.57), Emma McKeon (55.91) and Cate Campbell (52.11). The eye cannot avoid the breaststroke leg: Olympic champion Lydia Jacoby on 1:05.03, Hodges on 1:05.57. It was gold for Australia right there, Cate Campbell entering the water 0.25sec behind Abbey Weitzeil, racing without panic to reduce the gap to 0.12sec at the turn.
She streamlined level with the American off the wall and then making what may be every last stroke of her long career count to get the Australians to the wall 0.13sec ahead of the USA – Regan Smith (58.05), Lydia Jacoby (1:05.03), Torri Huske (56.16) and Abbey Weitzeil (52.49) – on 3:31.73, Canada – Kylie Masse (57.90) Sydney Pickrem (1:07.17) Maggie MacNeil (55.27) and Penny Oleksiak (52.26) – taking bronze in 3:52.60 to cap a six-medal meet after some of the most challenging lockdown circumstances among leading swim nations, though there is no competition top decide who had it harder.
Campbell emerged to say: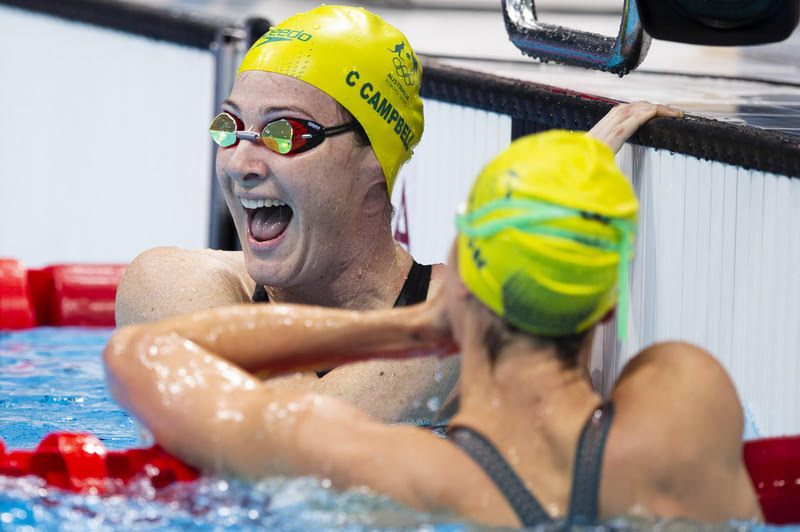 "I think we've seen what girls are capable of this week. The girls have been the standouts of the Australian team and it is a privilege to be a part of it. I hope this is an inspiration to take up sport and pursue excellence. You can't be what you can't see, and the girls have been front and centre. I hope that has been seen."

Cate Campbell – Photo – What a week! – by Patrick B. Kraemer
Hodges, who kept the line when it might have been broken by the Americans on her watch, said: "I certainly came into this meet wanting a relay spot. To be up there with these girls was a great opportunity and meant a lot."
"We thought our medley relay was going to come together because we have some of the best girls in the world," Oleksiak said for the Canadians. "We saw the potential in Rio."