USA 4×100 Medley Streak & GBR Ambition Live To Fight Another Day As Americans Go 3:26.78 WR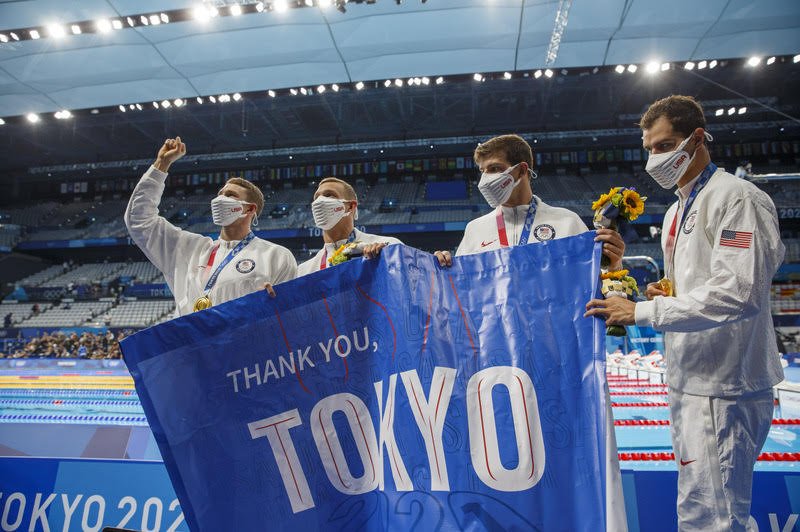 Starting at Rio 2016, it's been Round 1 to the United States, Round 2 to Great Britain and Round 3 to the USA in the 4x100m medley but there was no mistaking the reasons why there are going to be more thrilling rounds to come in the USA Vs GBR medley relay duel.
This one in Tokyo ended in a World record of 3:26.78 to Americans Ryan Murphy, Michael Andrew, Caeleb Dressel, Zach Apple, ahead of a European record and second fastest ever in textile, 3:27.51, for Great Britain's Luke Greenbank, Adam Peaty, James Guy, Duncan Scott.
That left American men at the top of the medals table with eight golds, a tally matched by Australians for the top of the women's table. Britain's men accounted for seven and a half of the nation's eight medals (the mixed relay the half measure) for second spot on the male table behind the USA.
For Dressel, victory delivered a fifth gold medal of the week and his second gold of the day after a 21.07 triumph in the 50m freestyle. For Scott, silver made him the most medalled British athlete, all sports, at a single Games, with four prizes, on gold (4x200m free) and three silvers (200m free, 200m medley and 4x100m medley for men).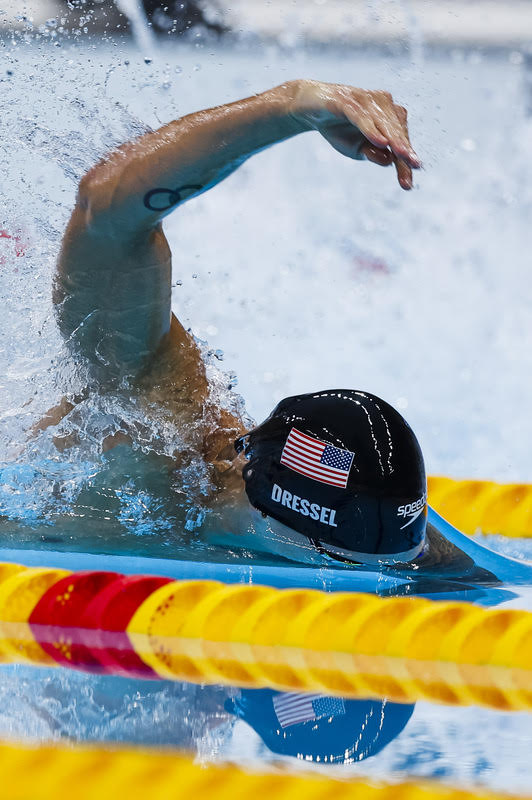 Consider that speed: It's the space at which Edgar, Murphy, Heindewnreich and Spitz travelled at for Olympic gold in the 4x100m freestyle at the 1972 Olympics. Imagine then turning to he of seven golds and suggesting that one day a medley relay would be as fast. Imagine turning to Dressel now and raising the chance of a medley relay going under 3:10 when he's 64 and a decade.
Italy (Thomas Ceccon, Nicolo Martinenghi, Federico Burdisso, Alessandro Miressi) settled the battle for bronze in 3:29.17 ahead of Russia (Evgeny Rylov, Kirill Prigoda, Andrei Minakov, Kliment Kolesnikov), 3:29.22, Australia (Mitch Larkin, Zac Stubblety-Cook, Matthew Temple, Kyle Chalmers), 3:29.60, and Japan (Ryosuke Irie, Ryuya Mura, Naoki Mizunuma, Katsumi Nakamura), 3:29.91.
Six teams under 3:30 in one race. A first. Not even at the Rome 2009 shiny suit circus : then. There were five and the winning USA team clocked 3:27.28, a World record that had stood to this day but stands no longer.
The draw of lanes, a nine-day program in a time of NBC Olympic colonialism and the dollar trumping all, a sharp reminder from Lindsay Mintenko to her boys and much else was in play as a Stars and Stripes quartet dripping in Dressel held firm against a British battering ram and the brotherhood Peaty brings to the blocks with him.
Here's why the duel goes on:
First thing that happens after GBR and the USA (for they did it to themselves, too) slay the USA in the mixed medley relay, Ryan Murphy turns to his mates before Caeleb Dressel brings business to a close in what is a shocker of a fifth place if you're used to golden outcomes forever, and says: park its, boys. Next target.
Second thing that happens is that they do, win, take down a World record on the back of a 49.03 stunner of an all-time best 'fly split after a 21.07 win in the 50m free and after Mintenko sits them down and points out that all have already proven that they can pout together four parts of a sum inside WR and GBR.
Third thing that happens, Peaty, lined up with his brothers, acknowledging disappointment even in the light of a 56.53 sizzler of a best-ever breaststroke split, manages a rye smile and says: "It's good to be hungry sometimes and these are the moments that bring on the hunger."
For Britain, silver meant a third relay medal in Tokyo, for the USA it meant redemption, salvaged pride: the Americans have never lost the 4x100m medley since it joined the program in 1960. The 1980 boycott was a blip, with a record streak of 10 built since. It's the biggest Olympic streak, all sports.
Murphy pointed back to the scar from the mixed medley relay as the dawn of "Do Not Let This Slip". He said: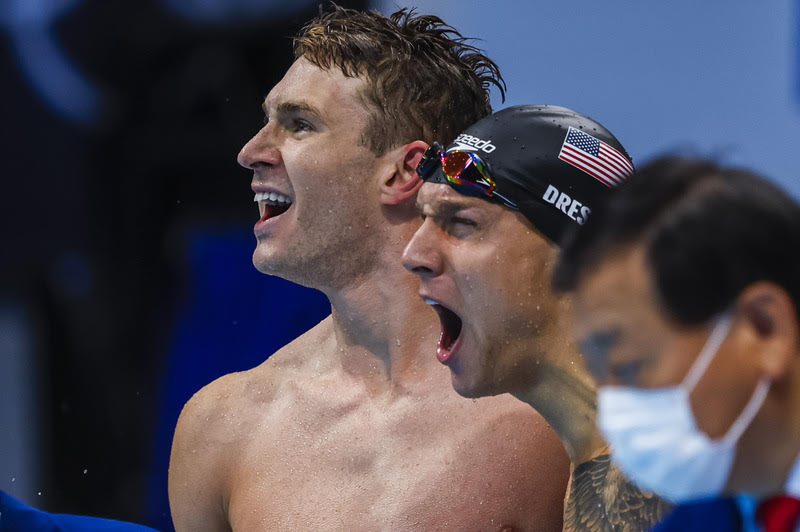 "I think as athletes, we are always looking to the next thing. Even as we come into these mixed zones after a race, we're always looking at the next race. Yesterday, right after the mixed medley, it's like, 'OK, that is done and over with. We've got a stacked men's medley coming up. We've got to go, warm down, get ready for that.' And luckily we did that today."

Ryan Murphy – Photo – (L-R) Ryan Murphy and Caeleb Dressel asking Apple to take a bite off the World record – by Patrick B. Kraemer
Luck sounds a bit soft for a warrior. Try strategy, mindset, planning … these are the things that pan for gold.
Murphy has relived and played back the 20019 World-titles upset Britain inflicted on the USA as motivation for Tokyo 2020 on days he'd rather have stayed in bed. He said:
"That race in 2019 is one I have watched a couple of times in days I was doing good or my body was breaking down or I didn't necessarily want to work hard. I've watched that and gotten fired up, and it's definitely motivated me over the past two years to make sure that when we got to the end of this meet … I'm able to do a good 100 back, but I'm also able to do a good 100 back at the end of this long meet."
After Dressel's bomb, Apple held off Scott, 46.95 to 47.08. As Peaty said: "Room for improvement … we'll be using it to get better."
The Americans celebrated but a slo-mo replay that kept reeling on the big screen showed Dressel without a mask: his focus is not his mates but an upward flick of an arm to teammates up in the stands, the gesture screaming "give it up for us!" and then, beyond a spray of water, an issue of spit, he turns, looks along the lanes, raises his chin, narrows his eyes and nods with satisfaction at the winning job done and in a gesture that might be summed up in two words: "Take that".
"We have to take that – and use it all the way to the next one," says Peaty.