Siobhan Haughey Takes Down Camille Muffat's Monaco 11-Year-Old Meet Mark With 1:55.03 In 200 Free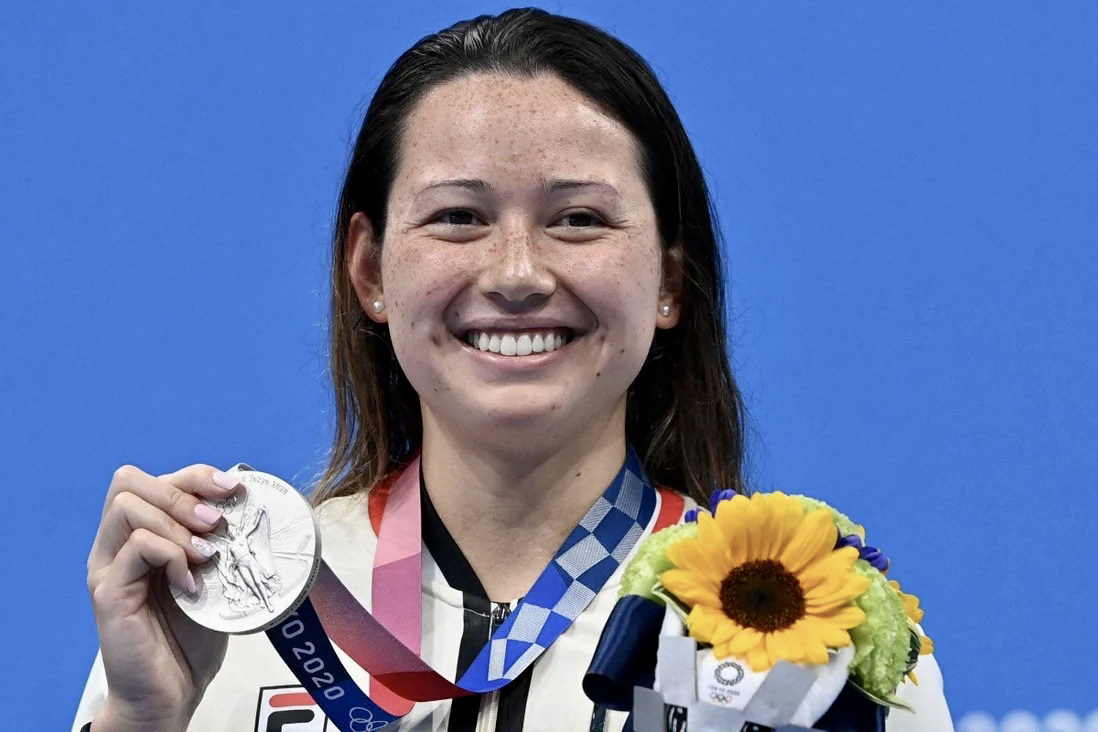 Meeting records from two Asian stars, Hong Kong's Siobhan Haughey and Japan's Tomoru Honda, kicked off the 40th anniversary celebrations on the first day of the Monaco grand prix meeting, the final stop on the 2023 Mare Nostrum Tour.  
Haughey, the Tokyo Olympic silver medallist in both the 100m and 200m freestyle, dominated the 200m final, setting a meet record of 1:55.03, her fastest of the year so far, which lifted her to third on the 2023 world rankings list, trailing only Canada's Summer McIntosh (1:53.91) and American Katie Ledecky (1:54.13).
The removal of the previous meet record of 1:55.21 is tinged with sadness as it was set by the late French champion Camille Muffat 11 years ago, although she still holds the Mare Nostrum record at 1:54.66.
Haughey showed clean heels to the field, winning by more than a second from Canada's Mary-Sophie Harvey (1:57.75).
Having lost most of 2022 to an ankle injury Haughey is back to full fitness and keen to make up for that disappointment, as she takes on an ambitious competition programme this year. She has done all three legs of the Mare Nostrum Tour and will also contest both the world championships and the Asian Games in the coming months.  Haughey said: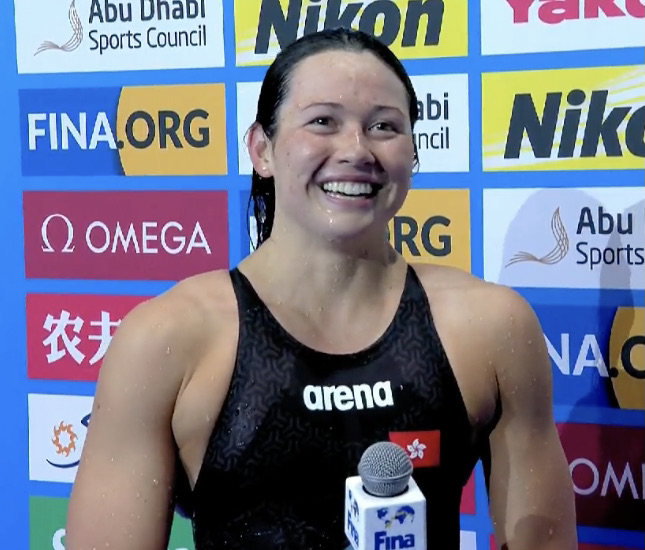 "Coming into this I was a little tired and I wasn't sure how I would be feeling but I'm really happy with the swim.

"I always love doing Mare Nostrum, I love travelling to different places so this year I decided to do all three stations. I think it's really good training because it's tiring doing three competitions in nine days, but we're all on tour together so I'm also enjoying myself and I think that's important for my swimming." 

Siobhan Haughey
Honda Joins Haughey On Meet-Mark Trail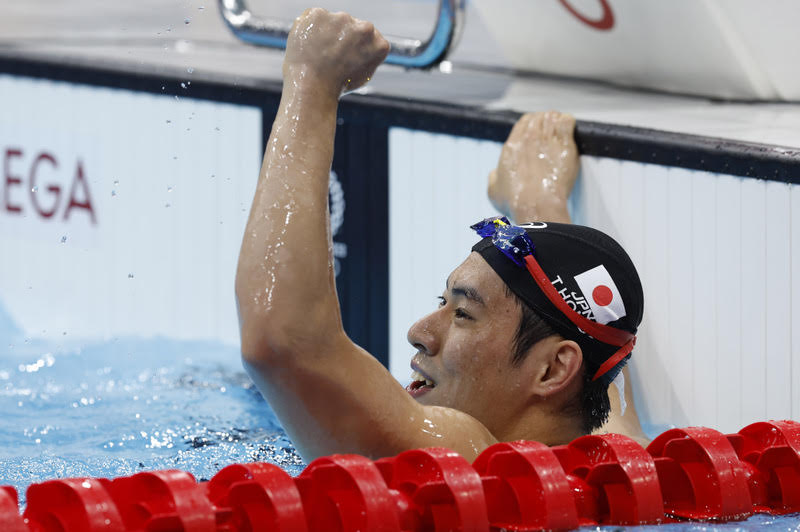 Honda's meet record performance came in the very next race, as he surged through the four lengths of the 200m butterfly in 1:54.22, less than a second slower than his winning time at the Japanese championships last month, which ranks him second in the world this year behind world record-holder Kristof Milak of Hungary (1:52.58).
In a high-quality race, the Japanese flyer was still almost a second clear of his opposition, as Poland's Krzysztof Chmielewski claimed second (1:55.09) just ahead of Switzerland's Noe Ponti in third (1:55.42).
The strong Japanese team competing in Monaco also claimed the men's 200m breaststroke and 100m freestyle.
Dual world championships medallist Ippei Watanabe, brought the outside smoke in the breaststroke, winning easily from lane one, after a deceptively slow qualifying performance earlier in the day.
But he found his jets in the final, clocking 2:09.41, almost two seconds outside his own meet record, but two seconds ahead of second-placed Lithuanian Andrius Sidlauskas (2:11.39).
Olympic 100m breaststroke champion Lydia Jacoby was similarly imperious in her pet event, winning in 1:05.99, well clear of second-placed Reona Aoki (1:07.04), to prove that she is well and truly over after last year's form wobble when she moved from her native Alaska to the University of Texas, but missed selection for the world championships. 
She swam faster today, while in work, than she did at last year's US trials, and backed that up by setting a personal best 50m time of 30.08sec later in the session.
Jacoby confessed that she lost her way in the wake of her shock victory at the Tokyo Olympics, when she was just 17, but said she had found a new direction this year.
"I have been training a lot harder this year than I ever have and training long course for the first time and I have gained a lot of confidence and comfort in the long course pool,'' Jacoby said.
"I was exhausted yesterday and pretty tired today so it feels really good to put down good times."
The men's 100m freestyle had one of the few close finishes of the day – as Japan's Katsuhiro Matsumoto (48.61sec) lowered the colours of France's pre-race favourite Maxime Grousset (48.84sec) who was reduced to third behind Canada's Ruslan Gaziev (48.74sec).  
But in Monaco, the sprint action is primarily reserved for the Tournoi de Vitesse, the knockout 50m speed competition that runs across two days.
Today, the fields were reduced from 16 to four across two rounds, with few upsets.
Sara Sjostrom Sets Dashing Pace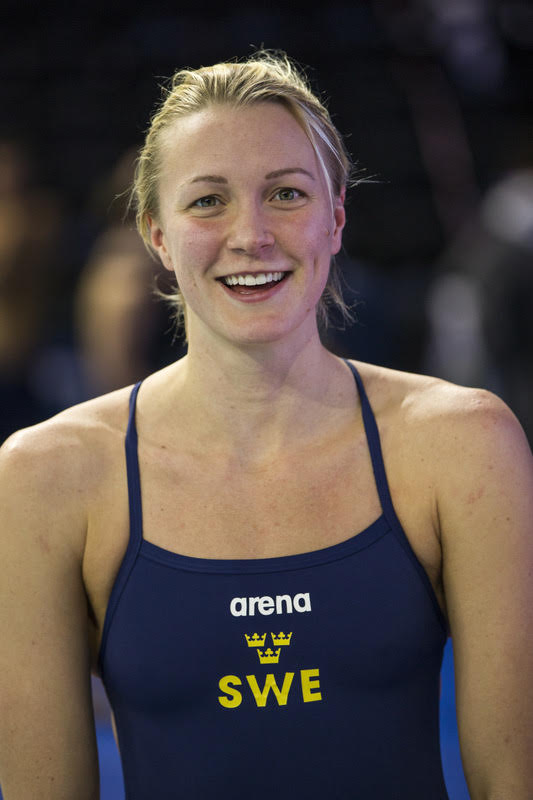 World record-holder Sarah Sjostrom sailed through the 50m butterfly rounds, winning both her races to reach the semi-finals with a best of 25.28sec in the quarter-final, despite the presence of world championships silver medallist Melanie Henique of France, who was second fastest in 25.96sec. 
The Swedish speedster then backed up to lead the top four in the 50m freestyle semi-finals in 24.03sec. Australia's Cate Campbell, back in international competition for the first time since taking an 18-month break following the Tokyo Olympics, qualified second fastest in 24.34sec, with another returning 30-year-old, Sweden's Michelle Coleman (24.53sec) also through to the second day. 
Canada's Olympic 100m butterfly champion Maggie MacNeil had a luckless day, finishing fifth, one short of qualifying for the semi-finals, in both the butterfly and freestyle. 
World 100m breaststroke champion Nicolo Martinenghi cut a dominant figure in the 50m breaststroke, reaching tomorrow's semi-finals with a winning time of 27.22sec. 
The women's 50m breaststroke shapes as an intriguing duel between Olympic 100m champion Lydia Jacoby and South Africa's world championships 50m medallist Lara Van Niekerk. Jacoby (30.08sec) had the upperhand in the quarter-final but Van Niekerk (30.21sec) will keep her honest in the final two rounds. 
World 100m backstroke record-holder Thomas Ceccon (23.49sec) revealed more of his talents to win a hotly contested 50m butterfly quarter-final from 50m specialist Michael Andrew (23.55), Dylan Carter (23.56) and Ponti (23.67).
World silver medallist Andrew survived another tight finish to progress in the 50m freestyle. Hong Kong's Ian-Yentou Ho (21.96sec) got his hand on the wall first as Andrew took second (21.97) from Szebasztian Szabo (22.03) and Grousset (22.11) to set up a fascinating contest tomorrow.