Penny Oleksiak Checks Into Defence Of Olympic 100 Free Crown At 52.89 & Josh Liendo Blasts 48.13 Qualifier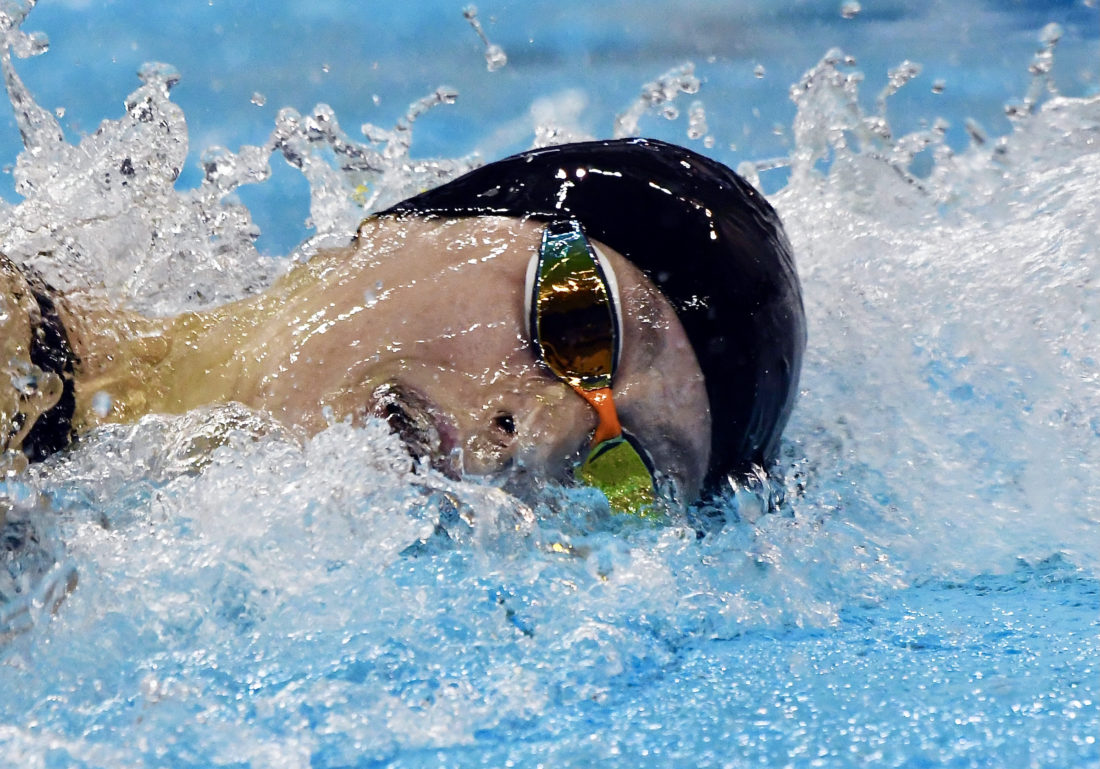 Penny Oleksiak was just 16 when she became Canada's youngest ever Olympic champion in a 52.70 snap wit American Simone Manuel for 100m free gold at the Rio 2016 Games and is now the sole survivor for the defence of the crown after a 52.89 win at Toronto Trials.
The time is the swiftest Oleksiak has swum since Rio in the five years since. Racing at home in Toronto, Oleksiak, coached at the High Performance Centre – Ontario by Ben Titley then and now but for a while in the middle not as she returned to her club program on a learning curve of coping with sudden success at 16, Oleksiak left little doubt that she intends to be a contender once more.
The penultimate day of trials included Tokyo target cuts for Oleksiak's training partner Josh Liendo, on 48.13 in the 100m free, and Kelsey Wog, who added the 200m breaststroke to a schedule in Tokyo that includes the 100m breaststroke and the 200m medley. Oleksiak was buoyed by her best since 2016: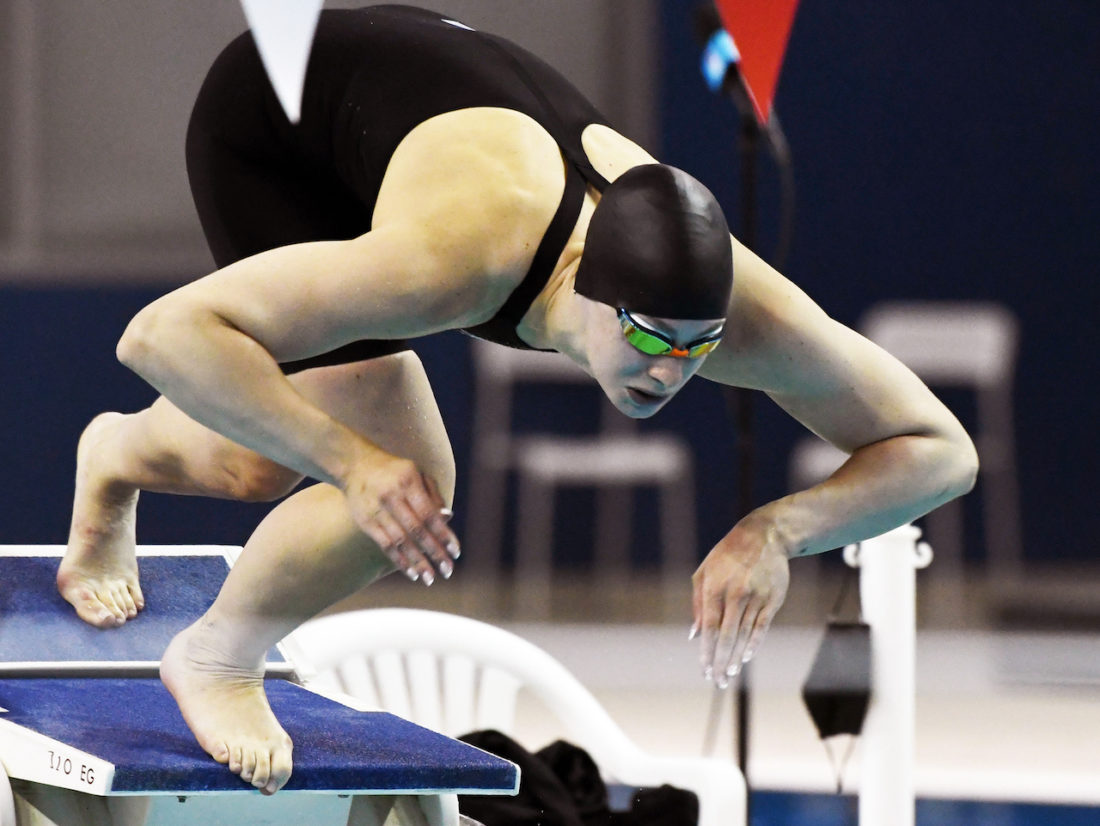 "It honestly just gives me a massive boost of confidence that I've been searching for a little bit. To run that time is super big for me."

Penny Oleksiak – by Scott Grant, courtesy of Swimming Canada
 Oleksiak said that after the Rio Olympics, where she won four medals, including g silver in the 100m butterfly and two relay podiums, there was a lot of pressure for her to perform at future races. For a long time, she didn't enjoy swimming and competing, Nathan White notes in his release for Swimming Canada. He adds:
"The 21-year-old rediscovered her passion for the sport over the past year during the pandemic. She doesn't know what to expect in Tokyo but knows she has the same 'Rio mentality' as five years ago, in large part due to her teammates." Said Oleksiak:
"I wouldn't be as fast as I am now without those girls pushing me. I wouldn't want to train with anyone else." 

Penny Oleksiak – by Scott Grant, courtesy of Swimming Canada
Oleksiak was followed home by HPC-Ontario teammate and 50m winner yesterday Kayla Sanchez. on 53.77, and, on 54.02, Maggie MacNeil, the 100m butterfly World champion from London Aquatic Club who has been based at HPC-Ontario during Covid lockdowns and pool closures in Canada , (54.02).
The next two home were Katerine Savard (54,.51) and Taylor Ruck (54.58), both already nominated for the Tokyo team, the former courtesy of second place in the 100m butterfly this week in Toronto, the latter through provisional nomination.
Men's 100m freestyle
Josh Liendo, based at the HPC-Ontario, rocketed to a personal best 48.13, his eye on the two Canadian standards held by one man: Brent Hayden, who withdrew from the 100m final after feeling tightness in his back in heats, holds the national records at 47.27 in shiny suit from 2009 and textile, the comparative material for Liendo, in 47.80, the time he clocked for Olympic bronze at London 2012.
Hayden will be available for 4x100m duty in Tokyo, having already made the squad with a 21.82 win in the 50m freestyle ahead of Liendo's 21.90 yesterday.
Liendo's 100m free capped a terrific week for the 19-year-old, who also set a Canadian 100 'fly record of 51.40 in heats on his way to a ticket to Tokyo in 51.72 in the final. He said: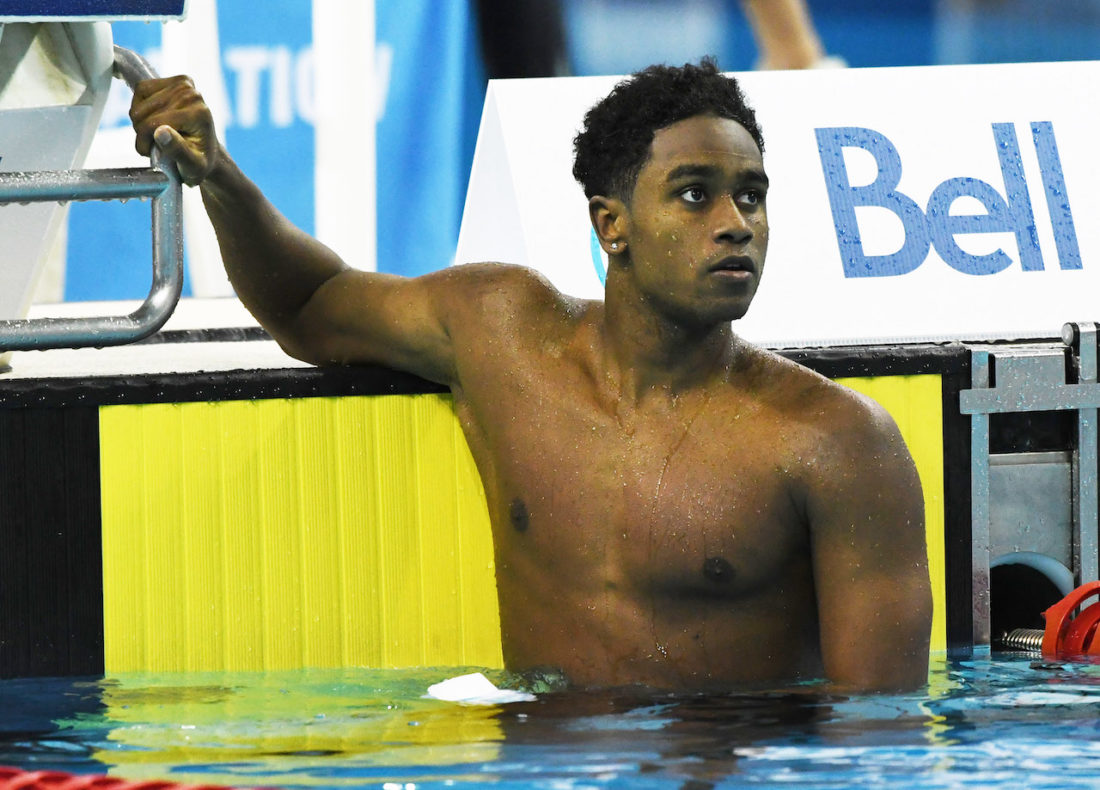 "That race was surreal. I was a little nervous. I knew I needed to be the boss on that first 50. I'm happy how that turned out."

Joshua Liendo by Scott Grant, courtesy of Swimming Canada

Women's 200m breaststroke
Kelsey Wog, a member of the University of Manitoba Bisons, opened the evening session taking care of business in the women's 200-m breaststroke. She recorded a 2:23:40, well under the Olympic standard time of 2:25:52. This is Wog's third event in which she's qualified for nomination to Tokyo, along with the 100-m breaststroke and 200-m individual medley.
 
"I'm pretty happy with how my races went," Wog said. "This past year and a half has been pretty crazy with training being so sporadic. It's good to get the job done here."
 
In other races, 23-year-old Emily Overholt (HPC- Vancouver) won gold in the women's 200-m butterfly, recording a 2:11:16 time. Overholt is scheduled to race on Wednesday in the 400-m individual medley, the event in which she placed fifth at the Rio 2016 Olympics.
 
"Just to be able to race, I had some disappointing swims earlier in the meet," Overholt said. "To come away with a win, it means a lot."
 
Mack Darragh (HPC-Ontario) won the men's 200-m butterfly in 1:58:10. "I'd be kicking myself if I didn't go all out for it," Darragh said. In other action Tuesday, 26-year-old Eli Wall (Toronto Swim Club) won the men's 200m breaststroke in 2:12:16.