Brent Hayden & Summer McIntosh – 37 and 14 – Make Maple Bookends Of Six More Swim Selections To Team Canada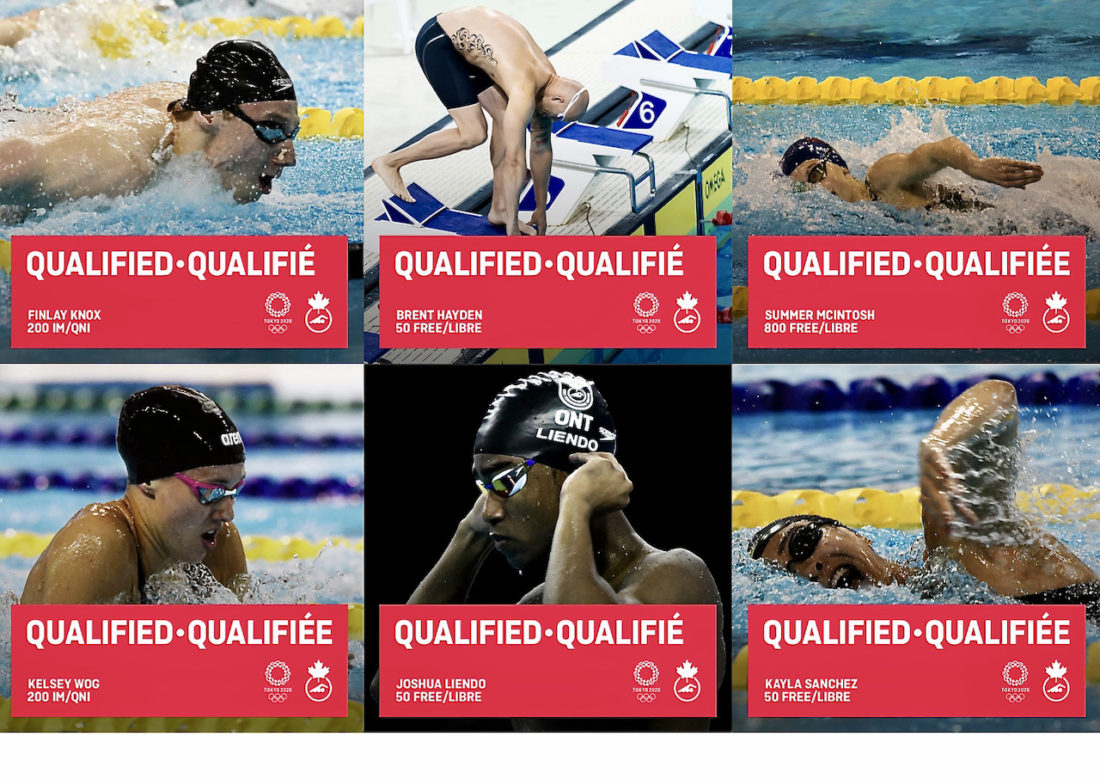 On a day when Sydney Pickrem clocked 2:09.24 to confirm her 200IM ticket to the Tokyo Olympics, Team Canada welcomed six others to the swimming squad, Finlay Knox marking his Games debut with a national record of 1:58.07 in the 200m medley, Summer McIntosh, 14, and Brent Hayden, 37, provided generational bookends to day 3 at Toronto Trials.
The new additions included teenage sprinter Josh Liendo, a fingertip adrift Hayden in the dash, Kayla Sanchez and a second swim for Kelsey Wog, after she claimed a first ticket with victory in the 100m breaststroke yesterday.
Brent Hayden made his Olympic debut at Athens 2004. World 100m free champion of 2005 and 2007, claimed bronze in a London 2012 100m freestyle (47.,80) that made him the first Canadian to claim an Olympic 100m free medal and the first in the final of the event at the Olympics since Dick Pound at Rome 1960.
Now, he's back, after a comeback that followed seven years of retirement. The timeline for making Tokyo 2020 had been tight. Then came a pandemic and a year-long delay to the Tokyo Games. That coincided with monumental challenges for the sport of swimming at base and club level but it also provided opportunities that would not have been there, including Olympic selection for Summer McIntosh at 14 – and Brent Haydn once more at 37.
Women's 800m freestyle – Summer McIntosh Reigns In 8:29.48
First up was Summer McIntosh: a day after a 1:56.19 in a 200m freestyle final that ended in Olympic selection and made her the fastest 14-year-old four-length freestyler in history, she claimed a second berth in the battle of Tokyo. In 8:29.48, McIntosh raced inside the A cut of 8:33.36.
The time reminds us how 'what happened next' is more important than that "fastest-ever at age X' when it comes to speedy juniors. At the same age as McIntosh, Katie Ledecky had just won the U.S. Junior title in 8:36.05 in. Summer that saw Britain's double Olympic champion Rebecca Adlingtion claim the World title in 8:17.51 ahead of an 8:18.20 from Denmark's Lotte Friis.
A year on and Ledecky would be Olympic champion in 8:14.63. McIntosh will make her Olympic debut a year earlier than Ledecky. The Canadian schoolgirl says that she trusts in her increased training over the past year and in her coaches Ben Titley and Ryan Mallette, who prepare her to be mentally ready for big races.
 
"It's the same every race," McIntosh said about her mental preparation. "Figure out my race strategy and trust in my training and coaches. Just see what I can do."
 
Hayden noted:  "When I was 14 years old, I was still in summer club. She's going to be one of those greats. When she touches the wall, it's like magic."
Men's 50m Freestyle – Haydn Back For A Fourth Olympics, Liendo Into His First
World Champion in the 100m freestyle at Montreal 2005 and then again at Melbourne 2007 in a snap with Italian Filippo Magnini, Brent Haydn made his fourth Olympics with a 21.82 victory in the 50m freestyle ahead of a 21.90 from Joshua Liendo, who will not leave his teenage years behind until next year and makes his Olympic debut in Tokyo.
Hayden won the dash with a gathering-momentum of a swim. He emerged to thank some folk for the support he has had during his comeback:
Swimming Canada notes: "Hayden remembers the moment well, when he told his wife, Nadina, that he wanted to try to qualify for one more Olympic Games. The couple was in Lebanon in 2019, with Hayden seven years retired from swimming after his 100-m freestyle bronze from London 2012. After swimming a few times in a nearby pool at Jeita Country Club, Hayden expressed his desire in a possible comeback."
 
"She told me, 'Brent, if anyone could do it, it could be you,'" Hayden said. Do it, he now has. Says Hayden: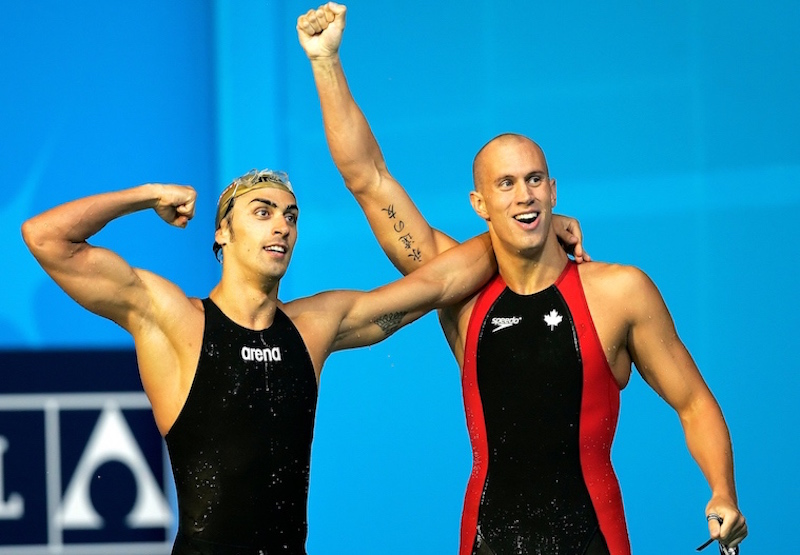 "It's one of the greatest feelings ever. I've never been this excited to make an Olympic team. It's a dream come true. I know that sounds [like a] cliche but I'm a four-time Olympian. I'm going to have another one on the list. I thought this list was over. It's a great feeling."

Brent Hayden – photo – The two winners: Filippo Magnini (L) of Italy and Brent Hayden (R) of Canada take a gold apiece in the 100m free, in 48.43, at Melbourne 2007 – Photo by Patrick B. Kraemer / MAGICPBK
Hayden has been open about his struggles with depression and his loathing for swimming. Since he announced his comeback, he rediscovered his love and passion for swimming, and became a Pro pioneer last year when he joined the Toronto Titans, one of the newest teams in the International Swimming League. 
Selection secured, Hayden now wants more: "Getting there [Tokyo] isn't enough. I want to throw down a performance that I could be proud of."
 
Meanwhile, like McInosh, Penny Oleksiak and the Tokyo-ticket-takers in the 200IM finals today, Liendo, who qualified on Saturday in the 100m butterfly with a Canadian record and is based at the High Performance Centre – Ontario, is a swimmer packed with potential.
Men's 200IM – Finlay Knox Sets 1:58.07 Canadian Record
Finlay Knox is another HPC-Ontario charge on the move. Last month, he and up for trials with a 1:58.88 national record in the 200m medley. He clobbered that today with a 1:58:07. Said the 20-year-old world junior medallist: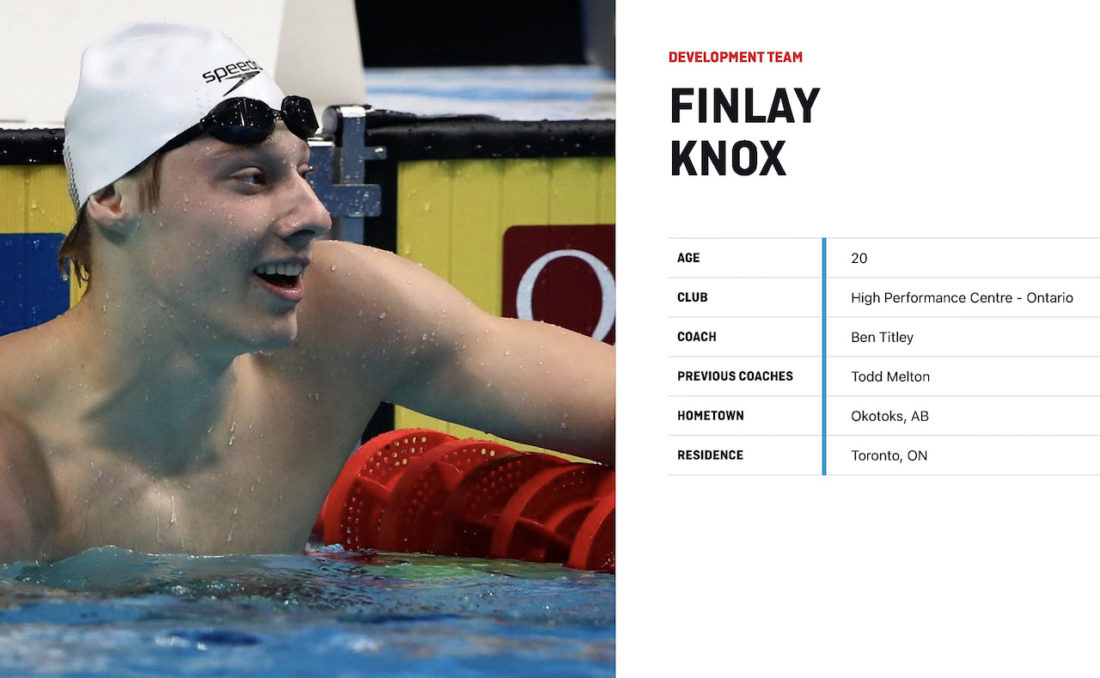 "I'm on the progression of getting faster. Coming in here, being a little younger, I want to go up against the older guys and have fun. We give everyone a good race and enjoy it."

Finlay Knox
The race:
24.74; 55.34 (30.60) 1:29.87 (34.53) 1:58.07 (28.20) Finlay Knox
26.01; 55.55 (29.54) 1:31.80 (36.25) 2:00.49 (28.69) Cole Pratt
25.52; 55.44 (29.92) 1:31.11 (35.67) 2:00.77 (29.66) Javier Acevedo
Women's 200m Medley – Pickrem Confirms
Sydney Pickrem, another from HPC-Ontario, posted a 2:09:24 to back up her provisional nomination and confirm her place in the Tokyo 200.
She helped draw two other inside the target time in a tight tussle that ended with Kelsey Wog taking a second ticket to Tokyo and Bailey Andison being locked out:
28.08; 1:01.09 (33.01) 1:37.81 (36.72) 2:09.24 (31.43) Sydney Pickrem
28.33; 1:02.74 (34.41) 1:39.27 (36.53) 2:10.21 (30.94) Kelsey Wog
28.73; 1:02.28 (33.55) 1:39.13 (36.85) 2:10.48 (31.35) Bailey Andison
Pickrem, sixth in the Rio 2016 final and bronze medalist in the 200m medley and the 200m breaststroke at the 2019 World CVhampionships, emerged from the Toronto fray to say: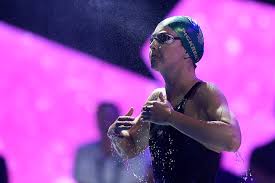 "It was a well-put-together race. There's a lot that I know is going to come together when it comes to Tokyo."

Sydney Pickrem – courtesy of the International Swimming League
Women's 50m freestyle – Sanchez Cuts A Dash
Kayla Sanchez sped to a 24.68 victory, the time a personal best for the 20-year-old, to adfd her name to the Olympic roster. No others got inside 25. Job done, Sanchez said: "I did the work and knew what I needed to do in Trials. It's a good feeling."
Men's 1500m freestyle – Brown Wins But No Ticket
Eric Brown of Pointe-Claire Swim Club won his first national championship in 15:19.69. A good swim for him but Canada, the land of Ryan Cochrane, will be without a 1500m man in the fight at the Tokyo Games.