Kylie Masse 2:06 Tops Bill At Toronto Trials Curtain-Closer As Taylor Ruck Stamps Her Ticket To Tokyo Olympics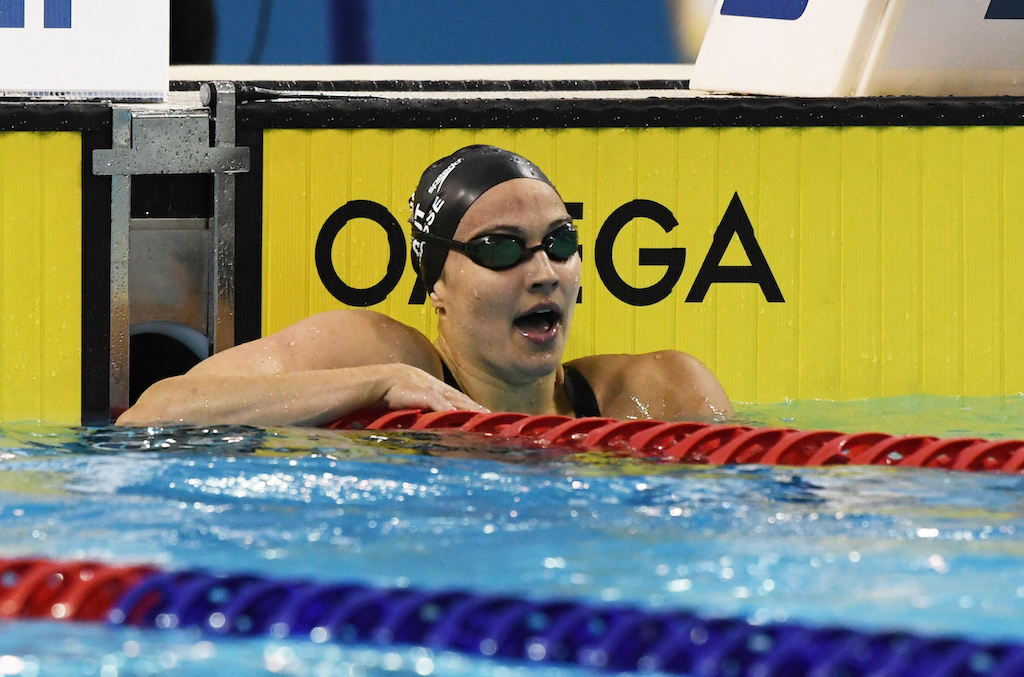 Kylie Masse (2:06.67) and Taylor Ruck (2:09.26) raced inside the Tokyo Olympics cut in the 200m backstroke as Canadian Trials drew to a close in Toronto this evening.
There were also last-day Tokyo cuts for Sydney Pickrem (4:37.03) and Tessa Cieplucha (4:37.26) in the 400m medley and in the last women's race of the meet, Katrina Bellio, 16, clocked 16:29.67 to win the 1500m freestyle inside target time.
Women's 200m Backstroke: Masse Dominates
The cut set at 2:10.39, 17-year-old Brooklyn Douthwright was not far shy, on 2:10.49 for third.
29.61; 1:01.41 (31.80) 1:33.85 (32.44) 2:06.67 (32.82) Masse
29.80; 1:02.02 (32.22) 1:35.28 (33.26) 2:09.26 (33.98) Ruck
30.72; 1:03.42 (32.70) 1:37.01 (33.59) 2:10.49 (33.48) Douthwright
Masse Gathers Momentum
Masse and Ruck had already been pre-selected for Tokyo, providing they could show form this week in Toronto. Masse passed the test with flying colours, with a 57.70 Canadian 100m backstroke record placing the 2019 World champion in a fine position from which to take on the other two members of the sub-58sec club, Australian Kaylee McKeown (57.45 World record 2021) and American 200m World champion. Regan Smith (57.57, World record 2019). Smith will race the 100m in Tokyo but not the 200m, having finished third at trials in Omaha last weekend.
Ruck has been well down on best pace in Toronto this week but is on the team. At her best, she's a podium shot on freestyle and backstroke.
Women's 400m medley Tickets for Pickrem & Cieplucha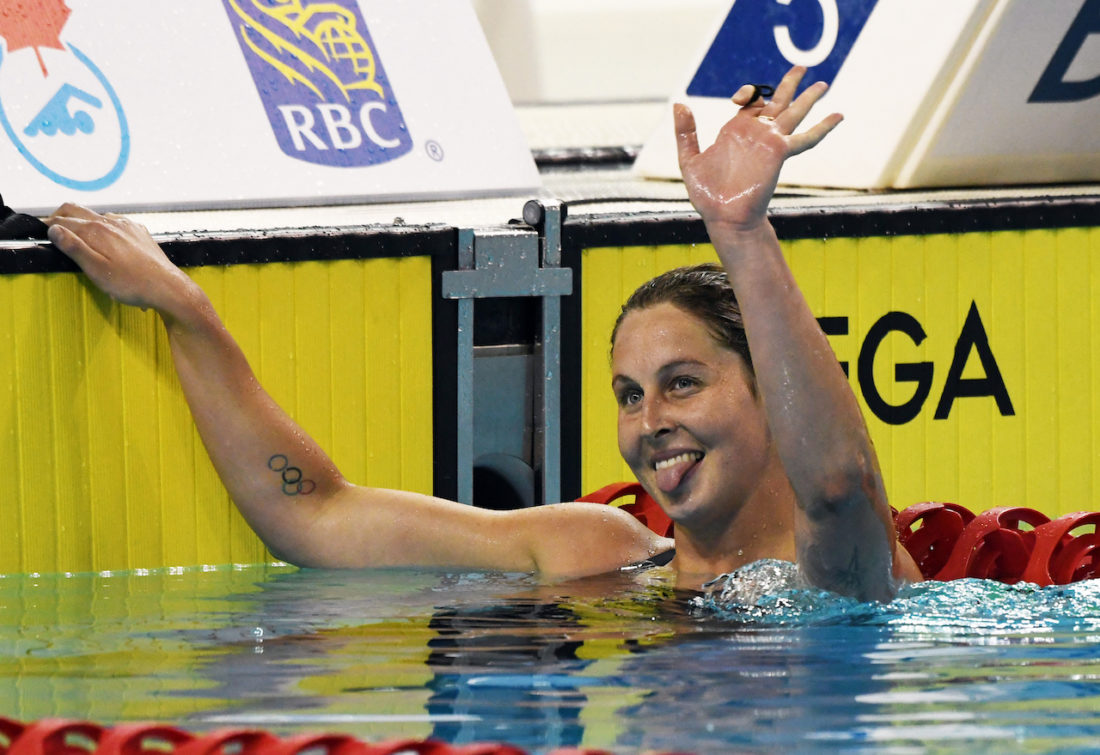 Sydney Pickrem, on 2:09 on the 200m medley earlier in the week, and Tessa Cieplucha got the last session of finals underway in Toronto with a tight tussle that took both inside the Tokyo cut of 4:38.53. Pickrem got her hand to the wall first in 4:37.03, Cieplucha on 4:37.26. Not for the first time this week, Bailey Andison missed out by a small margin when she finished third in 4:38.66.
The race:
1:03.05; 2:14.88; 3:32.89; 4:37.03 Pickrem
1:04.16; 2:13.86; 3:32.95; 4:37.26 Cieplucha
1:03.84; 2:15.28; 3:34.05; 4:38.66 Andison
Women's 1500m freestyle – Bellio Heading For An Olympic First
Katrina Bellio's 16:29.67 got her inside the 16:32.04 target to make the team for Tokyo. She had the company of 14-year-old Abby Dunford up to the 800m mark, at which both turned in 8:43. Dunford faded steadily off the pace of Bellio throughout the rest of the race, her 16:38.75 finish claiming silver ahead of Alyson Ackman, on 16:46.32.
Bellio will now represent Canada in the inaugural Olympic 1500m freestyle for women, as addition to the program that deliver event parity for the genders for the first time since women joined the party in the pool at the Olympic Games at Stockholm 1912.
Men's 200m backstroke
There was frustration for 19-year-old Cole Pratt when he stopped the clock at 1:58.11 at the helm of pace but 0.61sec shy of the Tokyo A cut of 1:57.50. Blake Tierney, also 19, and Richie Stokes gave a good fight to round out the top three in 1:59.49 and 1:59.52 respectively.
The race:
28.19; 57.86 (29.67) 1:28.07 (30.21) 1:58.11 (30.04) Cole Pratt
28.01; 58.14 (30.13) 1:28.77 (30.63) 1:59.49 (30.72) Blake Tierney
28.06; 58.19 (30.13) 1:28.82 (30.63) 1:59.52 (30.70) Richie Stokes
Men's 400m Medley
The A cut set at 4:15.84, Canada will have no entry in the long medley in Tokyo. Things looked hopeful on paper, Tristan Cote entering on a best of 4:17.22 but after leading at the 300m in the final, Cote fell off other pace to produce the slowest closing on freestyle among the top 8 finishers. The win went to Collyn Gagne in 4:18.65, Cote on 4:23.13, just holding off teenager Jacob Gallant, on 4:23.28.
The meet concluded with a 7:59.87 win for Eric Brown in the 800m freestyle, the time well shy of the 7:54.31 A cut for Tokyo.