McKeon & Titmus Skip World Titles To Prioritise Commonwealth Games As Australia Name 39-Strong Dolphins Squad For Budapest & 46 For Birmingham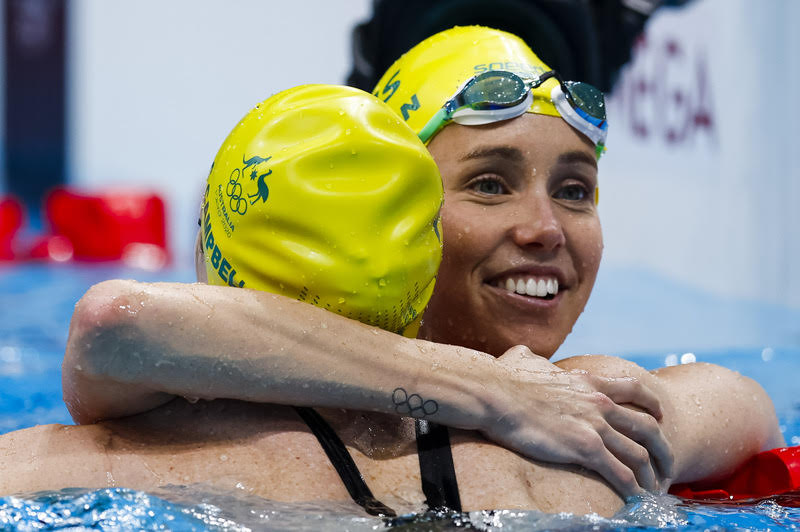 Emma McKeon, the seven-times Olympic medallist of Tokyo2020ne who did not race at Australian Championships this past week in Adelaide, and Ariarne Titmus, fresh from cracking the 400m freestyle World record, have been named among the 46 swimmers selected to race fir the Dolphins at the Commonwealth Games but neither will compete at World titles next month.
Among those who said that they would take this season out after stellar efforts at the Tokyo 2020ne Olympic Games, Cate and Bronte Campbell and Emily Seebohm will not race for Australia in major international championship waters this northern summer.
Among the 39 bound for Budapest and the global FINA showcase from June 18 is Kyle Chalmers, his change of mind to add the event to his schedule this year knocking Cody Simpson off the team. Simpson, a pop singer who made his way back to the pool a couple of seasons back after spending much of his teen years on the road, will make his Australia debut at Commonwealths in Birmingham.
Swimming Australia's announcement On World & Commonwealth Selections
Tokyo Gold medallists Kaylee McKeown and Zac Stubblety-Cook are amongst a host of Australian swimming stars set to headline the Dolphins team for the upcoming FINA World Championships.
Swimming Australia has selected a team of 39 for next month's meet in Budapest, including 11 rookies named to their first Australian team.
The squad was selected at the conclusion of this week's Australian Swimming Championships at the SA Aquatic and Leisure Centre in Adelaide.
Swimming Australia CEO, Eugénie Buckley, congratulated the selected athletes, expressing her pride on behalf of the broader swimming community.
"Our team's Olympic campaign in Tokyo inspired a nation and from the performances we've witnessed this week at trials it's clear how driven our athletes are to build on that success," Buckley said.
"These World Championships are the first step on the path to Paris and I have no doubt our Dolphins will continue to set the benchmark on that journey."
"It's wonderful to see a mixture of our established leaders, and the joy of those experiencing selection on an Australian team for the first time and I'm sure each and every athlete will do us proud."
The Dolphins will be led by Head Coach Rohan Taylor alongside team coaches and support staff including Peter Bishop, Michael Bohl, Dean Boxall, Clare Burns, Ashley Callus, Jess Corones, Cat Croghan, Terry Downes, Luke Eggleston, Katherine Grellman, Ivan Hooper, Deb Jones, Adam Kable, Kieran Marsh, Vince Raleigh, Tim Rawlins, Richard Scarce, Tamara Sheppard, Dean Sullivan and Kirsty West.
The Dolphins will travel to Europe in early June for a staging camp before the World Championships in Budapest from June 18-25.
Australian Dolphins FINA World Championships team
| | |
| --- | --- |
| Grayson | Bell |
| Jack | Cartwright |
| Kyle | Chalmers |
| Abbey | Connor* |
| Isaac | Cooper |
| Lizzie | Dekkers* |
| Joshua | Edwards-Smith* |
| Jenna | Forrester* |
| Bowen | Gough* |
| Abbey | Harkin |
| Meg | Harris |
| Mack | Horton |
| Zac | Incerti |
| Shayna | Jack |
| Moesha | Johnson* |
| Mitch | Larkin |
| Se-Bom | Lee |
| Kaylee | McKeown |
| Kiah | Melverton |
| Leah | Neale |
| Thomas | Nowakowski* |
| Mollie | O'Callaghan |
| Lani | Pallister* |
| Ella | Ramsay* |
| Samuel | Short* |
| Brendon | Smith |
| Jenna | Strauch |
| Zac | Stubblety-Cook |
| Matthew | Temple |
| Brianna | Throssell |
| Madison | Wilson |
| Matthew | Wilson |
| Elijah | Winnington |
| William | Yang* |
*Denotes Rookie
Team Of 46 For Commonwealths Includes Emma McKeon
Swimming Australia has also proudly nominated 46 athletes to compete as part of the Australian Commonwealth Games team in Birmingham.
These athletes will join their para swimming teammates in an integrated swim team of 76 for the Birmingham Games.
Buckley believes the selected Dolphins will add their own chapter to Australian swimming's rich history at the Games.
"Swimming is synonymous with the success of the Australian teams at the Commonwealth Games and this team will undoubtedly add to that legacy in Birmingham," Buckley said.
"It remains a special competition for our athletes, particularly the chance to compete with their para swimming teammates in our country's colours and we are immensely proud to see all of our swimmers and coaches take that opportunity with both hands."
The Commonwealth Games team will also be led by Head Coach Rohan Taylor, alongside team coaches and support staff including Peter Bishop, Michael Bohl, Dean Boxall , Jess Corones, Sean Eels, Damien Jones, Kieran Marsh, Chris Nesbit, Michael Palfery, Janelle Pallister, Vince Raleigh, Tim Rawlins, Tamara Sheppard, Mel Tantrum and Kirsty West.
The Australian Dolphins heading to the Commonwealth Games in Birmingham are:
| | |
| --- | --- |
| Ben | Armbruster |
| Minna | Atherton |
| Holly | Barratt |
| Grayson | Bell |
| Kyle | Chalmers |
| Abbey | Connor |
| Isaac | Cooper |
| Lizzie | Dekkers |
| Joshua | Edwards-Smith |
| Jenna | Forrester |
| Bowen | Gough |
| Abbey | Harkin |
| Meg | Harris |
| Chelsea | Hodges |
| Mack | Horton |
| Zac | Incerti |
| Shayna | Jack |
| Bronte | Job |
| Mitch | Larkin |
| Se-Bom | Lee |
| Emma | McKeon |
| Kaylee | McKeown |
| Taylor | McKeown |
| Kiah | Melverton |
| Thomas | Nowakowski |
| Mollie | O'Callaghan |
| Lani | Pallister |
| Alexandria | Perkins |
| Kieren | Pollard |
| Ella | Ramsay |
| Samuel | Short |
| Cody | Simpson |
| Brendon | Smith |
| Flynn | Southam |
| Jenna | Strauch |
| Zac | Stubblety-Cook |
| Matthew | Temple |
| Brianna | Throssell |
| Ariarne | Titmus |
| Sam | Williamson |
| Madison | Wilson |
| Matthew | Wilson |
| Elijah | Winnington |
| Bradley | Woodward |
| William | Yang |
| Josh | Yong |
The Birmingham Commonwealth Games commence on July 28