M800Fr – Bobby Finke Fires A 26sec Stun Gun Past Three Favourites Down Last Lap Of First Olympic 16-Lengther In History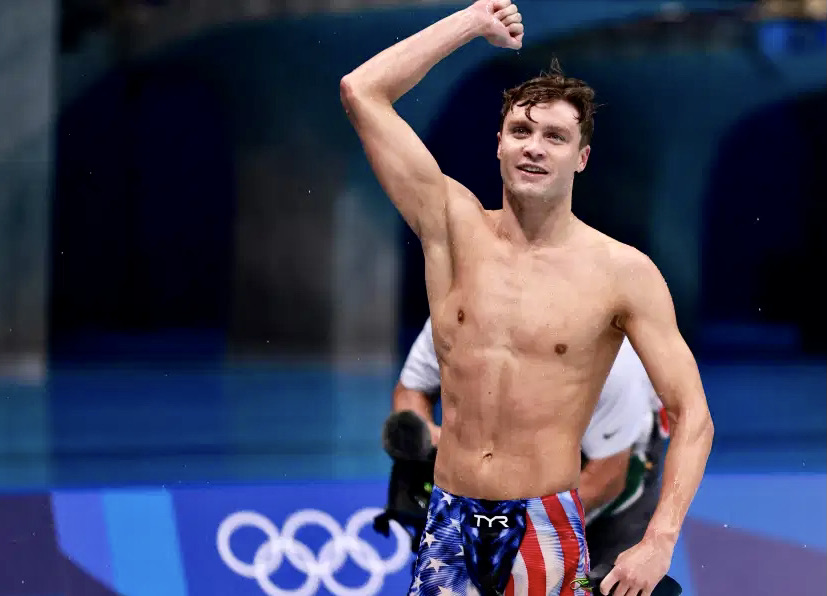 Bobby Finke had best breathing side on his side and exploited it for all it was worth in a four-way fight for gold down the last of the first 16 lengths men have ever raced (and stopped after) in Olympic waters. Finke is the first American man to win a distance freestyle Olympic gold since George DiCarlo claimed the 400m crown at a home Games in 1984.
History in the making – a last-length fight for the first men's 800m freestyle Olympic title in history. Nothing to lose, everything to gain, forever.
Off the wall, streamline, break into stroke. Then came the water-polo moment: Finke, in 3, looked up, real and sensory, took a rapid scan of the lanes to his right. Imagine being right there: how glorious must the seascape have looked, how fine the spray of destiny calling.
Head down. Pain be gone. Burners on. Fire: 26.39! That's how to claw back a fourth place at the last turn of the first 800m Olympic final ever. Consider what that means set against the last-lap split of men who before today had the bigger prizes to their names that Finke did not:
Italy's Gregorio Paltrinieri: 28.04 – terrific, given that he'd set the pace the whole way. Snap for Ukraine's Mykhailo Romanchuk – 28.04. And Germany's Florian Wellbrock, World 1500m and marathon champion: 28.72. How do you take more than 1.5sec, let alone 2.5, off 1500 men much faster. Beyond battle, Finke had the answer:
"I noticed with 10 metres off the wall that I was catching up a little ground. That was the only motivation I needed to try to pass them and get my hand to the wall."

Bobby Finke
He stopped the clock at 7:41.87, shy of the Olympic record set by Romanchuk in heats that produced five national records just among qualifiers for the final last Tuesday out of prime time USA in downtime for the chief network and investor in Olympic colonialism, NBC.
Which reminds us of other poor decisions down a trail off tears on the pool: the world record survived. Well, it would, wouldn't it: Zhang Lin, China, 7:32.12, from the Rome 2009 shiny suits circus.
Until that last turn to home here in Tokyo today, Paltrinieri had done all the pace-setting. The Olympic 1500m champion's prize for courage was silver in 7:42.11, Romanchuk taking bronze in 7:42.33 for his country's first medal since 2004, when Andriy Serdinov made the 100m butterfly podium a slither behind Americans Michael Phelps and Ian Crocker.
Being four-way, the battle for gold had what the Germans call an Arschkarte to hand out. It went to Wellbrock, home in 7:42.68 after he had taken the lead in the race away from Paltrinieri for the first time at the last turn, 7:13.96 to 7:14.07, before being overhauled by the two right there with him and Finke, who looked the more likely to get that Arschkarte even as he broke the surface off the last wall.
Don't count Wellbrock out: at 2019 World titles he won the marathon, then produced a lumpy "it's all over" 800 before coming back with a thump in the 1500m for Germany's first World title over 30 laps since Jorg Hoffmann ahead of a kid on the move, Kieren Perkins, in 1991.
All fastest-1500 eyes of this age will now be on Finke for the 1500m. Expect a fast start on the way to gain that comes with pain the mind can overcome. As Finke put it:
"Just trying to spin my arms honestly and do the best I could. … It's a lot (of pain), but it kind of goes away once you start. Your mind just kind of disappears and you're just blocking it out."

Bobby Finke